Maybe you want to start your own business and you're wondering what niche you should pick for yourself. Well, how about none?
In the modern world of ecommerce, you can easily make tons of money without ever even bothering to create a brand image and character, just by selling random stuff! Wanna know how? Check out how Accmor accomplishes that!
What products does Accmor sell?
Accmor is a company that sells a wide variety of products on Amazon, including phone accessories, jewelry-making supplies, and many other miscellaneous items. The company's Amazon page shows that they have received lots of positive reviews from customers for their products. They are making $260,000 monthly with their wide catalog of over 60 products on Amazon, with an average rating of 4.5 stars out of 5. And what's interesting — Accmor doesn't have a niche, instead it sells all kinds of products and excels in it. So, what makes them so successful? Let's take a look at some of the product this company sells.
Cup holder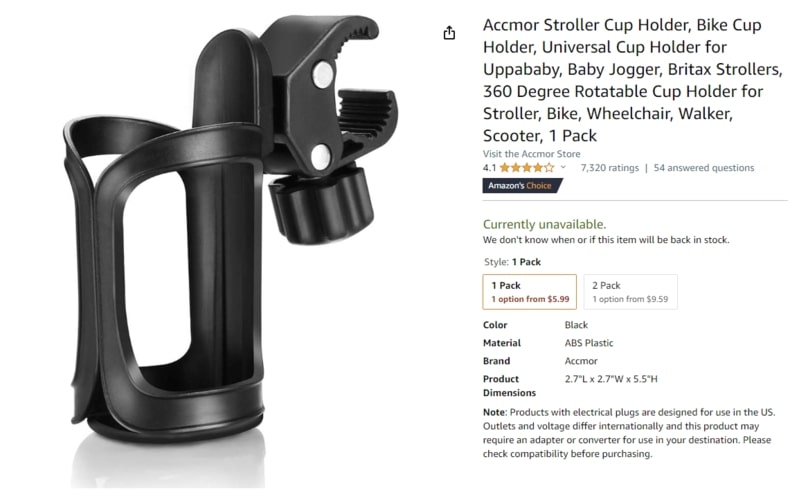 Do you like to have a drink handy when you go out with your stroller or bike? If so, you might want to check out the stroller cup holder from Accmor. This is a clever device that can hold any kind of cup, bottle, can, or mug securely on your handlebar. It is made of strong plastic that can last for a long time. It also has a flexible clamp that can fit different sizes of handlebars and a 360-degree rotation feature that lets you adjust the angle of the holder as you wish. How cool is that?
This cup holder has many advantages for you and your drink.
First of all, it can keep you hydrated and refreshed while you enjoy your outdoor activities.
Secondly, it can prevent your drink from spilling or falling off, which can be a hassle and a hazard.
Thirdly, it can save you space and trouble by eliminating the need for a separate bag or backpack for your drink.
And last but not least, it can make your stroller or bike look more stylish and fashionable with its sleek design and black color.
This cheap plastic product is clearly overpriced, costing entire $10, and still it's very popular among customers who have given it over 7,000 ratings on Amazon, with an average of 4.1 out of 5 stars. They love the cup holder for its sturdiness, versatility, and ease of installation. You can also join them and get this amazing accessory for yourself. It is cheap to manufacture, store and transport, which makes it an excellent product to sell!
Rifle slings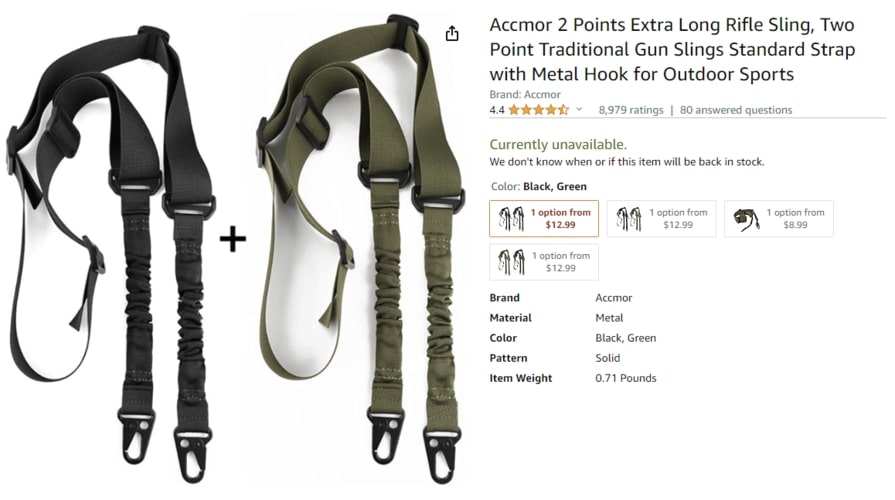 You can easily adjust this two-point sling to fit different body sizes and shooting positions. It's made of durable nylon material that can withstand harsh outdoor conditions. The metal clips are sturdy and secure, and they attach to the standard sling mounts on my rifle. The sling also has a shoulder pad that adds comfort and reduces fatigue.
Also, it can be converted into a single-point sling in seconds. There is a quick-release buckle on the front end of the sling that allows me to detach it from the front mount and attach it to the rear mount. This way, you can switch from a two-point to a single-point configuration depending on the situation. The single-point sling gives the user more freedom of movement and allows them to transition from one shoulder to another easily.
But the best thing about this sling is that these have 4.4/5 stars, with almost 9000 reviews, despite costing entire $13, which is very high for such a basic product.
Toddler harness leash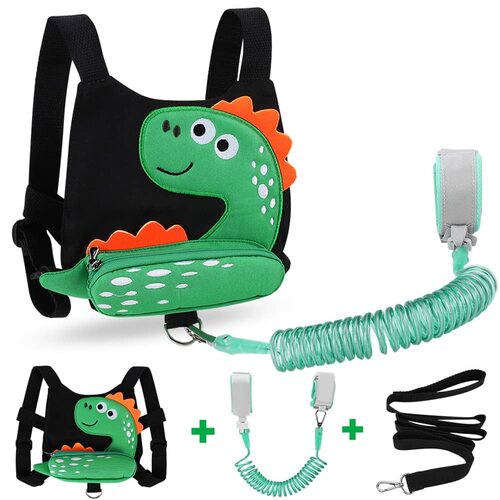 Accmor also offers products that are designed for babies and children, such as the toddler harness leash. The baby chest harness clip is a safety device that prevents children from slipping out of their car seats or strollers.
The clip is made of nylon and has a buckle that can be easily fastened and unfastened. It also has a cute cartoon design that adds some fun to the child's ride. The harness is made of breathable fabric and has a cute dinosaur pattern that kids love. The anti-lost leash and wrist link are very useful for different situations. The leash is long enough to let the kid explore, but also easy to control.
The clip costs $15 and has received over 1,000 ratings on Amazon, with an average of 4.4 out of 5 stars. Customers have appreciated the clip for its functionality, quality, and appearance.
Measuring spoons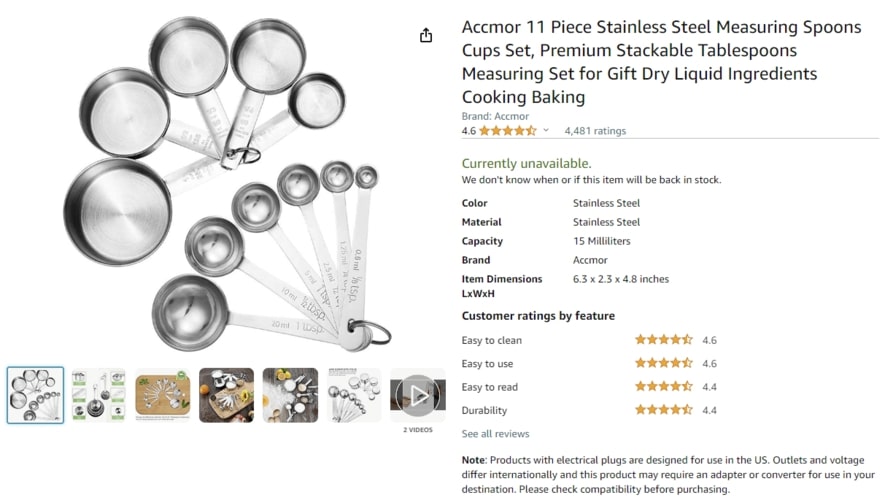 Another product from Accmor that has received positive feedback is the stainless steel measuring spoons, which are ideal for baking, cooking, or measuring ingredients.
The measuring spoons are made of high-quality stainless steel and have engraved markings that indicate the measurements in both US and metric units. Also these are stackable and come with a metal ring that keeps them together and organized.
This product costs $11 and has received over 4,000 ratings on Amazon, with an average of 4.6 out of 5 stars. Customers compliment the measuring spoons for their accuracy, durability, and design.
Where can you find such good products to sell?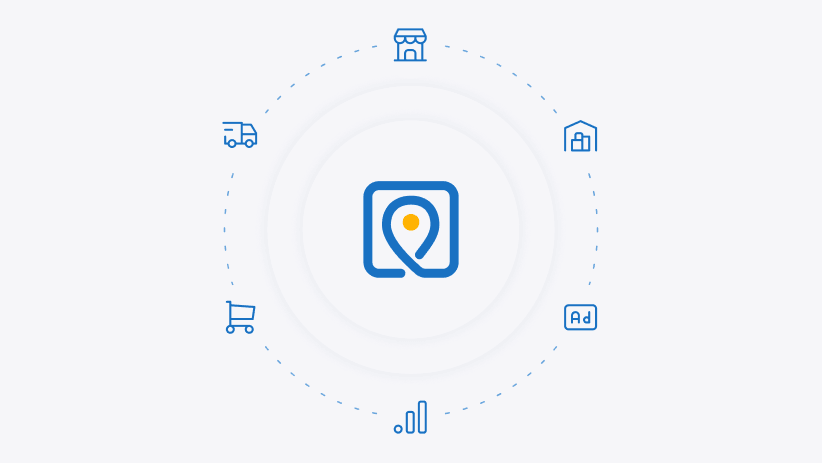 As we have shown, Accmor is a company that offers tons of products. Their products have received positive reviews from customers on Amazon, which is a testament to their quality and reliability. Finally, what's very important — this company has something for everyone, and it doesn't constrain itself to any one niche. Instead, it sells all kinds of products that have a high margin, meaning they are cheap to make and sell for a lot of money. Such products are very rare to encounter, but you can find them at Sellvia! So, let's look at some great products in Sellvia's catalog.
Auto ceramic hair curler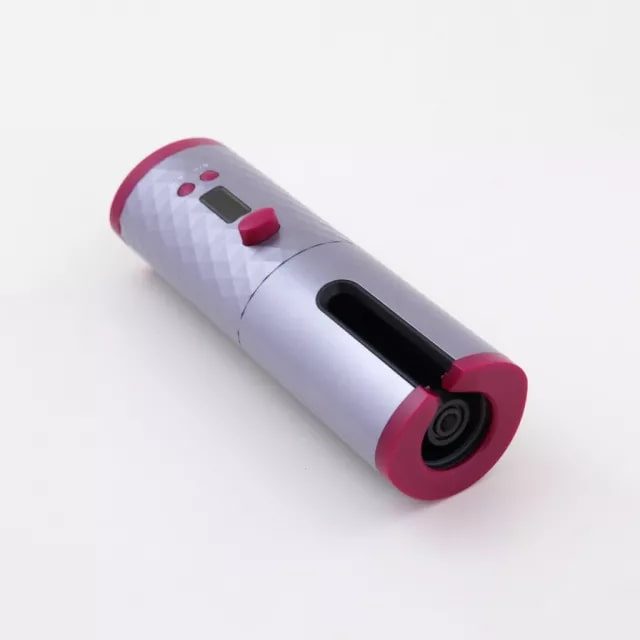 Cost: $19.99
Retail price: $89.99
Your profit: $54.00
This excellent product makes it easier to style your hair with greater convenience and ease right at home. Customers love it!
Intelligent neck massager

Cost: $17.99
Retail price: $69.99
Your profit: $42.00
This little thing
is designed for anyone who needs to loosen up stiff neck muscles from the toll of demanding gardening work, hours of heads-down phone usage, or hours of grueling typing on a computer.
Car back seat organizer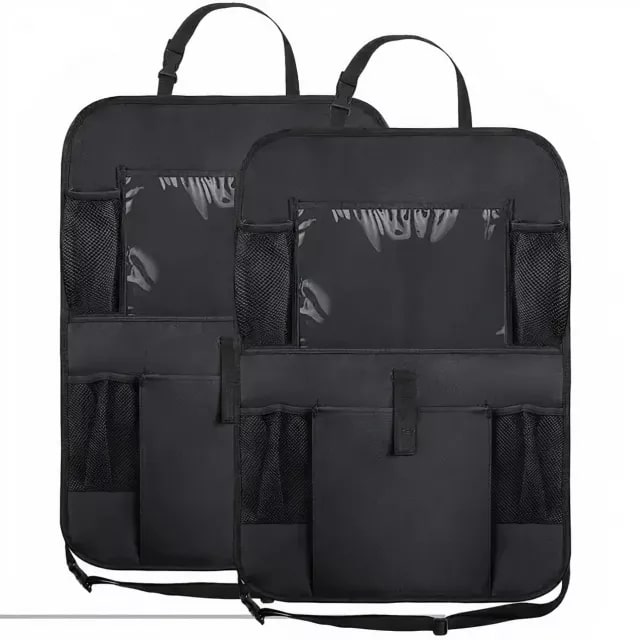 Cost: $4.49
Retail price: $28.99
Your profit: $14.50
A must-have auto accessory for families with kids and drivers who often travel with different passengers.
As you can see, the products in Sellvia's catalog have incredibly high margins, making them perfect to sell. So what are you waiting for? Start your own online store for free and mport these products into your catalog!