Do you know what are the best Facebook ads? Ever been there browsing on your Facebook feed and suddenly stop and see something from a brand that really captures your attention? Chances are, you are looking at a sponsored image or video. That means, it is a paid-for ad by the company to advertise its product(s) or service(s). You're looking at a Facebook ad, and these ads are essential for driving traffic to your website in addition to boosting awareness and sales.
But what makes the best Facebook ads? A great Facebook ad has to captivate your targeted viewer whether through its video or imagery used, or simply its messaging. Plus, it has to be something that actually appeals to whomever is seeing the ad.
Here are the top trends in Facebook ad creatives currently:
All top brands use a mix of video and static ad creatives.
Advertisers create all their ads in two formats: for the feed and story placements.
There's been a shift towards more colorful ads, introducing more flexibility in regards to the brand CVI.
Many brands use automation tools to customize ads for specific locations or products groups.
After Facebook removed the 20% text limit, more brands opt for big bold typography with text covering up to 90% of the visual.
The 8 following Facebook ad examples feature the best ad creatives from some of the world's largest brands. Hope you'll find some inspiration for revamping your own ad creatives!
Get selling tips and ecommerce inspiration right in your inbox!
Sign up today to not miss a single post:
8 best Facebook ads to get inspiration from
Today, let's look at the best Facebook ads examples. We've gathered 8 best Facebook ads for you to draw inspiration from. Keep in mind that some examples aren't actual ads, but their mediums are completely applicable to creating an ad.
Lexus
Pictures speak a thousand words. And that's what the best Facebook ads creative have, just look at the Japanese luxury-car brand Lexus. They understood that when posting this stunning set of photos of its vibrantly-blue LC sportscar. If you ever have a set of coordinating images from a photoshoot or ad campaign, they absolutely should be incorporated into your ad creative for your social media. Because everyone loves high-quality, eye-catching imagery. A single call-to-action also helps solidify the entire ad experience and solidifies a great example of Facebook ad.
Dr. Dennis Gross
What kind of ads work best on Facebook? Those that engage your target audience, yes — but in the end, it's usually to convert a lead into a customer (convincing them to buy on your website). And one great (and direct) way to do it, as seen here with a Facebook ad example by the dermatologist brand Dr. Dennis Gross. The utilization of a carousel ad, where viewers have multiple call-to-action links to multiple items or offers. Facebook carousel ads can diversify your ad offering if you don't have just one particular conversion goal in mind.
Target
One of the more artistic Facebook ad examples, created by the mega-retail chain Target, shows here an interactive ad done with its Facebook Shop being utilized. Users can click on what item they like in an image, view options and info, and click a call-to-action button to visit the company's website to buy the item. Sometimes they can even buy from the shop directly.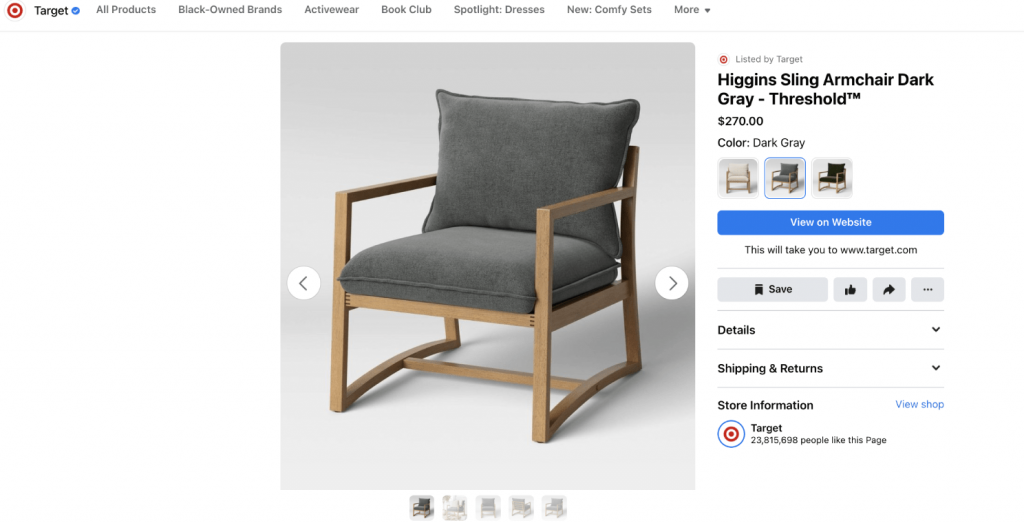 This is one of those Facebook ads examples that is effective due to its interactive nature.
BMW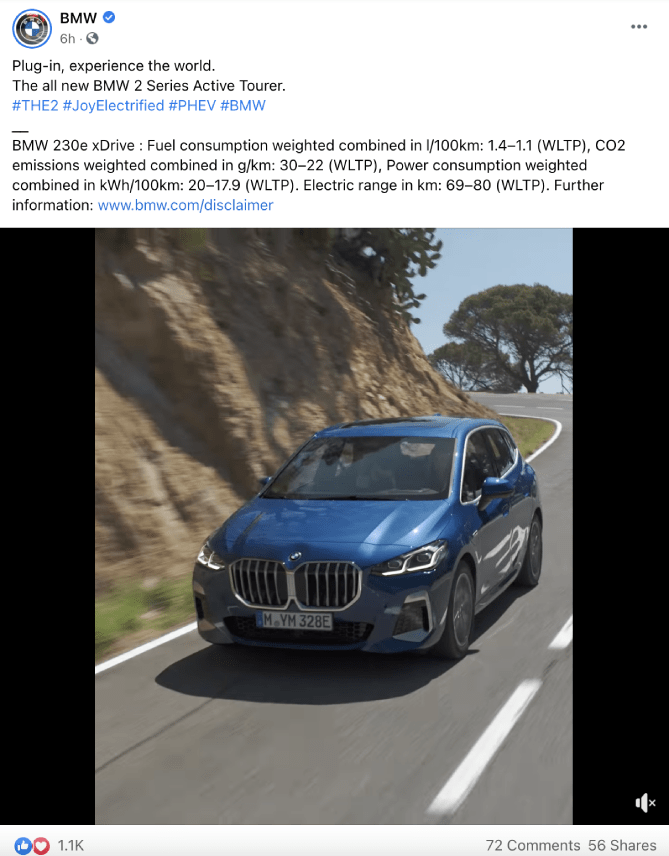 But sometimes, your goal is to just drive awareness and traffic to a certain page. This is especially useful for new item launches or campaigns, as seen here with luxury automaker BMW. In this Facebook ads example, BMW tells a story with a professionally-crafted video ad that introduces a new vehicle. Video production for ads can be costly, but are often worth it due to the richer visuals and engaging nature of animation for messaging in general.
Apostrophe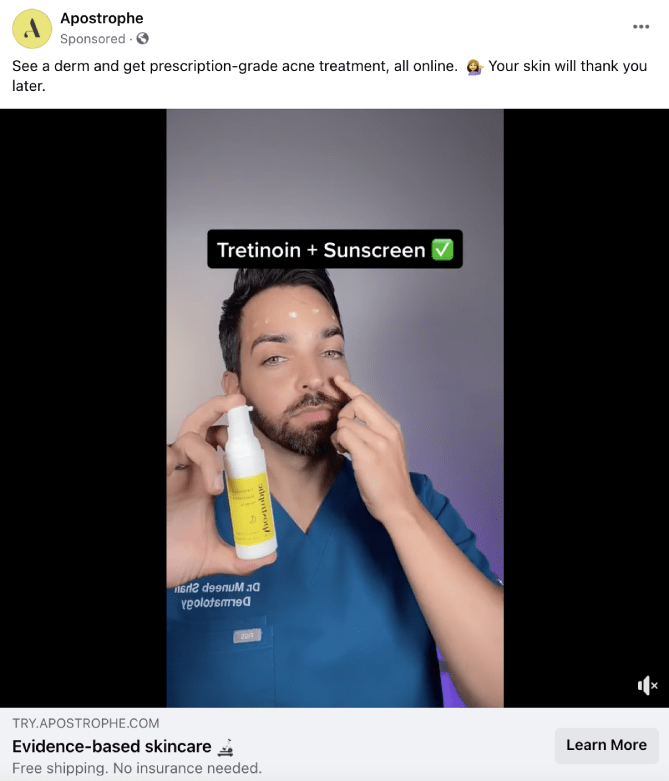 One very popular way to run ads now in the age of TikToks is to, well, use a TikTok. Seen as immense marketing vehicles in themselves, TikTok videos can drive awareness or push a product with ease in just a few seconds (and compared to high-production video ads, are much less expensive and easy to produce). We see here an example from skincare subscription service Apostrophe — the brand is using a promotional TikTok from a licensed dermatologist to speak to why the brand's service is so great.
Huggie Pup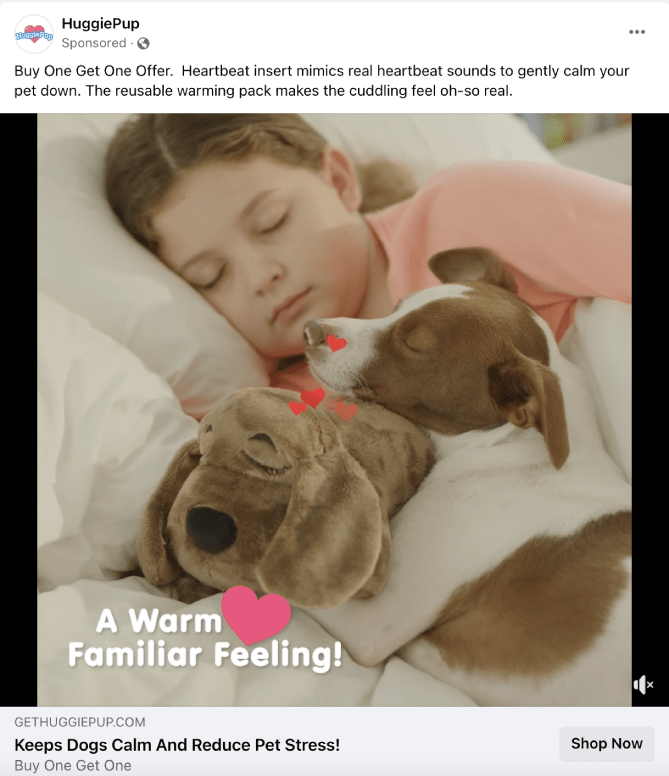 When all else fails, dogs always do the trick, right? Huggie Pup, a manufacturer of plush toys for dogs (yes, dogs for dogs), utilizes a fun brand video to showcase the benefits of its plushies. Instead of a flashy brand video that tells a story, a video that directly shows your item in use or illustrates its benefits can also be one of the best Facebook ad campaigns. After all, that's what ads traditionally do, right?
Express Men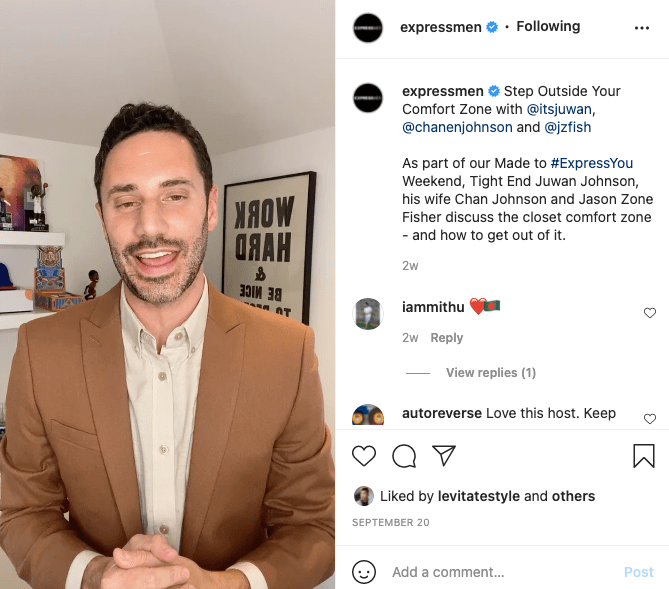 Of course, we cannot talk about examples of great Facebook ads without mentioning testimonials. Word of mouth is always one of the most trusted forms of advertising — you get testimonials and thoughts from your very own customers, or you can engage in influencer marketing via sponsored posts. Express Men here uses a video from Juwan Johnson, a member of the New Orleans Saints football team, to showcase the athlete's favorite picks from the brand.
And remember: great imagery and video aside, the copy you use for your ad should be quick, succinct, and attention-grabbing. Whether you have a large ad campaign to push or just one-off items to advertise, make sure you create an immersive experience that speaks to your brand's uniqueness and wonder.
SUMMARY: Hopefully these Facebook ad copy examples will help inspire you to create your own great ad campaigns! Facebook ads are a great and necessary way to help advertise your business. And when you utilize different mediums (carousel, Facebook Shop, videos), you can create tailored click-and-buy experiences for your targeted audience. Want to find out how to start your own business hassle-free? Ask a professional and he'll steer you in the right direction!