Navigating the vast product universe to discover hot products to sell on Amazon can seem like a daunting task. However, with the right strategies and resources, you can uncover lucrative opportunities. Let's delve into each method more profoundly.
Get selling tips and ecommerce inspiration right in your inbox!
Sign up today to not miss a single post:
Strategies for Finding Amazon Hot Products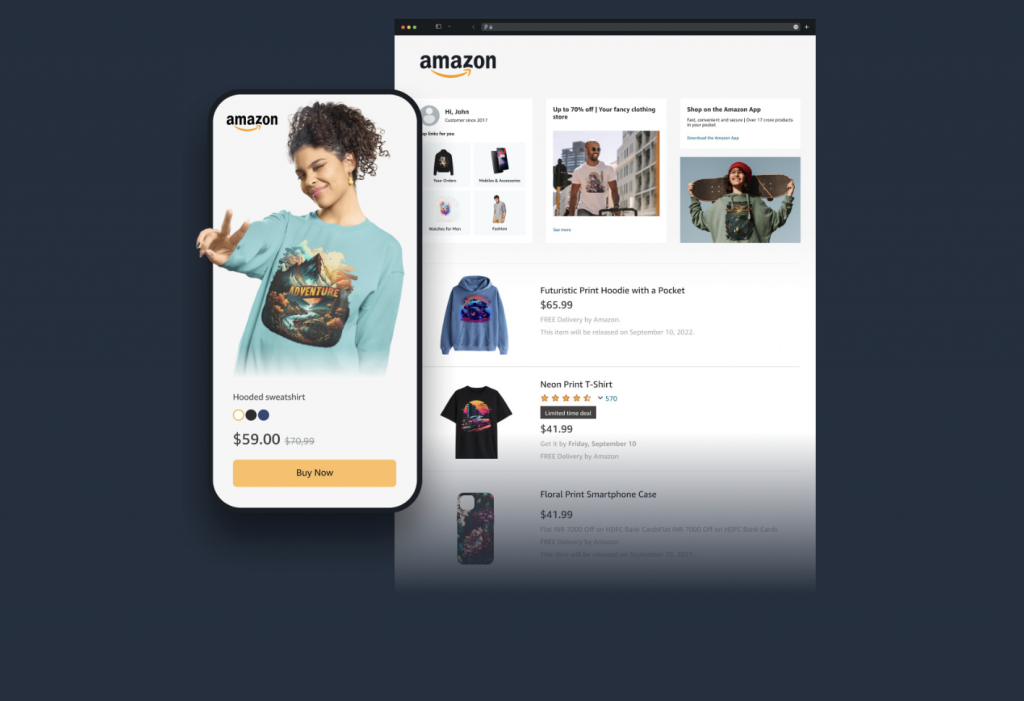 Discovering hot products to sell on Amazon requires a blend of creativity, keen observation, and a sense of market trends. Here are ten detailed strategies to guide you in your quest for the next big product:
№1. Amazon's Best Sellers List
Amazon's Best Sellers List is a trove of real-time data about products currently performing exceptionally well in various categories. Updated hourly, this list provides an accurate snapshot of what consumers are buying right now. By exploring this list, you can identify hot products that align with your business's niche and have a proven demand.
№2. Amazon Movers & Shakers
Amazon's Movers & Shakers list details products that have seen a substantial increase in sales rank over the past 24 hours. The rank is updated hourly and spans across all Amazon's categories. This dynamic list is a fantastic resource for identifying trends before they go mainstream and for spotting potential hot products that are just starting to gain traction.
№3. Customer Reviews and Ratings
Consumer feedback in the form of reviews and ratings can reveal a lot about a product's performance and its acceptance among consumers. Products with high average ratings are typically popular and in-demand. Furthermore, diving into reviews can uncover areas where existing products are falling short. Such insights can offer opportunities to offer a better product or to improve upon existing ones.
№4. Social Media Trends
Social media platforms, such as Instagram, TikTok, and Pinterest, have become a rich source of product and trend discovery. People love to share their new purchases or favorite items on these platforms, and trending items often see a massive surge in demand. By monitoring hashtags, influencers, and popular posts related to your niche, you can spot potential hot products early on.
№5. Google Trends
Google Trends allows you to track the popularity of specific search terms over time and even compare different terms to see relative popularity. This can be a fantastic way to spot rising product trends. For instance, if you notice a sudden increase in searches for a particular kind of product, it might be a good time to consider selling that product on Amazon.
№6. Product Research Tools
Investing in dedicated product research tools like Jungle Scout, Helium 10, or AMZScout can be highly beneficial. These tools offer in-depth analytics and data about product performance, pricing, competition, and estimated profitability on Amazon. They can save you countless hours of manual research and help you make more informed product decisions.
№7. Partner with Sellvia
Partnering with a company like Sellvia can streamline your product discovery process. Sellvia offers an expansive catalog filled with a wide variety of products across numerous niches. Their team continuously curates and updates this list with top-selling and trendy items.
In addition, Sellvia's Premium Products service offers a unique advantage. Ecommerce specialists, armed with advanced tools and market insight, help identify high-demand products tailored to your specific needs. You get expert support in creating a profitable product line-up, thus mitigating the risks of trial and error.
Finding hot products to sell on Amazon involves staying informed about consumer trends and making smart, data-driven decisions. By combining these methods, you can significantly improve your ability to spot potential winners and build a successful Amazon business.
Entering the world of ecommerce might feel daunting, especially when it comes to finding the right products to sell on Amazon. But don't worry, we're here to guide you through the process. With no experience required, you can launch your own online business and create a solid income stream.
Choosing the Right Products
Choosing the right product is crucial when starting your online store. Here are a few things to consider:
Popularity

: Look for products that are trending or in high demand.

Profit Margin

: Consider the cost of the product versus its selling price to ensure a healthy profit margin.

Size and Weight

: Smaller, lightweight items are often cheaper and easier to ship.

Competition

: Ideally, opt for products with low to moderate competition.
Sounds overwhelming? It doesn't have to be. One of the methods to streamline this process is by partnering with a service like Sellvia.
Unleashing the Power of Sellvia for Your Amazon Store
Sellvia makes it incredibly easy for individuals, irrespective of their business experience, to find and sell products on their Amazon stores. But how does Sellvia do this?
Sellvia offers an extensive catalog filled with the hottest products for you to sell.
The catalog is consistently updated to reflect the latest trends and customer demands. This makes it easier for you to always have access to items that are currently popular and in-demand, thus increasing your chances of making sales.
To provide a more personalized experience, Sellvia offers a Premium Products Service. This is perfect for those looking for unique items catered to their specific business needs. With this service, a team of ecommerce specialists help find the hottest products that people are searching for online.
With our premium product, you gain access to a wide range of unique items tailored to your customers' needs.
By teaming up with Sellvia, all of the boring tasks will be handled by a team of professionals, while you manage your online business.
Rest assured, as the experts behind Sellvia's Premium Products service will handle everything:
Discover what products people are searching for, but cannot find ✅
Merge these products with your personal ideas, interests, and values to create a product offering that stands out and meets the customers' demand ✅
Fulfill an order in your store and print the needed items upon your request ✅
Take care of the delivery right to your customer ✅
Wrapping Up: Your Journey to Amazon Success
Finding products to sell on Amazon can be simplified by leveraging services like Sellvia, doing your own research, and keeping an eye on trends and competition.
With the methods outlined in this article, you're well on your way to establishing a successful ecommerce business. The journey might require effort and patience, but remember, the world of ecommerce offers immense potential. And with Amazon's growing popularity and Sellvia's comprehensive solutions, your path to success is clearer than ever. Get started today, and before you know it, your side hustle might just turn into a full-fledged business, bringing you profit for years to come. Book a call with our business advisors and they will let you in on what you need to know to succeed in the ecommerce space!