Kitchen towels are a shining example of home textile items that will always come in handy. For sure, they have a wide range of uses, such as drying hands, cleaning kitchen dishes, spoons, forks, cutting boards and various other kitchen items. It is also used for holding hot utensils while serving, including different types of plates, bowls, and dishes. There's a wide range of kitchen towels available for consumers of different tastes and preferences.
Whenever you want to come up with a business idea, you have to take into account how much of an impact it will have on the consumers. How will it make their life easier?
With kitchen towels, you get exactly that — items that are essential in their everyday lives, yet provide a little sparkle thanks to a unique design.
This is where the owners of the Honey Dew Gifts store have triumphed, making over $23,973,900.00 on kitchen towels and other kitchen décor.
Throughout the store's activity, they've managed to accomplish over 1,598,260 sales with 2,000 products in assortment.
And it's not a surprise how or why. Simply by looking at their distinctly designed kitchen hand towels and other kitchen décor, you're going to want your kitchen to have some of these items.
So, here are just a few examples of the store's kitchen towels.
However, kitchen towels are not the only thing that will decorate your kitchen. Another item that helped the Honey Dew Gifts make millions are custom signs. Here are a few examples.
As you can see, the sky's the limit when it comes to these kinds of products, everything depends on your approach. You can be the one that supplies the market with some new exciting products!
Thus, let's see how you can achieve the same or even better results selling kitchen towels — and more — with Turnkey Amazon business by Sellvia!
Why limit yourself with kitchen towels? Turnkey Amazon business by Sellvia lets you take the whole kitchen textile segment by storm!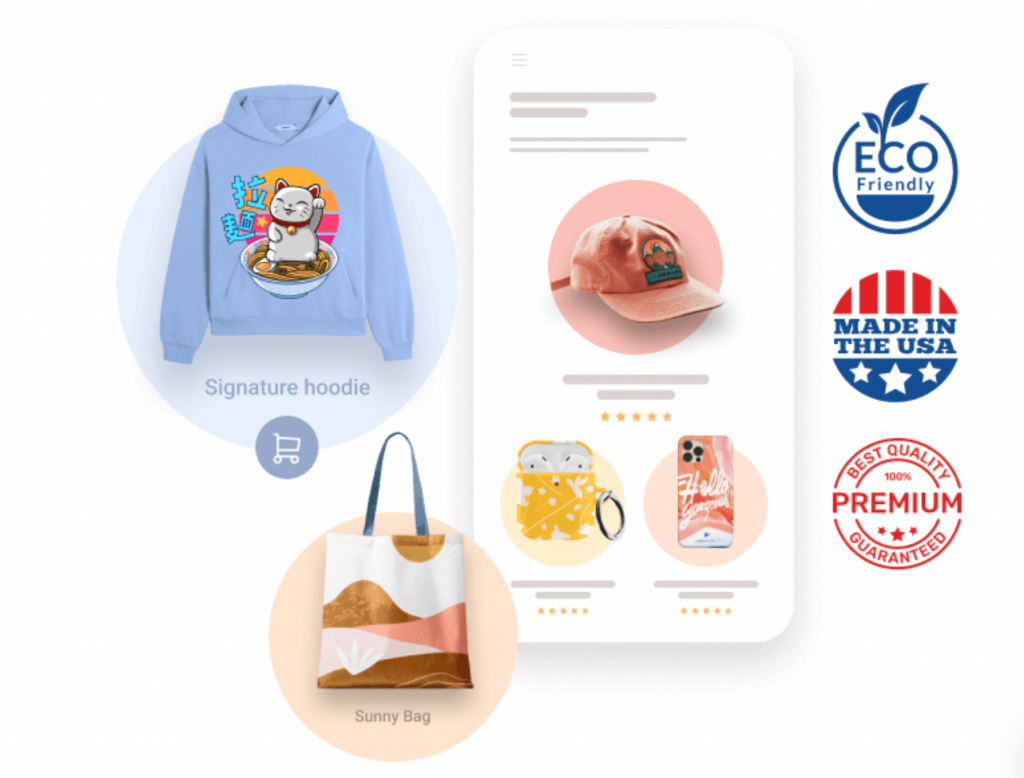 Like we said earlier there's a wide variety of kitchen towels out there, and with Sellvia's turnkey Amazon business, you have a unique opportunity to create exclusively designed kitchen textile that consumers will fall in love with.
What exactly are turnkey Amazon business by Sellvia and what benefits do they hold for you?
With our service, we will find you products that people are looking for but can't find yet! All you have to do is specify your preferences and interests to our team of professionals, and they will handle the rest.
They will search for the most promising ideas and create a product offering catering to the consumer's needs. Moreover, the team will also take care of all the technicalities, such as the manufacturing and delivery of the products.
And while we handle the heavy lifting, you can seamlessly sell these products however you want, on any platform you want.
Your unique vision can be the exact thing that will bring something new to the market and allow people to satisfy their needs.
With Sellvia's turnkey Amazon business, you can sell unique products that will provide you with an income for years to come!
With the help of turnkey Amazon business, you will be selling the best kitchen towels and other kinds of textile that aren't available anywhere else. This means you can practically forget about any competition.
Our team will assemble product ideas that consumers want, but can't find yet. And you can be sure that you will sell products of the highest quality. All of them will come with a top-quality printed design created with the use of modern printing technology.
Your business is in good hands! All the products will be manufactured, printed, and shipped by us upon your request and under your brand.
Our team of experts will help introduce your brand of products to millions of potential buyers.
You can sell your awesome products anywhere you want, from a marketplace like Amazon, to your own online store, or even through your social media. You choose what direction to take!
Here's a quick roundup of how it works:
You specify your interests and passions ✅
Our team finds what exactly people look for but nobody's selling yet, according to your specific needs ✅
Our designers create fantastic prints for you and your customers to enjoy ✅
You get orders and delegate all the technicalities to us ✅
Generally, it can take quite some time, and even some significant financial investments to create such a business. However, with Sellvia's turnkey Amazon business, you have a unique opportunity to start with all the difficult parts delegated to our team of experts.
What kinds of kitchen textile can you sell with turnkey Amazon business?
Tote bags and small organizers for convenient storage, wine tote bags to keep your bottles safe, kitchen aprons and oven mitts to make your cooking efforts a success — we have them all!
Can you resist such a temping business opportunity? By the way, how lucrative it is?
How profitable is it to sell kitchen towels and other pieces of kitchen textile?
The main idea behind every great business idea is to help the people solve their everyday problems.
Here are some of them:
Cleaning and drying our hands
Drying up spills, splashes, and other liquids.
Drying dishes and utensils
Handling hot pots and pans
Drying fruits, vegetables, and herbs
Kitchen towels always save the day, even when we don't realize all the ways they serve us. These staples of the kitchen are one of those items that provide great value to the kitchen area. So, how often do internet users search for them?
According to Google Trends, online users are constantly searching for this essential kitchen item.
The best part about this kind of product is that there can never be enough kitchen towels! And every once in a while they tear or become unusable. That's when people are going to need new towels, which you can provide them with!
What about the market as a whole?
In 2021, the global kitchen towel market reached a value of $ 15.1 billion. According to experts, the market will reach $ 22.3 Billion by 2027 at a CAGR of 6.58% during the forecast period (2022-2027).
Now that you know that selling kitchen towels and other kinds of home textile is indeed a great business opportunity with lots of potential, how do you feel about it?
Do you feel like you want to make a fortune on kitchen towels and other elements of kitchen décor? Or perhaps any other kind of products? Well, with a turnkey Amazon business by Sellvia, you can win over the hearts of the online customers with your own unique take on practically any item. Right now, is the best time to launch an online business selling your own unique products!