You might think: "Excuse me? Kylie Jenner? She was born rich, what other secrets can there be?
Almost four hundred MILLION Instagram followers, a car collection that includes luxury vehicles such as Ferrari, Lamborghini, Rolls-Royce, and Bugatti, the youngest-ever woman billionaire, simply a stunning model and a mom – that's Kylie.
However, she's a totally self-made ecommerce entrepreneur, and all of us can actually learn from Kylie! Still don't believe Kylie's success is earned, not inherited?
Join us in this Kylie Jenner business case study as we uncover Kylie's inspiring ecommerce business details and see for yourself that you don't need to be from a wealthy family to achieve financial success (our professional recommendations for ecommerce newbies included!).
Kylie Jenner: business creation and development against the family expectations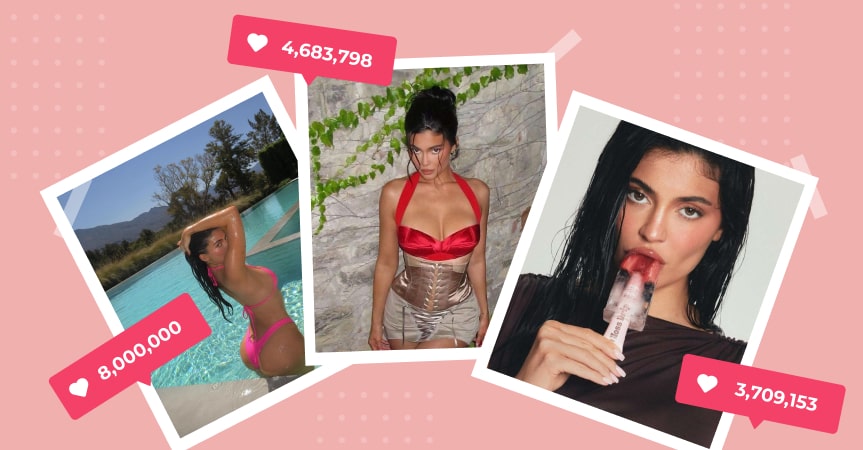 Probably, the whole planet Earth knows the Kardashians. You've at least seen them on TV. But Kylie has always wanted to be known for more than just being a Kardashian.
Believe it or not, just if you're born in a family of talented actors, artists, musicians or prosperous businessmen doesn't mean you're as talented as your parents, too. We tend to underestimate rich people's children just because they were born with a silver spoon in their mouth, but in reality they usually have something more to teach us then their parents.
Since their childhood they see how cool their parents are, feel the pressure, meanwhile the whole world of temptations is easily accessible to them. Seems not-so-simple to single handedly make a prosperous business empire at their place now, huh? Well, Kylie did it! And fun fact: you can do the same and even outdo Kylie! How, you ask? It all starts with a passion.
Turning a hobby into a business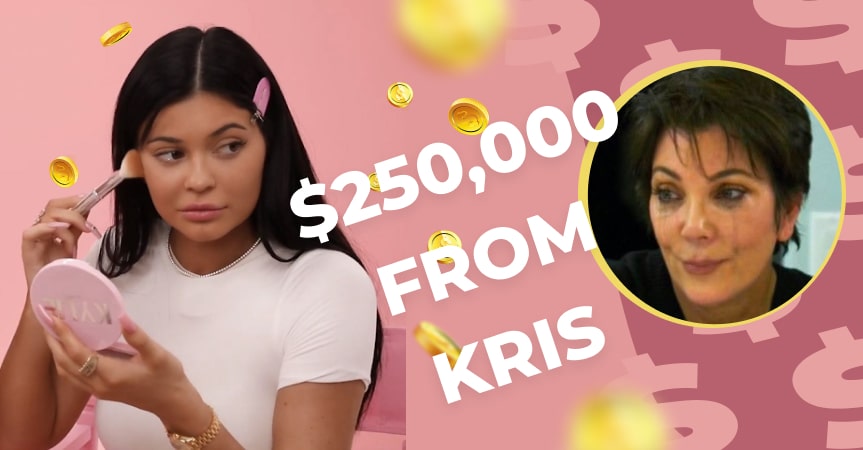 Kylie has always loved makeup and fashion and wanted to share that with the world. She did it already on Instagram and was actually extremely popular there, one of the most followed social media accounts ever. These facts gave her the idea to launch a cosmetic company Kylie Cosmetics in 2015.
See? It's important to make sure that your business is something you care about. While you can make money doing everything, it's always more engaging doing what you love. Also, being interested in your niche gives you the edge over your competitors.
A Pro ecommerce tip: Just like Kylie Jenner, you definitely have some hobbies you can monetize. You think your stamp collection hobby is useless and you'll never profit from it? Well, what if you start trading stamps online? Maybe you too can become a billionaire.
Forbes magazine estimated Jenner's net worth at $1 billion and called her the world's youngest self-made billionaire at age 21.
In 2015, Kylie transformed her passion for makeup into a thriving ecommerce business. She didn't use her family's vast wealth for it – she only took $250,000 from her modeling earnings to create her first line of products, known as Kylie Lip Kits. These lip kits were sold exclusively online and quickly became a sensation among beauty enthusiasts. The overwhelming response prompted Kylie to expand her product line and venture into other makeup categories.
The rebranding and business expansion of Kylie Cosmetics
Within a remarkably short period, Kylie Cosmetics achieved extraordinary milestones. In less than two years, the brand amassed an estimated $630 MILLION in sales. This remarkable feat is a testament to Kylie Jenner's strategic vision and her ability to tap into evolving consumer preferences and market dynamics.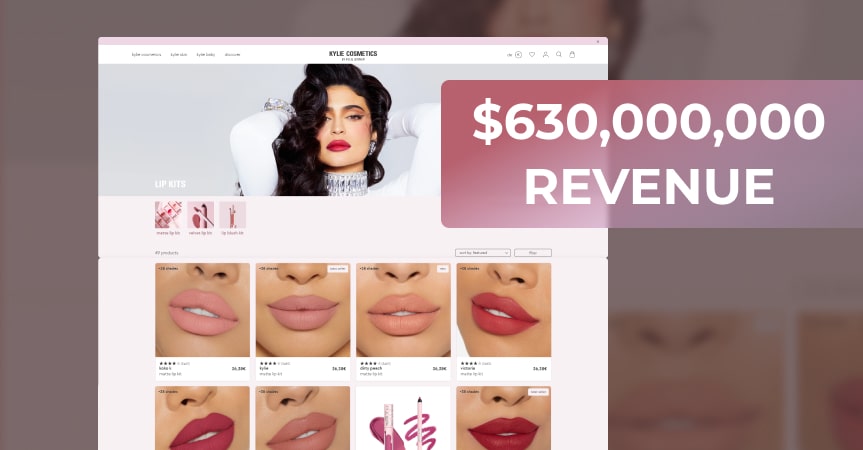 The initial release of the lip kits witnessed overwhelming demand, with products selling out within minutes. This unprecedented success sent shockwaves through the beauty industry, solidifying Kylie.
The brand garnered rave reviews from both customers and critics alike, further bolstering its early triumphs. Just look at how popular her brand is in the US!
Recognizing the immense potential of the market she had tapped into, Kylie rebranded her brand as Kylie.
This strategic move allowed her to broaden her product range and collaborate with renowned celebrities for exclusive limited-edition collections.
Kylie Jenner's entrepreneurial journey serves as an inspiration to aspiring entrepreneurs worldwide, as does her excellent experience in marketing.
Kylie's secrets to successful promotion
Marketing is essential in ecommerce for reaching a large and global audience of potential customers who are looking for your products and increasing brand awareness and recognition. Quality promotion is needed to stand out from the competition, build trust and loyalty with your customers, and grow your sales and revenue.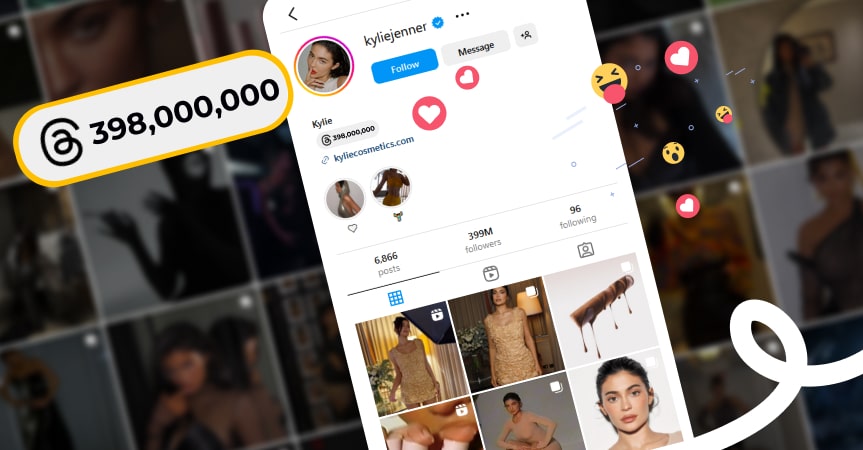 Kylie Jenner's marketing was a blend of social media engagement and partnerships with established retailers. She used these methods to reach out to her customers and build a community of makeup lovers. Her approach helped her create a loyal customer base that resonated with their needs and desires.
Leveraging her massive social media following, Kylie harnessed the power of digital platforms to promote her brand. She created a very high- quality dedicated website and app, establishing a strong online presence that facilitated direct-to-consumer sales through ecommerce. This astute marketing strategy played a pivotal role in the rapid growth and success of Kylie Cosmetics.
Kylie's website is a masterclass in sleek, user-friendly design and engaging aesthetics. It effortlessly combines vibrant visuals, intuitive navigation, and a seamless shopping experience, which are essential in captivating the audience and converting visits into sales. Ms. Jenner has partnered with other celebrities and influencers. These collaborations result in limited products, creating a sense of urgency.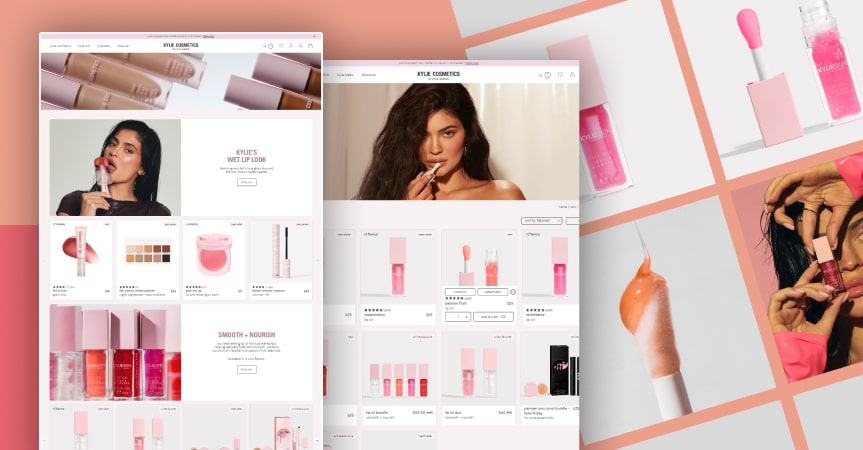 Her business continues to grow. She even started a skincare line and got involved in other projects, making her one of the most well-known celebrities.
Kylie Jenner business marketing strategy is an excellent example of how social media and online selling can help build a successful brand.
You can do it too: 3 steps to your own wealth
Want to be successful like Kylie? Good news – you don't need to be as rich to start! Here's our PRO recommendation:
1. Launch your store the right way
There's plenty of turnkey options to start a profitable ecommerce business, why miss the chance and spend thousands on designers and coding experts?
For instance, Sellvia offers fully-functional Turnkey online stores that come with everything needed for
proper business operation. All of our stores are built to captivate your audience and drive sales.
2. Chose only high margin products
No margin = no profit. Especially if you don't have as big of an audience as Kylie.
That's why every Sellvia store comes with the items that sell like hot cakes (no need to spend time and money like Kylie did with her cosmetics line, no need to risk anything or struggle with product quality enhancement. We've already collected the best of the best!
3. Don't act alone
If you're an experienced ecommerce entrepreneur, well, we're sure you can make all the decisions easily without anyone's help. However, while just starting out, use all of the resources you have around!
We never leave new business owners alone – once starting with us you get a personal manager that gives you one-on-one business consultations for FREE. Always.
Ready to build your own online ecommerce empire like Kylie Jenner did? Start your business for FREE with Sellvia TODAY!