Every owner of a household wants their home to look its absolute best. Especially in the time of the holiday seasons! During these special times, decorating your home with some appropriate garden flags will definitely add to the spirit of the holidays.
Making your outdoor area feel special is an everyday opportunity. With a decorative garden flag, you can make the most of your patio area. The best part is that there's a variety of ways to decorate your garden, which we will discuss further down the line.
However, what's more important is that this is a great opportunity for entrepreneurs to start selling trending products and make millions. How exactly, you might ask?
Sellvia's Premium Products will provide you with an assortment of high quality products that consumers are looking for but can't find anywhere else. Including garden flags!
For instance, the owners of the flagsRus store sure hit the jackpot with their business approach. They created unique products that have captured the customers' hearts. Throughout their store's life cycle they made more than $10,339,200.00! A very impressive amount for selling very simple products.
So, let's see why selling garden flags with Premium Products is a wondrous opportunity!
Succeed by selling garden flags with Premium Products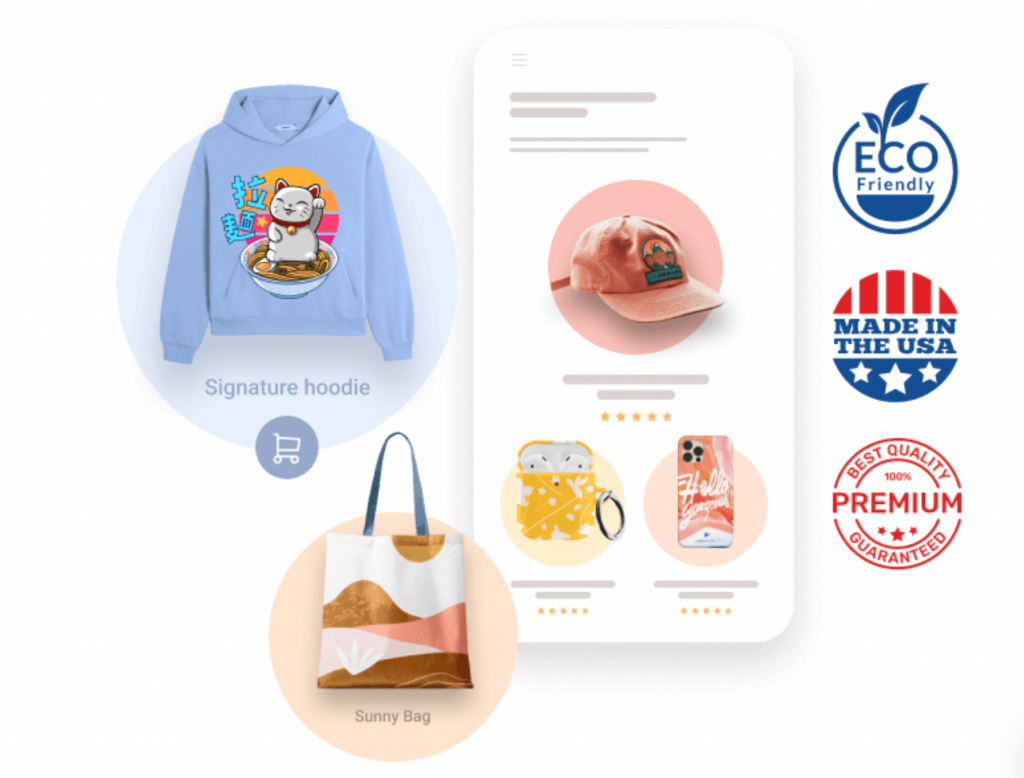 What exactly are Premium Products and what do you get with them?
With this service, all you have to do is tell our specialists about your interests and preferences. Our team of professionals will handle everything else.
They will find the most promising product ideas that customers are looking for and create items tailored to their needs. Then, you can easily sell these products wherever you want. And while you sell your products, our team will take care of all the hard stuff.
Your unique vision can be the exact thing that will bring something new to the market and allow people to satisfy their needs.
With Sellvia's Premium Products, you can sell unique products that will provide you with an income for years to come!
With the help of Premium Products, you will be selling items that are not available anywhere else. This means, you can practically forget about any kind of competition.
Our team will assemble product ideas that consumers want, but can't find yet. And you can be sure that you will sell products of the highest quality. All of them will come with a top quality printed design created with the use of modern printing technology.
All the products will be manufactured, printed, and shipped by us upon your request and under your brand. Your business is in good hands!
Our team of experts will help introduce your brand of products to millions of potential buyers.
You can sell your awesome products anywhere you want, from a marketplace like Amazon, to your own online store, or even through your social media. You choose what direction to take!
Here's a quick roundup of how it works:
You specify your interests and passions ✅
Our team finds what exactly people look for but nobody's selling yet, according to your specific needs ✅
Our designers create fantastic prints for you and your customers to enjoy ✅
You get orders and delegate all the technicalities to us ✅
Generally, it can take quite some time, and even some significant financial investments to create such a business. However, with Sellvia's Premium Products, you have a unique opportunity to start with all the difficult parts delegated to our team of experts.
So, why should you tackle the home goods niche in ecommerce?
Is it profitable to start selling garden flags
When it comes to starting any kind of venture, we always ask ourselves "Is it profitable?" Let's see!
First, let's take a look at a Google Trends graphic.
As you can see, garden flags were always a popular topic among the online audience. And with the different variety of holiday events throughout the year, with this unique décor item will remain a popular choice of decoration for your home for the coming years.
And you can be sure that offering unique products to the US market is a remarkable opportunity.
There are garden flags for every season! Winter garden flags, fall garden flags, summer garden flags, spring garden flags.
Are the holidays just around the corner? Get ready to offer potential customers Halloween garden flags, patriotic garden flags, Christmas garden flags, easter garden flags, even valentine's day garden flags!
Want to help people express their love for animals? There's nothing stopping you! Offer dog garden flags, or car garden flags.
As you can see, the amount of exciting items to offer is huge! With the right garden flag, you can set a specific theme for your consumers' gardens. Or add some color and texture to make their garden even more colorful and memorable.
Making millions with decorative garden flags for home
If you ask a homeowner if they have enough garden flags, they will probably tell you that there are never enough garden flags. Flags add fun splashes of color to your decorating story. These unsung heroes of garden décor are wonderful for celebrating any holiday or a simple family gathering.
A colorful flag will complement any theme and add personal style to your outdoor space.
The owners of the flagsRus store have successfully started a store dedicated to this product assortment and made well over $10,339,200.00! Let's look at some examples of the products that they offer.
There's a wide variety of house garden flags that this store offers. And that's just a small amount that we've picked out.
You can also win big on selling these kinds of items with Sellvia's Premium Products!
We'll help provide your potential customers with unique products, so that they'll be ready to welcome their friends and family.
There are garden flags for almost any occasion that will help you celebrate the seasons and holidays in a unique and expressive fashion. You can put your garden flag pretty much anywhere. Whether you want to have it in the front or back yard, garden or even in the house as a decorative flag! The sky's the limit. House flags will look great anywhere, from your front door to your backyard.
With Premium Products, your new garden décor offering will be the talk of the town, in any town!
Don't miss the opportunity to turn your unique vision into a reality with Premium Products! And with a product opportunity as big as garden flags, your success is just a matter of time! Start now and you'll win over the customer's hearts in no time at all!