Upon starting an online business, every entrepreneur tries to find a business idea with tons of potential. And oftentimes, we can hit a roadblock because many niches are already filled with businesses. However, he who always seeks will always find. So, today we've prepared a business idea that will allow you to make real money online and make you more than $1,387,520.00!
We all love to showcase our personalities in different ways. In general, whatever we wear says a lot about ourselves. Anything from a simple black t-shirt or a cap with some kind of message, or even a pair of crazy socks can show what kind of personality you have.
But looking back on how the owners of a crazy socks store have managed to make over $1,387,520.00 on crazy colorful socks, we're certain – it's the type of product that allows people to demonstrate their personal tastes like no other product!
Crazy socks can showcase your personal taste and interests in many different ways. Simply because the design of the socks can range drastically. From neon green or have gigantic eyes, to lobsters or flying pigs, or over-frosted cupcakes all over them.
The possibilities are practically limitless to reach any kind of group of consumers with different interests.
And when you partner up with Sellvia, and utilize our one of a kind Premium Products service, you can realize your long-time dreams of starting an online business and selling your own unique products.
So, let's see how you're going to win over the customers' hearts and make real money online by establishing a six figure business!
Are crazy socks really that popular?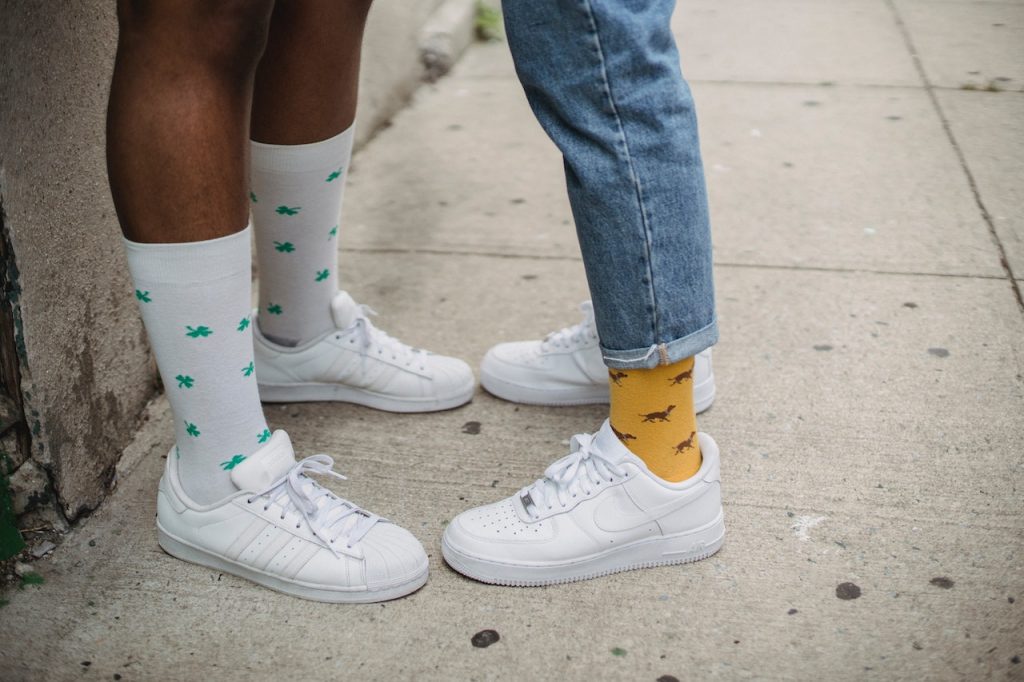 Thinking back, socks used to be something you simply cover your feet with. Possibly even an afterthought, being plain black or white and ankle-height. However, today socks are much more than that. It's at the very least a very important part of your outfit, and at the same time the making of your outfit.
What are crazy socks?
First of all, let's determine what exactly are crazy socks?
You can name them however you want, the principle remains the same. Crazy socks, funky socks, wild socks, fun socks – are any pair of socks with an amusing pattern like cats or dogs, burgers or pizzas, or even some imaginary creatures.
Some socks can have "simpler" designs with various abstract patterns in bold colors, or classic patterns like stripes or polka dots. In general, crazy socks aren't in some kind of plain colors, however if the color happens to be neon green or hot pink, then they are definitely in the crazy socks category.
Whenever we talk about any kind of clothing or clothing accessories, one question pops up in people's minds. Is it in style?
If you're worried about the popularity of crazy socks and whether or not they are in style, the answer is yes!
Simply take a look at all the different politicians, fashion models, businesses, doctors and other professionals who wear crazy socks on a daily basis and look amazing doing it! The great thing about it is that this category of products isn't only for men, but for women as well! Meaning you can find a whole different kind of customer audience.
Furthermore, crazy socks definitely have their advantages, as well.
Crazy socks are a great icebreaker
Whenever you meet someone, crazy socks can be the icebreaker that breaks the awkwardness. This someone can comment on the fact that your socks have dogs on them, and it will turn out that both of you are dog lovers.
Crazy socks can be a wonderful gift idea for you to give, but also to receive. If any of your friends or simply people who you know compliment your socks they will already know what to give you for the next big holiday. And the same goes for you, if you know their tastes, maybe you can find a pair of socks that will fit their individuality and allow them to dive into this crazy world of crazy socks.
A delight for the little ones
Kids see socks on a much closer level than anyone else, so it makes sense they pay more attention to them. So, why not make your little one's day a bit happier by wearing socks with a funny dad joke or a pattern they'd love?
Crazy socks are much easier to match after laundry
We can have socks of different varieties in our wardrobes. From different brands, of different lengths and thicknesses, and matching them can take a long long time. However, when you have a pair of pizza-patterned socks, you will have no trouble pairing them up.
Socks can make an outfit stand out
A pair of crazy socks can brighten up your look and give your outfit that extra spark. Make a strong statement with your style!
Is it profitable to sell crazy colorful socks?
Whenever people come up with some sort of business idea, one thing that always pops in our heads is whether the idea is profitable or not.
To better understand this and estimate its potential, let's see some data on this topic. Let's look at Google Trends, for example.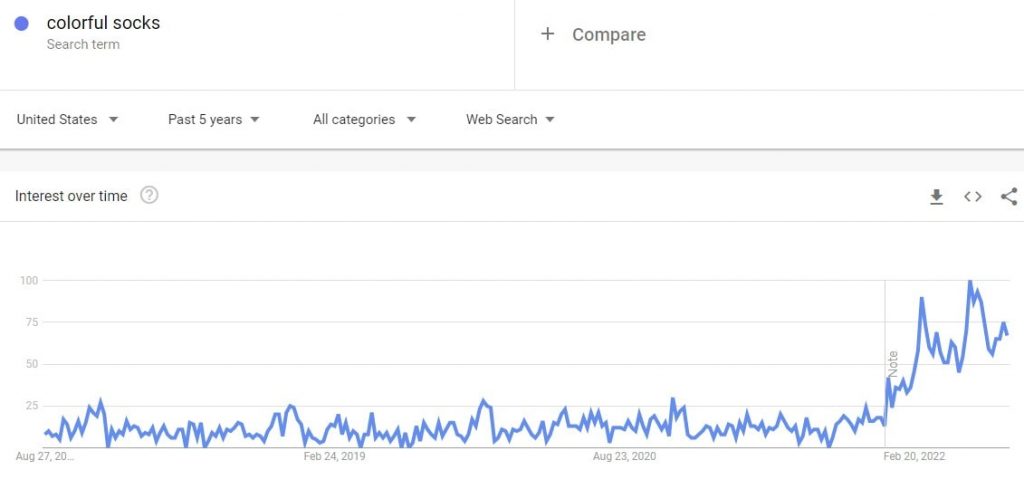 It is evident by the Google Trends' graphic chart that the popularity of colorful socks has reemerged in the past few years.
But what's even better than a graphic report? A real life example!
How to make real money online: over $1,387,520.00 on crazy colorful socks
First of all, how do you feel about socks?
Depending on how you view them, they can either be a necessity – in which case black, blue or grey will do – or they are a window to the way you can show off your individuality, personality and non-conformed attitudes.
Regardless of your views, according to a study, people who have shown to deliberately choose to wear wacky socks, are seen as having increased status and competency in the eyes of others. In other words, people have the potential to see you as more brilliant, creative and successful.
That's what the owners of the "Sox R Us" store believed in and turned their dreams into reality by making over $1,387,520.00!
The owners of the store have about 582 products in their assortment. And with over 86720 made orders, there's no doubt that the sellers have found the recipe for success.
Let's look at some of the craziest socks designs that allowed this store to make real money online with over a million dollars in bank!
And here are some more examples!
As you can see, there are many different designs for fans of different tastes and preferences to purchase.
You can also sell unique products with the help of Premium Products!
Make real money online on crazy colorful socks with Premium Products

What exactly are Premium Products and what do you get with them?
With this service, all you have to do is tell our specialists about your interests and preferences. Our team of professionals will handle everything else.
They will find the most promising product ideas that customers are looking for and create items tailored to their needs. Then, you can easily sell these products wherever you want. And while you sell your products, our team will take care of all the hard stuff.
Your unique vision can be the exact thing that will bring something new to the market and allow people to satisfy their needs.
With Sellvia's Premium Products, you can sell unique products that will provide you with an income for years to come!
With the help of Premium Products, you will be selling items that are not available anywhere else. This means, you can practically forget about any kind of competition.
Our team will assemble product ideas that consumers want, but can't find yet. And you can be sure that you will sell products of the highest quality. All of them will come with a top quality printed design created with the use of modern printing technology.
All the products will be manufactured, printed, and shipped by us upon your request and under your brand. Your business is in good hands!
Our team of experts will help introduce your brand of products to millions of potential buyers.
You can sell your awesome products anywhere you want, from a marketplace like Amazon, to your own online store, or even through your social media. You choose what direction to take!
Here's a quick roundup of how it works:
You specify your interests and passions ✅
Our team finds what exactly people look for but nobody's selling yet, according to your specific needs ✅
Our designers create fantastic prints for you and your customers to enjoy ✅
You get orders and delegate all the technicalities to us ✅
Generally, it can take quite some time, and even some significant financial investments to create such a business. However, with Sellvia's Premium Products, you have a unique opportunity to start with all the difficult parts delegated to our team of experts. Choose the appropriate Premium Product package and our team will create an account for you and upload your unique products.
So, do you want to make real money online by selling your own unique products? Right now, with Premium Products, you have a remarkable opportunity to sell items that everyone is looking for but cannot find anywhere else! So, start now and win over the customers' hearts in no time!