Starting an online business selling your own merch can be a game-changer for many aspiring entrepreneurs. Not only does it allow you to express your creativity and personal style, but it also has the potential to generate a substantial income. In this article, we'll explore the benefits of having your own online merch business, share some inspiring statistics on successful merch sellers, and provide a step-by-step guide on how to make your own merch using Sellvia's Premium Products.
Get selling tips and ecommerce inspiration right in your inbox!
Sign up today to not miss a single post:
The Benefits of Having Your Own Online Merch Business
With an online merch business, you can work from anywhere and at any time, making it an ideal side hustle for those with full-time jobs.
Compared to traditional brick-and-mortar businesses, starting an online merch business requires significantly less initial investment.
As your business grows, you can easily expand your product line and reach new markets without the constraints of physical store locations.
Designing your own merch allows you to express your personal style and build a brand that resonates with your target audience.
Once your online store is set up and running, it can generate income with minimal ongoing effort, as long as you continue to promote and maintain it.
Analysts report that the global custom t-shirt printing market is expected to exceed $10 billion by 2025. Furthermore, Statista reveals that 63% of consumers aged 18-29 have purchased custom printed apparel at least once. These figures demonstrate the potential for success in the online merch business.
How to Make Your Own Merch with Sellvia's Premium Products
What Are Premium Products?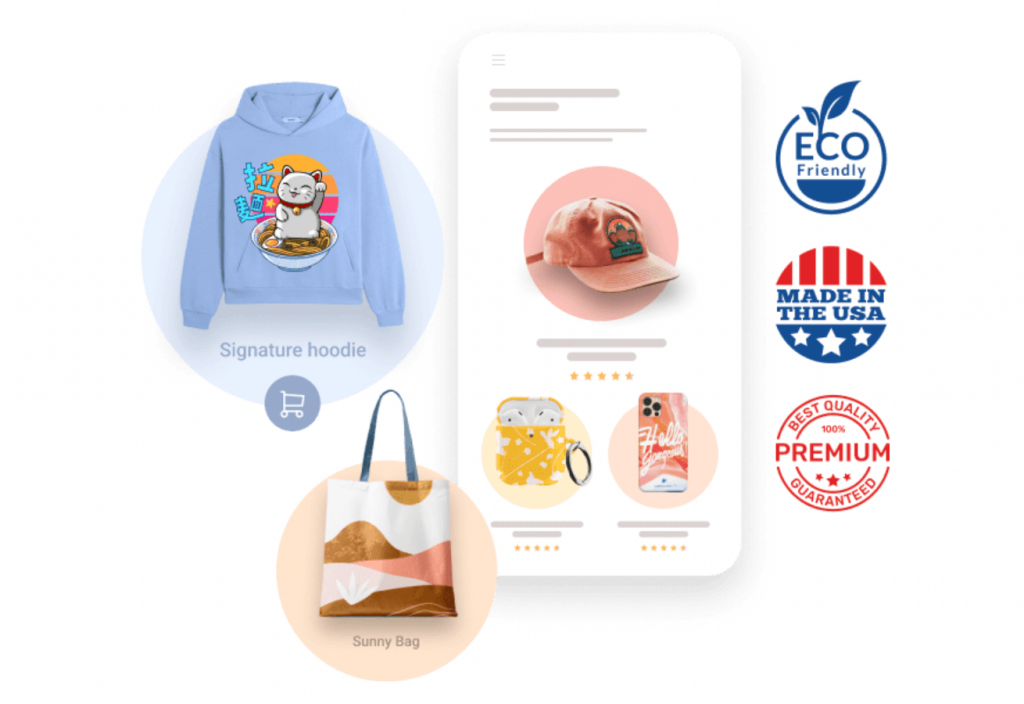 Premium Products are an exclusive selection of high-quality, custom-made items designed to set your online store apart from the competition. With Sellvia's Premium Products, you can sell unique products tailored to your customers' needs, giving you an edge in the marketplace.
Here's how to create your own merch with Sellvia's Premium Products:
Identify your niche and target audience: Before diving in, it's crucial to understand your target market and what type of products will resonate with them. Research trending designs and styles within your niche to ensure your merch appeals to your audience.
Choose your products: Browse through Sellvia's Premium Custom Products catalog to find the perfect items for your online store. Consider the types of products that will best showcase your designs and appeal to your target audience.
Design your merch: Use your creativity to design unique and eye-catching products that will set your store apart. Be sure to optimize your designs for the specific products you've chosen and follow Sellvia's design guidelines.
Set up your online store: Create an account with Sellvia and follow their step-by-step guide on how to dropship on Amazon, or choose another platform that best suits your needs.
Promote your store: Build your brand and reach potential customers through social media, email marketing, and other online marketing strategies. Sellvia offers resources to help you sell clothing on Amazon and other platforms effectively.
Monitor and optimize your store: Track your sales data and customer feedback to identify areas for improvement and growth.
How To Make Your Own Merch Store: The Perfect Guideline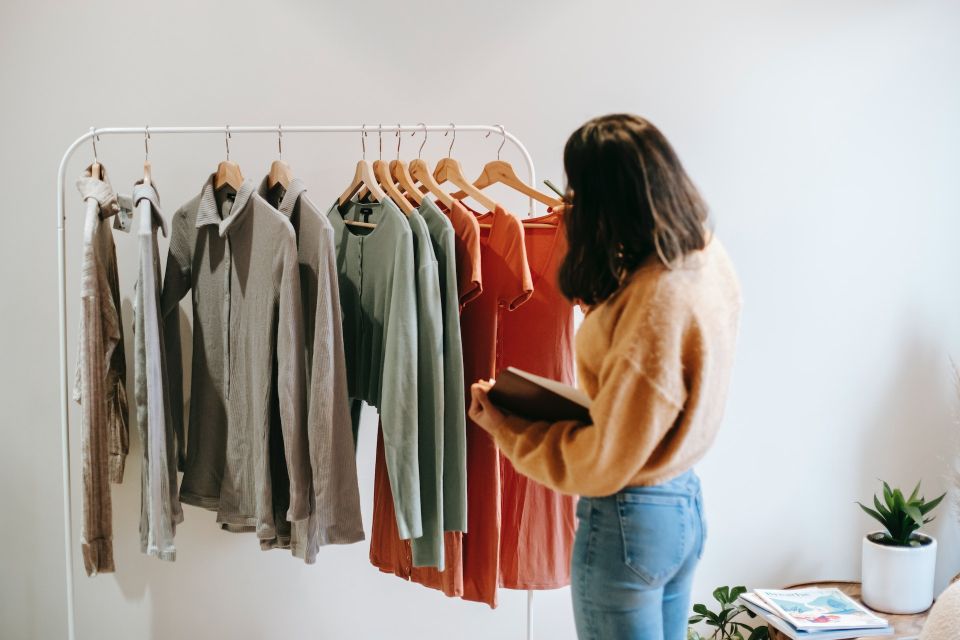 Identifying Your Niche and Target Audience
One of the first and most crucial steps in starting your own merch business is identifying your niche and target audience. This will help you create products that resonate with your customers and stand out in the market. To find your niche, consider your passions, interests, and what you believe others might be interested in. Then, research your target audience's demographics, preferences, and pain points to ensure that your merch caters to their needs and desires.
Choosing the Right Products for Your Merch
After identifying your niche and target audience, it's time to choose the right products for your merch. Consider the types of items that will best showcase your designs and resonate with your customers. Popular merch products include t-shirts, hoodies, hats, phone cases, and accessories. Keep in mind that the quality of your products plays a significant role in your customers' satisfaction, so always choose high-quality items that will make your designs shine.
Creating Unique and Engaging Designs
Once you've chosen the right products, let your creativity run wild and create unique, engaging designs that reflect your brand's personality and appeal to your target audience. Use design software like Adobe Illustrator or Canva to craft visually appealing and high-resolution images. Remember to keep your designs simple, yet eye-catching, and always consider the product's specifications, such as print area and color limitations.
Promoting Your Store and Products
To reach potential customers and drive sales, it's essential to promote your store and products effectively. Here are some popular strategies to help you get started:
Build your brand's presence on popular social media platforms like Instagram, Facebook, and Twitter. Share engaging content, interact with your audience, and showcase your products through eye-catching visuals and promotional posts.
Collect email addresses from your customers and website visitors and send regular newsletters to keep them informed about new products, promotions, and exclusive offers. This will help you build customer loyalty and drive repeat sales.
Collaborate with influencers in your niche to increase your brand's visibility and reach new potential customers. Develop relationships with influencers who share your target audience and values and work together on promotional campaigns.
Search Engine Optimization (SEO)
Optimize your online store and product listings for search engines like Google by using relevant keywords, writing engaging product descriptions, and following best practices for on-page SEO. This will help you rank higher in search results and attract organic traffic to your store.
Providing Excellent Customer Service
Providing top-notch customer service is essential for retaining customers and building a positive reputation for your brand. Respond to customer inquiries promptly and professionally, address any issues or concerns, and make the purchasing experience as seamless as possible. This will encourage positive reviews and word-of-mouth referrals.
Analyzing and Optimizing Your Store's Performance
Regularly analyze your store's performance using data and metrics from your ecommerce platform and other analytics tools. Track your sales, customer feedback, and website traffic to identify areas for improvement and growth. Use this information to optimize your store's design, product offerings, and marketing strategies.
Expanding Your Product Line and Scaling Your Business
As your merch business grows, consider expanding your product line to keep customers engaged and coming back for more. Stay updated on trends within your niche and be ready to adapt accordingly. Additionally, look for opportunities to scale your business by exploring new markets, optimizing your marketing strategies, and streamlining your operations. This will help you reach new heights and ensure the ongoing success of your online merch store.
Final Thoughts
Starting an online business selling your own merch has never been easier, thanks to Sellvia's comprehensive ecommerce ecosystem. With their extensive roadmaps, guidelines, video how-tos, and other free educational resources, you can start selling online even if you've never done it before.
By choosing Sellvia as your ecommerce partner, you'll enjoy a hassle-free, zero-effort approach to creating and growing your online business. Their team of experts will handle the heavy lifting, from product research and design to manufacturing and shipping, allowing you to focus on building your brand and reaching your customers.
Are you ready to embark on the exciting journey of making your own merch and building a successful online business? Then Sellvia is the perfect partner to help you achieve your goals. Book a call with our business advisors to find out how to your ecommerce journey today and unlock the incredible benefits that come with running an Amazon business. Good luck on your journey! Don't wait any longer – seize the opportunity and start making your mark in the world of ecommerce today!