Have you ever thought about starting an online business and sell military style clothing but felt overwhelmed by the whole idea? Or maybe you're searching for a unique niche with high potential for success? Well, look no further!
Today, we're going to reveal how anyone can start an Amazon store and create a considerable additional income by selling military-style clothing. And guess what? Sellvia has got your back, providing everything you need to kickstart such a business, from an online clothing store to unique products and help creating an Amazon store.
Let's dive into this fascinating world of patriotic apparel and see how you can turn it into a profitable business!
Get selling tips and ecommerce inspiration right in your inbox!
Sign up today to not miss a single post:
Why Military Style Clothing?
First of all, let's talk about why military-style clothing is such a popular choice.
The appeal of military-style clothing is rooted in the sense of pride, unity, and strength that it embodies.
Why are people so attracted to these styles? If you think about it, patriotism is a big deal for many people, and military-style clothing allows them to showcase their pride and support for their country.
Plus, it's a fashion statement that never goes out of style! Here are some reasons why military-style clothing is a great niche for your online business:
Patriotic appeal

: Military-style clothing often features designs that showcase national pride, making it a perfect choice for those who want to display their love for their country.

Versatility

: Military-style clothing is suitable for various occasions, from casual outings to more formal events. This versatility makes it appealing to a wide range of customers.

Durability

: Military-style clothing is known for its durability and practicality. These qualities make it an attractive option for customers who value long-lasting products.
Now that we've established why military-style clothing is a great niche let's discuss how you can start selling these products on Amazon.
The Patriotic Apparel Business That Made Over $11 Million
One of the most popular niches in the ecommerce world is patriotic apparel, which includes military style clothing. This type of clothing allows people to express their love for their country, showcase their pride, and connect with like-minded individuals. In fact, the popularity of patriotic clothing has skyrocketed in recent years, making it a highly profitable niche for aspiring entrepreneurs.
Just take a look at this Amazon store, where the owners have already made over $11 million in sales! It's pretty evident that there's a huge demand for this type of clothing.
The Grunt Style store specializes in military-style clothing, catering to the patriotic audience with their unique designs and products. But what exactly do they sell? Their product line includes t-shirts, hoodies, hats, and more, all featuring patriotic designs and military-inspired themes. By offering a wide variety of products, they cater to customers with different tastes and preferences.
Women's Patriotic Apparel
To us, what you wear is more than just a necessity, it's about attitude! We have taken the fighting American spirit and instilled it in everything we do. Our passion is to dress every American in Grunt Style from head to toe. Our mission is to deliver the highest quality, most Patriotic apparel on the planet.
So, how can you replicate their success and make your own fortune in the world of patriotic apparel? That's where Sellvia comes in.
This successful Amazon store is making millions by selling patriotic and military-style apparel. The best part is that you, too, can start a similar business with the help of Sellvia, which offers everything you need, from an online store to unique products and assistance in creating your own Amazon store.
How Sellvia Can Help You Start Your Own Military Style Clothing Business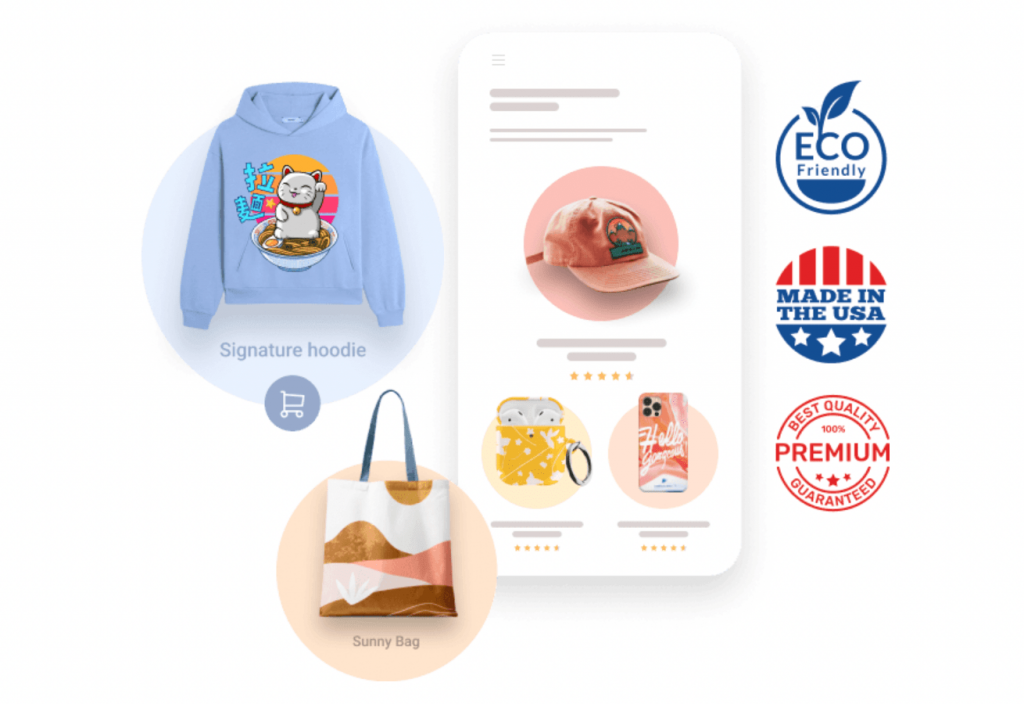 Now, you might be thinking, "I have zero experience in ecommerce. How can I start my own business selling military-style clothing?" Don't worry, because Sellvia is here to help! We offer a complete solution to kickstart your online business, even if you have no prior experience.
Starting a business can be challenging, especially if you're new to ecommerce. But don't worry, Sellvia is here to make the process as simple as possible.
By partnering with Sellvia, you can take advantage of their Premium Products service, which is a game-changer when it comes to selling highly competitive Amazon products. Here's what you can expect when you work with Sellvia:
One of the biggest challenges of starting an online business is finding the right products to sell. Sellvia helps you overcome this hurdle by sourcing unique and in-demand products for your store. With their Premium Products service, you'll have access to a wide range of high-quality, military style clothing items that are sure to impress your customers. Plus, you can be confident that your products will stand out from the competition.
Your unique vision can be the exact thing that will bring something new to the market and allow people to satisfy their needs.
With Sellvia's Premium Products, you can sell unique products that will provide you with an income for years to come!
With the help of Premium Products, you will be selling items that are not available anywhere else. This means, you can practically forget about any kind of competition.
Our team will assemble product ideas that consumers want, but can't find yet. And you can be sure that you will sell products of the highest quality. All of them will come with a top quality printed design created with the use of modern printing technology.
All the products will be manufactured, printed, and shipped by us upon your request and under your brand. Your business is in good hands!
Our team of experts will help introduce your brand of products to millions of potential buyers.
You can sell military style clothing or other awesome products anywhere you want, from a marketplace like Amazon, to your own online store, or even through your social media. You choose what direction to take!
Here's a quick roundup of how it works:
You specify your interests and passions ✅
Our team finds what exactly people look for but nobody's selling yet, according to your specific needs ✅
Our designers create fantastic prints for you and your customers to enjoy ✅
You get orders and delegate all the technicalities to us ✅
Marketing Your Military Style Clothing Store
Once you have your online store and Amazon storefront set up, it's time to focus on marketing your business. This is a crucial aspect of your success, as it helps drive traffic to your store and generate sales. Here are a few marketing tips to get you started:
Utilize platforms like Facebook, Instagram, and Pinterest to showcase your products and engage with potential customers. Regularly post engaging content, run promotions, and collaborate with influencers in your niche.
Build a strong email list and send out regular newsletters to keep your subscribers informed about new products, sales, and promotions. This is a great way to maintain a relationship with your customers and encourage repeat purchases.
Search engine optimization (SEO)
Optimize your online store for search engines like Google to drive organic traffic. This includes using relevant keywords, optimizing product descriptions and images, and creating high-quality, shareable content on your blog.
Invest in paid advertising campaigns, such as Google Ads or Facebook Ads, to target a specific audience interested in military-style clothing and patriotic apparel. This can help you generate immediate results and reach potential customers who may not have discovered your store otherwise.
Keep track of your store's performance and make necessary adjustments to improve sales and customer satisfaction.
Conclusion
If you're considering starting an online business, then try to sell military style clothing on Amazon. It's a promising venture with high potential for success.
Follow the marketing tips provided, stay persistent, and you could soon be on your way to making a sizable income from your military-style clothing store. With Sellvia's all-in-one solution, you can easily launch your online store, source unique products, and manage your business efficiently.
So why wait? Dive into the world of ecommerce and sell military style clothing today! Don't miss this opportunity – join the ranks of successful ecommerce entrepreneurs today! Just sign on for a free consultation with our business advisors, and they will let you know all you need to know to begin your ecomemrce journey.