So, you want to start your own ecommerce business. Do you know what's the key to establishing a profitable venture? Of course, you'll need a top-class website as well as an engaging marketing campaign. However, before you keep yourself busy with those things, you need to choose what products you're going to sell in your online store.
You're probably thinking, "what is the next perfect product that's going to take the world by storm?". Well, you're not the only one!
Every ecommerce entrepreneur is searching for that perfect product(s), but only some manage to find it.
What is a perfect product anyway? The one that makes the most money of course.
These products have certain characteristics that make a product "perfect".
And it goes way beyond the physical parameters of the product, such as the size, weight, look, and function of the product. It's more about the psychological aspect and understanding why people buy.
If we can understand the motivation behind the purchase, we can identify the products that will help provide the "perfect" solution.
By understanding exactly what to look for and how to take action quickly, you can stay a step ahead of the competition and make big money from selling great products. Thus, in this article, we will tell you about the ways you can find the perfect products and sell them online.
The beginning of your ecommerce journey
Starting an online business is an exciting journey for ecommerce enthusiasts, however, like anything new, you're bound to hit a couple of challenges along the way.
Usually, the very first challenge entrepreneurs face is picking out the right products to sell. And this perhaps, is one of the most important decisions you, as it will heavily impact the success of your business.
With millions of product options out there, where should you start looking? What is the key to finding the perfect product that will make you millions of dollars?
To answer these questions, you have to understand what is your overall goal in this endeavor.
Finding the perfect product to sell: your overall goal
What is your long-term goal? Depending on this, you should plan out your online business.
Is it to earn a quick buck on hype and trendy products? Or is it to build a sustainable business for years to come?
Depending on your goals, we've prepared a few ways for you to find the perfect products to sell online.
So, if your goal is to earn fast, you have to search for fad-products.
These products have a very brief product life cycle that rises quickly in popularity but then declines about as quickly.
Some examples of fad products are yo-yos, hula hoops, and the most recent fidget spinners.
Following this approach, you have to move fast, as the trend can disappear as fast as it appeared.
Overall, fad products are high risk and high reward, rapid-growth, short-term, and highly unpredictable.
Find trending products to sell
Trending products are different compared to fad-products. A trend is usually more gradual and subtle, often growing and developing over several years.
So, similar to fads, the earlier you spot trending products, the better.
Trending products tend to emerge gradually, stick around for a few years, and fade slowly.
That means you have more time to take advantage of them in your online store.
If you're in it for the long haul, then you simply must establish your own brand.
It will take some time, but once everything is up and running, you will have plenty of devoted customers to rely on for sales.
Having a brand brings many benefits to an online business, so the sooner you get to establishing one the better.
Tips for finding the perfect products to sell
To find that perfect product to sell online, you have to account for multiple factors. You have to be able to ask yourself the needed questions and provide a thorough answer to them. It's not just about picking items that look cool.
Here are the essential steps you need to take to find the perfect product.
#1. Choose a niche
Before actually picking a specific product, there's one thing you need to decide on. And that's choosing your niche.
The beauty of selling niche products is that you're going to target a small segment of consumers who are passionate about the products. That means these consumers will be more interested in your product offering.
Moreover, it will be much easier and even cheaper to sell to a niche audience.
Pro tip: Sell products that you're personally passionate about that also have demand. This ensures that you will be more engaged in developing your business and also knowledgeable about the products.
When you have an idea of your niche market, the next thing you need to do is conduct research.
Start by observing the biggest online marketplaces to see what products are trending in your niche. Many ecommerce marketplaces have separate lists of product bestsellers you can lean on.
#2. The recommendations for the perfect products
Right now, you might have some ideas of what products to sell.
Nonetheless, it's better to run these ideas through the general guidelines that top sellers use to confirm the best products to sell. Keep in mind that these aren't strict guidelines you need to follow, but rather recommendations to pick out the perfect products.
Is it in a trending, stable, or growing market?
Is it seasonal?
Is it easy to source locally?
Is the retail price within the "sweet spot" of $15–$200?
Is it small and lightweight?
Is the product robust and easy to ship?
What makes a perfect product to sell online is that it should have a few moving parts, it should fit inside a shoe box, sell between $15 and $200 with a profit margin of at least 20-40% across all seasons.
However, there are always exceptions to the general rules, and profit margins of 100$ aren't uncommon.
#3. Choose items that will sell
You can be insanely passionate about something, however, it can be out of touch with the modern world. That's why choosing products that will sell is crucial. But how can you do that?
At first, you can try selling products that are already in demand. Here are a few ways you can identify these products.
Find the latest trending products with the help of various Internet tools
Research the biggest ecommerce marketplaces such as Amazon, eBay, AliExpress, etc.
Searching for trending product reviews on video platforms (YouTube, TikTok)
Scouring through trending niche blogs
Looking out for what influencers are promoting
When you understand the peculiarities of the ecommerce business, you can start selling products under your own brand.
By creating a powerful brand, you'll make people want to follow you and your offerings. As a result, people will be more likely to buy from you and stay with your brand long-term.
#4. Pick items that solve a problem(s)
Consumers buy products because they solve some kind of problem. And if the product happens to be trending, that's even better.
The most important thing here is to know that there is a problem as well as a demand for a solution. And you will be the one that has the solution.
For this, however, to be true, you have to understand your potential buyers and their problems. Then, all you have to do is offer them the best, trendiest, and highest-quality solution.
#5. Choose products people will be passionate about
One area for entrepreneurs to tap into is selling products that connect people with their hobbies and interests.
It's not uncommon for people to spend large amounts of money on products that they love or feel connected to.
That's why you can pick a niche that appeals to people's passions, and offer them high-quality trendy products. Over time, you will certainly gather a loyal customer base. And it will be even better if you yourself are passionate about this niche of products.
One of the best ways to find out more about what people are looking for is by looking at what kind of content influencers are posting. This way, you'll easily understand what products are currently trending and in demand. In addition, you can build an estimation of who your potential customers are.
#6. Consider timeless products
Every year time and time again people continue to purchase the same products. Think about holidays such as Christmas, Thanksgiving, etc., you can cash a bag during these seasonal holidays.
Although your online store can do great by selling seasonal items, you might want to consider focusing on products that will be demanded throughout the whole year for your product range. And adding seasonal items as an extra way to earn some more!
#7. Products that are hard to find
Scarcity is an online entrepreneur's friend. How? Well, if a consumer can find the product in a local mall, he's likely going to buy it there.
However, your perfect product can't be available everywhere, it has to be something exclusive. In some cases, this might go hand in hand with selling niche-related items. These items can't be found in any local stores, but mainly online.
Moreover, choosing products to sell that are trendy and aren't easily available, means you'll have very little competition. If any at all.
Those are the general tips to find the best products. Nevertheless, to find your perfect product to sell, you have to first ask yourself a few questions.
Finding the perfect products to sell with Sellvia
Sellvia is a one-of-a-kind solution for all of your online tasks.
Whether you want a professional online store made according to your interests and preferences. Or, perhaps you're looking for the hottest products to add to your online store. Or, even if you want to sell your own unique products, Sellvia will provide you with everything you need to create the online business of your dreams.
Let's see, how exactly Sellvia provides you with these options.
Sell your own unique products with Premium Products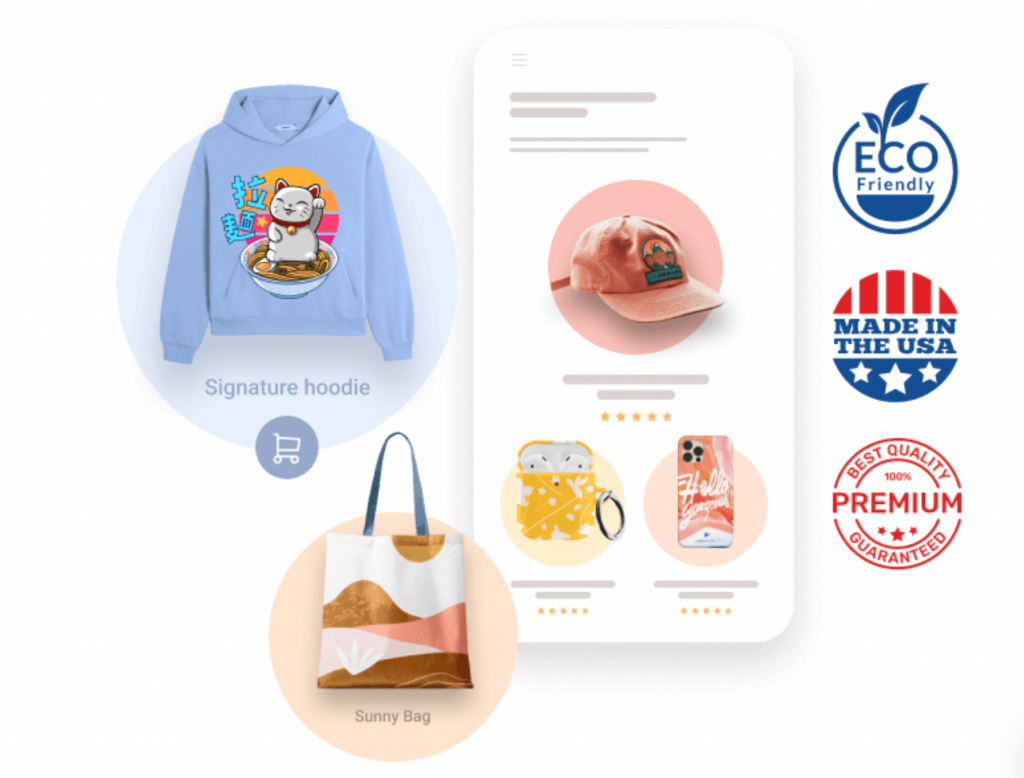 Generally, it can take a lot of time, and even some significant financial investments to create a whole online business selling your own unique products.
However, with Sellvia's Premium Products, you have a unique opportunity to start with all the difficult parts delegated to our team of experts. Here's how it works:
You specify your interests and passions ✅
Our team finds what exactly people look for but nobody's selling yet, according to your specific needs ✅
Our designers create fantastic prints for you and your customers to enjoy ✅
You get orders and delegate all the technicalities to us ✅
With the help of Premium Products, our specialists will help you find products that people are looking for but can't find yet! All you have to do is specify your preferences and interests to our team of professionals, and they will handle the rest. Choose the appropriate Premium Product package and our team will create an account for you and upload your unique products.
Launch an online store to sell your products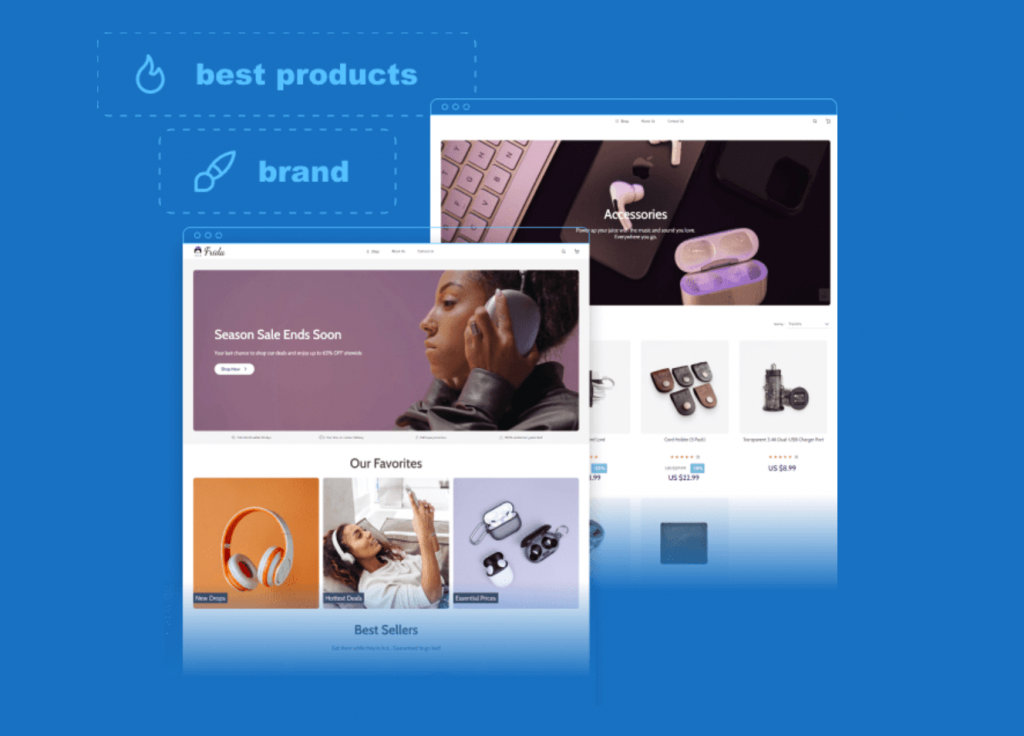 Sellvia provides you with the chance to start your own online store.
It has never been easier to start an online store. The days of paying thousands of dollars to web developers for a simple online store are way behind us.
With Sellvia, you can now launch a fresh new online store absolutely for free! Simply subscribe to our 14-day free trial and cancel it anytime you want. Although, why would you miss out on creating a path to your own financial independence?
Add the hottest products to sell from the Sellvia catalog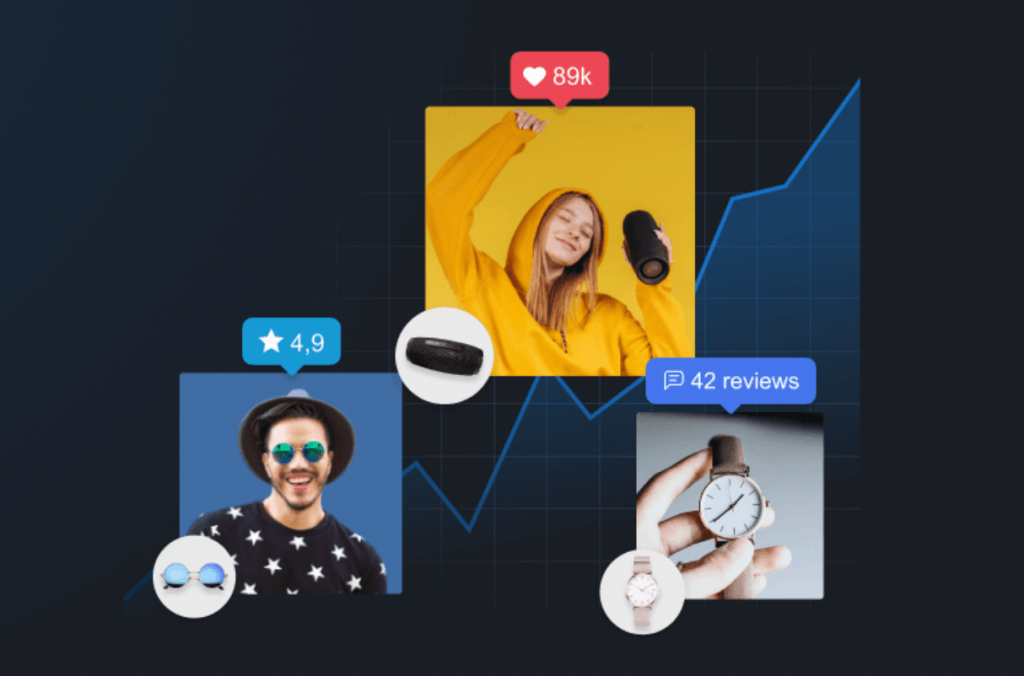 In the Sellvia catalog, you will find thousands of products to fill your store with.
High-quality products will keep customers happy and have them come back.
On top of that, these products come with stellar pages, descriptions, and reviews, as well as marketing materials.
What this means for you is that you will already have awesome content for your marketing campaigns, which you won't have to create yourself. And professionally written descriptions will be describing the products in the best possible way to convert potential customers into buyers.
How to find products to sell: Conclusion
Well, the ball is in your court!
Are you ready to start selling the best products? What niche products are you planning to sell? What is your next step going to be?
Remember, in reality, there is no such thing as a perfect product. However, from what we've mentioned above, you're going to get as close to perfect as possible. Look for products that answer the questions above and use consumer psychology and emerging trends to your advantage.
The best products to sell are the ones that actually sell, and the ones that you enjoy selling. So, by partnering up with Sellvia, your entrepreneurial journey will become an enjoyable and successful experience. Book a call with our business advisors to find out everything you need to know to start your journey!