Known for its fast-messaging nature via Tweeting — quick messages limited by 270 characters — Twitter is a rapid-fire platform that has become a source for breaking news, social trends, and conversation. According to its 2020 Annual Report, the platform sees 206 million daily active users and boasts 36 million U.S. users and 150 million outside of the U.S. — with a total of 396.5 million users worldwide. That's a lot of people! Naturally, top Twitter accounts enjoy plenty of benefits of being exposed to such an impressive audience.
Although the platform has fallen from high rankings (Statista places it 16th on a list of 17 platforms), it is still arguably a valuable resource due to its demographic of educated, engaging users.
Today, we'll take a look at some of the top Twitter accounts based on follower count. So, let's see who and what reigns supreme on the tweeting powerhouse!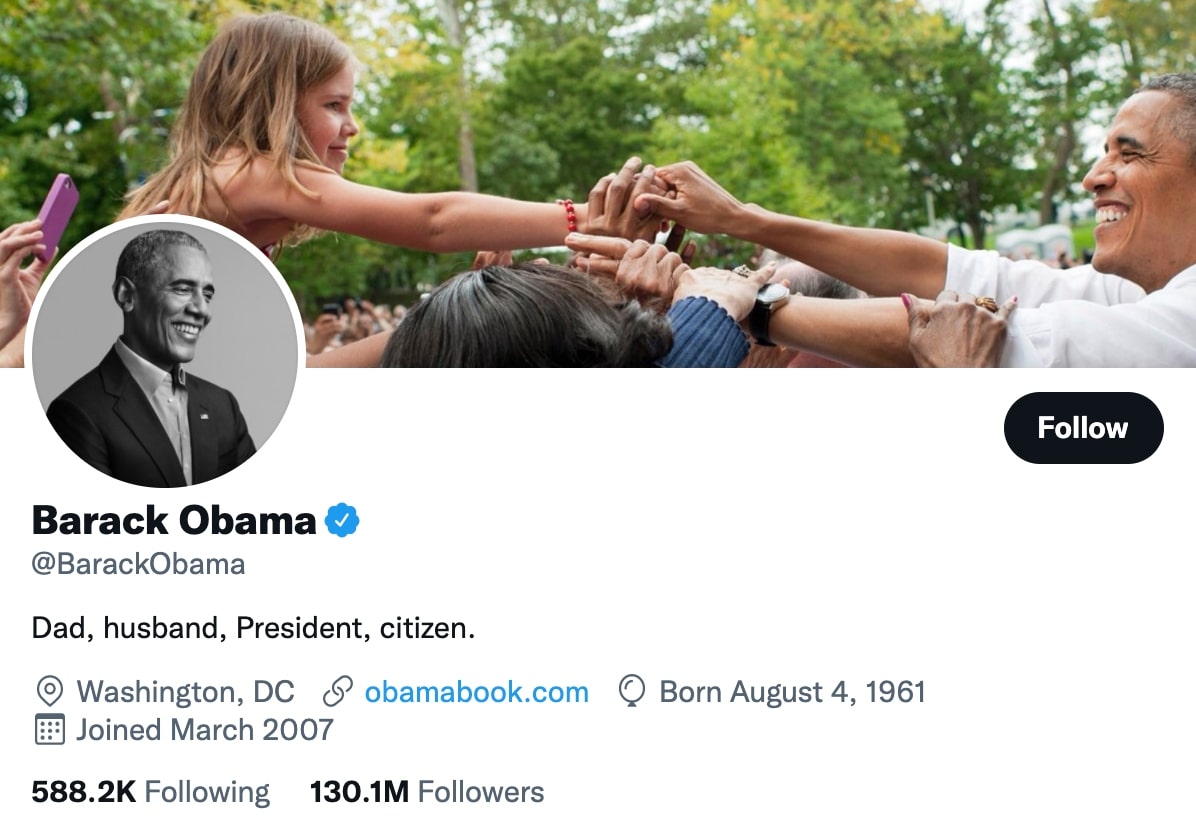 As the 44th President of the United States, Barack Obama is still a very well-respected individual. So it should come as no surprise that he is the top-reigning account on Twitter at 130.1 million followers. Obama shares pics of his family and insight into his continued philanthropic and political work.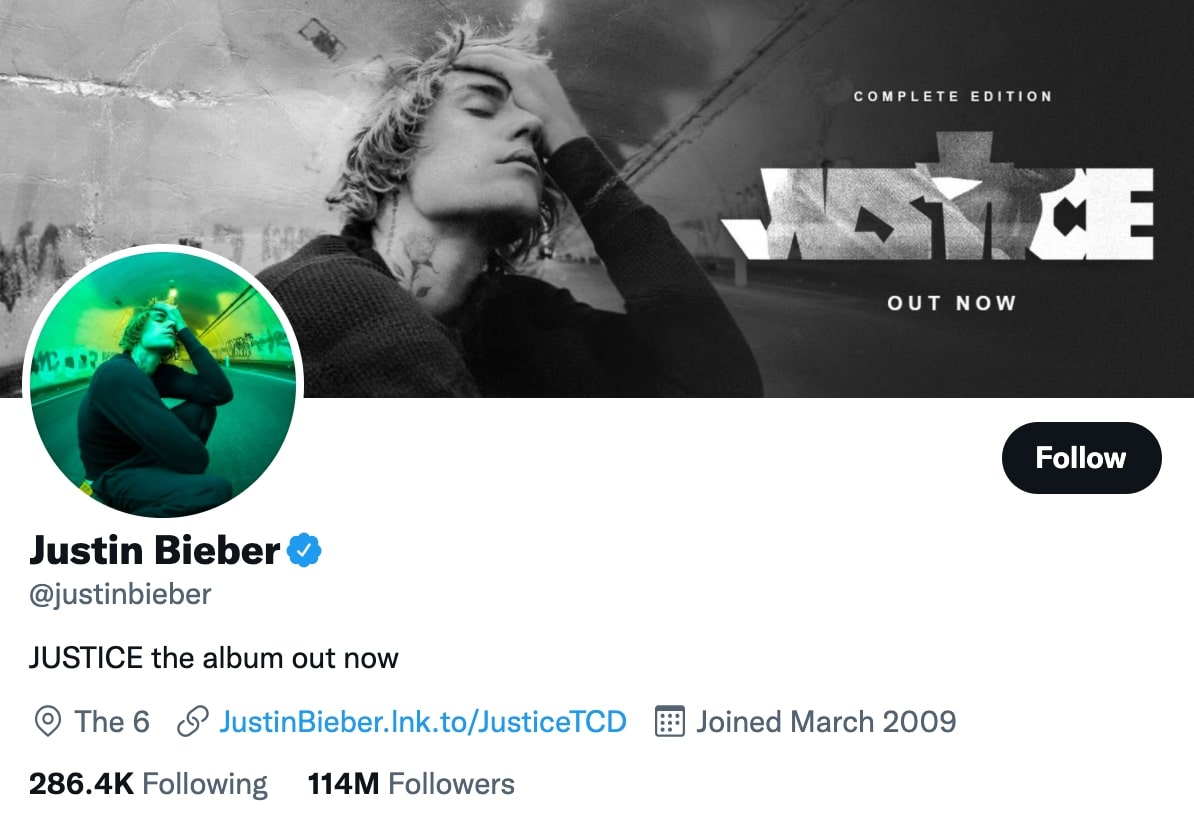 With such an international fanbase, the 27-year-old Canadian popstar holds down second place on Twitter with 114 million followers. His account mainly promotes his music and shares event photos and information. Bieber commands a huge following likely due to his wide appeal, Grammy Award-winning music, and philanthropy and social efforts.
Clocking in at 108.7 million followers and in third place is American pop singer Katy Perry. The "American Idol" judge utilizes her page, one of the top Twitter accounts, to promote her music, events, and retweets funny gifs, videos, and artwork.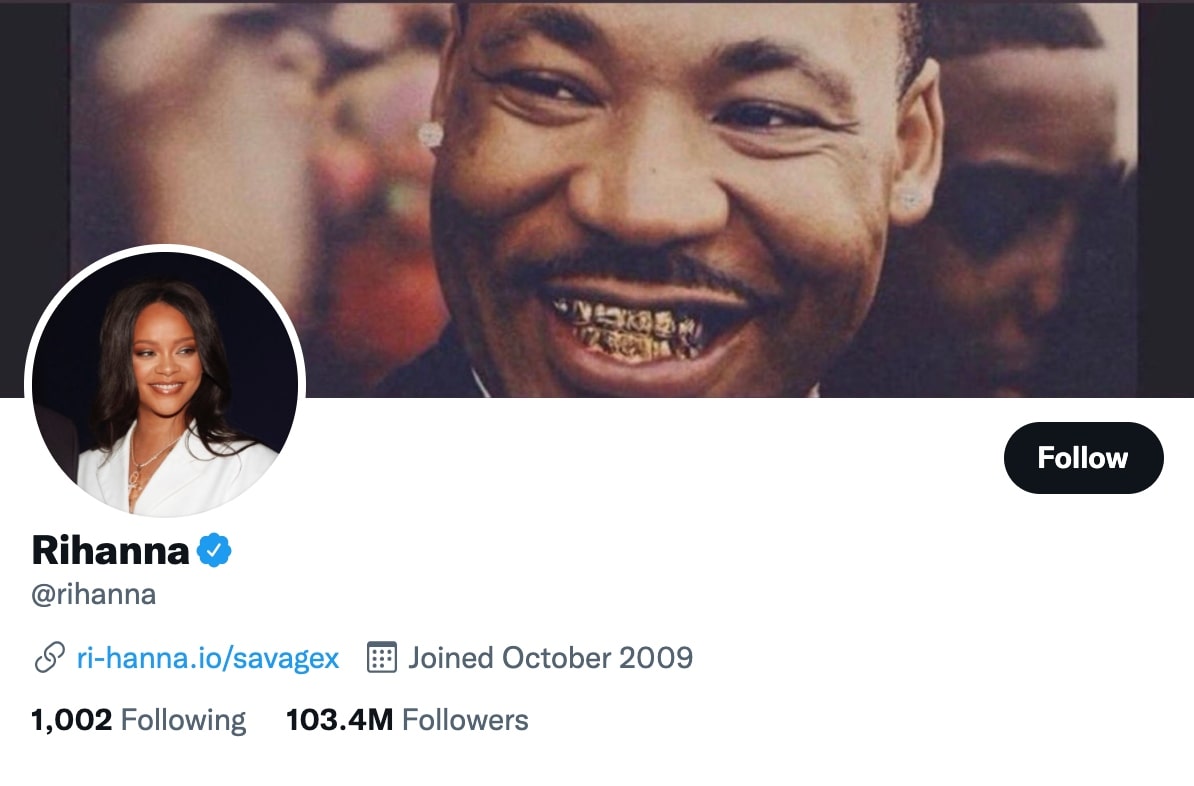 She has a highly-successful lingerie line. She is a nine-time Grammy Award winner. And she has a multi-billion-dollar beauty line. Why wouldn't Rihanna be a top Twitter account? (It only makes sense with her other accomplishments, right?) With so much under her name, it's not unusual that her account heavily promotes her many businesses' products and promotions. Rihanna also occasionally shares viral clips, memes, and posts about political and racial justice.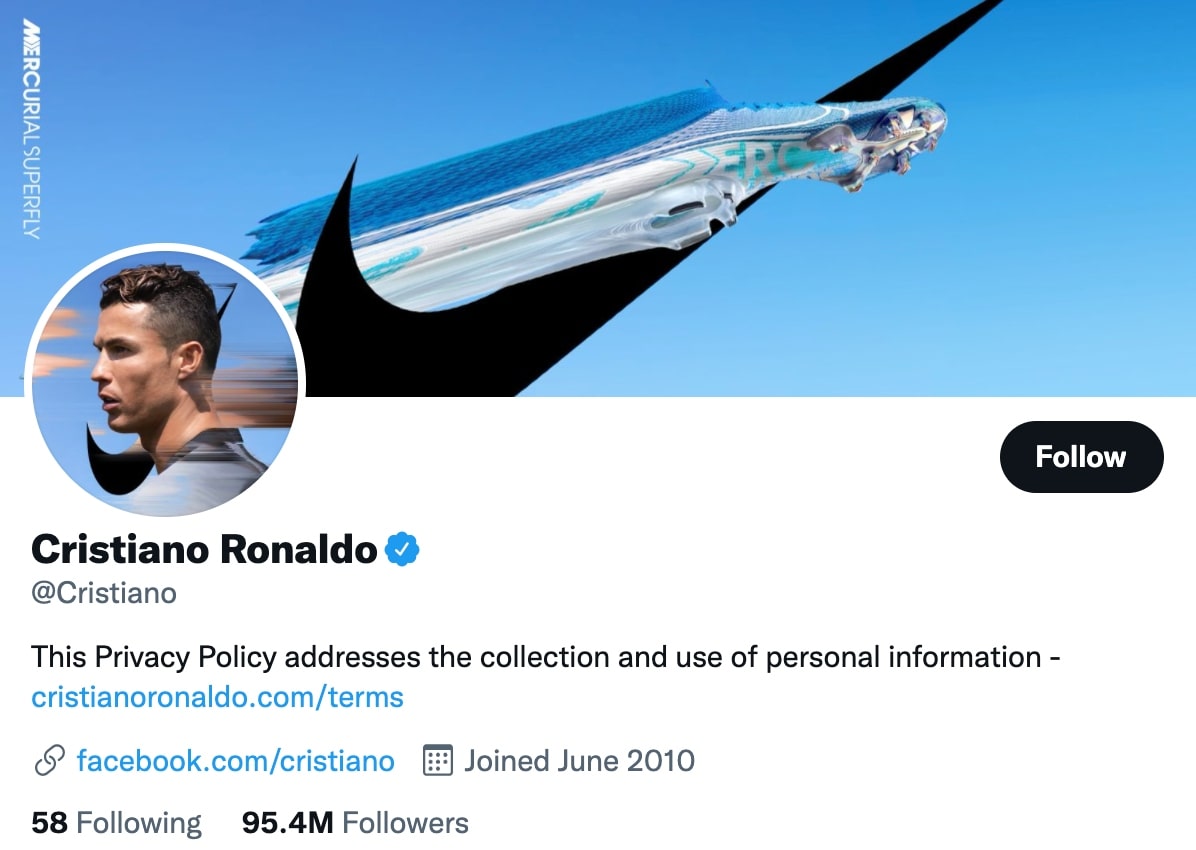 He's one of the biggest soccer stars in the world. At fourth place with 94.5 million Twitter followers is Portuguese athlete Cristiano Ronaldo. Like many other celebrities on this list, Ronaldo utilizes his Twitter to promote himself — in this case, his account posts about games, professional photos from matches, and ad sponsorships that he has.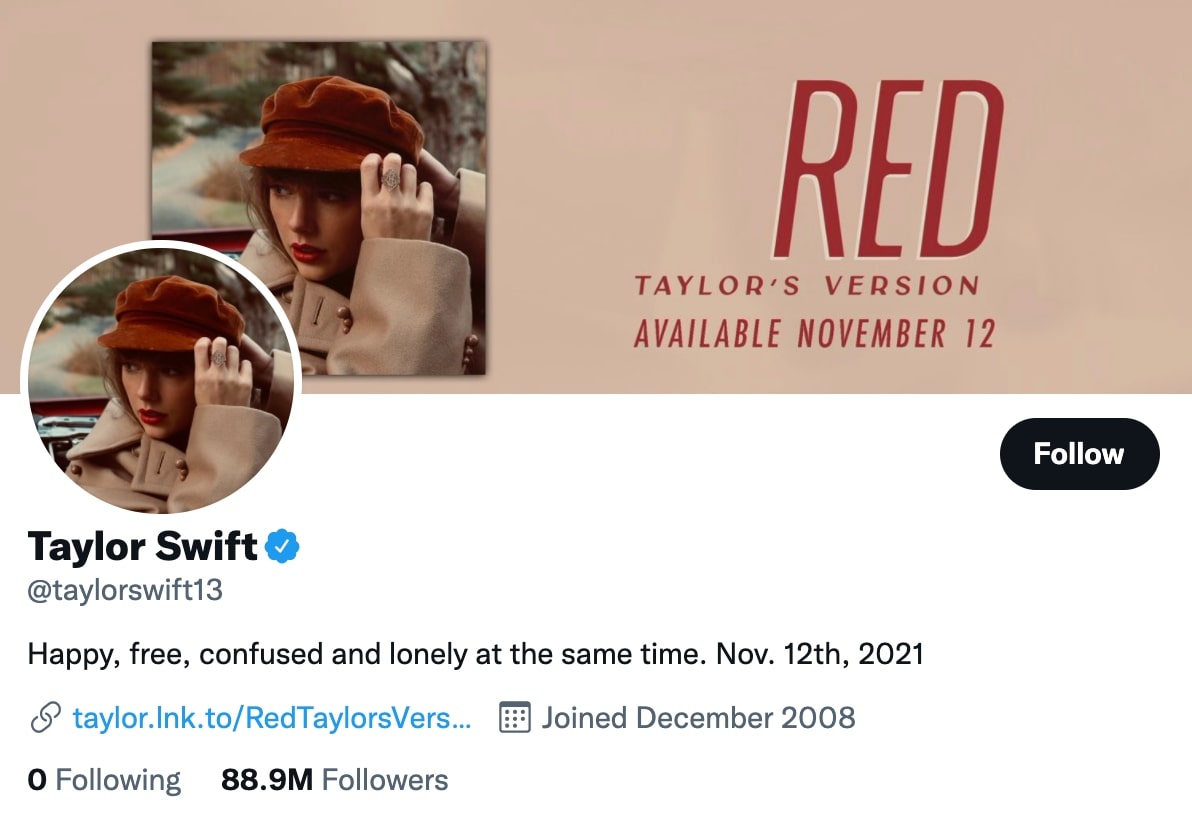 The multi-Grammy-winning singer holds 88.9 million Twitter followers, landing sixth on our list. Taylor uses her Twitter to mainly promote her music, retweet mentions and awards, push for human and LGBTQ+ rights, and occasionally share random posts to intrigue fans.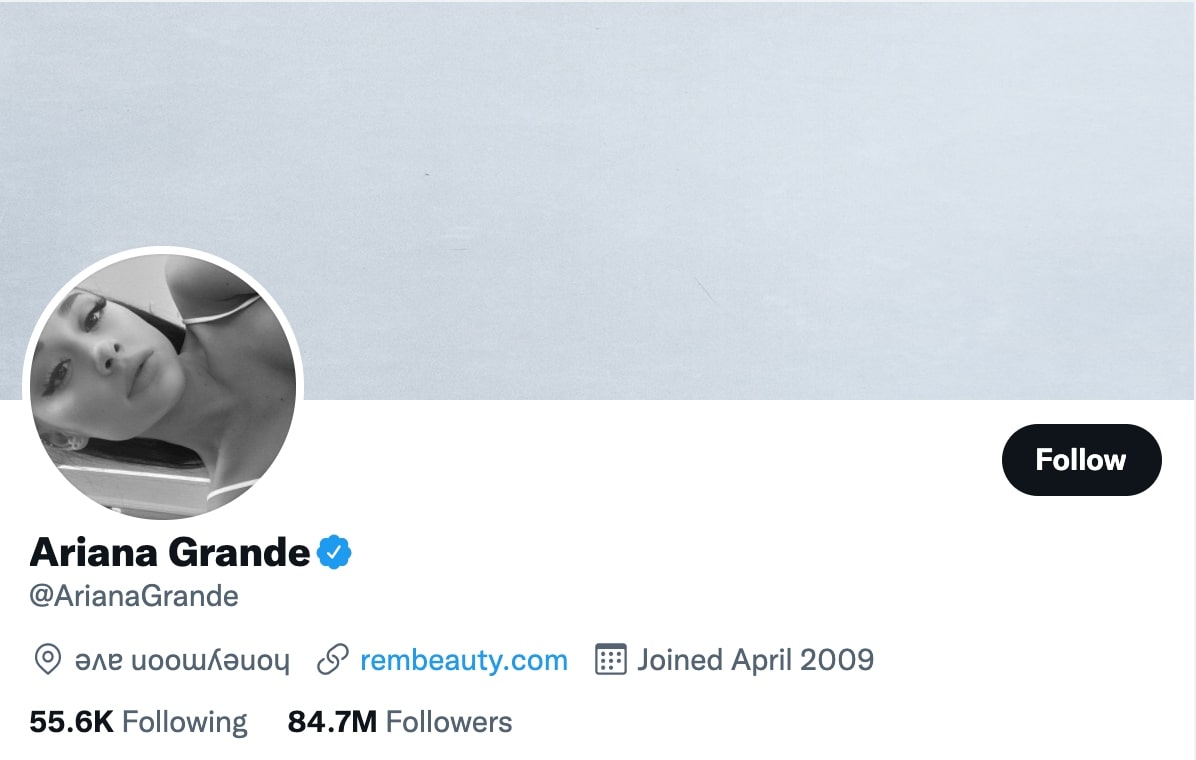 Coming in at seventh, another super-popular popstar — Ariana Grande. The "The Voice" judge shares promotions for her music, behind-the-scenes pics from being on set, shares retweets that mention her, posts about collaborations, and shares info about her upcoming beauty line.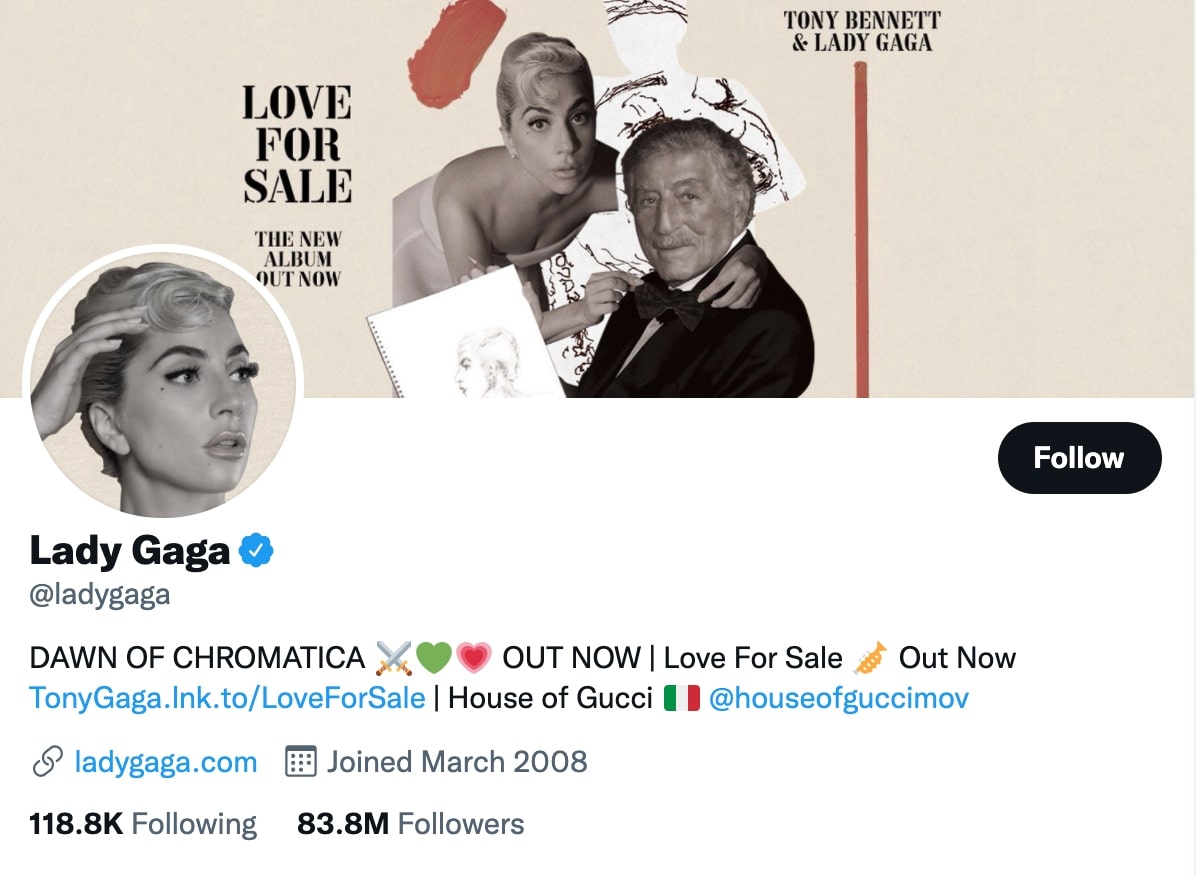 Lady Gaga, born Stefani Germanotta, comes next in followers, with 83.8 million of 'em. A Grammy-winning singer and Oscar-nominated actress, Lady Gaga is a huge force in the entertainment industry, so naturally, she'd be right on the list of Twitter's top accounts. Gaga's Twitter promotes her music, films, partnerships, Twitter mentions, magazine cover features, and much more (as you can see, she is super busy).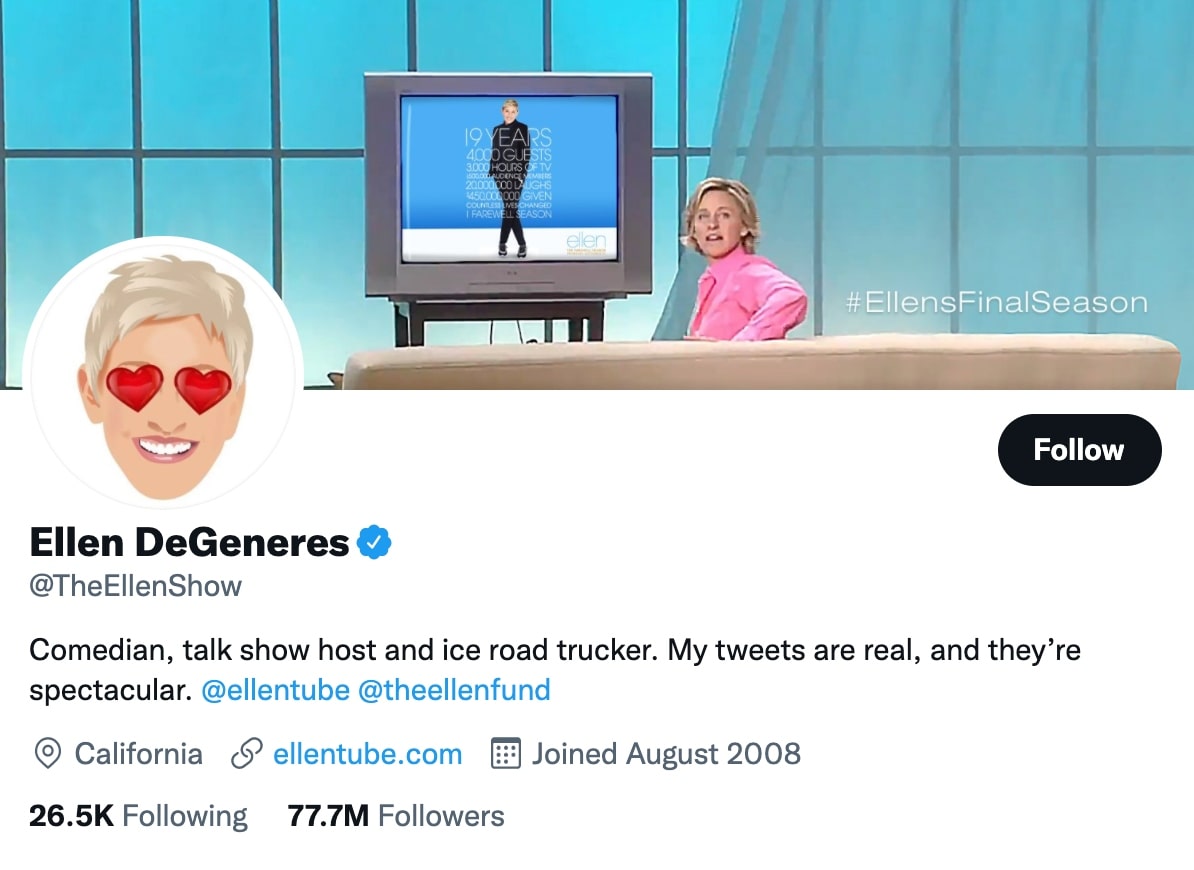 Although she had quite the fall from grace amid accusations of a toxic workplace culture in 2020, Ellen DeGeneres still holds a spot as a top Twitter account. The account almost exclusively shares highlight clips from the eponymous "The Ellen Show," which prior to its work culture controversy, netted over 4.2 million viewers per episode. Occasionally, Ellen will share wellness tips and quotes.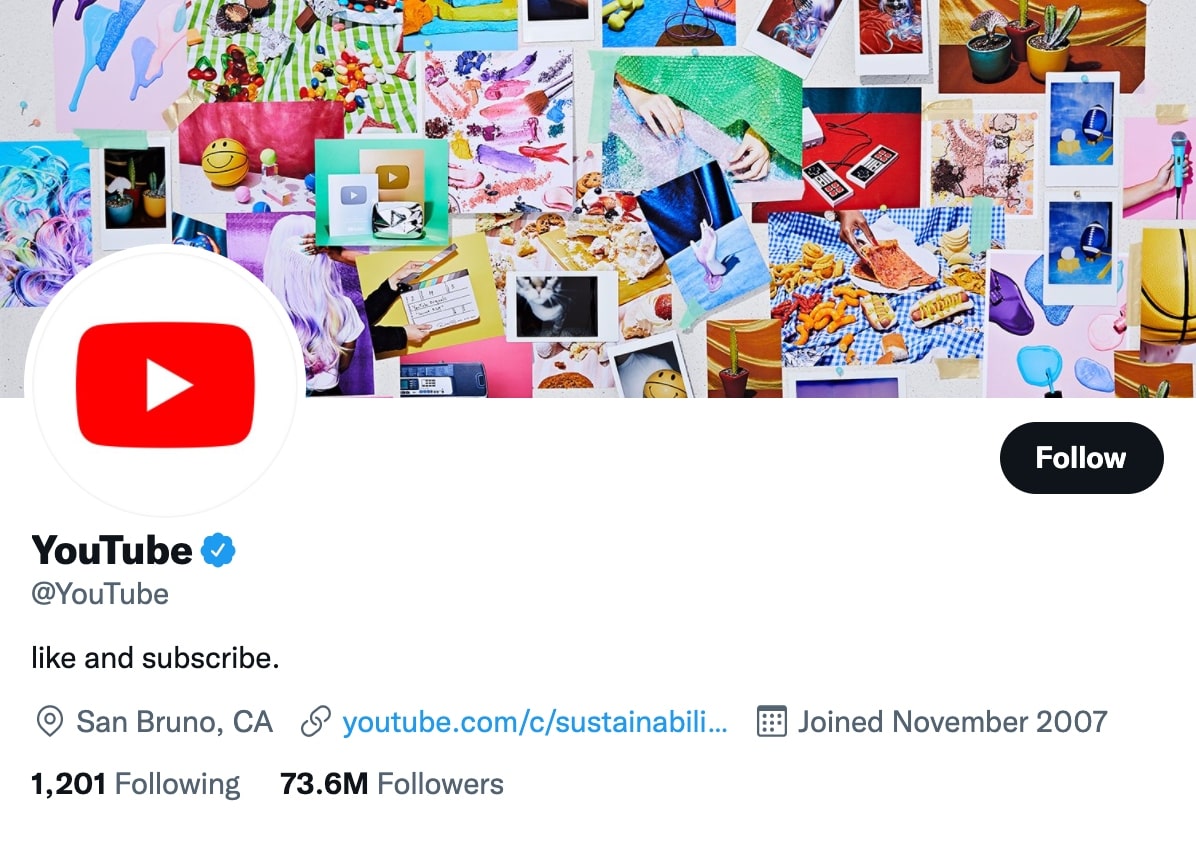 The only media platform to crack our list, YouTube stands at #10 with 73.6 million followers. The account shares trending clips, puts up polls, retweets its mentions from celebrities and large corporations, and tweets out fun sayings and statements.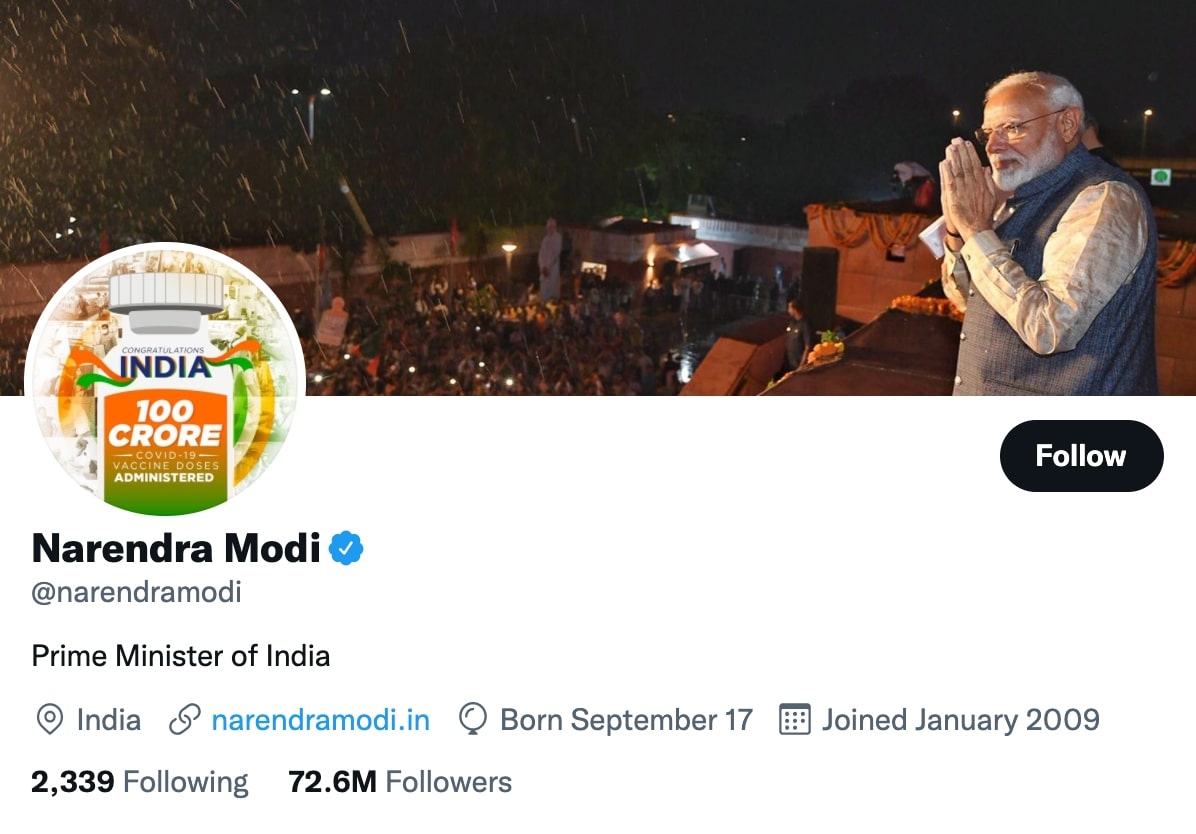 The second political figure to appear on our list, Prime Minister of India, Narendra Modi, clocks in at 72.6 million followers. The minister mainly tweets thoughts on current affairs and events, recaps political summits and meetings, and also tweets in Hindi.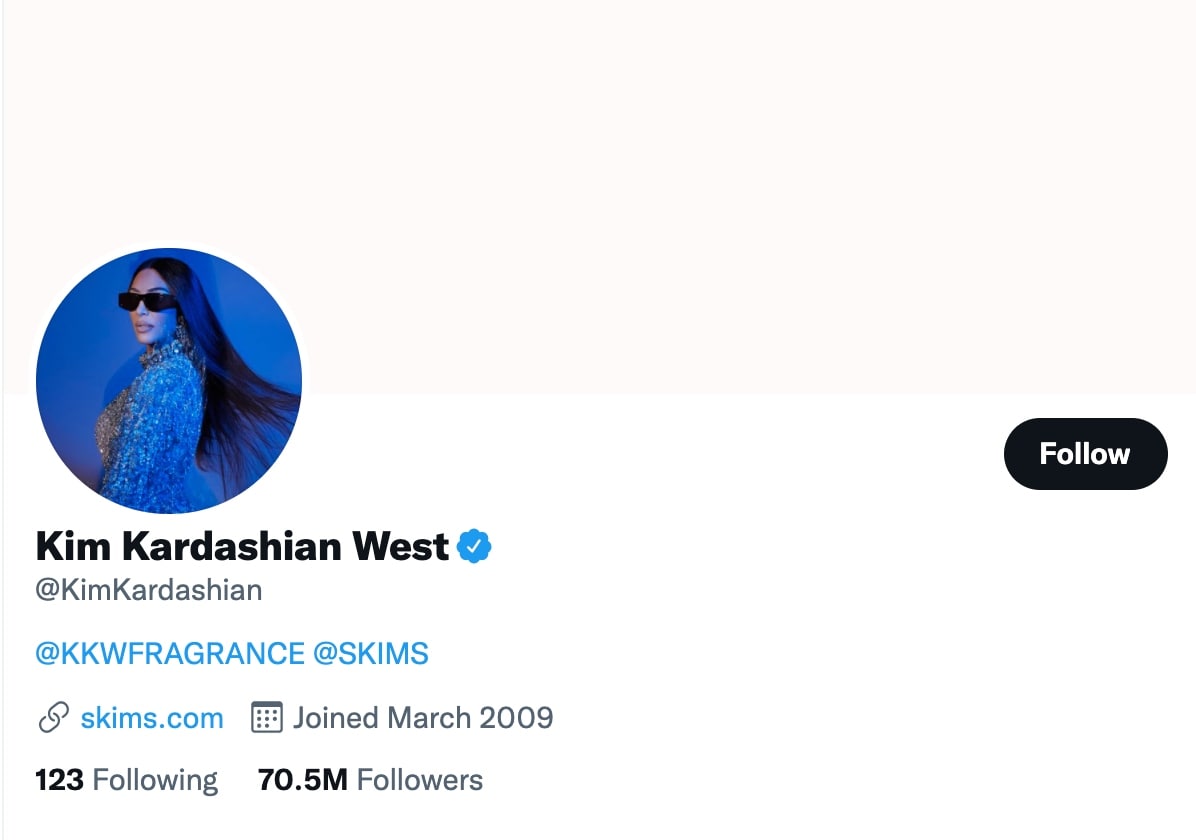 One of the most influential celebrities in the world, Kim Kardashian rounds out our list at #12, commanding 70.5 million Twitter followers. She is major entrepreneur like Rihanna, our #4 holder, and uses her account to promote her many businesses as well — such as KKW Fragrance and SKIMS. Kim also shares/retweets media mentions on her accounts, pictures of her children, and fashion event pictures.
SUMMARY: Twitter is a large social platform that can get a message across or start a conversation quickly. As we can see, top Twitter accounts are mainly celebrities and some political figures, which is typical of social media. Our list of 12 top accounts proves how much influence names can have on the public by being established brands/persons that have the right branding and marketing. Still, everyone — not A-list celebrities only! — can achieve a strong social media presence. If that's what you'd love for your ecommerce store, just let our skilled digital maketers create turnkey social media accounts for you!