Have you ever felt like you can offer something unique to this world? Something even as simple as a t-shirt? Thanks to Sellvia's Premium Products, you can sell your own uniquely designed products to a wide consumer market in any way you like. In this article, we're going to figure out how and why you can make over $6,954,475.00 on unique graphic t-shirts!
T-shirts are something that people wear on a daily basis. In today's day and age, they play a much larger role than a simple piece of clothing.
Purchasing items that fall according to people's interests, hobbies, and passions, consumers can wear clothing that not only gives them a sense of comfort but also a heightened sense of self-esteem and confidence.
Thus, all you have to do is find a certain audience of consumers that may find a liking to what you can offer.
A great example of an online store finding success in this sort of business is ShirtBanc. The owners of the online store have successfully racked up an impressive revenue number of over $6,954,475.00! All, by selling regular clothing apparel that fits the consumers' tastes.
Want to accomplish similar results? Or, maybe even surpass them? Well, Sellvia provides anyone interested in launching an online business selling unique products an opportunity to accomplish their goals swiftly and smoothly.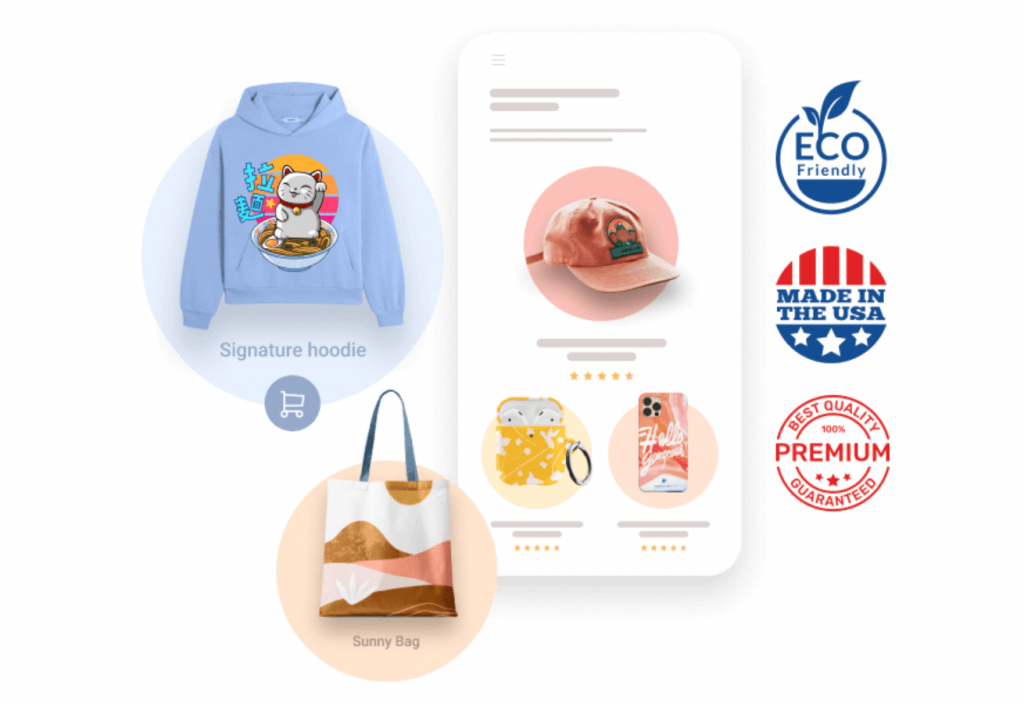 Our Premium Products service allows ecommerce entrepreneurs to benefit from their potentially profitable business idea by adjusting it according to the market demand all while including their tastes and preferences.
Selling graphic t-shirts with your personal artistic touch is a great way to exercise your creativity and make some money along the way. An online t-shirt business can provide you with a great source of extra income.
How popular are graphic t-shirts
T-shirts are always going to be popular. It's a timeless, classic piece of wardrobe and it's safe to say that t-shirts are trend-proof.
However, what you can do is launch and set your own trends by creating your own unique graphic t-shirts.
Looking at the Google Trends charts, it's safe to assume that online users are frequently looking for new t-shirts to purchase. And, depending on the niche of your choice, you can always find a consumer segment that will fall in love with your product.
The global t-shirt printing industry was valued at $3.9 billion in 2021. It is expected to expand even further at a CAGR (compound annual growth rate) of 9.9% from 2022 to 2030.
The online segment is anticipated to witness the fastest CAGR of 11.8% from 2022 to 2030. Consumers are increasingly inclined towards online purchases owing to the easy visibility of choices, cost-effectiveness, home delivery of the product, and the interactive and user-friendly nature of online platforms.
Benefits of selling graphic t-shirts
Nowadays, creating your own unique t-shirts is as accessible and affordable as it ever has been. That's why now is the perfect time to start a t-shirt store!
As a business owner, you have to be assured of why starting this or that business is profitable and what benefits it has. So, first, here are the benefits of starting your own t-shirt store.
Modern technology allows the creation of high quality men's and women's unique graphic t shirts at pretty affordable prices.
This is especially true for garmented printed tees, as there is no limit when it comes to color. You can print on a number of materials using any kind of colors in your t-shirt design you like.
For small businesses t-shirt printing is a perfect choice, as you get a tool that gives you an awesome return, and if you don't have a huge budget for marketing.
Essentially, you can personalize t-shirts with any kind of unique graphic design you want.
If your brand has a logo, you can put it anywhere you want. Or maybe you want to put your entire brand name in the middle of the shirt? There are practically no limits, it's all up to your imagination.
You can determine the entire function of your t-shirt based on how it's designed.
Various marketing campaigns only last so long. In fact, chances are, a t-shirt might have a longer effect than the campaign it was used for.
What this means is that unique graphic t-shirts are perfect for bringing brand awareness long after your marketing campaign has played out.
The key is to make a design that can be recognizable and flexible so that the t-shirt can be worn long after the event. To accomplish this, you have to find a balance between the design and your business' branding.
And that leads us to the next point.
If consumers find a liking to your designs, people walking around and wearing your uniquely designed t-shirt will no longer be a dream.
Moreover, it's going to hugely increase your brand awareness and become a free advertisement tool.
Approximately 85% of consumers find that the quality of the print indicates the quality of a business' services. This means your unique graphic t-shirts must be printed professionally.
A first impression is a lasting one, so you have to do everything in your power so that your customers receive a high-quality tee. A shirt to remember will have them returning to your t-shirt store for more future purchases!
How much money can you make selling unique graphic t-shirts?
Let's get this one right out of the way – you can make as much as you want on unique graphic t-shirts. Similarly to any other ecommerce business.
Like the owners of the ShirtBanc store, you can make millions of dollars. Especially with Premium Products, where all the hard stuff will be taken care of by a team of professionals.
As a business owner, you will be able to control everything:
Working hours
Products you sell
The price of the products
Who you sell to
Basically, the sky's the limit.
Moreover, you can run your business from anywhere you want, even in the comfort of your own home. At any time you feel like it.
Sell bulk shirts at low prices, or create a premium clothing line. Or do both. It's your t-shirt store, so handle it the way you feel is best for you and your business.
A fortune on unique graphic t-shirts
So, as you can see, the t-shirt market is expanding rapidly, especially in the online space.
That's why the owners of the ShirtBanc online t-shirt store have managed to strike early and hit success!
Their product range consists of 921 products, with various designs. Shirts feature funny and motivational images, modern pop culture references, and many other impressive design ideas.
Of course, throughout the years the t-shirt store has experienced different changes, but they still managed to rack up over 366,025 in sales. As a result, their store collected a revenue of over $6,954,475.00.
Here are just a few examples of the products that allowed them to reach these impressive numbers.
Profit from selling graphic t-shirts with Premium Products
That's just a handful of unique graphic t-shirts we can design and manufacture for you!
So, what exactly are Premium Products and what benefits do they provide you with?
With our service, we will find the products that people are looking for but can't find yet! All you have to do is specify your preferences and interests to our team of professionals, and they will handle the rest.
They will search for the most promising ideas and create a product offering catering to the consumer's needs. Moreover, the team will also take care of all the technicalities, such as the manufacturing and delivery of the products.
And while we handle the heavy lifting, you can seamlessly sell products however you want, on any platform you want.
Your unique vision can be the exact thing that will bring something new to the market and allow people to satisfy their needs.
With Sellvia's Premium Products, you can sell unique products that will provide you with an income for years to come!
With the help of Premium Products, you will be selling the coolest unique graphic t-shirts that aren't available anywhere else. This means you can practically forget about any competition.
Our team will assemble product ideas that consumers want, but can't find yet. And you can be sure that you will sell products of the highest quality. All of them will come with a top-notch printed design created with the use of modern printing technology.
Your business is in good hands! All the products will be manufactured, printed, and shipped by us upon your request and under your brand.
Our team of experts will help introduce your brand of products to millions of potential buyers.
You can sell your awesome products anywhere you want, from a marketplace like Amazon, to your own online store, or even through your social media. You choose what direction to take!
Here's a quick roundup of how it works:
You specify your interests and passions ✅
Our team finds what exactly people look for but nobody's selling yet, according to your specific needs ✅
Our designers create fantastic prints for you and your customers to enjoy ✅
You get orders and delegate all the technicalities to us ✅
Generally, it can take quite some time, and even some significant financial investments to create such a business. However, with Sellvia's Premium Products, you have a unique opportunity to start with all the difficult parts delegated to our team of experts.
So, do you feel like you want to make a fortune on unique graphic t-shirts? Or perhaps any other kinds of apparel products? Well, with Premium Products by Sellvia, you can win over the hearts of online customers with your own unique take on practically any item. Right now, is the best time to launch an online business selling your own unique products!