Upcoming holidays bring unique opportunities to every entrepreneur. This is a chance for them to boost their business and give all people happiness they expect from this period of time. Now Mother's Day is knocking at the door. Our moms are special people for each of us, so it's time to make them a bit happier with the best gifts for Mother's Day we've collected for you to add to your store in one click and make it flourish!
Best gifts for Mother's Day
Each mom is the best. This is the very reason why all moms deserve special care all year round. When Mother's Day is about to come, it's one more reason to surround them with warmth and care in a special way.
For store owners, this is going to be a win-win event. You can easily help your customers show their love to their moms and make them happy, meanwhile boost your store's sales considerably and set a course for long-term development with new customer audiences.
As we always do our best to help you start a business with no effort and make a difference, we've collected 20 best gifts for Mother's Day to add to your store in one click and give mother emotions they deserve!
Mom's survival kit
Beign a mom is not as easy as it may seem. Every minute they do their best to create a comfortable climate for their children. In a hurry, they often forget to have "me" time for a while.
Meet this revitalizing kit to show special care for your mom, granny, and so on. It's designed for all moms, whether they're brand new or have been around the baby block a few times. Being all natural, this kit includes products made with essential oils and other ingredients with medical effect.
Moms deserve care. Let your customers provide this care to let their moms cherish every relaxing moment they can get!
Relax mineral bath salt
These are mother's shoulders that support family harmony. Yet, after a long day of work, it is essential to rest your body and your mind.
With this mineral bath salt, your dearest ones experience true relaxation. Relax™ mineral bath is recommended as a soothing soak before bed. Let your moms make "they" the priority! Surrender their worries to be filled with comfort and joy!
Essential oil diffuser
Most moms dream of calm. When external circumstances don't allow you to have it, essential oil diffusers with humidifiers work great. It spreads essential oils that bring lots of different aromas and let you relax!
People tend to surround themselves with scents they love. Let them do this with no effort!
Intelligent neck massager
Physical health is what our moms have to lose when they grow us. How to let them keep themselves healthy and strong? This is an intelligent neck massager that will help them with this!
You don't need to call for a professional massager! This tool is designed for anyone who needs to loosen up stiff neck muscles from the toll of demanding gardening work, hours of heads-down phone usage, or hours of grueling typing on a computer!
Handheld mirror
How to remain beautiful at home or anywhere you're? This is a handheld mirror that will help you!
Your perfect makeup on the move or at home with this stunning Rose Pink Handheld Mirror! The mirror is super lightweight and comfortable to hold, which makes it easy to get a closer look at your face.
Let moms keep an eye on their makeup hairstyle when they are out with this stylish mirror that will perfectly fit into their handbag!
Shell pocket mirror
To remain beautiful is what we all aim at. This shell pocket mirror will not only let women do their makeup while on the go. This is a stylish accessory that will allow them to shout out their unique identity!
The mirror is super comfortable to hold, which makes it easy to get a closer look at your face. Let moms easily keep an eye on their makeup or hairstyle when they are out with this stylish tool that will perfectly fit into their handbag!
LED handheld mirror
This is lightning that you may feel a lack of while doing your makeup. This is why LED handheld mirrors appeared!
Touch up your makeup on the go with the LED light handheld mirror. A chic and practical mirror perfect to use anytime and anywhere for a flawless makeup application!
Lay-n-go mini cosmetic bag
Have you ever heard about go bags? They let people be ready for any trip with no hassle. So meet a lay-n-go mini cosmetic bag designed to let you remain beautiful wherever you go!
This easy, lightweight solution lets women keep everything necessary in one place!
Mother-mama-mommy t-shirt
Each year, we all look for the best gifts for Mother's Day. In practice, the best way to show your love to someone is the right words. Thankfully, now you can express your feelings in a special way — let your customers order unique, printed clothes!
Mother baseball t-shirt
True Mommy Life gives Mom the chance to express her greatness, responsibility, and love (and all the funny and stressful truths of motherhood) through comfortable, casual everyday pieces. This t-shirt right here is a great testament to the power that a mother is.
Best-mom-ever hoodie
Our moms not only take care of their family members. They need care as well. A warm, cropped fleece hoodie with the right words printed is the perfect way to express your gratitude!
Wife-mom-boss t-shirt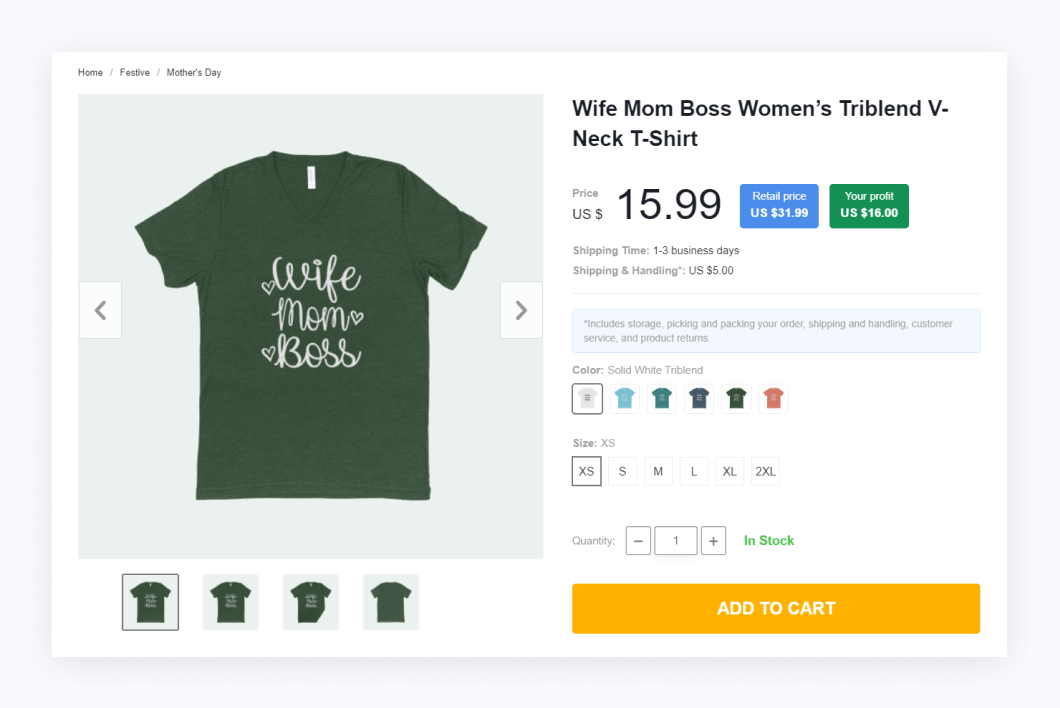 Every person wants to be appreciated. Among the best gifts for mother's day, this wife-mom-boss t-shirt is designed to emphasize the importance of the role your mom is playing every day!
Mommy-bruh t-shirt
Our mothers are the person responsible for our upbringing. This is our parent, best friend, advisor, etc. It's our duty to show her that you remember all this and wish to say thank you. With this Ma-Ma Mommy Mom Bruh t-shirt, there's nothing challenging to do this!
World okayest mom hoodie
When looking for the best gifts for mother's day, people tend to pay particular attention to useful things. With this world's okayest mom hoodie, it's easy to surround moms with warmth and comfort!
T-shirt for cool moms only
The best gifts for the best moms! Don't miss a chance to say that your mom is cool with this t-shirt for cool moms only!
T-shirts for super moms
Each mom is a superwoman. Why not say it one more time with the super mom t-shirt?
Basketball mom long sleeve t-shirt
When you look for the best gifts for mother's day, don't forget that this is a holiday full of warmth and comfort. Why not surround themselves with this warmth due to this basketball mom long sleeve t-shirt?
Dinasaur t-shirt for moms
Being a mom is not a regular occupation. That's why mothers tend to be strict sometimes. Why not please them with the best gifts for Mother's Day, for example, with such a funny t-shirt?
Mom dinosaur cropped t-shirt
We're all different. Does your mom have a good sense of humor? If so, this mama dinosaurus t-shirt is the best gift for Mother's Day for her!
Chaos coordinator fleece hoodie
We're all children deep inside. And our moms are our guides to this beautiful world. I bet all of them appreciate such a hoodie that emphasizes their unique, essential role in our lives.
From the go-to wound-healer to the chef of the house, moms are caretakers and holders of wisdom in every family — and they are the superheroes to every child wishing to give them the best gifts for Mother's Day. At Sellvia, there's a separate product category for Mother's Day that includes hundreds of trending products to sell and benefit from. For you as a business owner, this is not only about profit. This is a chance for you to make a difference helping other people, making their dearest ones a bit happier. Will you miss it?