Its name really doesn't need any introduction. We have all heard of Instagram — it's a huge social media platform with a reported 1 billion-plus users this year. It's fun and interactive and connects you to friends and strangers via memes and viral videos. So, what should your best Instagram ads be like to help you explore the platform's potential to the fullest?
Why it matters
What makes Instagram so attractive to marketers and businesses? First off, of its immense user base, 70% are below the age of 35. This means Instagram reaches a high-spending demographic, especially one in which 48% have reported an increase in spending this year. Secondly, plus, it is reported that Instagram users across the board spend an average of 53 minutes on the app daily.
So what's in it for you?
How does Instagram play into your business goals? You can establish a reputable brand profile, for one! Also, you can create an ad presence on one of the hottest social media platforms, targeting a high-spending demographic. And you won't be alone — because in 2018, it was reported that 71% of businesses in the U.S. utilize the platform for ads. (So you'll be in good company.)
But where does one start with ads? Inspiration, of course. That's why today, we'll be diving into 11 of the best Instagram ads! Let's take a look at some ad styles and designs that are attractive, effective, and fun.
Value, value, value
Have something unique and one-of-a-kind about your product? Holding a special sale that you can't wait to shout out to the world about? Value proposition is always the key to getting consumer attention. So, it's no surprise that this is a tactical approach to ad design and copy.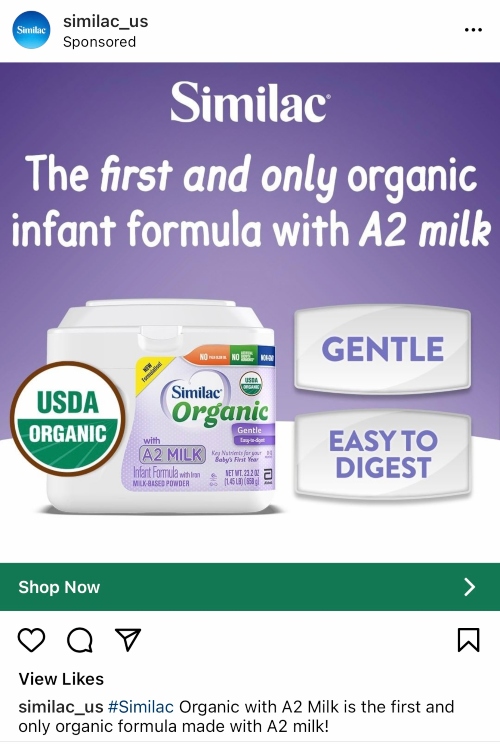 Infant-formula brand Similac talks about its formula and how it is the only and first to have organic milk, aside from other claims of gentleness and ease of digestion. This organic value proposition will immediately catch the eyes of audiences who care about organic goods and the nature of food for newborns.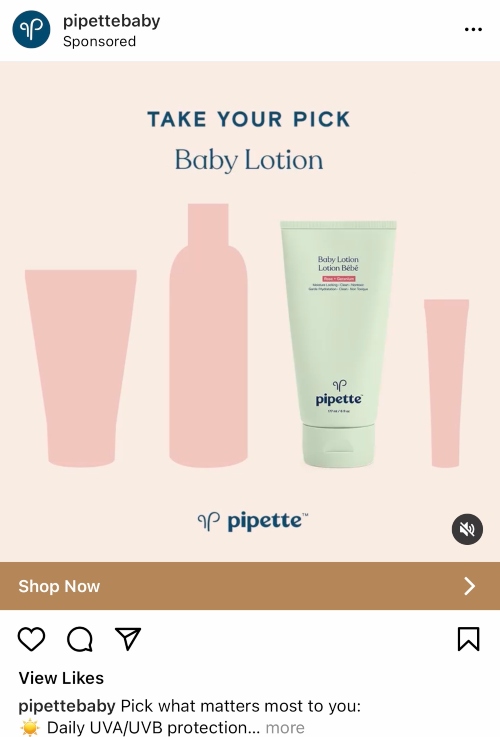 In this ad, baby brand Pipette utilizes an animated graphic to illustrate a sale in which with a $40 purchase, a customer can get any two of four full-sized items for free (sale copy is hidden in the caption). This sale offer is something that is enticing and will grab customer attention right away.
Show 'em what you've got
A value proposition isn't your goal for an ad? Dive into showcasing your brand's items through quality imagery or just straight product shots. Instagram allows for carousel ads via Stories or a feed.
Sunscreen mega-brand MD Solar Sciences utilizes up-close product shots to highlight a multitude of its products. As you swipe left, the carousel shows various items with accompanying caption copy that changes.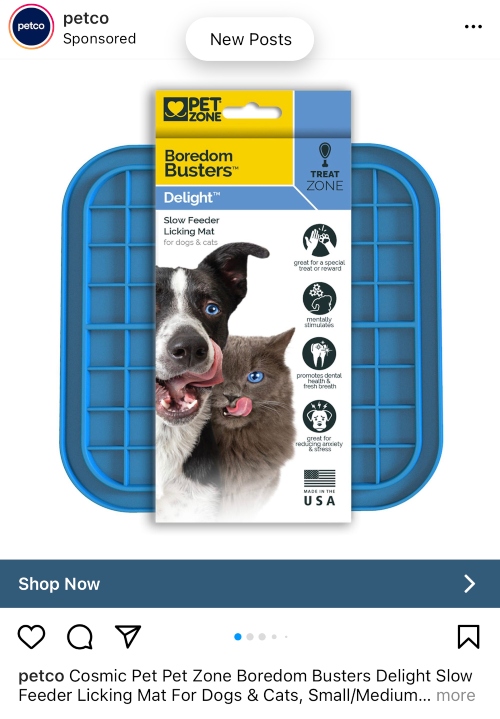 If simpler, more direct copy and imagery is your thing, that's totally fine too. We see an example here from pet chain Petco — the brand shows various items via a carousel. Imagery is likely to come from the website and not a fancy photoshoot. Still, the ad accomplishes its goal of driving awareness and possibly piquing interest.
Let your customers do the talking
Yep, you got it. We're talking testimonials, a popular and nearly cost-free way to speak to what your company or its products can do. Testimonials work great because they're a form of social proof to let customers see the experience of people just like them — in turn, building brand trust.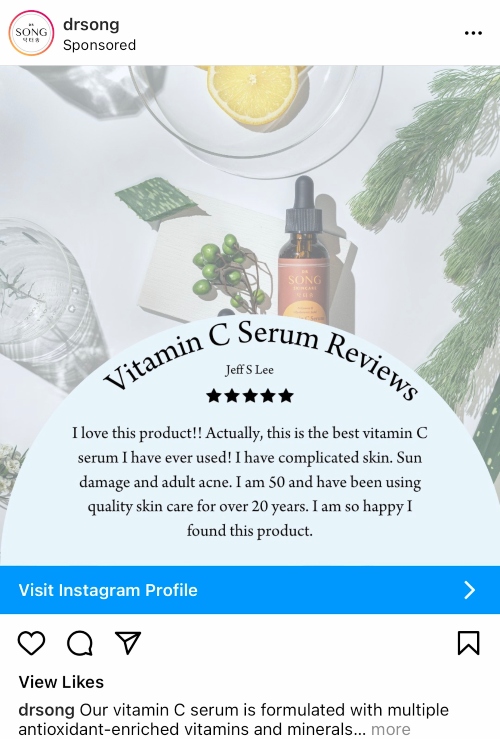 Drive traffic with word of mouth! Whether you are a roof-construction business or small business specializing in handcrafted skincare, let glowing reviews from your beloved customers be your ad copy. Skincare brand Dr. Song here does just that, using a review from a customer about one of the brand's serums to highlight greatness.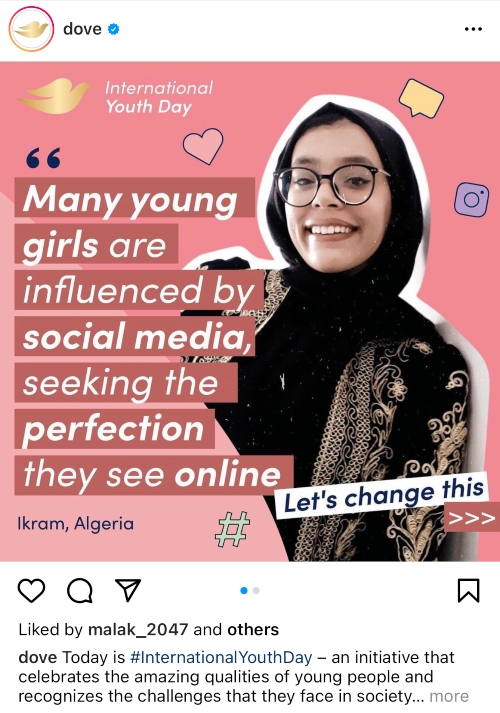 Although not actually used as an ad, the Dove post above also illustrates a smart use of an everyday person giving her thoughts on something the brand is pushing, which in this case is a mental health initiative set forth by Dove for International Youth Day to get girls to find healthier outlets on the social and personal image while spreading awareness for realistic beauty expectations. The testimonial is powerful and could work well as an Instagram ad.
Tell a Story
If feed posts seem to be the same thing, step up your game (and budget) with ads on Instagram Stories. Usually set in a different format and usually in video or animated graphics, ads put on Instagram Stories interchange between regular user stories an Instagram user is viewing. Think of it like commercials on TV, only they are very brief and skippable.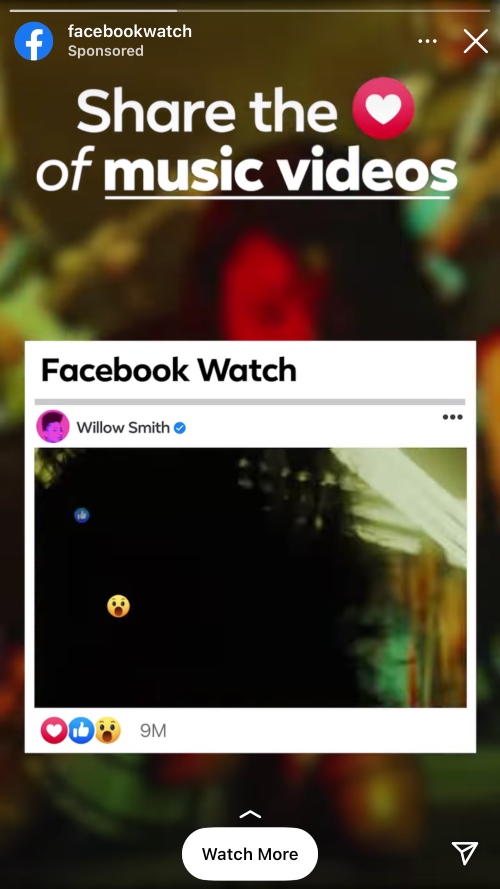 Instagram's parent company Facebook showcases an Instagram ad here where a dynamically-edited video showcases features and creators on Facebook Watch, its video-on-demand service that has been up for a number of years now.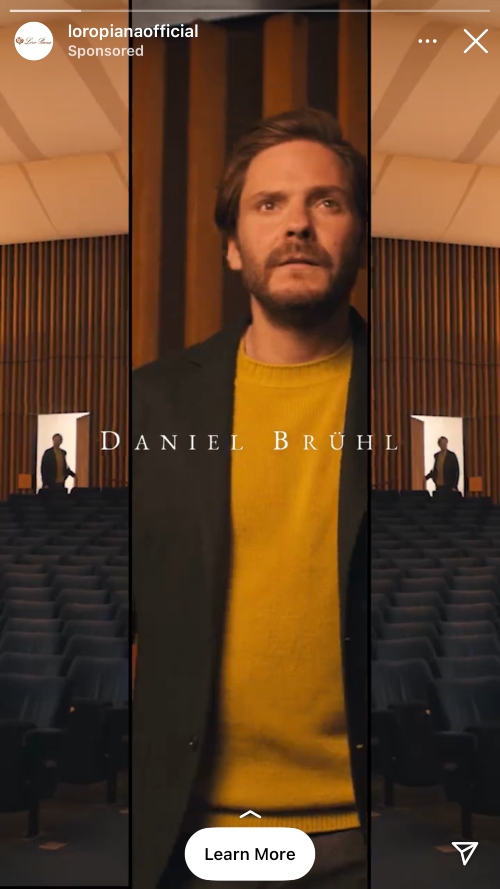 Italian fashion brand Loro Piana uses an Instagram Story ad here to promote its campaign with Spanish-German actor Daniel Bruhl for its Loro Piana's Sweater Jacket, a classic piece for men. The stylish video helps capture the actor's take on the piece of clothing and how it makes him feel. This, in turn, creates an engaging storytelling message for the brand.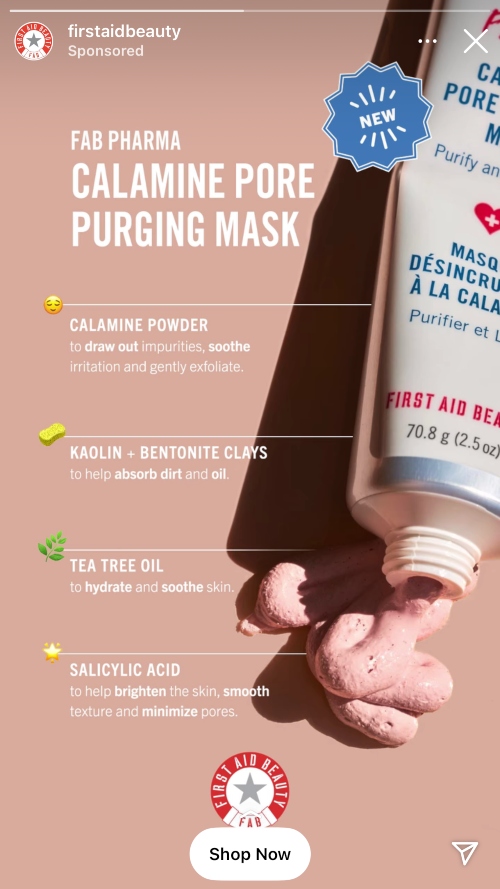 But you don't always need to use video for a Story. Here, skincare brand First Aid Beauty uses an animated graphic to unveil four-ingredient points for a new face mask.
Video is the medium
Alongside Instagram Stories, traditional video always reigns supreme with ads that populate on Instagram feeds (in 2016, it was reported one in four ads are video-based). The animated and acoustic nature of video always helps propel a deeper and more impactfully.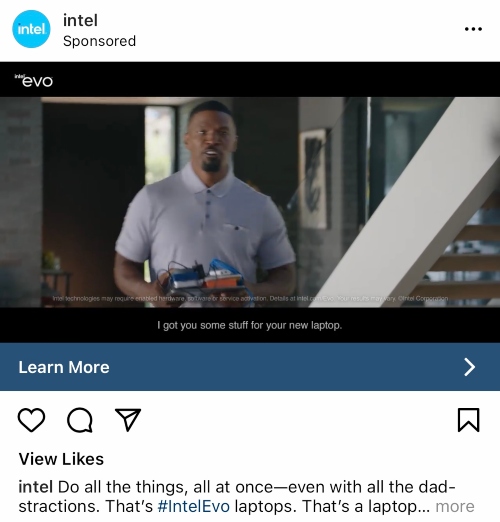 Tech giant Intel uses a video that features actor Jamie Foxx to promote its lines of Intel Vevo laptops. The ad likely is part of a large-budget campaign and endorsement deal. Still, it shows a traditional medium and standard of an advertising approach that has worked from the age of traditional cable TV to modern-day streaming and on-demand (and social media) use.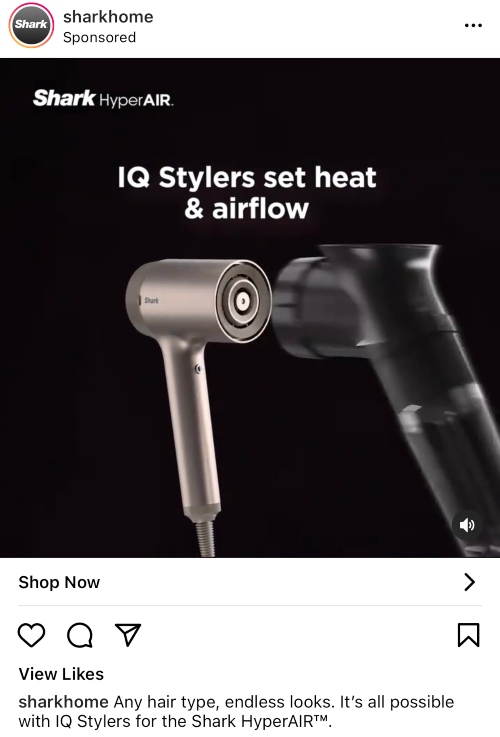 Tech-driven accessories are essential in any modern home. And with modern, comes technology in motion. And that's what home-tech brand Shark did in this Instagram ad to promote the convenience-first features of its IQ Stylers for the brand's HyperAir hair dryer.
SUMMARY: Instagram ads are no secret — they're built and crafted just like traditional ads. Utilize tried-and-true ad concepts such as value propositions and customer testimonials, in addition to storytelling. That's how to create engaging content that will propel viewers to click, interact, and hopefully buy.