Have you ever wondered what's so special about Sellvia's business owner training sessions? Who runs them and what can you learn if you sign up?
Today, two of our special guests are having a chat! Anna, a Digital Marketing Specialist at Sellvia (have you read her story?) talks to Ana, one of Sellvia Business Advisors responsible for one-on-one meetings that educate and inspire new business owners. We're thrilled to discover the inside ecommerce secrets they're discussing!
Hi, please introduce yourself!
Hi, I'm Ana, a Senior Marketing Advisor at Sellvia – I have been working for the company for the last five years.
My career journey at Sellvia started with the position of an International Business Consultant. At that point, my job was to help with providing various marketing services. Those included creating content for customers' social media pages, doing email marketing setup, all sorts of promotion-related things. Later, I was offered to consider another position in the Sales department, so right now, I'm working as a business and marketing consultant.
As for my current position, what I'm doing and what I love most of all is that I help our business partners not just to start their businesses, but also to grow them. I'm very proud of being a part of such a great company where I can grow personally and professionally and help other people achieve their milestones. This is one of my passions!
Fantastic! So, what do you do as a business owner training specialist?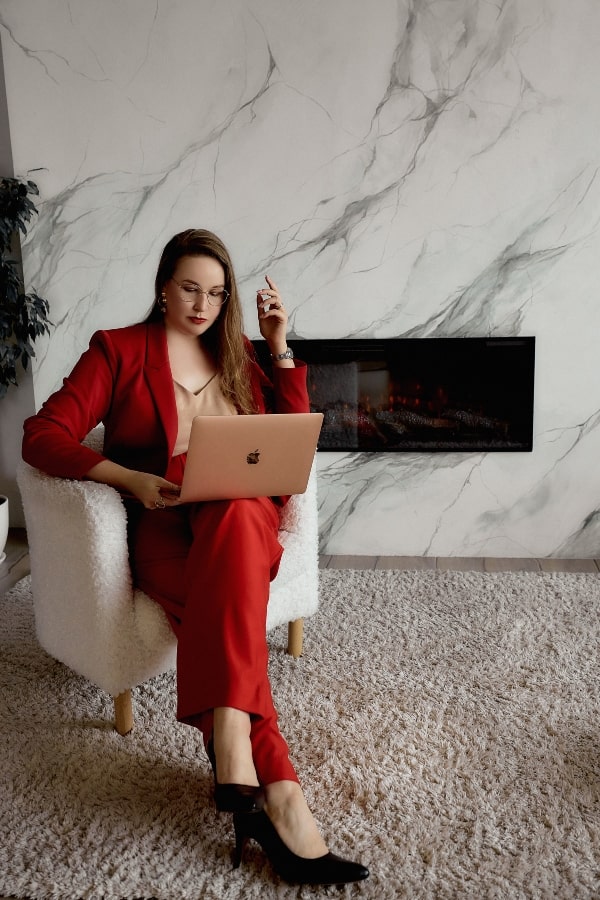 In this position, I'm advising Sellvia partners on how to grow their business or what would be the best option for them to start. You know, it's very important when you are a total beginner just to get a hint about what the business should be about and whether it will be suitable for you.
I'm helping our partners choose different marketing tools and explain how to add some extra sales channels. For some of our business partners, it's a total surprise that SEO and email marketing can bring a total of 20% of the sales volume, and they're like "Oh my God, that's the knowledge that can definitely help you succeed!". And also, of course, we know exactly how to optimize every service for the dropshipping industry because dropshipping definitely is a business model that has a peculiarity – let's call it like this! So, that's why it's important to adapt certain parts of a marketing service and fine-tune its different stages to fit this particular product and serve for impulse purchasing and so on. I'm very proud of the level of degree of help I can provide our business partners with!
In your experience, is Sellvia any different from other dropshipping solutions?
100% yes. Just think of 1-3 days shipping to the US market – to the top ecommerce market in the world, mind you!
It's an absolutely magnificent opportunity and when we started our previous project 10 years ago, it was super important for us to get the feedback and ultimately, to deliver the best.
We started with a dropshipping business plugin and also rolled out turnkey business solutions for AliExpress dropshipping. So, we offered integration with AliExpress and we helped to dropship across the world, from any point on the globe to any destination of your choice. But after being on this market for 5 years, we started working on our customers' all-time popular request to introduce a fast shipping option.
That's how we started the Sellvia project (to be honest, just for a test drive), just to check if it's a good idea that will be working. And we were super surprised about how successful it turned out, how much it proved to meet the goals of our business partners, and how thankful they were for this wonderful solution.
Speaking of Sellvia business partners, what are they like? Is there something they have in common?
I would say that the most important thing for our business partners that they have in common is the passion for freedom: financial freedom, freedom to travel, freedom to make their dreams come true – not their bosses' dreams! These are people who want a certain level of independence, who want to have no limit in the finances level – and that is exactly what our customers and business partners can find here at Sellvia. We are very proud of the success stories we receive.
What do they usually want to learn from your business owner training?
Well, the newest partners are usually curious about whether they need to buy stock in advance. I'm proceeding to explain here that they are going to dropship and don't have to buy products beforehand – actually, this is one of the advantages of this business model. You can save tons of investments – imagine that you want to sell, let's say, dresses or jackets, and you don't need to pre-buy them. If it doesn't work out with these specific products, if they're not successful, you do not have to throw a whole stock away! Of course, it's going to save you tons of marketing efforts and tons of cash on initial investment. I really believe dropshipping is one of the best ecommerce business models.
The second common question is about the marketing budget. Everybody understands that when it comes to ecommerce business and the dropshipping business model in particular where you sell exactly the same items as everybody else, you have to stand out from the crowd somehow. If you have never had any experience with any social media, I definitely recommend scaling the budget from very little numbers. $200-300 for the first month is more than enough just to test the waters.
Of course, the ultimate solution I usually recommend to grow your business further is the Premium Products. These are unique products that you can sell without any competition, they are in-demand already, and we can also upload them on Amazon for you. Anyway, before starting with these Premium Products, I would offer you to get the free consultation because it's very important to have the right expectations, to see the products first because oh my gosh, you'll never believe what kinds of products we've prepared for your success!
Concerning the marketing aspect of business owner training, are there any interesting strategies you'd like to share?
I have a couple of interesting marketing strategies that our partners were suggesting – these surprised even me with my experience!
First of all, if you live in the United States, you can just go to a local festival or event and introduce your brand there through a thematic fair. This is a way for you to collect quality leads and engage the already interested customers. Yes, offline promotion can work for an online store!
Another marketing strategy came from an influencer who wanted to launch merchandise. He's using a special language to communicate to his audience: some tricky words, cringe ideas, word games, so there's a strong connection to his audience. And as you know, this is vital if you want to build a strong brand. You need to show your customers how much you love them! This is exactly the strategy this influencer used. He launched a line of t-shirts, socks, hoodies, caps, and more with the catchy phrases his audience knows him for.
But one of my favorite stories is about young parents of twins. The kids literally said "we want to be your brand ambassadors, and we will ask our friends at school what brand they think will be best for it". You guys are geniuses!
When it comes to entrepreneurship, on the one hand, it's important to be creative. On the other hand, if you can use something that's already been created for you and you can just take the business model that works absolutely fine, it's the easiest way. It gives you enough freedom to gain new skills, and of course, your creativity starts fountaining.
Would you be open to consult our readers?
Absolutely! I will be genuinely happy because I have a true passion for this, for helping our business partners. I'm patient enough to answer all the trickiest questions even if you have tons of them because I'm such a person myself 😉 Before I invest in some business, I need to know 100% of all the aspects, so yeah, feel free to ask any questions. You're more than welcome!
And of course, in our caring support team, everybody is happy to help, guide, and consult you if you have any questions or doubts because your success is our success! We're here for long-term business and long-term growth. Can't wait to have a chat!
Surely, a business owner training with such a well-rounded and highly experienced specialist will give a huge boost to your online store! If you'd like to sign up for a free ecommerce consultation with Ana or any other specialist from our Forbes-acknowledged team, book your spot today and see the difference tomorrow!