Perhaps everyone wants to earn money doing what they love most. However, it's not always possible due to various reasons. Still, we're offering the chance to start making money while doing what you love. Sellvia allows anyone to start selling the best dropshipping products with astonishing designs consumers instantly fall in love with.
Why dropshipping? Well, it is one of the hottest and most lucrative businesses to start in 2023.
It is easy and doesn't require much investments to launch a profitable business. All you have to do is create an ecommerce store, find the best dropshipping products from a reliable supplier, and start promoting them online.
However, what often stops people from launching their dream business is finding the best dropshipping products. However, with the right tools and instruments, your success is only a few steps away.
First of all, the ideal scenario is to find a niche that has significantly low competition and products with high selling potential. Another way to go is to find some trending products and ride the wave of a trend.
In this article, we'll cover how you can start a dropshipping business with as little effort as possible.
Get selling tips and ecommerce inspiration right in your inbox!
Sign up today to not miss a single post:
What is dropshipping, anyway?
First things first, before launching an endeavor, it's best to understand the basics and the details of how it works.
Even in 2023, dropshipping is the easiest and most affordable way to create your own money-making ecommerce venture.
So, what is dropshipping?
With the dropshipping business model, you can resell products without having to deal with them physically. What this means is that you won't have to purchase a large number of items beforehand, keep them in stock, rent out storage space, hire any staff, handle the delivery, and many other things "traditional" businesses have to worry about. Your supplier will be solely responsible for doing this for you!
Dropshipping provides much more freedom and flexibility to you. A general dropshipping model looks something like this:
Your customer places an order on your online store
You purchase that same product from your supplier at wholesale price
Your supplier ships the product to your customer
You don't need to buy products upfront and keep them in stock. Instead, you simply list them on your website, while your supplier takes care of the inventory and delivery.
A dropshipping business allows you to build a booming endeavor without having to face many issues and potential losses of any up-front investments.
Either way, dropshipping is the perfect opportunity for anyone who has zero experience in ecommerce to try their hand at it. Even if you're already busy with your other tasks and have other things to worry about in life, it requires only several hours a day to manage your business.
Of course, the more time you spend developing your business – the more chances of success you'll have. Nevertheless, there are still a few factors that you have to consider:
The product niche you choose
The customer demand
Product quality
Your marketing efforts
How to find the best dropshipping products
Now that you understand the general basics of dropshipping, it's time to find the best dropshipping products.
When it comes to finding the best products, you generally have to devote quite a bit of time to researching the market. There's a variety of product and market research tools that will definitely help you gain ground.
Google Trends is a great way to gain some insights into the general interest of online users in various product segments.
Using this tool, you will be able to get an estimation of how much interest there is in a certain niche or product. Moreover, if the interest rate is increasing or decreasing.
As a result, you will easily find out the top trending dropshipping products.
Amazon has a special section devoted to best-selling products – Amazon Bestsellers.
There, you can see the most popular products in each category based on the sales statistics. The selection is immense, from products like baby clothing to pet supplies and much much more.
Another useful tool you can utilize for finding the best dropshipping products is eBay Watch Count.
With the help of this tool, you can keep track of what are the most popular items by category. Watch Count tracks the customers' data of what products they add to their watch list and converts the data to create real-time lists.
Similarly to previous online marketplaces, AliExpress offers dropshipping entrepreneurs a dedicated place where they can discover the best dropshipping products. You can find this section in the AliExpress Dropshipping Center called "Hot Products".
There you can also find what products are in hot demand right now.
It's safe to say that by visiting a major marketplace such as AliExpress and Amazon and looking at the best-selling products section, you can get an assessment of the trending products right now.
Don't forget to peek at the most popular social networks out there. Research platforms like Facebook, Instagram, TikTok, and Pinterest to gather opinions on what people are interested in and find out the popularity of certain products.
The Sellvia Catalog has thousands of best-selling products from various niches.
So, whatever niche you choose to start dropshipping, you're practically guaranteed to sell absolute bestsellers.
On that note, let's see why dropshipping with Sellvia is a great way to get into ecommerce and earn a hefty income.
Starting a dropshipping business with Sellvia
Sellvia provides anyone with the opportunity to start an ecommerce business in a short amount of time with little to no investments.
What is Sellvia?
Sellvia is an ecommerce ecosystem that has everything you need to start and grow your ecommerce business. Here are just a few main benefits Sellvia partners receive:
Lightning-fast US shipping (1-3 business days)
California-based Fulfillment Center with dozens of thousands of products ready to be shipped upon request
A catalog full of online bestsellers
Engaging, sale-focused product descriptions for high-converting product pages
Tested ad materials you can use for your store promotion
Depending on your aspirations, Sellvia has numerous solutions that will help you reach your goals much faster.
Thus, by partnering up with Sellvia, your journey to creating your own business is going to be even more simplified. You will get everything an ecommerce entrepreneur requires to establish a thriving online venture.
What criteria should the best products for dropshipping meet?
When selecting dropshipping items, it's important to keep in mind a number of factors to ensure that the products you choose are a good fit for your business. Here are some key criteria to consider:
Choosing products with high demand means that there is a large potential customer base for your products. Researching popular products and using the already mentioned tools like Google Trends and keyword research can help you identify products with high demand.
With low competition, your dropshipping store will have a greater chance of standing out and attracting customers. Conducting competitor research and analyzing search volume can help you determine which products have less competition in the market. Additionally, choosing niche products can help you avoid direct competition with big-name brands and make it easier to establish your business in the market.
Choose products with a healthy profit margin to ensure that your business can generate a sustainable income in a long term. Profit margins are a critical consideration when choosing products for dropshipping. You want to ensure that the price you pay for the product is low enough to leave room for a healthy profit margin when you sell it. In general, a profit margin of around 30% is a good benchmark to aim for. Consider the cost of the product, shipping, and any additional expenses to ensure that you're making a worthwhile profit.
The weight and size of the products you choose can have a significant impact on your shipping costs. Choosing lightweight products can help you keep your shipping costs low and increase your profit margin. Additionally, choosing products that are easy to ship can help you avoid complications and delays in the shipping process, as well as customers' dissatisfaction if the parcel is damaged.
You want to make sure that the products you choose are of high quality and have a good reputation. This will help to build trust with your customers and ensure repeat business. Look for products with positive reviews and a history of customer satisfaction. You can also consider testing the products yourself before adding them to your store to ensure their quality.
Upselling is an effective way to increase the average order value and generate more revenue per customer. Choosing products that have upsell potential can help you achieve this. For example, if you're selling a yoga mat, you could also offer related products like yoga blocks or straps to customers during the checkout process.
Seasonal or trending products can create a sense of urgency and increase demand for your products. For example, during the holiday season, products like Christmas decorations or gifts may be in high demand. Trending products like smart home devices or eco-friendly products can also be popular choices. However, keep in mind that these products may have a shorter shelf life and may not be in demand year-round.
By considering these criteria, you can identify the best dropshipping products for your business and create a successful online store — more on that in the next chapter!
Narrowing down your options: factors to consider upon choosing what you're going to sell
When you know where to find the best products, the next thing on your mind should be how to choose what you're going to sell.
When choosing the best dropshipping products for your online store, you must think about several crucial factors: price, quality, supplier, and shipping times.
The key to success lies in finding the right balance between these factors.
Whenever you receive an order request for a certain product, you'll need to pay your supplier the wholesale price for each item you sell.
The difference between the supplier's initial price and the price listed on your website is your profit. Oftentimes your supplier will require you to pay up for shipping as well. So, here you're going to have to decide whether to include it in your final price or have the customer pay for delivery.
Tip: In ecommerce, offering free shipping is the most beneficial way to push consumers for a purchase without having them second guess themselves.
Remember, you need to make sure you receive a decent profit per item. Otherwise, you may find yourself losing money instead of earning it.
Your profit margin will heavily depend on the products you're going to sell. The perfect products that can make you a hefty sum are items within the $1-$20 price range. These are the types of items that you can mark up the price up to 100%!
Offering high-quality products is another major factor when it comes to choosing the best dropshipping products.
Don't forget, you're building a business, and if you're going to offer customers poor-quality products, you'll have a hard time keeping them and earn a poor reputation, as well.
Tip: Try to ask for product samples from the suppliers you're interested in partnering with. This way you will have first-hand experience with the product and understand what you're offering before you start selling anything.
All dropshipping suppliers provide different offers. Some have a better price, but a lower-quality product. Depending on what you're going to sell, the higher price may be worth it.
Here, you'll have to rely on your own experience with the suppliers to evaluate who offers the better products.
Remember, a reliable supplier is crucial to your success.
Some suppliers may have a great quality product but take forever to deliver it.
In our modern world, fast solutions are everything, and taking too long to deliver the order may hurt your business.
US-based dropshipping suppliers will offer faster shipping times, compared to China-based. However, the price may also be higher.
Sellvia is a perfectly balanced solution that provides quick delivery times along with high-quality products to consumers in the US market.
Tips for choosing what to sell
With the numerous products to choose from, it's hard to choose the exact items to focus on and sell. So, here are some tips that will help you narrow down your options.
Without a doubt, you have to sell products that are in demand, or people simply won't be looking to purchase them. However, the more demand a product has – the more competition you're going to inevitably face.
To get a feel for the overall demand, be sure to check Google Trends, social media channels, and the general search volume for the item.
The key is to find a balance between demand and competition.
Trends are great if you catch one early, but that's also their huge drawback – they are short-lived.
So, instead of hopping on every trend, that catches your eye, try to balance out your product offering with the things that sell and some trending items that fit your niche.
Time after time, the best-selling products turn out to be items that solve the problems of the consumers.
Thus, here it's pretty easy to understand what you need to do, and that is to find your audience and then find products that help solve the problems of that audience.
What dropsipping niche should you choose as a newcomer?
When choosing a niche, consider your personal interests and knowledge. If you're passionate about a specific niche, you may be more motivated to research and market products in that field. Here are some popular and profitable niches to consider for dropshipping:
Products that promote health and wellness, such as fitness equipment, supplements, and yoga mats, are always in demand.
Beauty products and personal care accessories
Skincare products, makeup, and hair care products are popular choices in the beauty and personal care niche.
Home decor, kitchen gadgets, and other home improvement products can be profitable niches for dropshipping.
People love their pets and are willing to spend money on products to keep them happy and healthy. Pet food, toys, and grooming products are all popular in the pet niche.
Tech products like phone cases, headphones, and smart home devices are always in demand.
Clothing, shoes, and accessories are popular niches for dropshipping, especially if you focus on a specific sub-niche, such as activewear or sustainable fashion.
Outdoor gear and equipment for camping, hiking, and other outdoor activities can be profitable niches, especially for those targeting an active or adventurous audience.
Sell the best dropshipping products with Sellvia
First, we'd like to mention the Sellvia catalog.
If you take a look at it, you will find different categories of products filled with trending products. Every item comes with its stellar product page filled with quality media materials like photos, videos, and detailed descriptions.
In addition, all the products come with information about their selling price. This allows you to easily understand how much money you're going to receive from selling this or that product. Additionally, all the products are stored in a US warehouse.
Utilizing the dropshipping model with other suppliers you are going to have to bear with the problem of long delivery. And if your goal is to build a thriving business you can rely on, that's not acceptable in the modern day,
Nowadays, customers expect their orders to be delivered promptly. Thus, providing them with a 2-to-4-week delivery time (or even more) will be a huge disadvantage.
However, by partnering up with Sellvia, customers who order from your online store will receive their orders in 1-3 business days.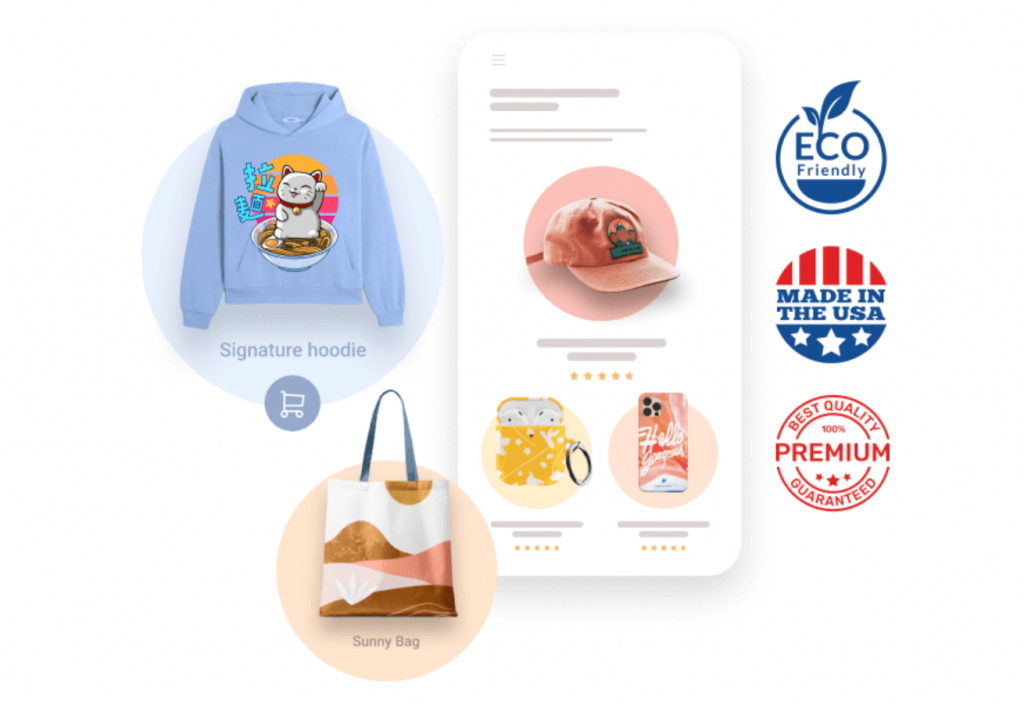 With our Premium Products service, we will create products that people are looking for but can't find yet!
All we require is for you to state your preferences and interests to our team of professionals, as they will create a product assortment according to your needs. Thus, your product offering will consist of the most promising products that cater to the customer's demand.
And while we take care of the technical aspects, such as manufacturing and delivering the products, you can effortlessly promote and grow your business.
In short, the process looks something like this:
You specify your interests and passions ✅
Our team researches what exactly people look for but nobody's selling yet, according to your specific needs ✅
Our designers create fantastic prints for you and your customers to enjoy ✅
You get orders and delegate all the technicalities to us ✅
Sell unique products
Your unique vision can be the exact thing that will bring something new to the market and make people fall in love with your offer.
Generally, it can take quite some time, and even some significant financial investments to create such a business. However, now, you have a unique opportunity to start with all the difficult parts delegated to a team of experts. With Sellvia's Premium Products, you can sell unique products that will provide you with an income for years to come! Choose the appropriate Premium Product package and our team will create an account for you and upload your unique products.
Sell the best dropshipping products with Sellvia
Conclusion
The key to establishing a successful online business is building a great product offering your customers will come back to purchase again and again. So, to make sure your store always has the best dropshipping products, keep a balance of trending products and niches. Later, once your store starts growing and making making sales, you can revisit the products you want to sell based on the buyer's feedback. And with the dropshipping business model, it's as easy as ever before.
The dropshipping business model is a great way to jump into ecommerce, without having to worry about many aspects that "traditional" business models require. You don't need to invest huge sums of money to get started, and the best part is that you can work anytime, anywhere, and any way you like.
On top of that, if you partner up with Sellvia, your journey to attaining financial freedom and independence is going to become much smoother, less time-consuming, and hassle-free.
We offer anything an ecommerce entrepreneur requires to get their business up and running, and even propel it to new heights.
Join Sellvia today, to start your dream business selling the best dropshipping products that will become a hit and provide you with an income source for the coming years! Want to find out more about ecommerce and how to launch and build a successful online business? Book a free meeting with our business consultants and they will let you in on everything ecommerce!