Are you still wondering whether you should try yourself in ecommerce? Well, you're in the right place! Sellvia is an ecommerce ecosystem that provides ecommerce solutions for entrepreneurs to build, grow, and manage their online businesses! Today, we will show the top ecommerce statistics that will help you understand why right now is the best time to start an Amazon business.
Ecommerce has become an inseparable part of our lives. Like many other industries, the retail landscape has undergone considerable evolution following the emergence of the Internet space. Our modern life is becoming more and more digitalized. Consumers everywhere can easily profit from the benefits of online shopping in just a few clicks.
Worldwide Internet access is rapidly increasing, with the number of global internet users reaching the five billion mark. Obviously, with internet access becoming more accessible, the number of people making online purchases is rapidly increasing.
With that being said, let's go on to the top ecommerce statistics that shape the industry! We hope that this will help you as a store owner to understand in what direction to develop your business.
Get selling tips and ecommerce inspiration right in your inbox!
Sign up today to not miss a single post:
#1. Ecommerce sales are projected to reach $7 trillion by 2025
In 2022, according to the global ecommerce statistics, sales are expected to total $5.7 trillion worldwide. Over the next years, this number is going to continue to grow. This will show that ecommerce is becoming a more integral part of the consumer experience worldwide. As well as a beneficial option for businesses.
On top of that, based on the global ecommerce statistics, of all the retail sales in 2022, over 19% are expected to come from online purchases.
Evidently, online sales are going to continue rising and slowly taking a good chunk of retail sales.
By 2026, it is expected that world retail ecommerce sales will hit the $8 trillion mark and the overall ecommerce share of retail sales will exceed 24%.
Saying all of that, it's crucial to understand what markets are leading the pack in the ecommerce industry.
Specifically, we'd like to focus on one of the largest ecommerce markets in the world. Let's look at the total US ecommerce sales.
In 2022, the ecommerce industry market share in the US is estimated to reach 15%, accumulating over $1 trillion in ecommerce sales. In the following years, the industry will continue to grow, as in 2023 it is forecasted to reach 16.4%, in 2024 17.8%, and 2025 19.4%. By 2025, this number will surpass 20% and hit over 21%, bringing the total number of retail ecommerce sales to $1.7 trillion. This signifies a significant 6.2% increase in just 4 years.
#2. The #1 reason people shop online is Free shipping
Make sure that your customers have the most convenient shopping experience.
Consumers have begun to expect free shipping to be available at many retail sites. Either as a bonus for buying a certain number of items or as an automatic feature of the site. It's not so much that people expect it, but they actively seek free shipping when they search for sites to shop at.
Businesses that have free shipping or free returns should make that information known to the public on their website and their marketing materials. People are more likely to choose an online store where they are more assured that they won't get stuck paying to return something they don't like or that shipping costs will suddenly raise the total amount they have to pay for the great deal they saw.
This also means providing fast shipping and hassle-free returns.
To make things even more convenient, instead of trying to entice shoppers to visit your website, take your store to them.
Other important factors that have a positive impact on your customers are the ability to use coupons and apply discounts at 41%, read other customers' reviews at 35%, easily return their items at 33%, and have a quick checkout process at 30%.
#3. 81% of consumers spend time on research the product before purchasing
One of the key reasons why online shopping continues to evolve is the ability to research various options, before making a purchase.
So, to save the customer time and persuade them to purchase from your online store – provide them with an accurate and detailed product description that shows all the best qualities of the product and answers any questions shoppers may have.
Focus on including high-quality product images, videos, descriptions, and specifications of the items.
By doing this, people will be instantly attracted to your product offer and instilled with trust by providing all the necessary information.
#4. 58% of people stop shopping with a brand that offers a poor customer experience
It is hard to achieve trust from customers and it's very easy to lose it. So, make sure you provide a stellar customer experience from start to finish.
If the business offers poor customer service, it's going to easily spoil the customer's impression of the company as a whole. As a result, consumers will be reluctant to purchase there in the future.
This can easily be the end for any business. However, providing an effort to retain customers can lead to huge business growth.
By approaching this goal the right way, customers will look forward to purchasing from you again in the future.
#5. 69% of customers abandon their shopping carts
This isn't great, of course.
It may take you some time and effort to reach them with your advertising and retargeting efforts to entice these customers to return to your online store and complete the purchase.
So, the key thing to remember is you need to optimize your checkout process to reduce as many abandoned carts as possible.
The shopping cart abandonment rate is an important metric for ecommerce sites to keep track of because a high abandonment rate could signal a poor user experience or broken sales funnel.
Reducing shopping cart abandonment leads directly to more sales and revenue, so optimizing the checkout flow is a core area of focus for many online retailers.
#6. 52% of online stores are multichannel
In today's day and age, most businesses are multichannel. This means that businesses have multiple channels that they sell and communicate through.
For instance, it's normal for businesses to function through many channels like an online store, a Facebook Shop, an Instagram account or Facebook page, an email list, and so on.
This strategy involves integrating various platforms seamlessly throughout your channels and tracking individual customer interactions across the channels. It's an incredibly powerful tool that generates impressive results when done right.
Undoubtedly, businesses that can create a seamless personalized omnichannel experience for customers will own the future of commerce.
Omnichannel is the next level up – and it's the future of ecommerce.
#7. 45% of ecommerce sales in the US come from mobile devices
A good portion of online consumers will likely access your website from a mobile device.
Furthermore, according to ecommerce statistics mobile sales are expected to grow from $284 billion in 2020 to $488 billion in 2024.
With that being said, make sure your online store is optimized for mobile and other different devices to make sure it looks great however consumers access it.
Ensuring your online store is optimized for mobile devices is going to be a critical point to achieving success in the ecommerce industry. Luckily, nowadays, most online store themes are optimized for mobile. Nevertheless, it's crucial to choose the right theme that matches your brand and looks especially great on mobile devices.
#8. Younger consumers shop online more than older generations
Millennials (those born from 1981 to 1996) make up the largest group of online shoppers.
38.4% of online shoppers based in the U.S. are under the age of 35. Moreover, 14.4% of those shopping online in the U.S. are 65 and above.
Perhaps younger generations appreciate its ease and convenience.
#9. Amazon reached 3.68 billion monthly visitors
Compared to other online marketplaces, Amazon comes out on top with almost 3.68 billion monthly visitors to its website in 2020.
Of course, the COVID-19 pandemic played a huge role in this, as people preferred to shop online instead of shopping in-store.
The second most popular online marketplace was eBay, with 1 billion monthly visitors.
Although those are some amazing numbers, Amazon still holds the crown as the most popular online marketplace with a significant lead.
In 2022, Amazon will account for 39.5% of all US retail ecommerce sales. That's $400 billion out of the forecasted $1 trillion in sales revenue, which is five times more than its closest rival, Walmart.
Moreover, when searching the Internet for products, most consumers start on Amazon. It is the most popular search destination for consumers (63%), above search engines (46%), Walmart (31%), Facebook (26%), and YouTube (24%).
#10. It usually takes 3 months to set up a fully functioning Amazon store
The majority of sellers (55%) have been able to get a fully functioning business store on Amazon within just three months, and most manage their business with fewer than 20 hours per week
#11. 89% of consumers trust Amazon
According to the ecommerce statistics, 89 percent of buyers agree that they're more likely to buy products from Amazon than from other ecommerce sites.
It's undeniable that Amazon is at the center of ecommerce. This is especially true for all the consumers who regularly order products online.
98% of those who purchase on Amazon daily or almost every day and 99% who purchase on Amazon a few times a week agree that they are drawn to Amazon over its competitors.
Amazon continuously provides customers with a reliable online shopping experience. So, in a way, online shoppers always know what they are going to get when dealing with this online marketplace.
Building customer trust is one of the key points when it comes to becoming a successful company or brand. Amazon is the pioneer when it comes to customer trust based on consistent and transparent product experiences.
How to start an Amazon business with Sellvia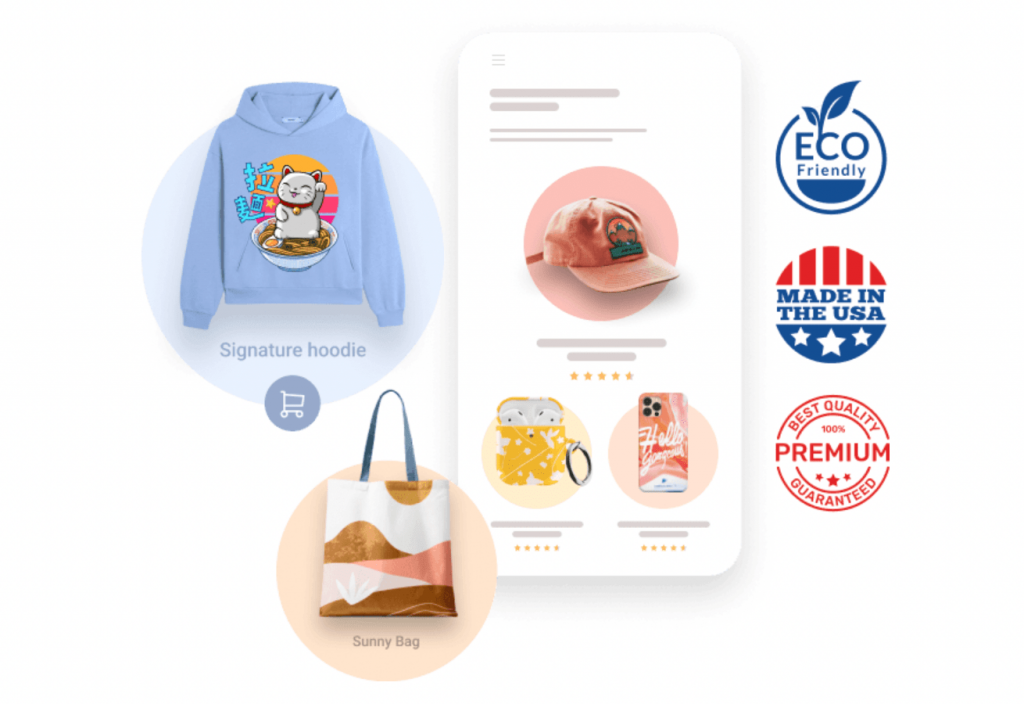 Now that we've shown you these ecommerce statistics signalling for you to start an online store, how can you actually establish it?
Generally, it can take quite some time, and even some significant financial investments to create such a business. However, with Sellvia's Premium Products, you have a unique opportunity to start with all the difficult parts delegated to our team of experts.
Make a fortune and make a difference. Whether you'll sell on your own or use Amazon, you'll find the Sellvia ecosystem as the right solution for you to get started.
You'll get everything to build a modern online store, from the tools and instruments, to support.
Our team of professionals is constantly monitoring the market to detect niches with potential. Everything just so you have the chance to sell unique products people search for, but nobody offers.
Your dream business from scratch
Our specialists will design unique products that aren't on the market. Your unique vision can be the exact thing that will bring something new to the market and allow people to satisfy their needs.
No effort from you – run your ecommerce business with no extra troubles.
We will handle everything so you can manage your business without effort. We will handle the technicalities such as the manufacturing, packaging, and delivery of your products.
Thus, you'll be able to fully enjoy the process of running your business effortlessly!
A crowd of potential customers awaits you
It's easy with the top ecommerce platforms – choose the appropriate Premium Product package and our team will create an account on Amazon for you and upload your products there to let you gain from the most popular shopping destination in the USA. Profit!
Generally, it can take quite some time, and even some significant financial investments to create such a business. However, with Sellvia's Premium Products, you have a unique opportunity to start with all the difficult parts delegated to our team of experts.
Start an online Amazon business with Sellvia and sell your products on the most popular platforms with millions of potential customers. Hopefully, these ecommerce statistics will show you how to effectively establish your dream online business. We're happy to help you with the design and manufacturing of unique products that will take over the hearts and minds of the customers. Take your chance to start a business with zero competition and make a difference!