Have you ever imagined having your own business? Well, now it's time to go from visualizing to realizing, with Sellvia's Premium Products you can strike it big by selling unique printed shopper bags and other best-selling products that won't be available anywhere else! Want to know more about how to turn your dreams into real money? Well, let's find out!
Get selling tips and ecommerce inspiration right in your inbox!
Sign up today to not miss a single post:
Premium Products by Sellvia – the shortcut to success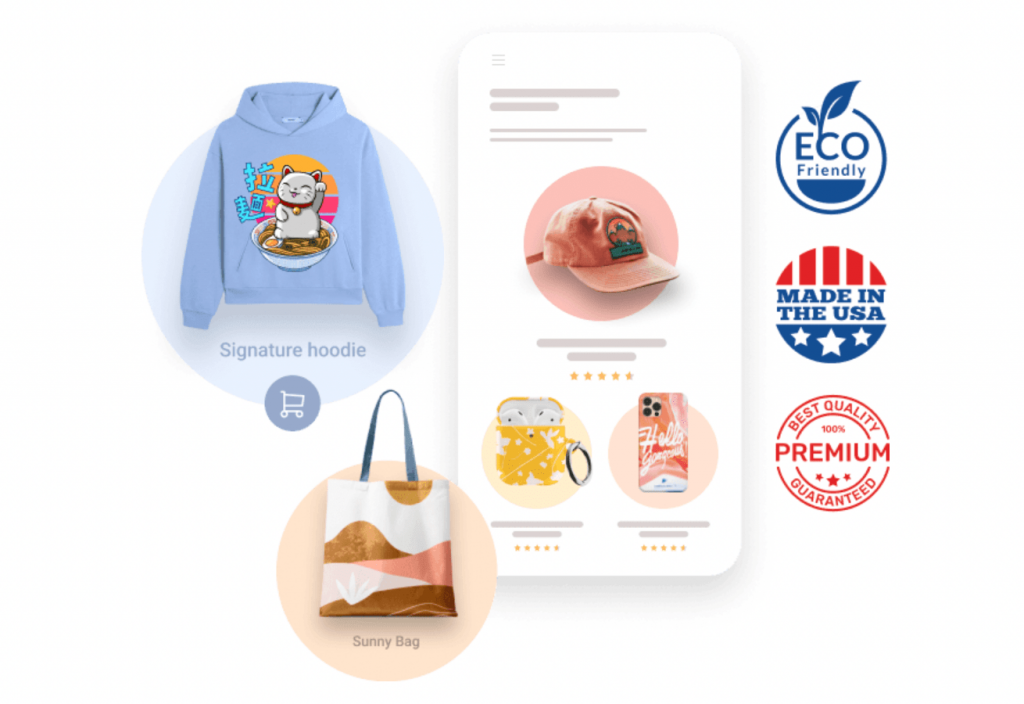 If you've not yet heard about Sellvia's Premium Products, here's what you need to know about our top-notch ecommerce solution that will boost your business further.
In essence, with the help of Premium Products, you can take your online business to Amazon and enjoy little to no competition.
Get access to millions of online shoppers with an Amazon business. We'll create and set up your Amazon account and upload your products there to let you benefit from one of the most popular online platforms in the world. Want to go even further? Sellvia allows you to start selling through Etsy, to attract even more online customers!
Here's how you'll achieve this.
Demanded top-notch products
A team of professionals is responsible for assembling your product catalog. To find the most popular products people are searching for, they will take into account the most popular and in-demand products on the market, along with Google and Amazon trends and statistics.
That's how you will be able to sell demanded products that nobody yet sells, and benefit in a major way.
When designing your assortment of products, our specialist will take into account your preferences and align them with specific items.
Our production team is happy to manufacture products for you from scratch to let you avoid any difficulties and run your business easily, with no effort.
Whether you're interested in sports, video games, cats, plants, cooking, etc. – we will turn your interests into a highly-potential business idea. By doing so, you can provide a supply of products to a vast category of customers who share your interests.
A wide range of affordable products
It won't be long until your customers will fall in love with your products created through the Premium Products service.
All the products are designed and produced in the United States and stored in a California-based warehouse and manufactured at your request (and only when there's a purchase request!).
All of these traits make the products' prices incredibly competitive and affordable for buyers to appreciate.
No need to order in advance
Selling goods usually means that you have to order your products in advance to ship them out later when a customer buys them.
However, partnering with Sellvia – firstly, your customers place the orders. Then, our team will manufacture as many products as you need to complete the orders.
With this kind of approach, you will have a much clearer estimation of your profit margins, as you won't need to order anything in advance, keep stock, and have other traditional business expenses to account for.
What fashion accessories to sell online? [Printed shopper bags ideas & examples]
So, are you thrilled with the opportunity that is in front of you?
The Premium Products service opens tons of opportunities for you to create a profitable business you'll be proud of.
Would you like to learn more about starting a business with your own unique products? Feel free to book a free consultation with our business advisors willing to give you all the details.
Now, let's take a look at some of the examples of printed shoppers bags you can offer in your fashion accessories store.
Our highly skilled illustrations will turn your ideas into colorful and distinctive prints that will look extraordinary on any product of your choice.
How to expand your future fashion accessories store
Feel inspired by the examples of these stunning printed shopper bags you can get with the Premium Products service?
Well, then you'll be thrilled to find out that these aren't the only products you have access to!
When you decide to expand your product catalog and go in a new direction – there are many more countless products our specialists can create for you. From adult and kids' apparel to car and kitchen products, along with items for pets and other accessories – there are plenty of choices to launch the business of your dreams!
Conquer the market with amazing printed shopper bags. Our Premium Products service provides anyone with an exclusive chance to enter the exciting world of ecommerce with a product offering like no other! It has never been so easy and accessible to launch this kind of endeavor, so start today and benefit from it tomorrow!