Ever wondered how you can turn the ever-growing demand for kids' clothing into a profitable online business? Well, you're in the right place. This comprehensive guide will show you how to sell kid clothes effectively, even if you're a total ecommerce novice.
Get selling tips and ecommerce inspiration right in your inbox!
Sign up today to not miss a single post:
A Booming Market: The Popularity of Kid Clothes
Did you know that the global children's apparel market is expected to reach USD 339.7 billion by 2025?
This growth is fueled by the constant need for clothes for the young ones and the rising trend of fashionable kids' clothing. In other words, it's a thriving industry with tremendous potential for online retailers.
Why Sellvia is Your Go-to Partner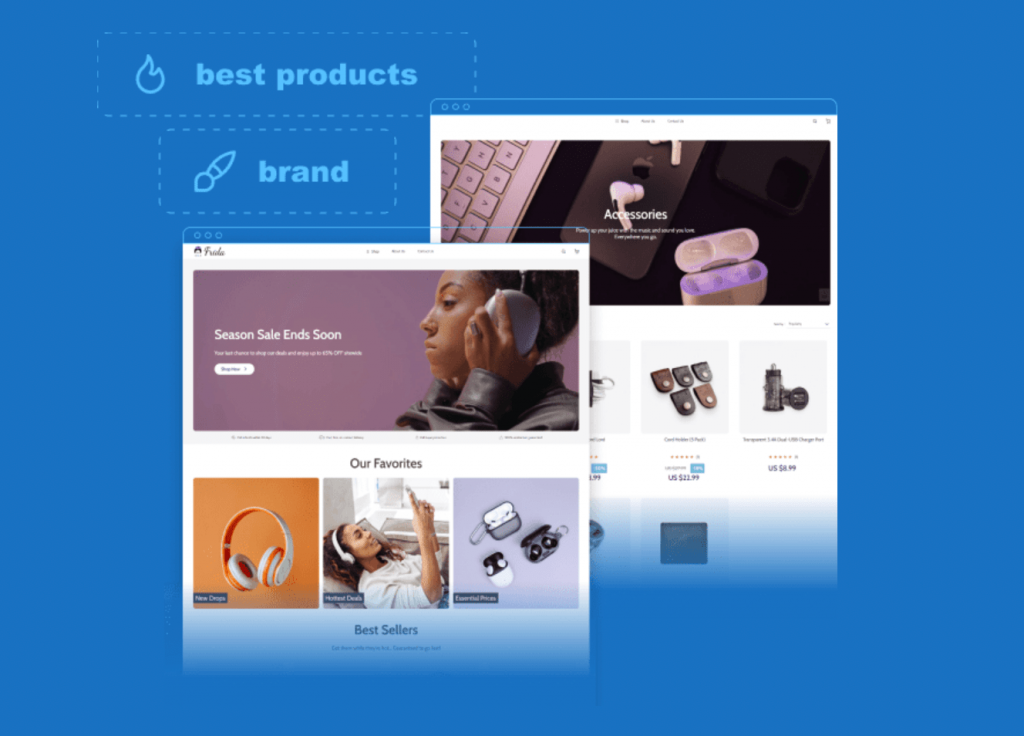 Starting an online business may seem daunting, especially if you're juggling a full-time job or other responsibilities. That's where Sellvia comes in.
Sellvia is a comprehensive ecommerce solution that does most of the heavy lifting for you. From setting up your online store to stocking it with thousands of premium products, Sellvia makes it as easy as possible to start your ecommerce journey.
An Abundance of Kid Clothes and Apparel
One of the greatest advantages of partnering with Sellvia is the unlimited access to a vast catalog of top-selling products. This includes an array of kids' clothing and apparel that can cater to every style and age group. Whether it's trendy dresses, comfortable play clothes, or adorable accessories, you'll find an impressive selection of items that your customers will love.
Custom-Made and Unique Products
Moreover, Sellvia takes customization to the next level. Our team of professionals works tirelessly to understand what your customers want. We then create unique, custom products tailored to their needs. This means you can offer your customers something truly special – clothing and apparel that are not only high-quality but also unique to your store.
Selling on Your Own Store and Amazon
Sellvia not only helps you establish your online store, but also makes it possible to sell your products on Amazon, under your own brand. We take care of everything from design and production to shipment. In fact, we've even created a series of blog posts to guide you through the process of selling on Amazon, whether it's wall art, jewelry, t-shirts, or clothing.
Your Amazon Turnkey Business
With Sellvia, you can create a turnkey Amazon business. This means that we handle all the complexities of the business while you reap the rewards. All you need to do is focus on growing your brand and serving your customers better.
How to Sell Kid Clothes: A Step-By-Step Guide
Start with Market Research
Before diving into selling kid clothes, you need to understand your target market. Know what styles are trending, what parents are looking for in children's clothing, and how you can stand out from the competition.
With Sellvia, setting up your online store is a breeze. You'll get a professionally designed, fully functional ecommerce store that's ready to start selling. No tech skills needed.
Stock Your Store with Top-Selling Products
Take advantage of Sellvia's extensive catalog, filling your store with high-quality, trendy kids' clothing and apparel. Sellvia's team of professionals will also help create unique products based on your customers' needs and preferences.
Sell on Amazon Under Your Own Brand
Expand your reach by selling your products on Amazon. Sellvia provides all the support you need to set up your Amazon store and start selling. With Sellvia, you're not just opening an online store – you're building your own brand.
Promote Your Store and Products
Use social media, email marketing, and other promotional strategies to get the word out about your store and products. Sellvia can also help with marketing strategies and tools to drive traffic to your store.
Provide Excellent Customer Service
Build a loyal customer base by providing excellent customer service. Respond to inquiries promptly, resolve issues quickly, and always strive to exceed customer expectations.
The Most Popular Kids' Clothing Items to Sell Online
If you're considering venturing into the world of kids' clothing, you might be wondering what items are the most popular and, thus, most likely to drive sales. There's an extensive range of products in the children's clothing industry, but here are some of the top-sellers:
These are a staple in any baby's wardrobe. They're practical, comfortable, and come in a multitude of designs and colors.
T-shirts with fun designs, popular characters, or inspirational quotes are always a hit with kids and their parents alike.
Holiday-themed clothing, from Halloween costumes to Christmas sweaters, tend to sell well. Parents love dressing their children up for special occasions.
Coordinated clothing sets, whether it's a top-and-bottom combo or a matching outfit for siblings, are popular for their convenience and style.
With a growing awareness of environmental issues and skin sensitivities, many parents prefer organic clothing for their kids.
Best Ways to Promote Your Kids' Clothing Business
Once you've stocked your online store with appealing products, it's time to let the world know. Here are some effective ways to promote your kids' clothing business:
Social media platforms, like Instagram and Facebook, are excellent for promoting kids' clothing. Regular posts featuring your products, behind-the-scenes content, and customer testimonials can boost your brand's visibility.
Collaborating with influencers in the parenting or kids' fashion niches can help you reach a larger audience.
Regular newsletters with new arrivals, sales, and styling ideas can keep your customers engaged and encourage repeat purchases.
Optimize your website and product descriptions with relevant keywords to improve your online store's visibility on search engines.
Consider investing in pay-per-click (PPC) advertising on Google or social media platforms to reach potential customers who are actively searching for kids' clothing.
Remember, promoting a business requires consistent effort and experimenting with different strategies to see what works best for your brand. With Sellvia as your partner, you'll have all the support you need to make your kids' clothing business a success.
Why Now is the Perfect Time to Start Selling Kid Clothes Online
As we've seen, the demand for kids' clothes is not going anywhere. Parents, grandparents, and relatives are always on the lookout for cute, comfortable, and durable clothing for the little ones. The market is vast and varied, and the advent of online shopping has made it easier than ever for consumers to find exactly what they want.
But as with any business, starting an online store selling kids' clothing requires effort, time, and the right strategy. That's why partnering with a comprehensive ecommerce solution like Sellvia is an excellent idea.
With Sellvia, you get a ready-made online store stocked with thousands of top-selling products, including a wide variety of kids' clothing and apparel. You also get the ability to sell unique, custom-made products under your own brand, both in your online store and on Amazon. Plus, you get all the help you need to manage and grow your business.
So, are you ready to seize the opportunity and start your ecommerce journey? Join Sellvia today and see how easy and profitable it can be to sell kid clothes online!
As an ecommerce novice, you might feel overwhelmed at first. But remember, every great journey begins with a single step. And with Sellvia, that step is easier than ever. Take that step today, and let's embark on this exciting ecommerce journey together!