Etsy has become a beloved online marketplace for creators, artists, and vintage lovers worldwide. Known for its wide array of unique products, Etsy is a place where originality thrives and entrepreneurs blossom. Whether you're an artist hoping to sell your craft, a vintage collector ready to share your finds, or someone looking for a profitable side hustle, learning how to sell more on Etsy can turn your passion into a solid income.
Get selling tips and ecommerce inspiration right in your inbox!
Sign up today to not miss a single post:
Getting Started on Etsy
Before we delve into how to maximize your sales, it's important to understand what Etsy is and how it works. Etsy is an ecommerce platform that primarily focuses on handmade, vintage items and craft supplies. The unique charm of Etsy lies in its community of creators and collectors who bring a personal touch to their stores, making it a much-loved destination for shoppers seeking distinctive items.
If you're new to ecommerce and Etsy, fret not. Becoming an Etsy seller is an exciting journey where you can leverage your creativity and earn from it.
In this post, we'll guide you through the process of becoming an Etsy seller, and how partnering with Sellvia can make this process even more seamless and profitable.
Understanding Etsy: A Platform Built on Creativity and Entrepreneurship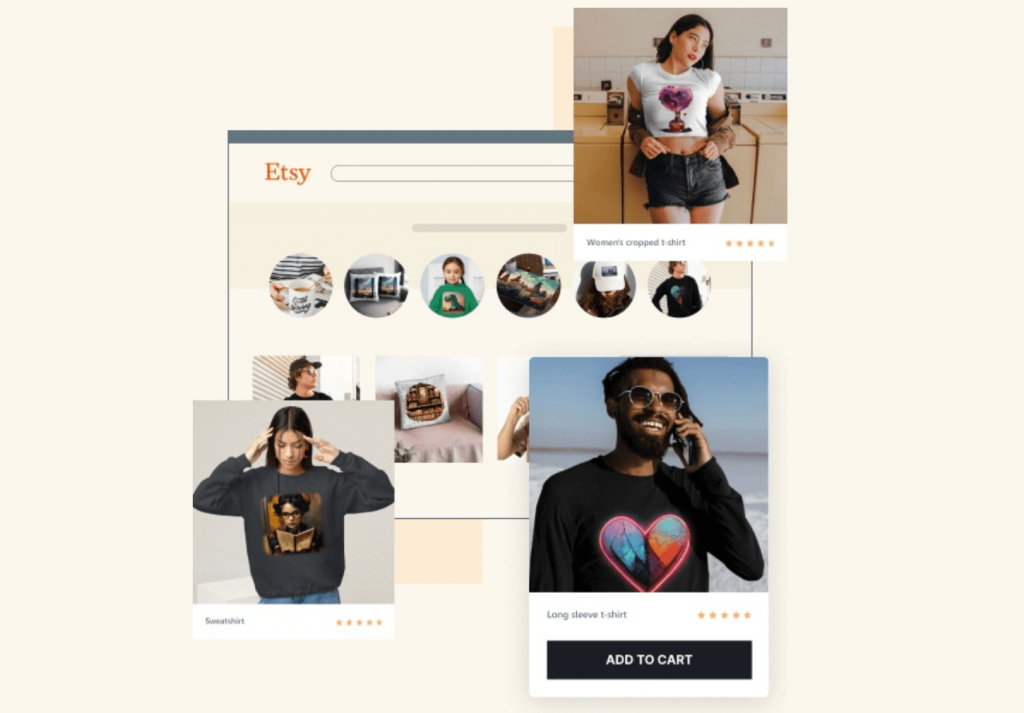 Launched in 2005, Etsy is a unique marketplace that caters to artists, crafters, and vintage collectors.
With its mission of keeping commerce human, Etsy has carved out a significant niche for itself in the online retail landscape.
According to Etsy's 2022 Q4 results, the platform had approximately 4.7 million active sellers and 90.7 million active buyers worldwide, a testament to its ever-growing popularity and reach. Moreover, the platform's gross merchandise sales (GMS) in 2022 amounted to a whopping $12.73 billion.
There are a few factors that set Etsy apart and make it a favored choice among both sellers and buyers:
#1. Unique Products
Etsy is a haven for handmade, vintage, and craft items. It's the go-to place for buyers who value creativity and originality over mass-produced goods.
#2. Sense of Community
Etsy offers a strong sense of community. It's not just a marketplace; it's a platform where artists, crafters, and vintage enthusiasts come together, creating a close-knit community of like-minded individuals.
#3. Support for Small Businesses
Etsy is renowned for its support of small businesses. It provides individuals and small enterprises a global platform to showcase and sell their unique products.
The Potential of Selling on Etsy
There's substantial earning potential for sellers on Etsy, given the platform's massive user base and the demand for unique, artisanal products. According to a report by Jungle Scout, 74% of Etsy sellers run their shops from their homes, and for many, their Etsy income makes up a significant portion of their household income.
The Rise of Side Hustles on Etsy
Etsy is a popular choice among those looking to start a side hustle. The platform offers flexibility, allowing sellers to manage their shops in their spare time. In fact, according to Etsy's seller report, 97% of U.S. Etsy sellers run their shops from home, and 74% consider their Etsy shop to be a business. Additionally, 30% of sellers said their creative business on Etsy is their sole occupation.
The rising popularity and potential profitability of Etsy provide an excellent opportunity for individuals seeking to start or grow their online business. By understanding how Etsy works and learning how to optimize your shop, you can leverage this platform to generate a steady stream of income.
Powering Your Etsy Store with Sellvia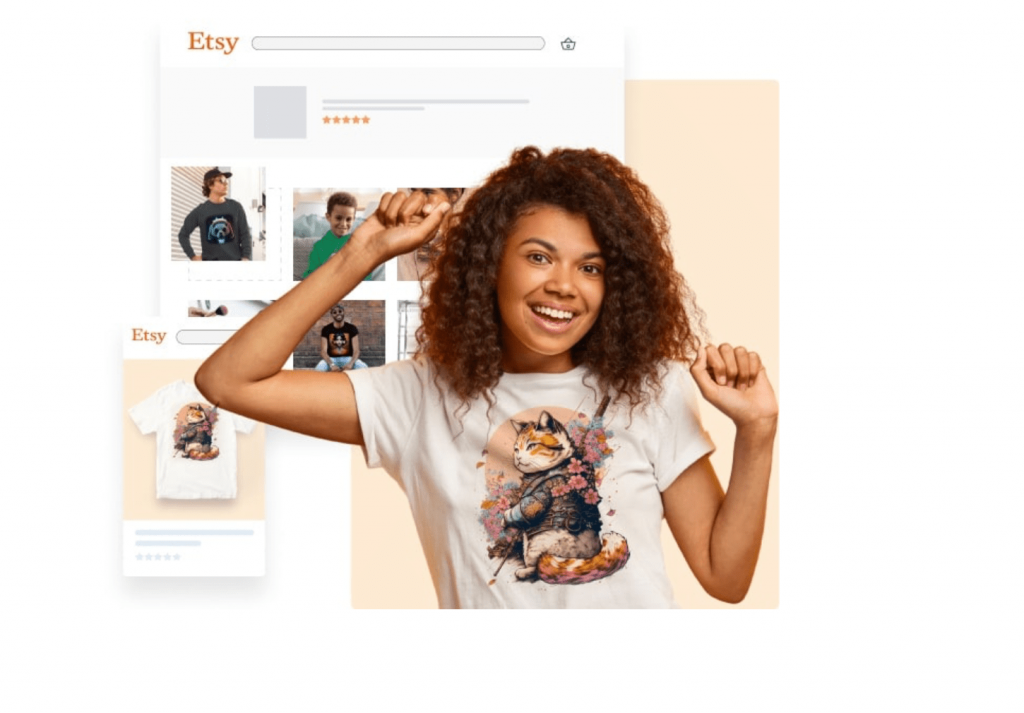 At Sellvia, we make starting an Etsy business easy.
By partnering with us, you can access an online store with unlimited access to thousands of top-selling products. These products are curated by our team of professionals to cater to your customers' needs, letting you focus on selling and expanding your business.
With Sellvia, you can operate your business on autopilot, providing you a steady income stream for years to come. Our services extend beyond product sourcing. From product design and production to shipment, we take care of all the intricate details so you can sell these items not just in your Etsy store, but also on Amazon, under your own brand.
We also assist in creating your Etsy Seller account and uploading your premium products to its catalog, making the setup process a breeze.
Winning Etsy with Unique Products
Etsy is renowned for its one-of-a-kind items. It's a marketplace where people come for exclusive items they can't find anywhere else. Therefore, to truly make your mark and win on Etsy, your products need to be unique and offer value to your customers.
But how do you source these unique products? That's where Sellvia comes in. With our premium product, you gain access to a wide range of unique items tailored to your customers' needs.
By teaming up with Sellvia, all of the boring tasks will be handled by a team of professionals, while you manage your online business.
Rest assured, as the experts behind Sellvia's Premium Products service will handle everything:
Discover what products people are searching for, but cannot find ✅
Merge these products with your personal ideas, interests, and values to create a product offering that stands out and meets the customers' demand ✅
Fulfill an order in your store and print the needed items upon your request ✅
Take care of the delivery right to your customer ✅
We focus on creating high-quality products that will set your Etsy store apart, helping you attract and retain a loyal customer base.
Using Etsy's Powerful Built-In Tools
Etsy's robust tools empower sellers to manage and grow their businesses effectively. As a seller, you can utilize Etsy's cutting-edge solutions for inventory management, order processing, customer service, and more. Additionally, Etsy offers robust promotional tools to boost your products' visibility both within and beyond the marketplace.
From comprehensive sales and traffic analytics to a robust set of marketing and SEO tools, Etsy provides a comprehensive suite of resources to help you optimize your store and attract more customers. For instance, the Etsy Ads platform allows you to boost the visibility of your listings both within Etsy and on major search engines like Google. The Etsy Shop Updates tool, on the other hand, lets you share behind-the-scenes snapshots and product launches to engage your followers and entice potential buyers.
In short, Etsy equips you with the tools and resources you need to streamline your operations and boost your sales. With Sellvia by your side, you can make the most of these powerful tools while ensuring that your product offerings remain unique and appealing.
Building a Great Brand Image on Etsy
One of the most crucial factors for success on Etsy is building a strong brand image. Due to the marketplace's established reputation and creative vibe, businesses presented on Etsy tend to evoke trust and loyalty among customers. This positive association works to your advantage as an Etsy seller.
Building a great brand image on Etsy goes beyond simply listing products. It involves crafting a compelling shop story, providing excellent customer service, and consistently delivering high-quality, unique products. This not only helps foster trust among your current customers but also attracts new customers to your shop.
With Sellvia, you can leverage our expertise in building successful ecommerce businesses to establish a strong brand image on Etsy. We assist you in curating premium products tailored to your customers' needs and help you navigate the nuances of starting an online business on Etsy. With our guidance, your Etsy store can emerge as a trusted, go-to destination for unique finds.
Expanding Your Reach: Selling on Amazon
As you establish your Etsy business, it's worthwhile to explore other avenues to expand your reach and increase your sales. One such platform is Amazon – the world's largest online marketplace.
With Sellvia, you can effortlessly extend your business to Amazon. Whether you want to sell wall art, T-shirts, clothing, or other products, we have detailed guides to help you navigate the process. From opening a store for wall art on Amazon, to selling T-shirts and clothing – we've got you covered.
Furthermore, Sellvia can assist in setting up your Amazon turnkey business, enabling you to sell under your own brand. As with Etsy, we handle everything from product design and production to shipment , letting you focus on growing your business.
By partnering with Sellvia, you gain access to a plethora of resources designed to help you sell more on Etsy. From providing an array of unique, top-selling products for your store to helping you navigate the intricacies of becoming an Etsy seller, Sellvia is with you every step of the way, ensuring your Etsy journey is as smooth and profitable as possible. Book a call with our business advisors and they will let you in on what you need to know to succeed in the ecommerce space! Seize this opportunity to start selling unique products on Amazon and achieve the success you've always dreamed of.