As the holiday shopping season officially kicks off — especially earlier this year due to global supply chain issues — look to Thanksgiving, which is November 24th, for your ecommerce sales. Thanksgiving marks the second holiday of the fall/winter holiday season, preceded by Halloween and followed by Christmas. With nearly 1 billion dollars projected to be the 2022 cost for Thanksgiving, it's no surprise that the fall holiday is major for Americans — and even more so this year. And although Thanksgiving outfits like t-shirts and hoodies may not exactly factor into that seven-figure spending, they can add to the festive atmosphere and inject personality to any gathering.
Luckily for all you Sellvia users and browsers, our subscription-fulfilment service has secured some incredibly cute (yet simple) hoodies, v-necks, and more to mark the holiday — and these Thanksgiving outfits have just been added to our catalog. Let's take a look at 10 top picks today!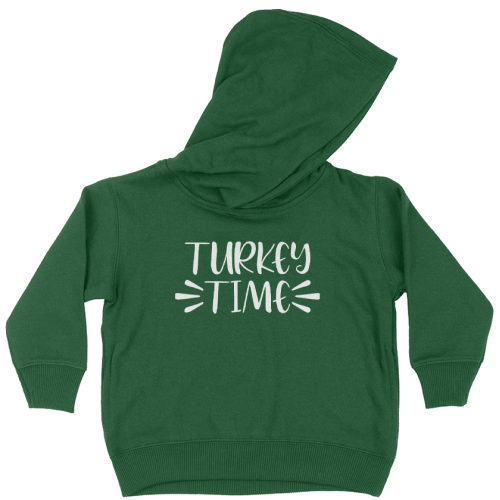 If your little ones are turkey-crazy for the holidays, let them express it loud and proud with this fun hoodie, available in white, black, kelly (green), and red. Ultra-soft Airlume cotton ensures super comfort for toddlers two to six years of age.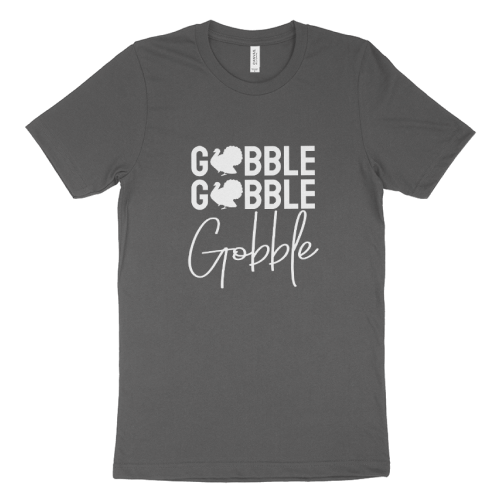 If you're jolly on Thanksgiving, say no more (and let your shirt do the talking). This versatile tee will carry you from roadtrip to helping out with the stuffing to adult wine time — and it's a great pick for men and women alike. Sizes range from XS to 3XL, with six available colors — so there is something for everyone.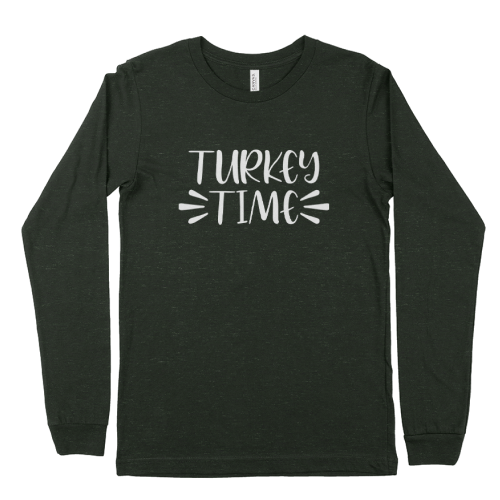 Battle crisp November weather (and a busy day of food-prep and fun) with this soft, rib-neck long-sleeve tee. Mark Turkey Day with the fun "Turkey Time" phrase printed right on the shirt — available in six colors, and sized for men and women alike.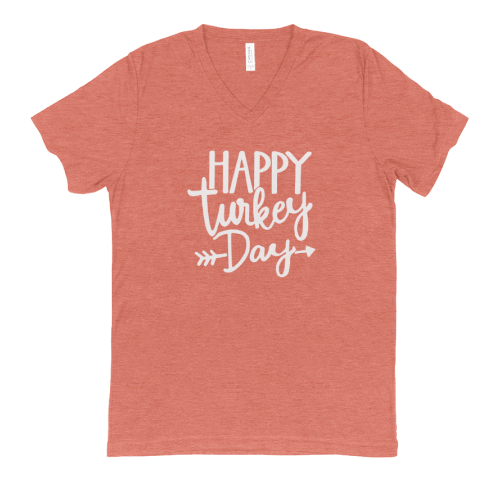 Party it up November 24th in style with this soft, flexible v-neck that works for men and women. Available in three earthy colors: clay triblend, solid white triblend, and grass green triblend. Experience softness and fit you've never experienced before with this tee's blend of 50% poly, 25% Airlume cotton, and 25% rayon.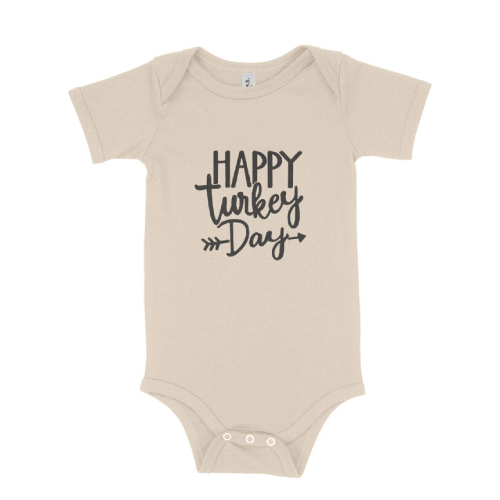 Match your toddler's look to your own with this "Happy Turkey Day" onesie, which correlates with the adult v-neck above. This onesie is made with love from Airlume cotton for cloud-nine softness while a three-button closure ensures easy wear. Select your fit in a range of sizes ranging from three months to 24 months.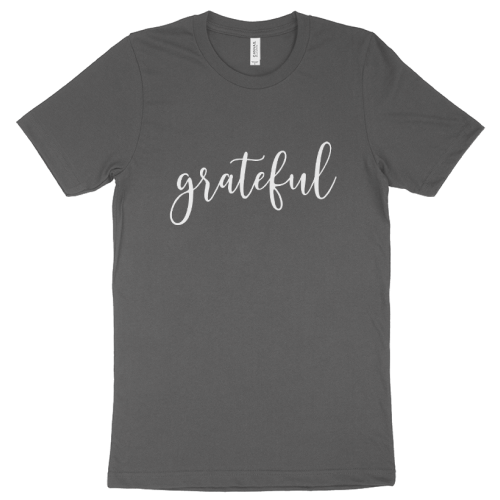 Yep, one word says it all for Thanksgiving — "grateful." Because the holiday is all about being thankful for what you have and what you have gained, right? So rock your sentiment with this phrase-printed tee, designed for a unisex fit. Choose from six colors and sizes ranging from XS to 3XL.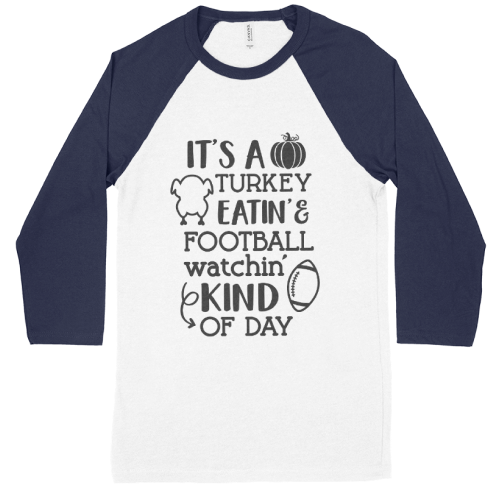 Call out everything Thanksgiving with this fun word-and-graphic combo of a shirt. From sports to food, this dual-toned long-sleeve says it all. Rock the festive fall spirit from game time to meal time with this fun ¾-sleeve fit. Choose from white/navy, white/black, grey/red triblend, and deep heather/black.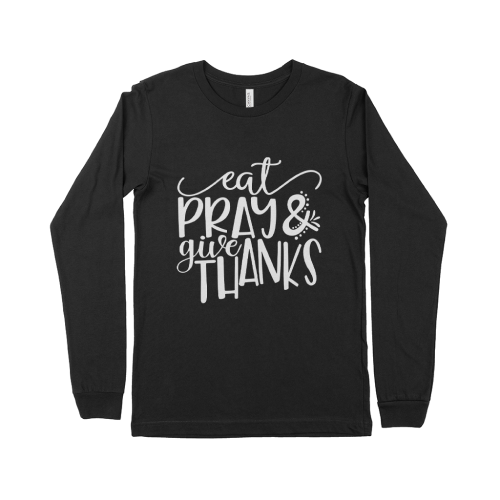 With the spirit of Thanksgiving emblazoned on your chest, pass November 24th in style and merry cheer. Crafted from buttery-soft Airlume cotton, this long-sleeve tee provides hours of comfy wear. It is designed to work for men and women alike and is offered in sizes ranging from XS to 2XL. Comes in six varying shades for fun style.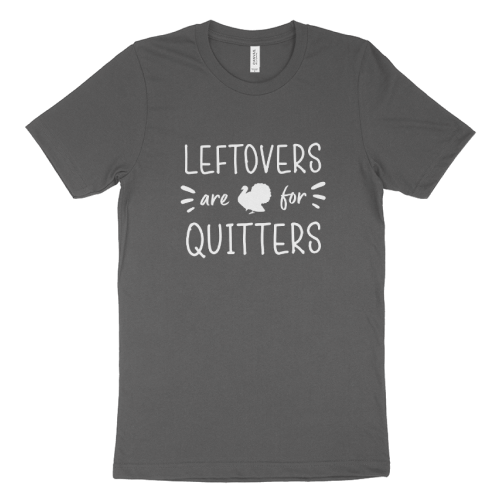 Power through the heartiest of Thanksgiving-night meals with the energy of this soft, comfy t-shirt. As the saying says, don't give up on your plate — and eat 'till you finish. Take your pick, ladies and gents, from six colors: white, athletic heather, asphalt, dark grey heather, black, and red — and find your size from XS to 3XL. Make it a dinner to remember!
So there you have it — your Thanksgiving outfits (at least top/shirt) choice for November 24th, settled (you're welcome). If you're a dropshipping store owner, add these festive Thanksgiving tees and hoodies and tops to your store if they fit your niche — but act fast, as the holiday season is officially underway.
Do you wish more? It's time to bring something specal to the market!
Start selling unique Thanksgiving outfits
As a rule, thanksgiving outfits buyers can find online/offline are quite generic, meanwhile, people wish to look unique. How to help customers with that? Start selling unique thanksgiving outfits people already look for, but nobody offers yet!
Our team monitors the market on a permanent basis to detect empty niches to let you start a business with no competition. Beyond that, we're happy to take care of your products from A to Z allowing you to run a business you'll always be proud of with no effort!
Don't you have any experience in design and stuff like that? Not a big deal, actually — our team of designers will design for you unique products people already look for, but nobody offers yet, allowing you to bring something new, something special to the market and win customers' hearts!
Manufacturing issues and things like that are not what you dream of, right? Don't worry — it's all on us! We'll manufacture products for you from scratch and handle all the technicalities to let you enjoy running your business!
Aren't you sure you're good at your business promotion? That's okay! We'll create for you an account on Amazon and upload your products there to allow you to benefit from the platform Americans mostly shop online. Profit!
Less words, more actions. Look at the mockups our designers are happy to create for our clients to bring something special to the market for Thanksgiving and resonate with customers!
Men's apparel
Women's apparel
Children's outfits
Dogs' accessories
SUMMARY: Thanksgiving is one of the most popular holidays in the U.S.A., so if you run an online store catering to fashion or home goods (or really anything), consider your slice of the ecommerce pie this holiday season with your unique Thanksgiving outfits people already look for, but nobody offers yet. From Mom to Dad and the littles ones, let's make Thanksgiving outfits for everyone!