Amazon. If you were to ask the average person what first comes to their mind when they hear the term, it's likely the world's largest online shopping platform – and not the largest river in the world. That's just how shocking Amazon's success and popularity is. The online giant earned $469.8 billion in annual sales for 2021, and ranks #3 on Forbes' Fortune 500 list. How to start selling on Amazon? Not a big deal, actually.
Get selling tips and ecommerce inspiration right in your inbox!
Sign up today to not miss a single post:
It's no surprise that when it comes to doing business online, people eventually want to utilize one of the most lucrative online-selling marketplaces out there. And getting started isn't that hard.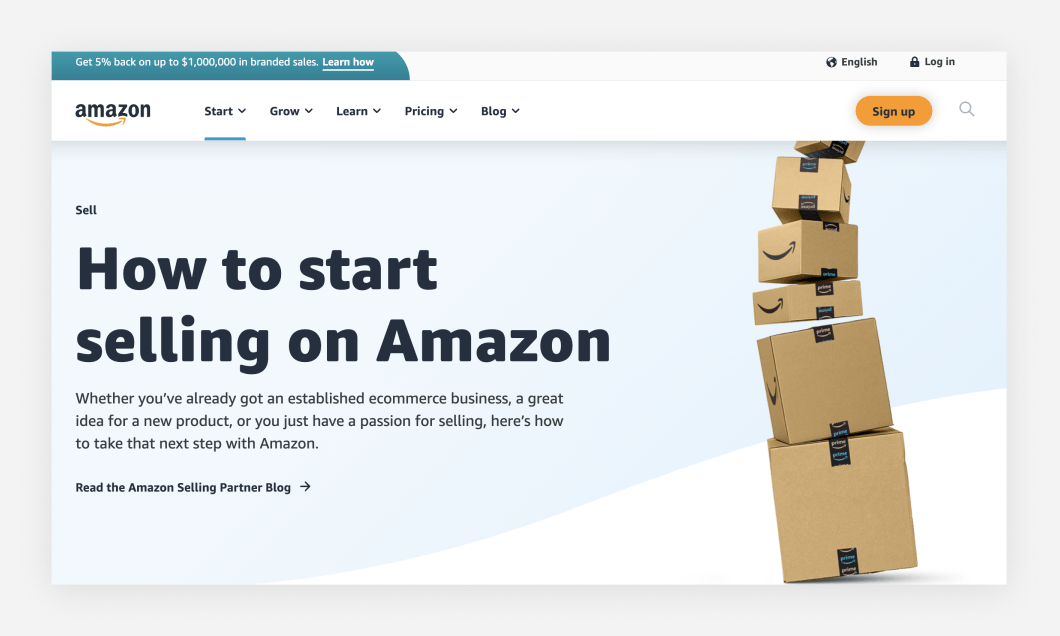 #1. Get to the FBA page
How to start selling on Amazon? Actually, to start, simply visit Amazon's Fulfillment By Amazon (FBA) page at https://sell.amazon.com/fulfillment-by-amazon. Click "Sign Up."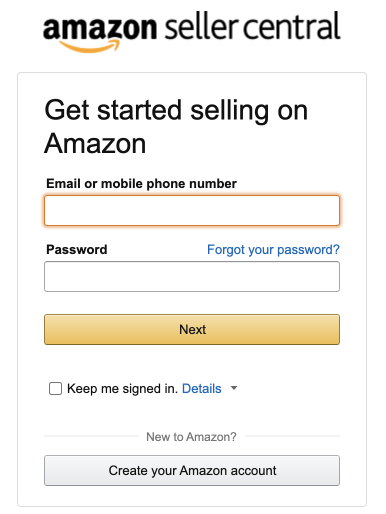 #2. Create an account
At the log-in page, you'll want to click on "Create your Amazon account" at the bottom.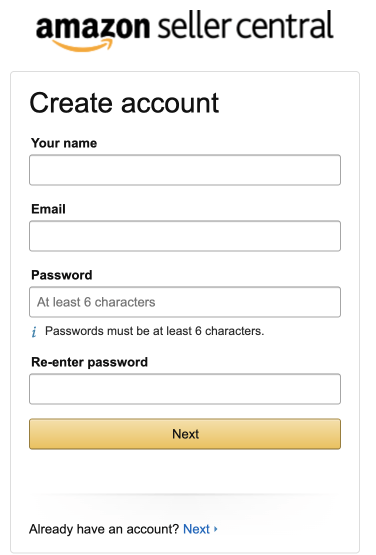 #3 Create your login
Like with any website, create a username, associated email, and account password to set up an account.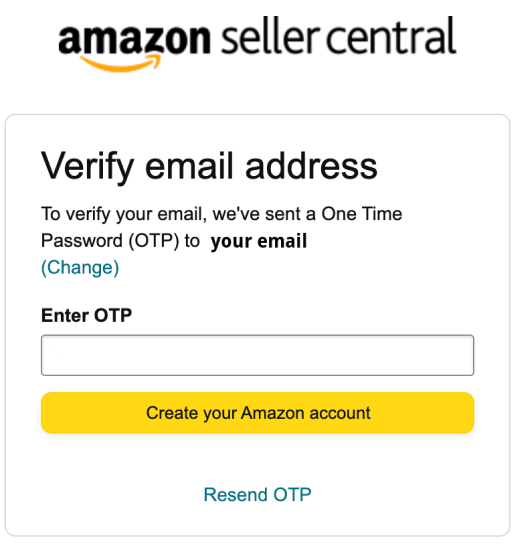 #4. Verify your email address
Amazon will send a code to your provided email to confirm your identity.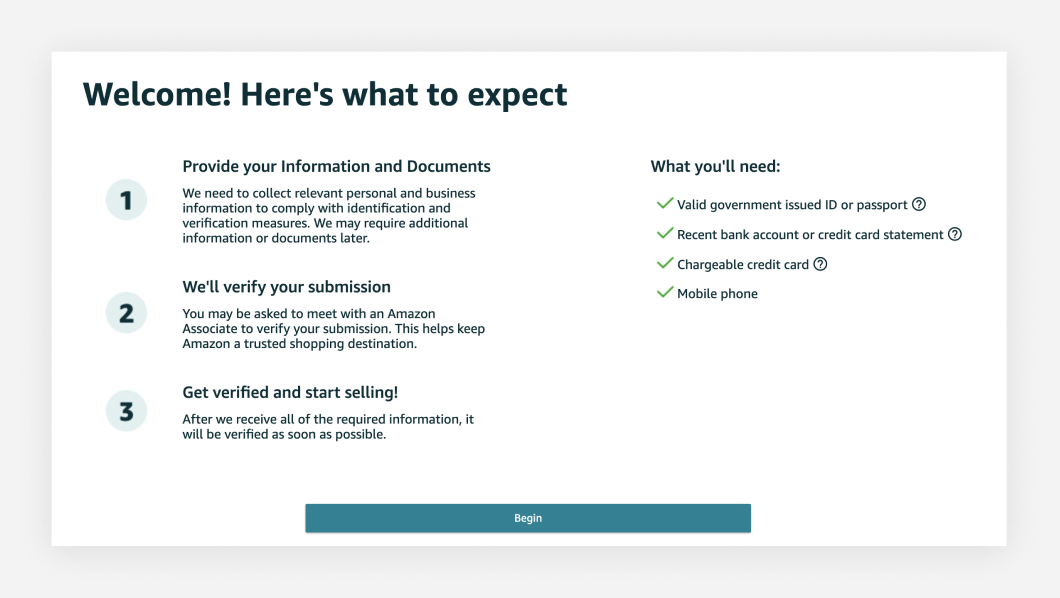 #5. Get verified
And you're set. At least for now. For all FBA partners, Amazon requires a verification process. What this means is ensuring you're a legitimate seller on the platform with an actual business. As part of that process, Amazon will:
Possibly contact you to verify your ID and business
Ask for business documents and your personal ID, in addition to a credit card and phone number
After this process, you will be able to log in and view your dashboard on Seller Central.
#6. Choosing your plan type
Part of the appeal of being an Amazon seller is the platform caters to you and your business needs. And that starts with selecting an Individual or Professional plan. Note, it is not free to sell on Amazon. With the Individual Plan, you have to pay a $0.99/item fee. This is a great starter plan if you're unsure what your selling volume will be.
With the Professional plan, which is subscription-based, you pay $39.99/month, with zero per-item fees. This Professional plan is ideal if you know you sell high volume and can make over $39.99 a month.

#7. Get situated on Seller Central
Once you are verified, signing in gives you access to your main control center of sorts, Seller Central. Here, you can manage your inventory, make product updates, make payments, get insight on customer statistics, and much more.

#8. List products
After you have familiarized yourself with Seller Central, it's time to start creating listings for your items (yes, how exciting is that?). From a catchy title to detail-laden description, creating a listing is your chance to distinguish your item from that of competitors. You will also need some specifics, such as SKU, Global Trade Item Number (GTIN), product images, and search terms and keywords.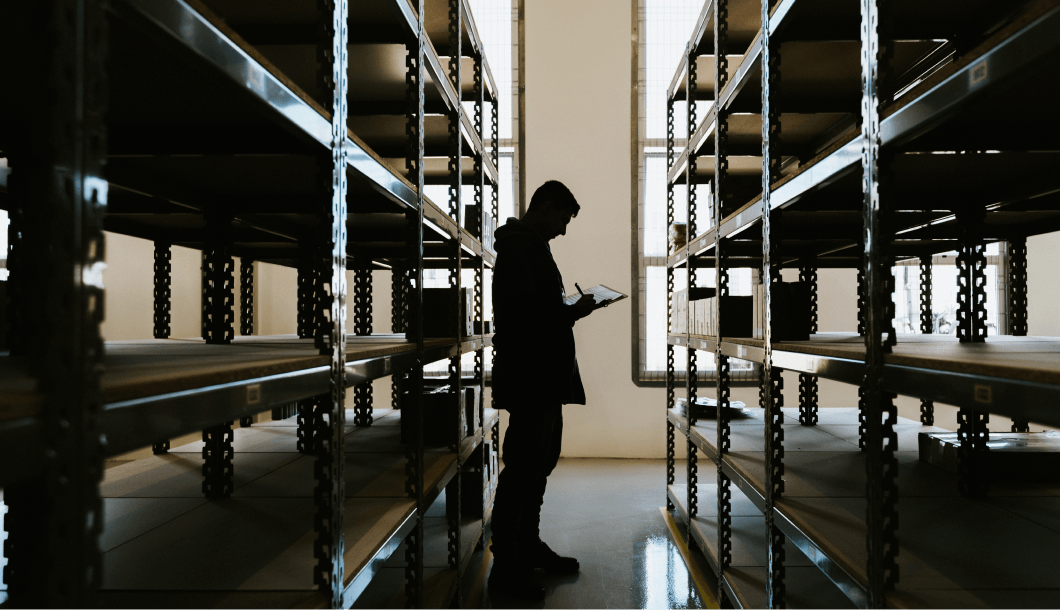 #9. Select your fulfillment option
When selling on Amazon, you have two options to fulfill your orders:
Via Fulfillment By Amazon (FBA)
Perhaps the most common option of choice, FBA lets Amazon take control of packaging, labeling, and shipping of your products. All you have to do is coordinate with Amazon to deliver your inventory to one of its warehouses.
If you opt for Merchant-Fulfillment, it means you will handle all the logistics of getting your orders out to your customers. Amazon will charge you for shipping and base rates off of the product category of the item sold, and the shipping service selected by the customer. You will be credited if there is a difference between what Amazon charges and what the customer ends up paying.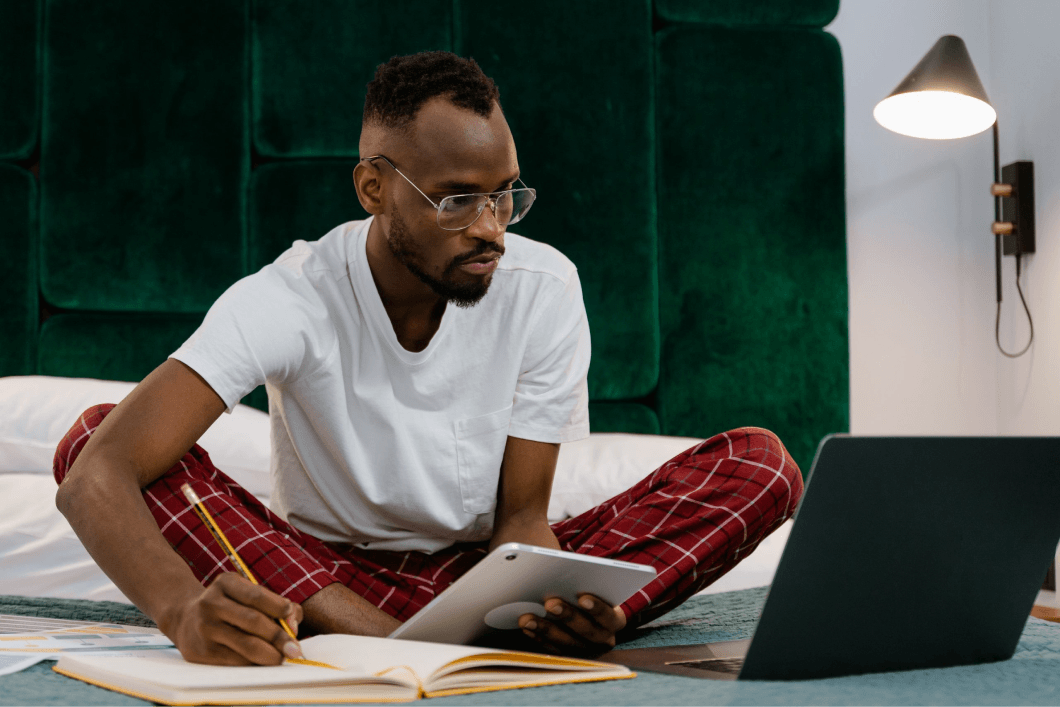 #10. See your sales & stats in Seller Central
Once you have completed a sale, your earnings will show up in Seller Central. And as you continue to make sales with time, you'll start seeing trend graphs and numbers related to your fulfillment, customer satisfaction, and much more. These stats will help you improve or tweak things to become a better seller.
Now you know how to start selling on Amazon. As you can see, getting started and situated as an Amazon seller isn't hard, but there are some learning curves – and fees – involved. But if you utilize what works for you, and turn to Amazon's Seller University for guidance along the way, you should be well on your way to success.
Sellvia, in its turn, is happy to help you make a fortune with your business. That's why we're now preparing for you a brand new solution to let you make your dreams come true. For now, we suggest you make your first steps towards your bold dreams — start your business with Sellvia right now.
With Sellvia, you're now able to start selling products on Amazon manually and benefit from that because in our catalog, you'll find thousands of products people feel they lack. They wish you make their lives a bit more comfortable. Have you always dreamed of doing something that really matters? Now you have a chance to try your hand at this in no time & even with no money — get your business made for you personally by Sellvia absolutely free-of-charge! Every accomplishment starts with the decision to try. Now you decide.