We all should definitely have a chance to live our best lives. While some business models suffer from external factors, there are some that become more and more attractive. Today we're going to tell you about the best business to start at all times, with no worries — this is all about an ecommerce business!
Start where you're. Use what you have. Do what you can.
Are you eager to start your own business to change your life for the better, but you always put it aside? Now I tell you a secret: there's never a perfect time.
"A year from now you may wish you had started today." – Karen Lamb
Traditionally, starting a business involves big initial investments and requires you to have a number of specific skills. However, our team firmly believes that each of us should have a chance to start a business to live his or her best life.
The best business to start is not about taking big risks: it doesn't make you put everything at stake.
This is exactly why Sellvia is committed to helping each and every person worldwide become an owner of their money-making businesses with no skills or initial investments required!
If you have been waiting for a sign to start, here it is!
One day or day one. You decide.
We all seek for our own selves. This is why it's essential for everybody to have a chance to try your hand at something new with no hassle.
Sellvia is happy to provide you with a ready-to-go business and all the tools necessary for free!
This is the desire that matters.
Don't you know how to build your business from scratch? Not a big deal! We're happy to provide you with a turnkey business absolutely for free.
What do you get?
Sellvia will give a ready-to-go business built for you individually.
Ready-made website with brilliant design
You get a website with well-thought-out interface. Years of experience in ecommerce let our team create high-converting online stores, so you don't have to bother with some specific things or technicalities to make the most of your store. All this has been invented before you and works perfectly!
Unique domain name and hosting
To make your website visible for all the Internet users, you need to have a domain name and hosting. With Sellvia, you get free 1-year hosting with favorable extension. This is your business, and you take decisions. That's why you may choose a domain name that suits you best.
A huge catalog of products to choose from
You're what you sell. To start selling, you need a product assortment you will offer. We've already cared for this, so you get full access to the Sellvia catalog of best-sellers ready to be imported to your website. All of them have stellar product pages and not only. Beyond this, we provide marketing support to help you you promote your business with no effort.
Free 14-day Sellvia trial
Beyond this, you get full access to the Sellvia ecosystem.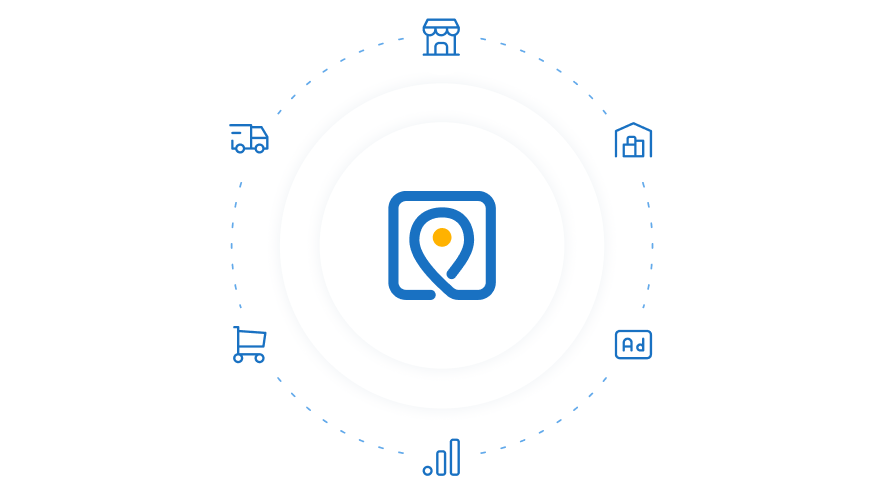 Sellvia is a full-scale ecosystem allowing you to start and run your business easily, without third parties and tools required.
During a trial, your store will be connected to Sellvia to let you enjoy all the benefits Sellvia subscription provides and make up your mind whether this is what you want.
You get all the above-mentioned things absolutely for free. So nothing stops you from giving it a try, will you? You don't risk anything!
Best business to start: what do you need to do to get it?
We've already mentioned that you get a turnkey business absolutely for free. How to get your ready-to-go store? Actually, there's nothing challenging about that: you're just one step away from that.
You need to go to the Sellvia Pro page and click GET MY STORE FOR FREE.
After that, you need to complete the order by pointing out your contact information and choosing the payment option. Right, you get your store absolutely for free. We ask you to indicate your payment details to prolong the Sellvia subscription that gives you all the benefits to easily run and grow your business.
Subscription fee is charged after the Sellvia 14-day trial. It's in your hands: you can give it up at any moment you wish if things are moving in the way you don't like.
What's next: how to grow a steady venture?
The secret of getting ahead is getting started.
You can easily start a business that will bring you profit on a permanent basis. Yet, if you want to grow a steady venture, you'll need to make an effort. We know this firsthand. So we've decided to take care of this for you.
Sellvia does its best to help its clients easily start and run their businesses and succeed.
Stellar product pages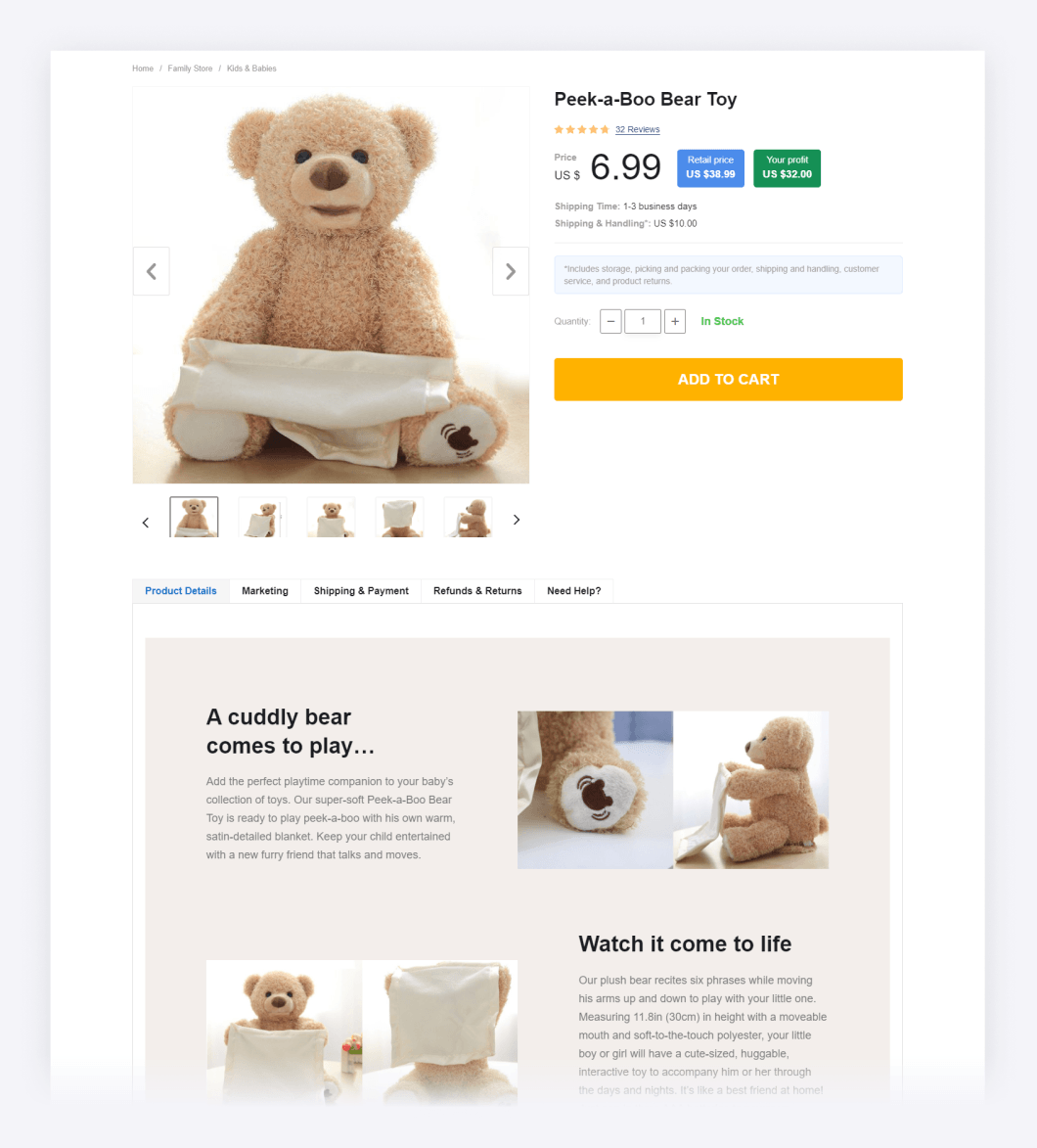 Potential customers visit your website, but how to convince them to make a purchase?
Product pages are what potential customers use to make up their minds. If you use them right, you'll get a perfect tool to convert a visitor into a customer.
Our digital marketers create high-converting product pages for the products from our catalog every day to let you benefit from them when you run your business!
Fast shipping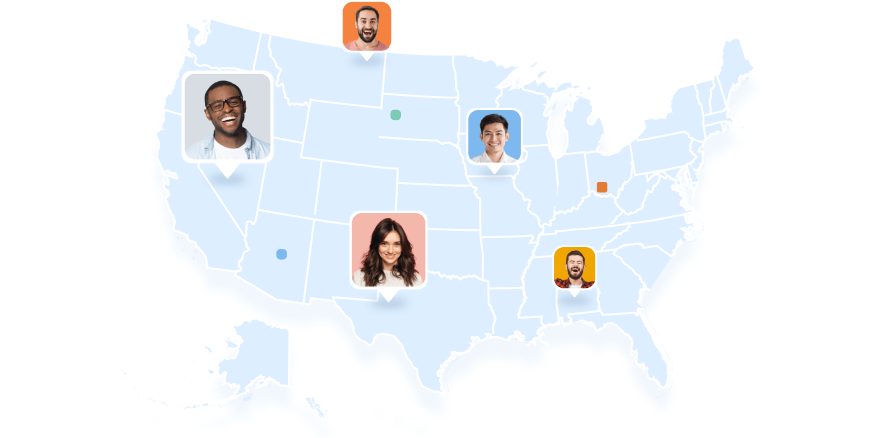 On average, US customers expect to receive their online orders within 4 days. How to meet their expectations?
Sellvia has its own fulfillment center allowing to process orders within 24 hours and deliver them within 1-3 business days. Profit!
How to make the most of your business at every stage?
Sellvia does its best to help you start and run your business with no effort, and with no third parties required. In our ecommerce blog, we share with you the most efficient techniques on how to make the most of your business at every stage.
Get selling tips and ecommerce inspiration right in your inbox!
Sign up today to not miss a single post:
Beyond this, it's a pleasure for our professional ecommerce marketers to take your business to a whole new level for you!
Share your vision with the world
People start their businesses to get their financial freedom. That's clear. Yet, this is not the only reason. Some of them believe that they're meant for something bigger.
If this is not about money only for you, and you want to make a difference, starting your own brand is what you need!
Starting a brand from scratch takes lots of time and effort.
Our branding team is happy to build a strong ecommerce brand for you to let your personality shine through your one-of-a-kind products that will become well-known worldwide!
Let your customers find your store with no effort
This is your small step towards your big success.
Starting a small business, do you have big plans for it? Then, it's a great idea to consider Search Engine Optimization as a way to set your long-term priorities.
Don't you know anything about SEO? Let our SEO experts use our most effective SEO techniques to let everyone know about your business!
Increase your social media presence
Social Media is the place where almost everyone surfs on a daily basis. So do you, I guess? Why not convert your hobby into profit?
More than 3/4 of Sellvia clients consider SMM as the easiest and most beneficial way of promoting their businesses.
Don't you know anything about starting business accounts for the benefit of your store? Our social media marketers will do this for you and let millions of social media users know about your store!
Build a loyal community around your business
Some promotion channels give quick results, but require investments and your control. Others can be set up once and work for you over years to come on their own.
If you want to get a free source of warm traffic for your business, it's a good idea to consider email marketing.
Your email marketing campaigns will work for you forever, why not to pay particular attention to them once and make the most of them?
Our team will launch email marketing campaigns for your business to provide a pleasant shopping experience for your customers and finally build a loyal community around your business!
Spread the word about your brand
Are you doing your best to share your own vision of the world through your unique, branded products? Keep it up!
Unique products deserve a unique way of promotion.
Our branding team will implement our most-effective PR techniques to spread the word about your brand among millions of readers and showcase your brand in the most beneficial way!
Put your business growth on autopilot
A good business brings profit on a permanent basis. The best business to start, above all, grows steadily on its own.
Time is money. There're some tasks that don't require your direct participation.
Devote your free time to the things you love while your business will grow permanently with Promo Tools by Sellvia!
Are you afraid of finding yourself alone with your issues?
This is support that matters. Especially, at the stage when you start your business.
Are you worried that you'll find yourself alone with your issues? With Sellvia, it won't be like this due to our multi-level customer support you'll enjoy!
Top-class customer support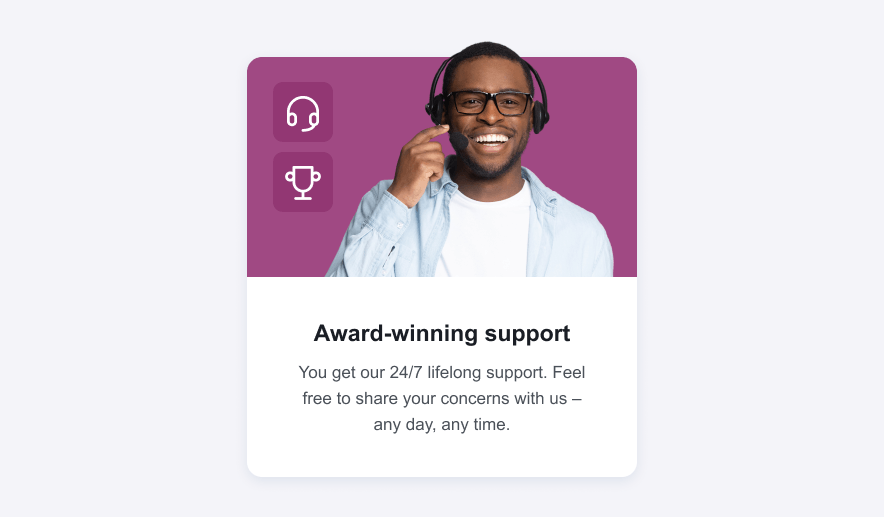 Each and every big company providing services has a customer support team. Sometimes, it's not much support.
Clients are of paramount importance for Sellvia, so we provide top-level customer support 24 hours a day, 7 days a week.
Our clients always note proper help Sellvia customer support team provides. These guys always make every effort to make your business journey as favorable as possible.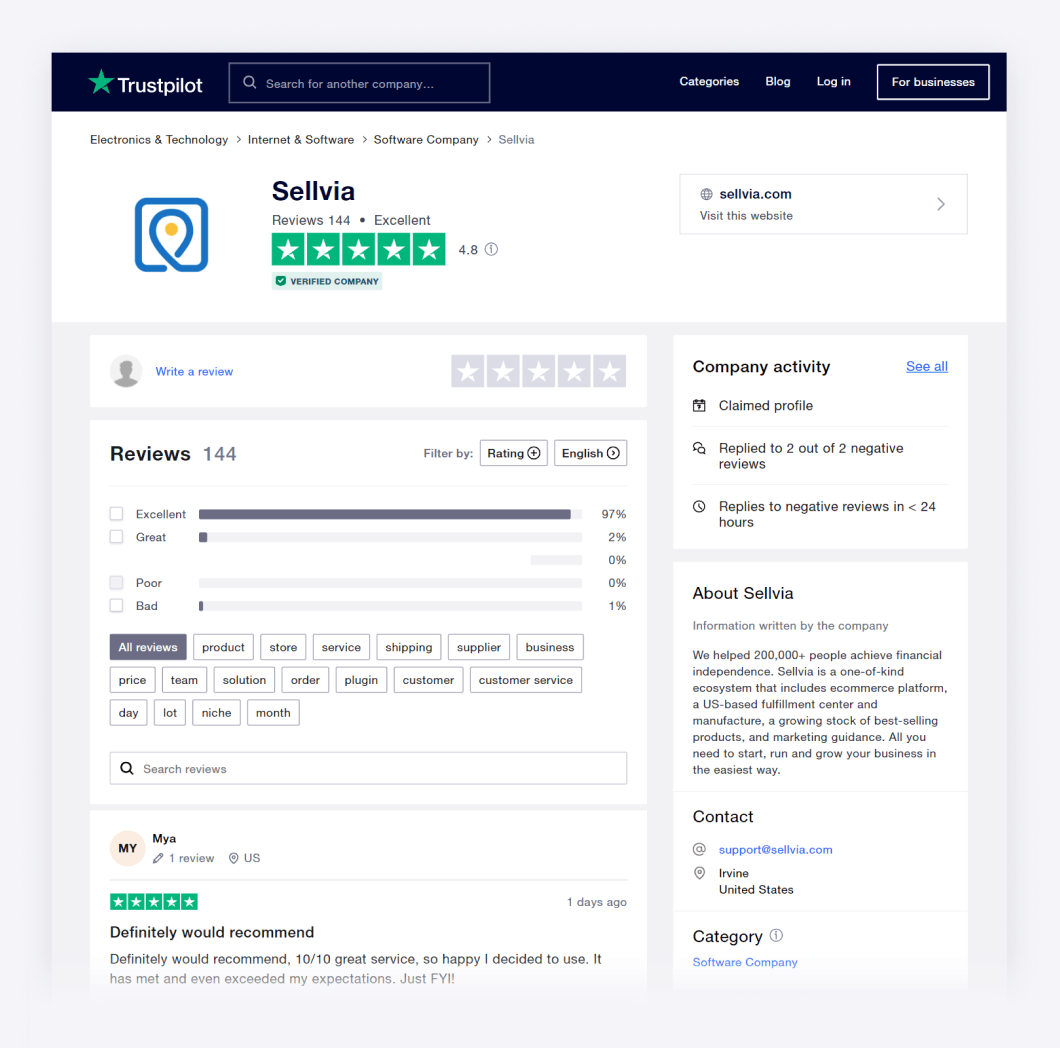 Sellvia Help Center
This is all about the same to run a business. The issues ecommerce newcomers may face are clarified in detail.
To learn more about all the ecommerce technicalities and other issues, feel free to visit Sellvia Help Center.
Sellvia Marketing Academy
Sellvia provides you with marketing materials for you to easily start and run your ad campaigns. But how to do this right? Actually, there's nothing challenging about it!
There are different ways of promoting your business, for all tastes. All of them are described in detail in Sellvia Marketing Academy!
Your personal manager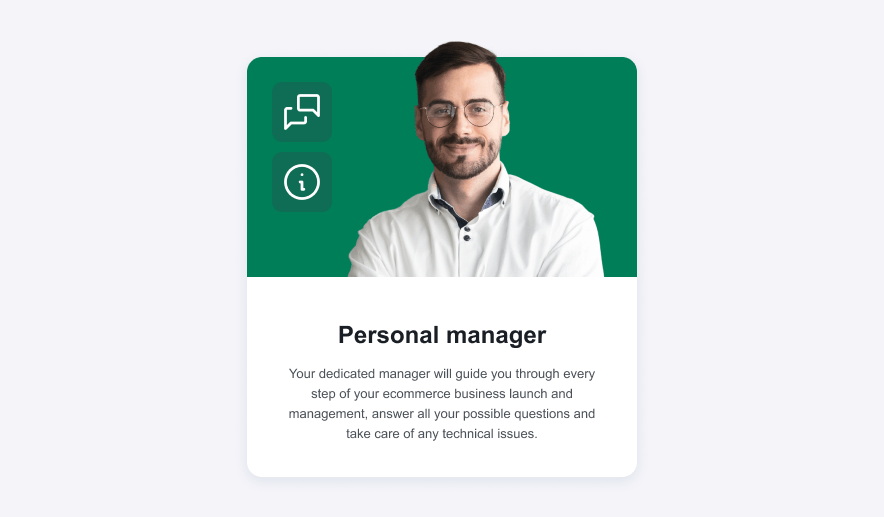 There should be someone to rely on.
There's something beyond all the resources and customer support. All the people starting their businesses with Sellvia get their personal manager they can also ask for help.
Your personal managers are the people who give their heart and soul to your business during the setup. This is a person with a special bond with your store. Who else can give you the best advice?
The expert in anything was once a beginner. Sellvia is happy to provide you with the ready-to-go, best business to start absolutely FOR FREE and all the tools and materials to grow a venture you'll be proud of. The future depends on what you do today. We're going to help you change your life for the better and power your independence with no risks. Will you give it a try?