Whether for price-checking or for making sure it can arrive in just two days, Amazon is a common destination people all over utilize regularly to ensure they're getting the best price – and the quickest delivery. So if you're getting started up on Amazon as a seller, you're making a wise choice. We've prepared for you the best items to sell on Amazon in 2023 for profit. Check them up!
Known as a one-stop online destination for just about everything, Amazon is a shopping mecca known by millions. Business of Apps reports that Amazon has about 200 million worldwide customers on Amazon Prime, with 147 million in the U.S. alone. But on a marketplace with millions of items, what exactly is trending and popular with consumers?
Today, we're taking a look trending products on Amazon. Here are the best items to sell on Amazon in 2023.
Best items to sell on Amazon in 2023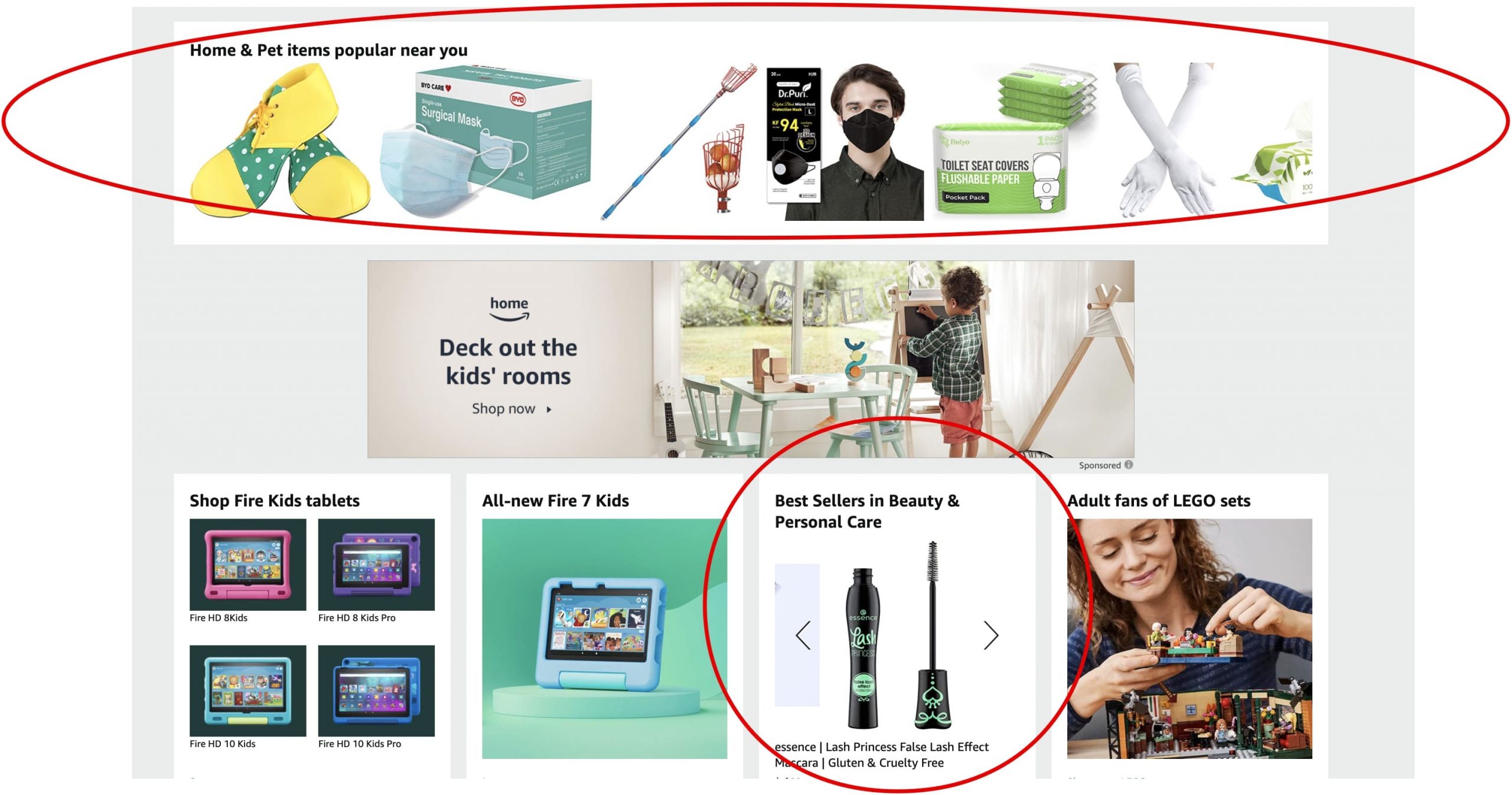 Thankfully, Amazon has places right up and center that show what trending products on Amazon are that sell well.
For example, after signing in, you can scroll down the homepage to explore the many category boxes of items that are hot and seeing high traffic. As shown above, some top selling items for the Home and Pet categories are showcased. We also see a block for Amazon trending products in Beauty & Personal Care down below.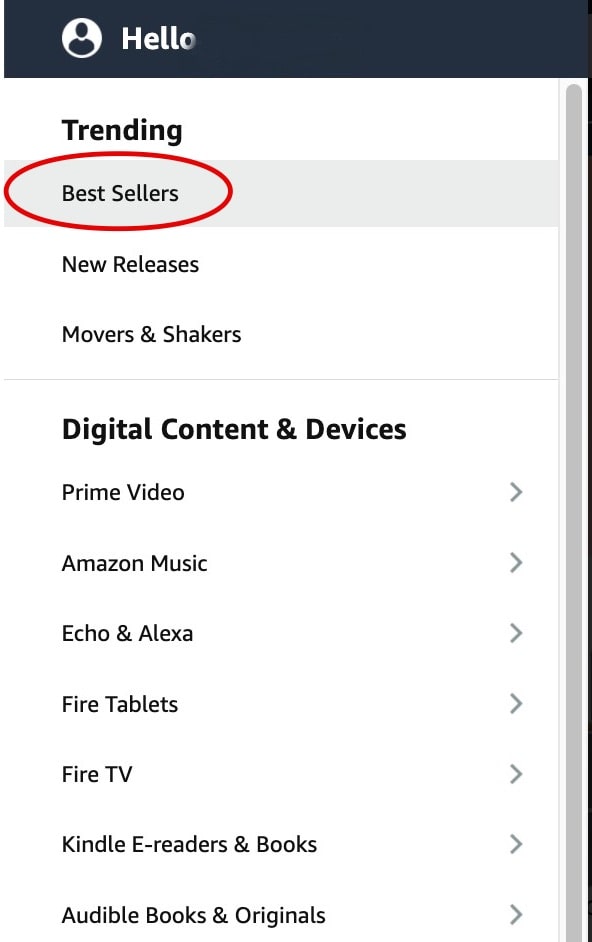 If you click "All" in the upper-left corner, you can also reveal a drop-down menu that shows a "Best Sellers" category under a "Trending" menu.
Once you click "Best Sellers," you'll arrive at a mind-blowing page of tons of subcategories that'll allow you to see hot and trending products on Amazon.
But what are Amazon trending products this year so far? Let's take a look.
Bed Sheets & Pillows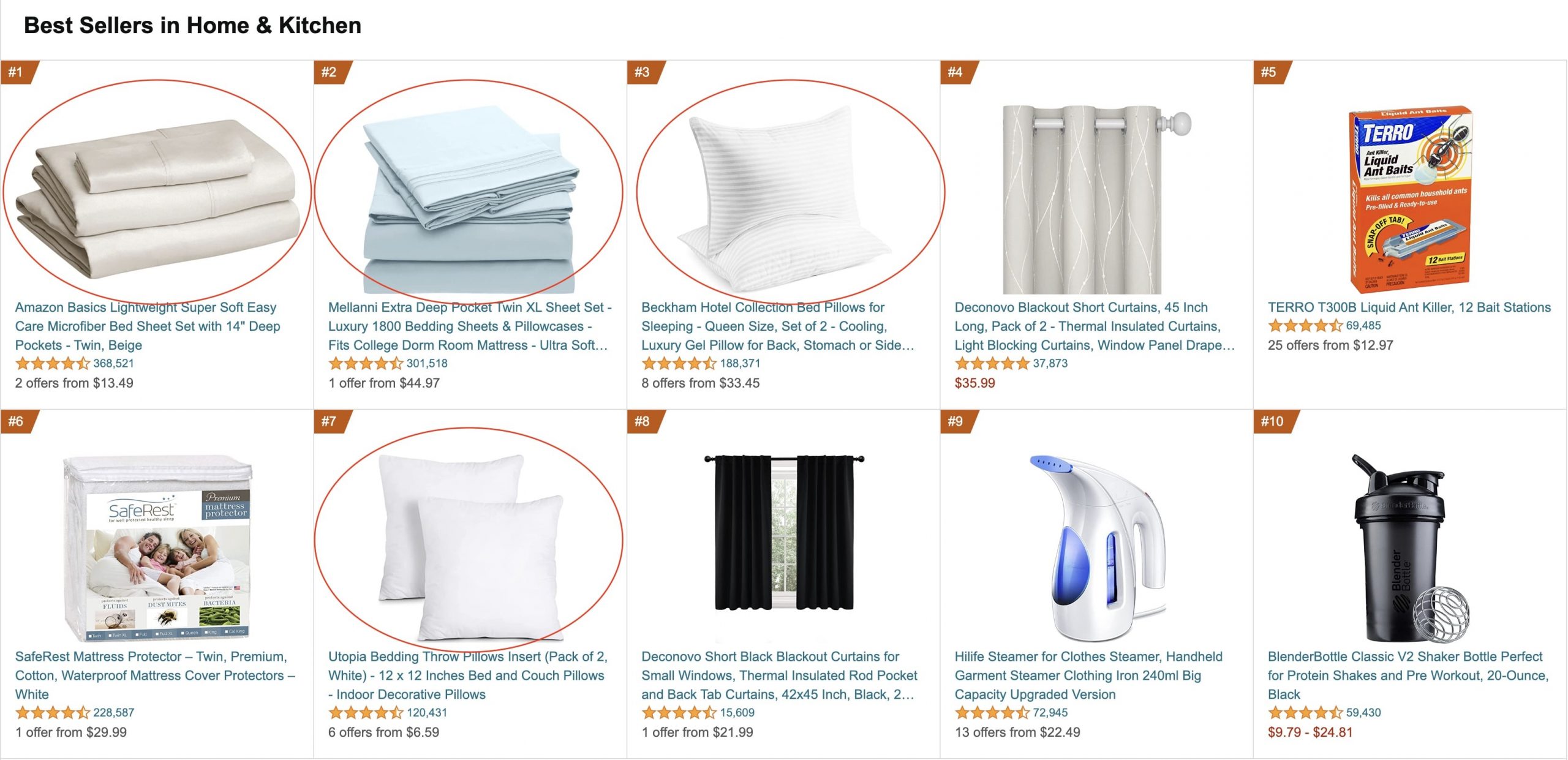 If we pop into the Home & Kitchen category, it's apparent that bedding is popular and a top trending product. In fact, of the top 10 ranking items, nearly half of them are for bed sheets and pillows. Really anything to do with outfitting a bed Amazon trends in this category. And it's not a surprise really, considering the category is for Home & Kitchen.
Cell Phone Chargers & Accessories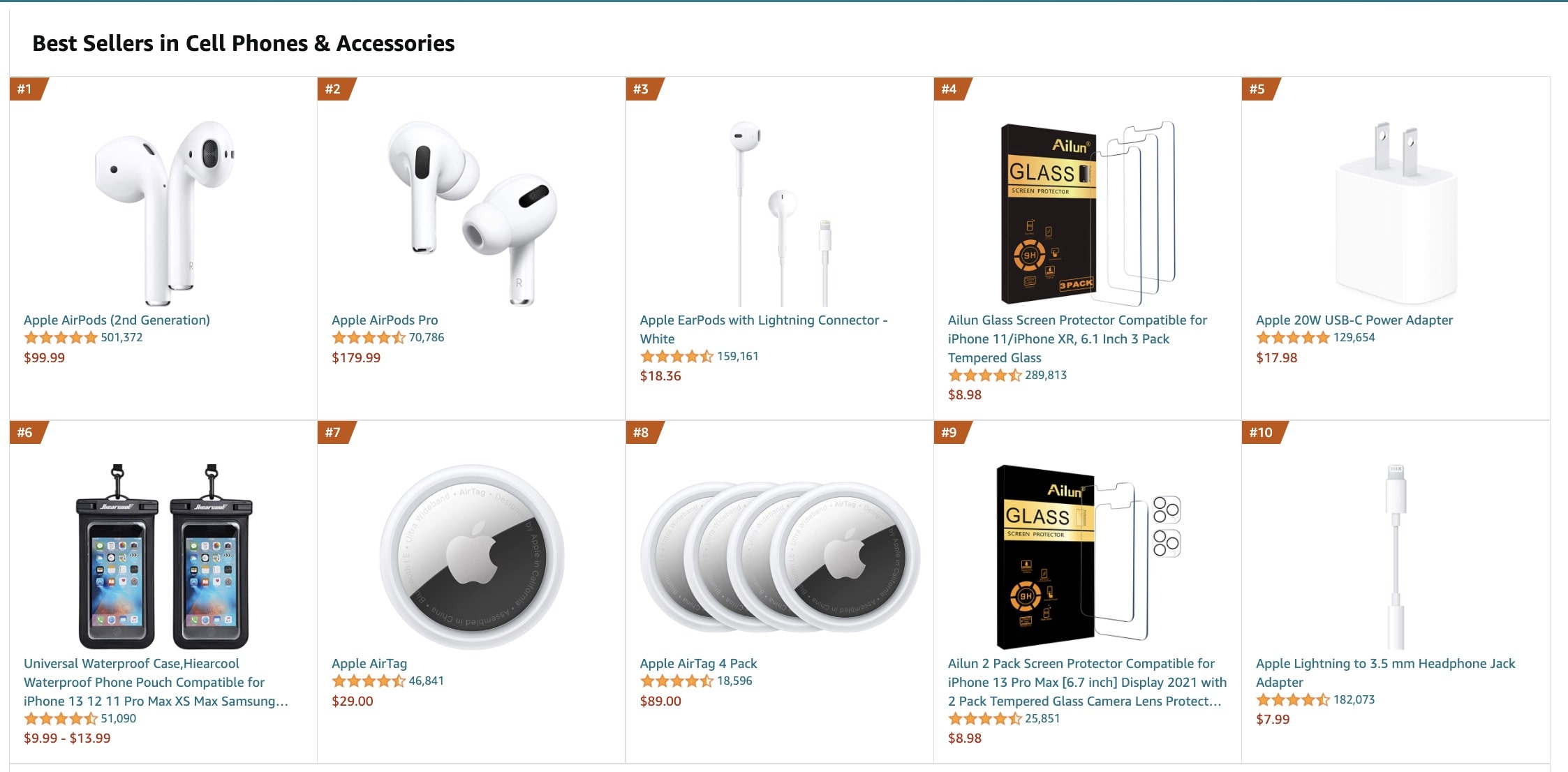 Another always-trending (and ever-in-demand) category of items is Cell Phone Chargers & Accessories. We're talking charger heads, charging cords, and screen protectors in particular, as you see 10 top trending for this category on Amazon. And whether you sell Apple-label earphones, wireless earphones, wireless tags or not, their kind of item is of the most current hype – so if you have other branded items that are similar, they can be of consideration to sell.
Cell Phone Cases
This one shouldn't be a surprise. Consumers very often head to Amazon to seek out better pricing on cell phone cases and holders, from name-brand makes to generic-brand creations. As long as you're able to offer up a variety of phone-model fits and makes, you should be in the right place and space.
Tumblers & To-Go Cups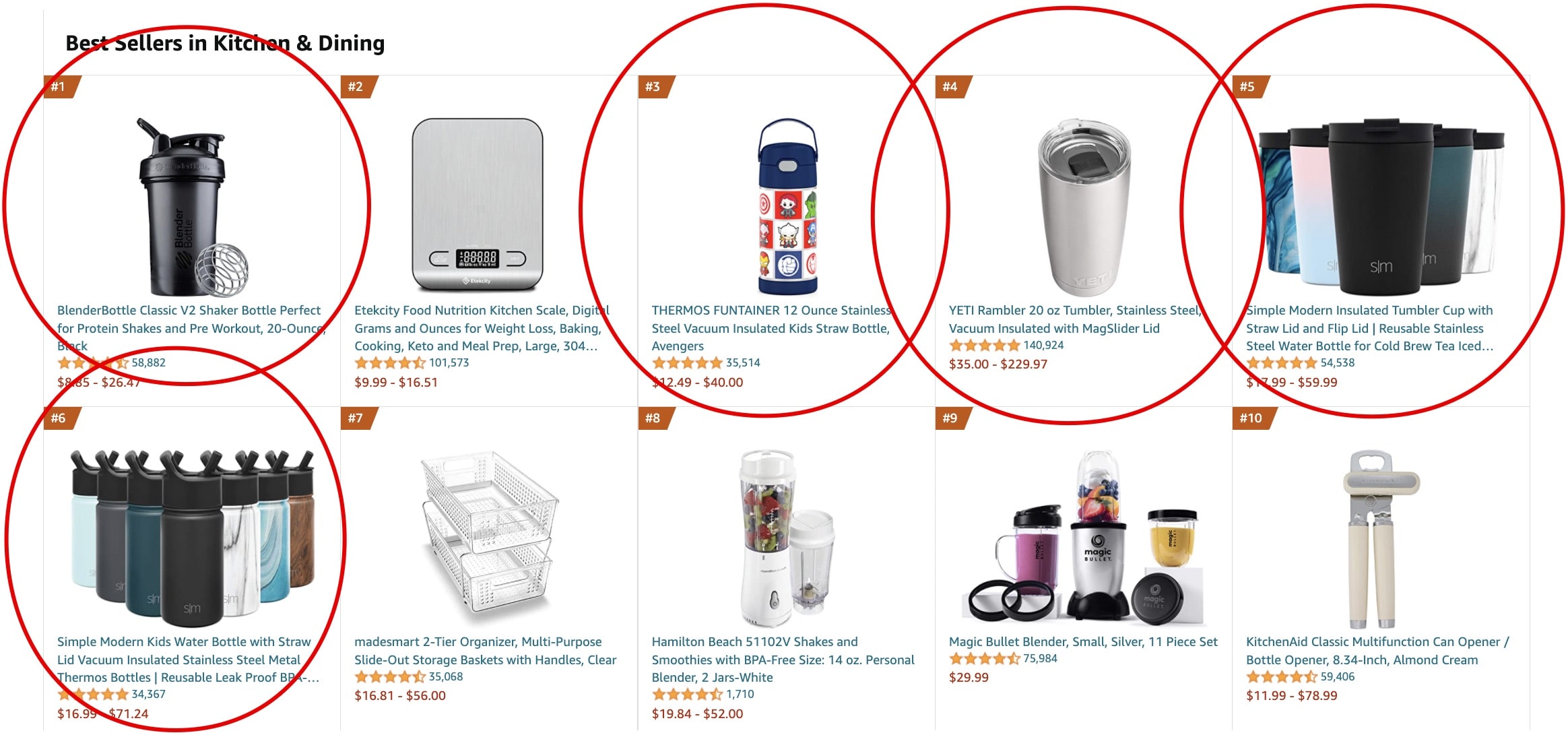 From water to coffee and protein shakes, we all need some hydration and fuel on the go. So it's no wonder that consumers on Amazon love any type of tumbler or drink bottle. In fact, our screencap above shows that half of the top 10 items on Amazon for Kitchen & Dining are bottles. If you carry drinkware or specialize in home goods for your online store, it'd be wise to consider these kinds of cups when you migrate over to Amazon.
Filters, Face Masks, & Cleanliness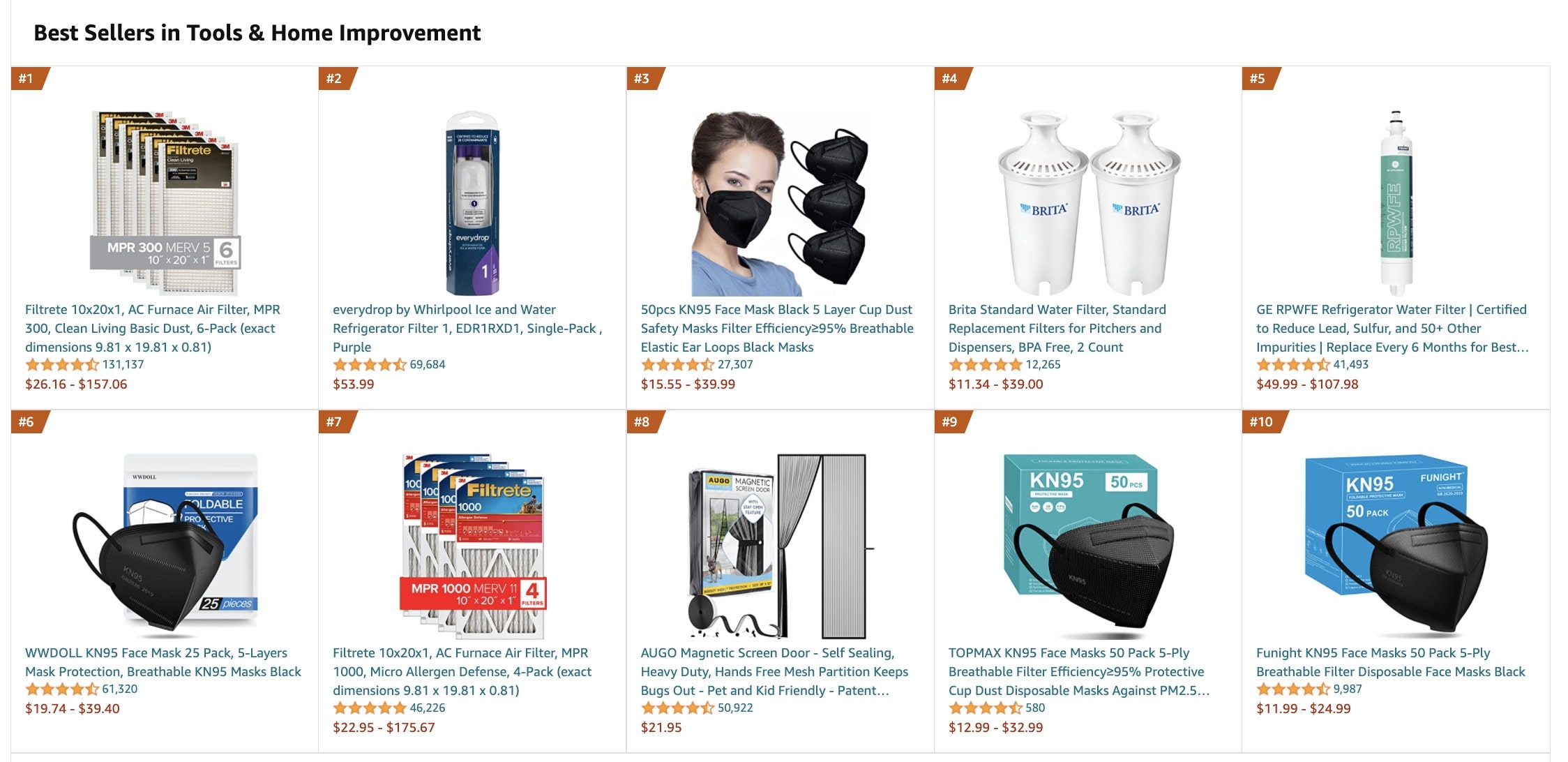 In a world that continues to fight the COVID-19 pandemic, safety gear is still #1 and moving when it comes to Tools & Home Improvement. We can see that air filters, face masks, and water filters are very much in demand with Amazon customers. And it's possible a lot of this need of cleanliness will continue well after the pandemic officially ceases, as the general public has become very much aware of contagion and hygiene.
Car Accessories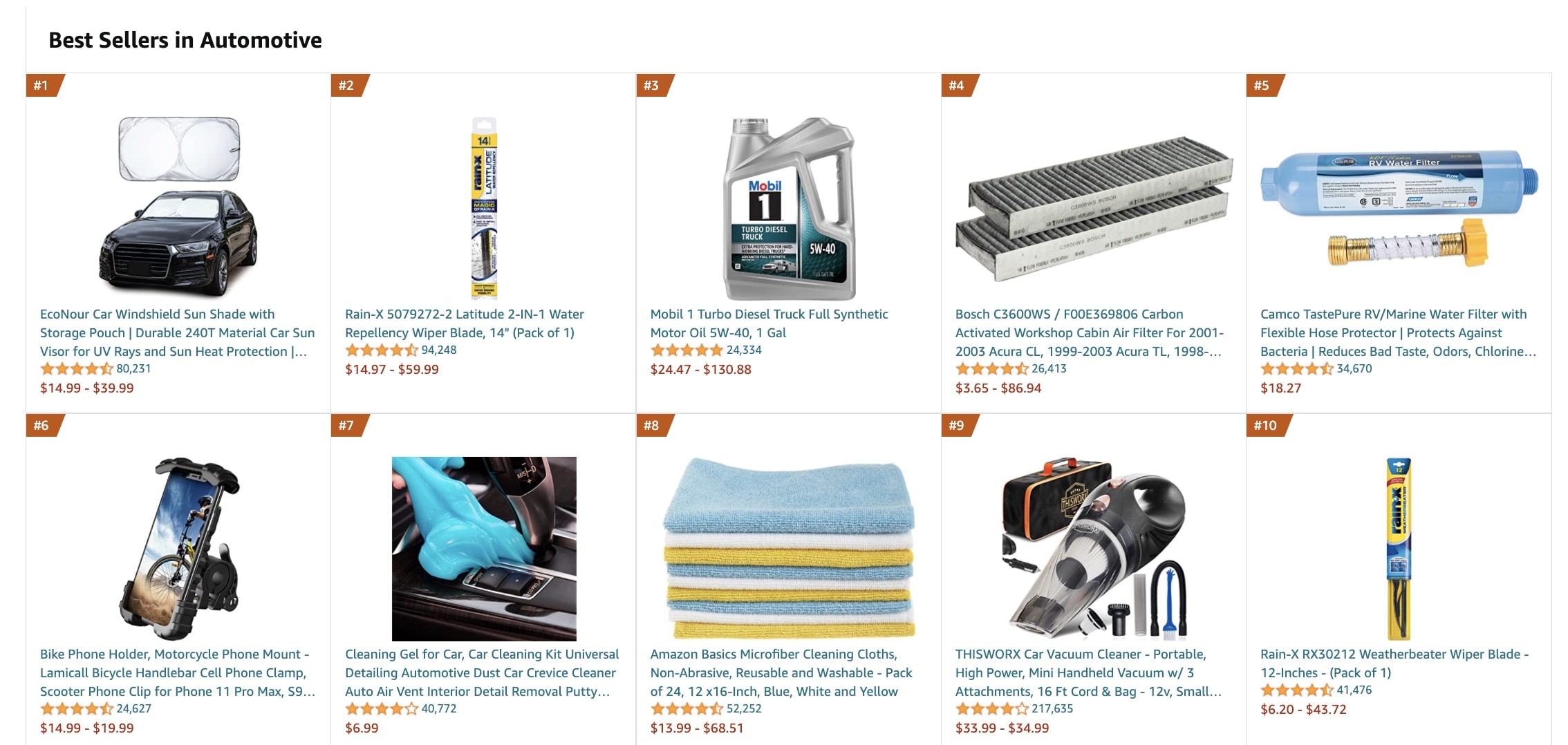 Be it a phone holder or sunshield for the windshield, as long as people are driving out on the road, there will always be a need for some car stuff. We can see in this top-10 ranking for Automotive on Amazon that there's a variety of things – from microfiber cleaning towels to wiper blades and windshield sunshades. If your business is in the automotive market, notable for accessories and cleaning supplies, you're definitely in a hot sector on Amazon.
Arts & Crafts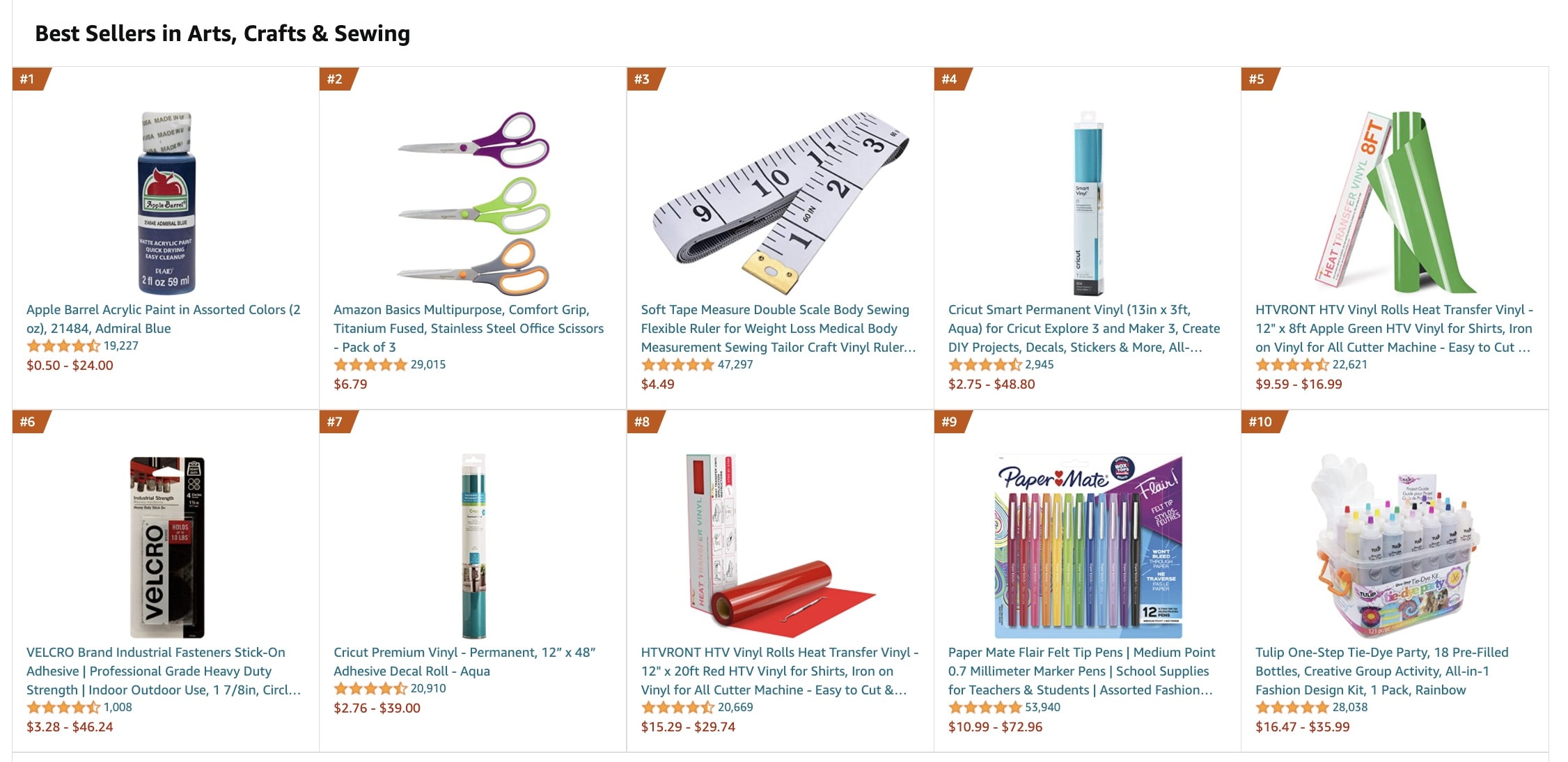 The pandemic sprung a lot of at-home activities for many people, one of which was crafting. From painting and drawing to sewing, there's a lot of fun in being creative. Thus, it's not surprising that Amazon sees a lot of top products such as scissors, glue, measuring tape, and more. If your business includes these kinds of craft items and supplies, you'll fare well in this niche on the all-might Amazon.
Other Ways to See What's Hot
But aside from the "Best Sellers" category, are there other places on Amazon to see what sells and tracks? You bet.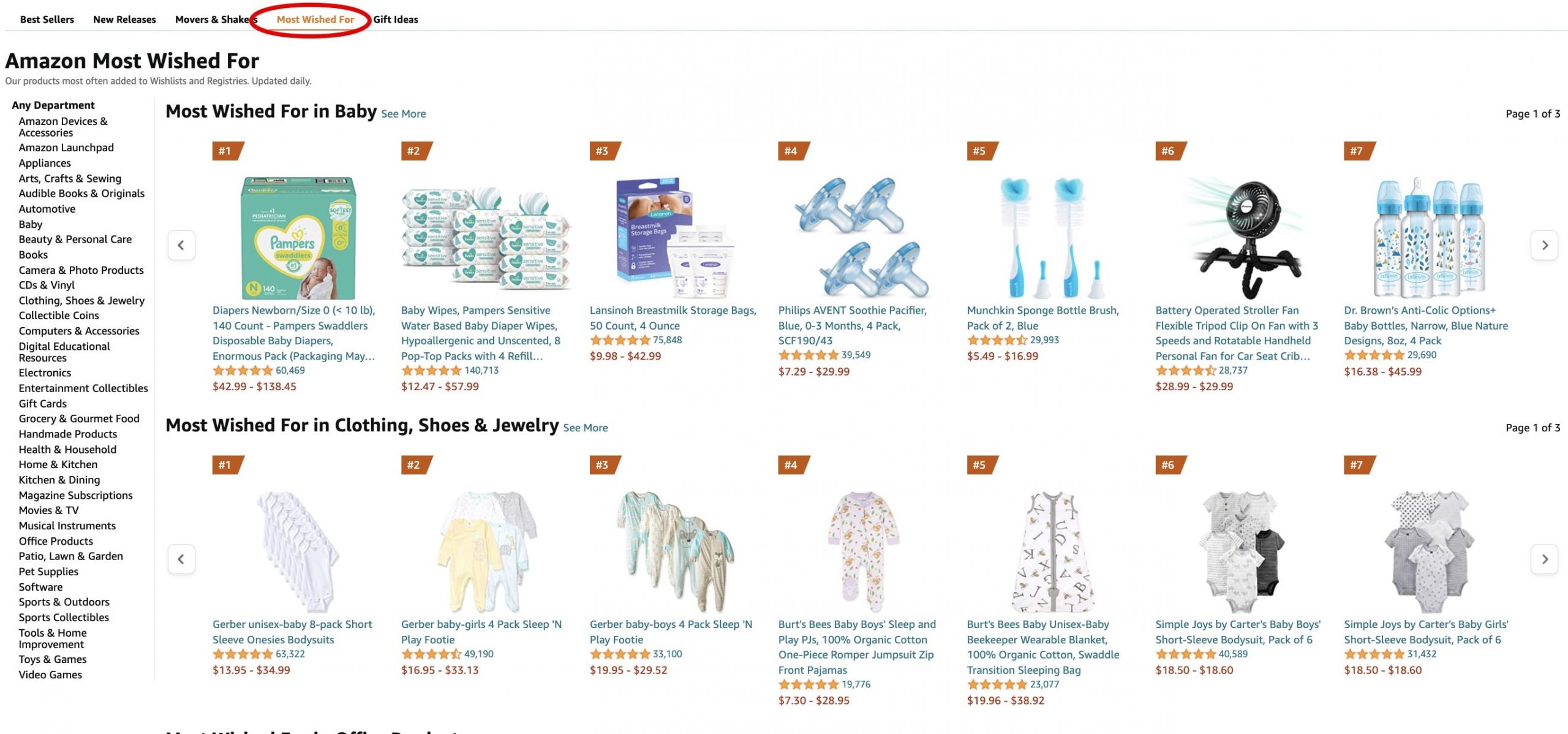 In the same upper header section of "Best Sellers," you'll find other sub-categories. One of which is "Most Wished For." Once you click in, you'll see all of Amazon's product categories, with items ranked by their desirability. These rankings, according to Amazon, are compiled based on adds to customer Wishlists and Registries. By using this metric, you can discover items based on popularity (not exact sales though). These items illustrate what consumers are clicking on, liking, and adding to their shopping carts.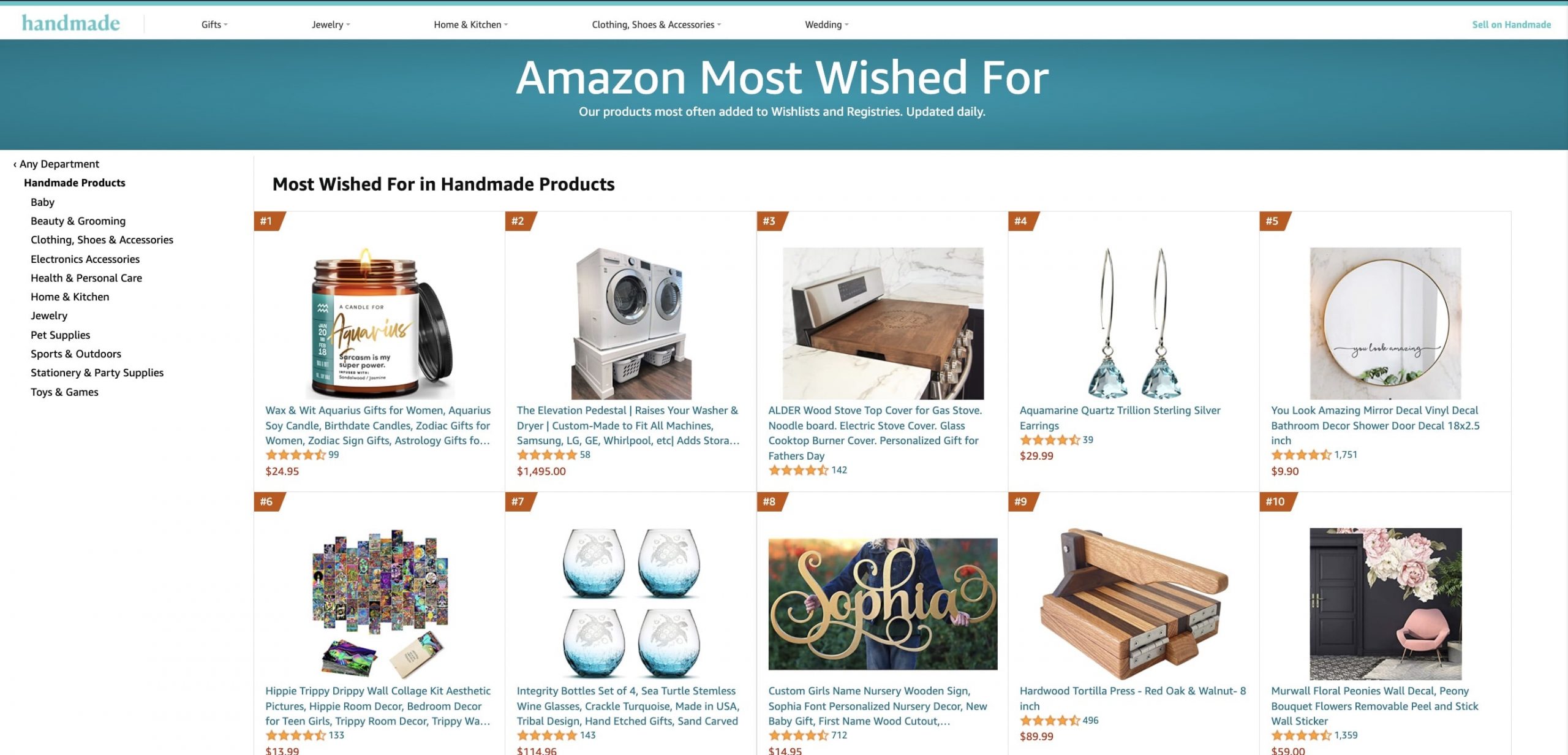 Handmade Items
Supporting small businesses and brands became a big thing over the course of the pandemic. And we can see from this ranking of Handmade Products under "Most Wished For" that there are things such as candles, jewelry, and even house decor. There is a continued interest in helping small businesses among consumers (especially with so many people starting their own), so it's a good idea to implement Amazon into your multi-platform sales strategy if you're someone who hand-makes novelty items or merchandise on your own.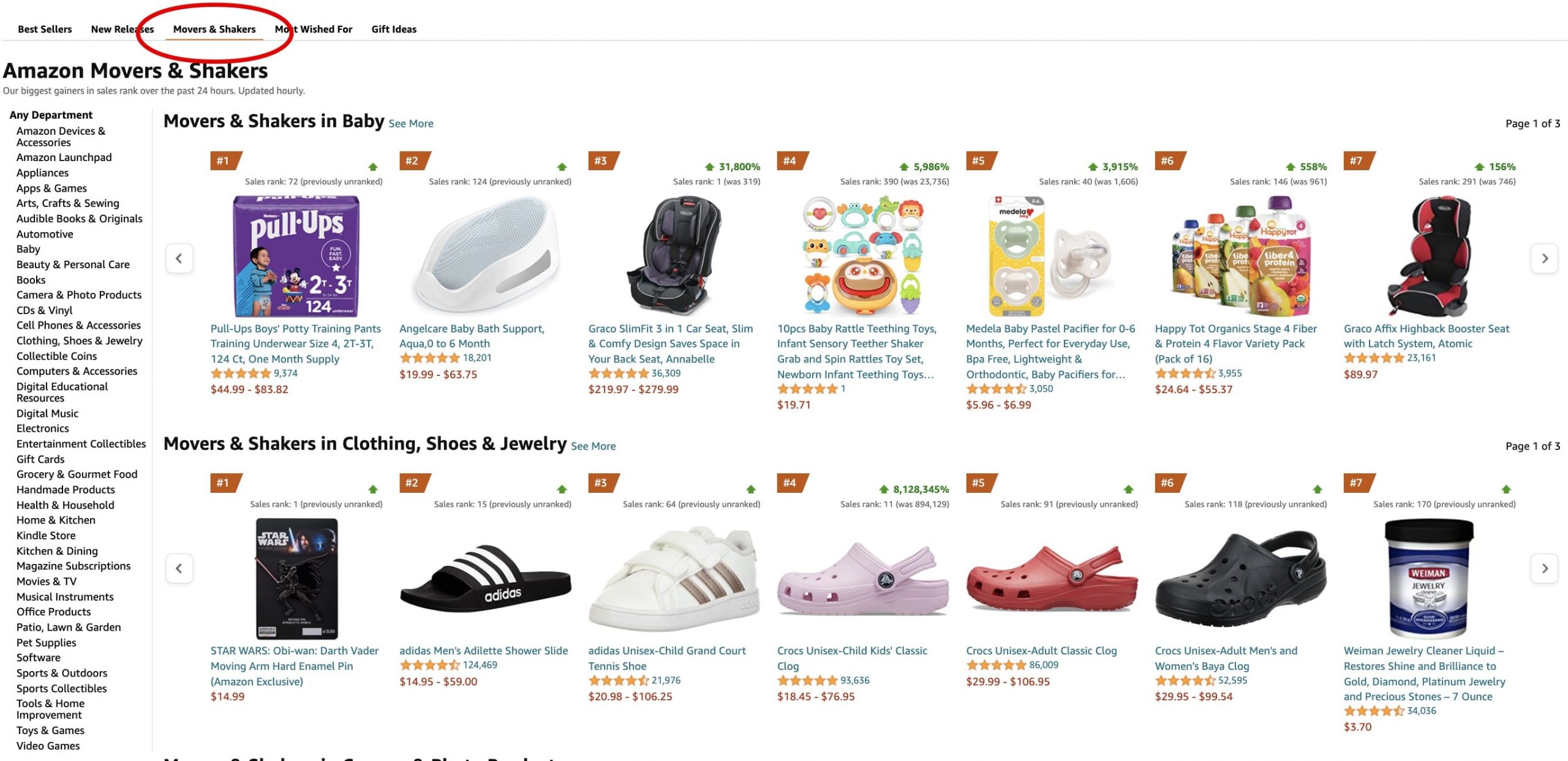 Another place to scour for insight into what are the best items to sell on Amazon in 2023 is the top upper header section where "Best Sellers" and "Most Wished For" are, you'll also find a "Movers & Shakers" category. As the name suggests, the category pulls up items that have seen an increase in page ranking. The ranking is determined by Amazon trends and Amazon's algorithm but also by how much an item has sold in its category (and when compared to similar items in that same category). This insight helps you see within a specific item group, what kind of item is seeing an increase in sales.
Amazon as a business solution
With so many categories and places to see product rankings from different metrics, Amazon provides multiple opportunities for business owners to discover what items are trending – and best to sell on the platform. You don't always need fancy software or tools to get the inside scoop, especially when a lot of the insight is easy to find. The only thing you need is a reliable supplier you'll source high-quality items from and resell.
Sellvia is eager to help you start your own business to make a fortune and make a difference. Whether you'll sell on your own or use Amazon to resell, you'll find Sellvia ecosystem a decent solution for you to get started and boosted.
Do you wish something bigger? Easy as never before!
Start selling unique products people look for, but nobody sells
Have you ever googled anything in vain? In practice, online shoppers face such issues on a daily basis. Yet, there is a way out.
Our team is permanently monitoring the market to detect empty niches. What for? We're happy to give you a chance to start selling unique products people search for, but can't find because nobody offers yet.
Starting a business from scratch
We always know what products people look for, but can't get access to. We will design for you unique products that people actively look for online now, but in vain because nobody offers them yet. This gives you a chance to bring something special to the market with no effort and run your business with no necessity to compete with someone!
Don't you want to face any technicalities when you manage your business? Not a big deal — it's all on us! We will take care of manufacturing from A to Z and handle all the issues arising. Thus, you'll be able to fully enjoy the process of running your business effortlessly!
Crowds of eager buyers are waiting for you
How to get your target audience, meet their needs, and win as many eager customers as possible? It's easy with the top ecommerce platforms — add Amazon solution to your Premium Products package and we'll create an account on Amazon for you and upload your products there to let you gain from the most popular shopping destination in the USA. Profit!
Want to become an Amazon seller with best items to sell on Amazon in 2023 and get started on the world's largest marketplace? We're glad to design and manufacture unique products for you to sell online and win customers' hearts. Take your chance to start a business with zero competition and make a difference!