Looking for the best car accessories to sell in your online store? Buckle up — you're in for a ride!
As December progresses and millions of Americans look forward to the holiday season, one common activity is on the minds of many: travel. With 109 million Americans polled in The Vacationer's study about their travel preferences for the holiday season, 67.8% of respondents opted for traveling by car.
For many travelers, this can mean hours on the road whether it's to grandma's house a few cities away or a vacation home out of state. When behind the wheel or seated as a passenger, comfort and convenience always come to mind.
Luckily for you and millions of holiday-goers this upcoming holiday season, there's a lot of auto must-haves that have just landed on Sellvia. And we're here to showcase some of our team's favorite new arrivals!
Car accessories to sell: when organization is key
The thing about long road trips? Chip bags, soda bottles, and charging cords become scattered all over, from cup holder to vehicle floor. Fortunately, these high-performing organizers will help keep everything in place!
Seal off the "crack of doom" between your front seats and the center console of your car with this soft, flexible (yet sturdy) storage solution. Crafted from polyurethane leather for an eco-chic touch and look, this pouch fits universally into any car. Stud detailing and red contrast stitching create a touch of sportscar cool. Our team loves how this pouch can help keep charging cords, key fobs, business cards, and more in place — for a gearshift and cupholder area that isn't jam-packed.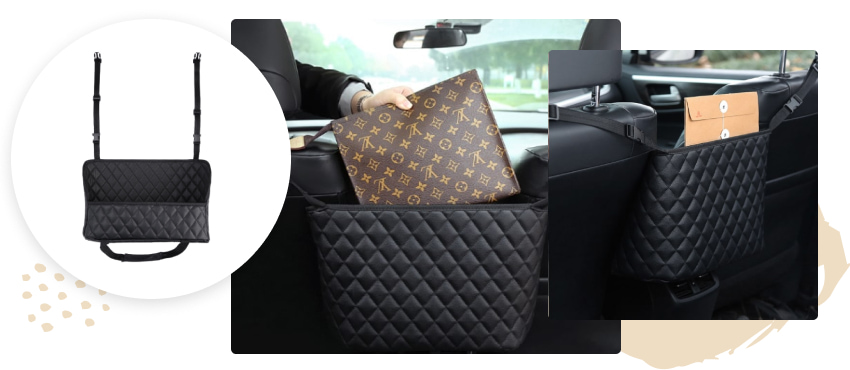 Gain more storage space with a non-bulky yet super-sturdy storage item such as this quilted bag. Two adjustable buckle straps allow you to hook both ends of the bag onto your front headrests, for an in-between-the-seats organizational center. With 16.5" in width, the pouch is perfect for kids' toys, snacks for the family, or even important documents for a special occasion. We love how this luxe-feeling bag fits seamlessly into any vehicle interior with its black color and fool-proof straps.

On long trips, you're likely going to need your driver's license or wallet (and definitely phone), whether to pay at a toll road, state crossing, or to follow navigation directions. But it's frustrating when your wallet is stuffed in your pocket or purse and your phone is sitting up in your cupholder. This Multifunctional Cloth Phone Bag keeps all of your gear in one easy-to-reach space and place. Simply hook the D-ring onto an air vent for a snug hold. We personally are fans of the charging-port hole for easy routing of your charging cord, so you can simultaneously hold and power up your device.
Experience serenity on family journeys with the Highway Kid Car Seat Organizer. A crucial accessory for families, it keeps the backseat tidy, housing essentials like drinks, snacks, toys, and sanitizers. Its unique geometric pattern in soft PU leather adds a touch of style and comfort to your ride. An added bonus, it functions as a kick mat, shielding your seats from marks and dirt. Wipe it clean effortlessly and maintain a pristine car interior. Simplify road trips with this versatile organizer.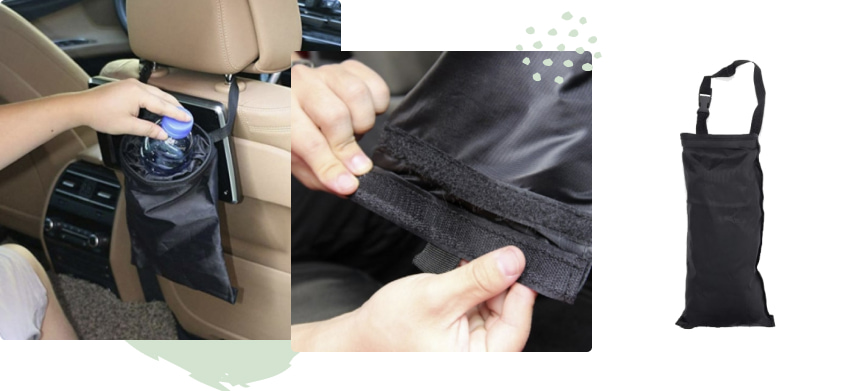 Designed with measurements of 14.6" x 7.5" and a 12"-round opening, this handy trash-storing bag is absolutely perfect for hours on the road. Thanks to it, wrappers and bags and fast food don't accumulate in the car. Sturdy and waterproof nylon construction promises a trash can you can have confidence in (no leaks ever, seriously). The receptacle installs easily (which we love) — an adjustable buckle strap allows you to sling over a seat headrest for a fuss-free way to hold unwanted trash while on the go.
Car accessories to sell for comfort & support for everyone
From driver to passenger, road fatigue is real. So check out some of these comfort-first accessories that'll make naps and long-distance driving more tolerable!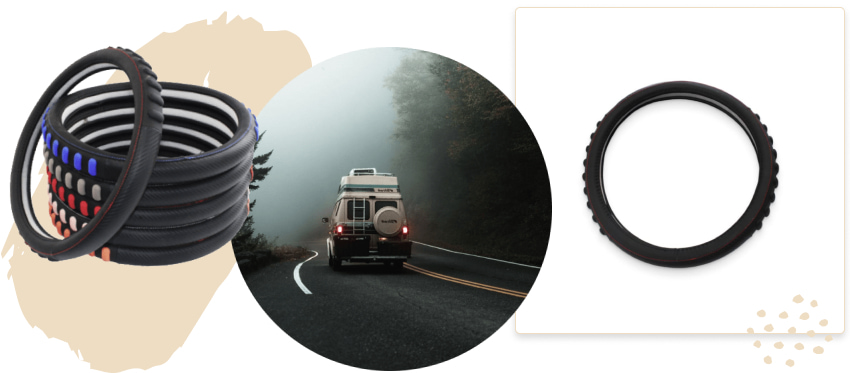 Get soft-touch support for your steering wheel, for hours of driving comfort with this rubber steering wheel cover. Designed with a tight-fitting interior rubber lining for a close fit, this cover protects your steering wheel from scratches and wear-and-tear. At the same time, ergonomic grip bumps provide grip support for more focused control. This cover measures 15" in diameter and fits most standard vehicle steering wheels.

Say goodbye to sore and stiff necks while riding on the way to grandma and grandpa's house with this super-plush memory foam pillow. We love that it's designed with a U-shaped shape for ultra neck support to neck and back muscles. Allow this pillow to offer caring support to passengers and driver alike for hours of comfort.
Clip-On Car Phone Holder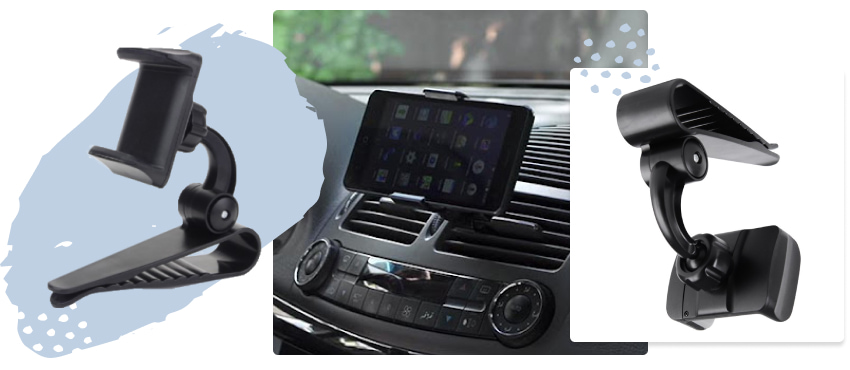 No road trip would be complete without your smartphone. Whether it's guiding you via GPS to your holiday cabin or beachside getaway or your way of keeping in touch with family as you make your way for Christmas dinner, your phone is a non-negotiable resource when on the road. So keep it within eyesight (and safely hands-free) with this high-performing phone clip. Simply clip to any car air vent and enjoy up to 170 degrees of angling — for safer driving and better focus on the road ahead.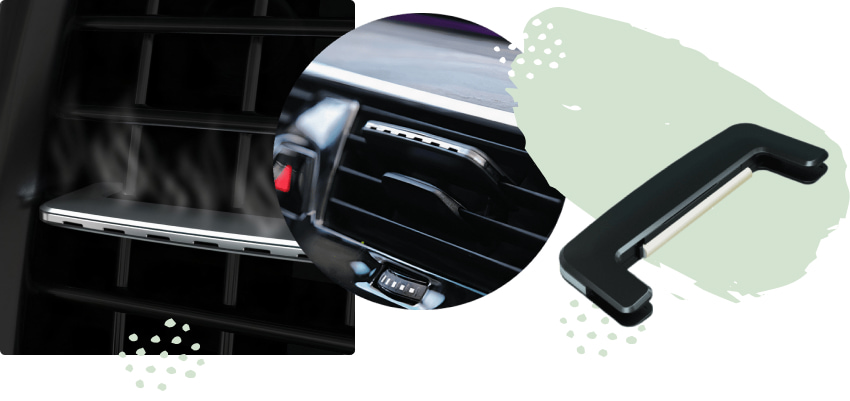 Hours in the car can sometimes create a sense of stuffiness — or maybe it's just the overwhelming scent of roadside take-out from three hours ago. (Who knows?) But keep the vehicle atmosphere fresh and clean with this ultra-slim, ultra-cool air freshener (we recommend windows down to really air out some unpleasant odors). A pleasant cologne scent (built into the freshener) activates on contact with your car's A/C for instant refreshment. The best part? This clip-on freshener can be oriented vertically or horizontally — so it can work for any car's A/C vent design.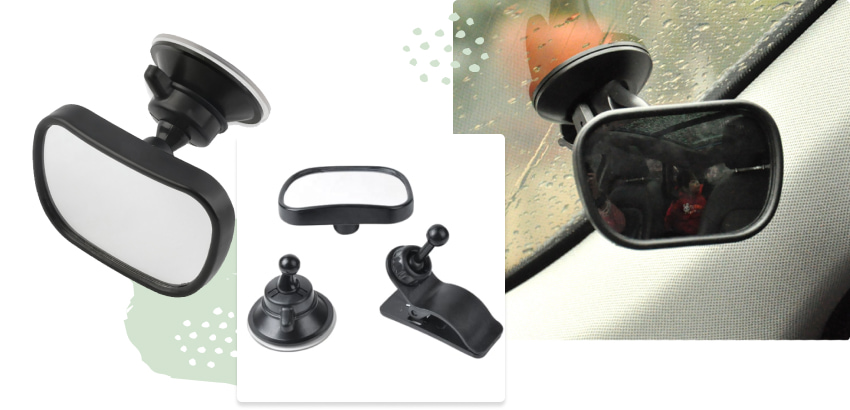 Comfort and support isn't always a physical thing. When it comes to little ones who may need an extra eye, that sense of peace is about being emotionally and mentally okay with how your kid is doing in the car. Little ones especially can find long road trips to be stifling and uncomfortable (and entertaining them can be difficult). This easy suction-cup mirror functions as a second eye so adults in the front seats can have visibility to how a little one is doing. Whether it's a baby in a car seat or a young child nodding off to sleep, knowing (and seeing) gives ultra calm. Our Sellvia team loves the fact that this mirror comes with two attachment bases (suction cup and A/C clip), for ultra convenience.
This year, before you roll out your website's special holiday sales, remember: millions of Americans are taking to the streets for their Christmas and New Year celebrations. This means there's plenty of opportunity to rake in sales during the most profit-making time of the year. And Sellvia provides a viable business solution during a time of global supply chain woes (because everything is already in stock and ready to ship). Remember that everything is right on Sellvia and available as part of our subscription service.
SUMMARY: Vehicle safety and comfort for driver and passenger alike is paramount as Americans start preparing for holiday plans — with road trips being a major channel of travel. Our new arrivals of car accessories to sell will provide support and convenience to everyone, so that the hours can pass by smoothly.