Sellvia, a full-scale ecommerce ecosystem, is much more than just a source of products for your online business. Still, product-related tasks are a huge part of its offering making it so attractive to online entrepreneurs. Featuring a large Caifornia-based Fulfillment Center, Sellvia can offer thousands of products with fast US shipping to ecommerce business owners. That's what makes it so tempting to them to use Sellvia as their dropshipping supplier — and more! However, there are many suppliers out there, and some entrepreneurs prefer dropshipping from AliExpress for a number of reasons. In this article, we are going to compare AliExpress vs Sellvia to see which option suits your business best.
Reasons to use Sellvia as your dropshipping supplier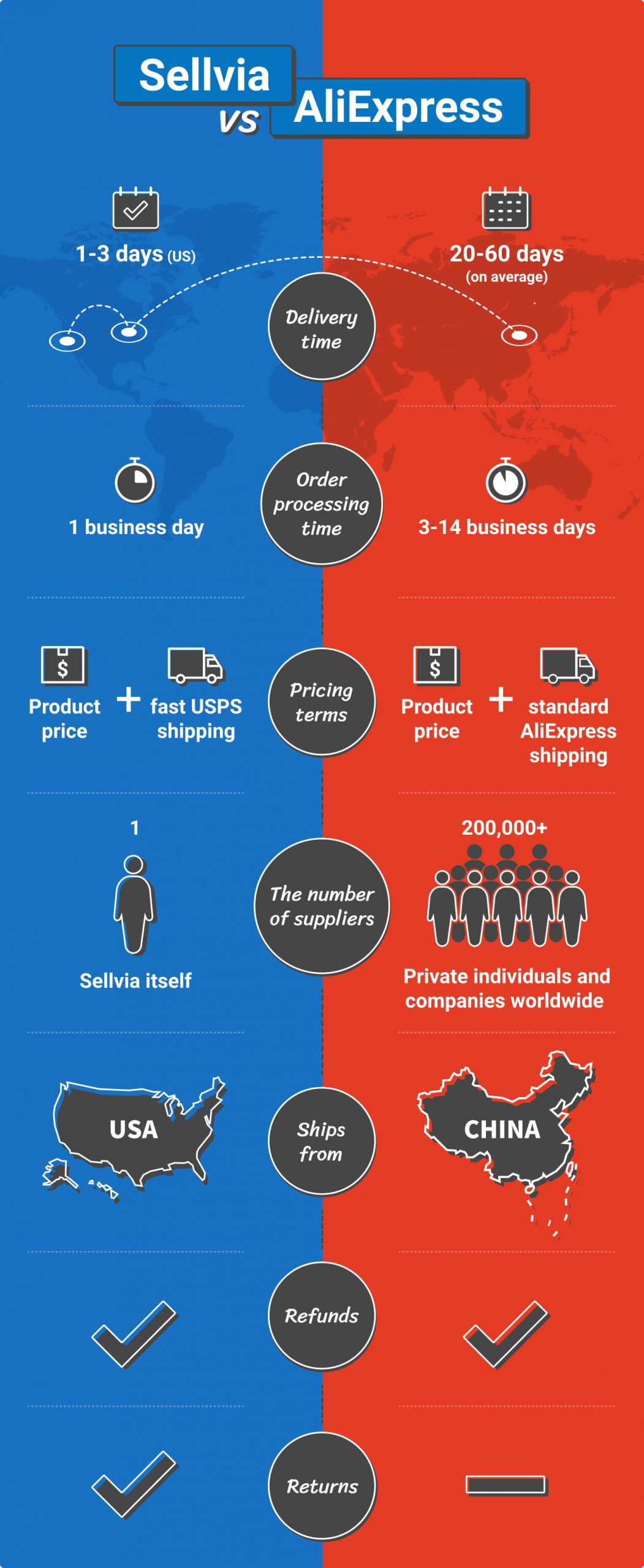 1. Sellvia lets you target broad audiences
Sellvia's catalog contains several hundreds of products belonging to broad niches. What does it mean?
A narrow niche occupies a very small part of the market. On the one hand, potential consumers are going to be interested a lot in such products as there are not so many retailers offering them. On the other hand, the number of potential customers is also quite low in narrow niches.
A broad niche occupies a big part of the market, which is why retailers can target a huge number of customers – millions of families!
In Sellvia's catalog, you will find clothes, household goods, car accessories, products for babies and children, gardening supplies, etc. Millions of buyers consume these goods every day. The demand for such products is always stable.
2. Sellvia's products are proven to be popular
One could say that many AliExpress sellers offer the same or similar products suitable for broad niches. It's true, but when you dropship goods from AliExpress, you can't be certain they're going to enjoy high demand. Often entrepreneurs have to spend a lot of time and money testing imported goods.
However, Sellvia's products were handpicked and researched by our team to make sure there's actual demand for them in the market.
3. Fast shipping across the US
In ecommerce, it's very important to provide customers with fast delivery, especially when you have to compete with huge retailers like Amazon. From this perspective, AliExpress isn't the best choice. Shipping goods from China with standard or affordable options takes up to 60 days.
Some AliExpress shops use warehouses located in European countries and the US, but their number is limited.
Since Sellvia's warehouse is located in Irvine, California, your customers can get their products within 1-3 days after they place the order (+1 day for order processing). So, if you compare AliExpress vs Sellvia, for a dropshipping business that targets America, this is a huge benefit.
4. More trust and repeat purchases
Any business aims at earning customer trust. But doing it in ecommerce is harder in comparison with traditional business. Clients have to pick items based on product descriptions they see on your website. They have to pay you before they receive the item, and on top of that, they have to wait for delivery!
And that's when Sellvia's fast US shipping can help you once more!
Moreover, all Sellvia's products are placed in neat boxes with no labels or anything that could indicate their origin, which is perfect for dropshipping. Getting products in a strong box fuels confidence making customers return for more goods. And since returning customers cost 7 times less to convert, you can expect higher profit margins from such clients.
5. Marketing-friendly materials
When comparing AliExpress vs Sellvia in terms of dropshipping, it's also important to talk about the quality of the product pages. In order to attract customers, one needs to create a good-looking and informative product page with high-quality photos and videos, inspiring descriptions, positive reviews from previous buyers, etc.
Entrepreneurs who dropship goods from AliExpress know how much time this task can consume.
But with Sellvia, one can import all the data from our product pages without having to edit them later. This way, you can start promoting new products right away!
6. Fewer bans
And finally, reselling goods from Sellvia will let you reduce the chances of getting banned on certain social media and payment providers.
Some of them monitor the performance of the businesses that use their services. And if, for example, your chargeback rate gets too high, they may restrict your operations. Same goes for Facebook that can ban your page and even ads account for too many negative reviews from customers.
However, with fast shipping, neat packaging, marketing-friendly materials, and high-quality products proved to be popular in the market, you can expect much more happy customers. As a result, the risk of getting banned reduces.
Ok, does it mean Sellvia is the best ever choice for a dropshipping business? It depends! In some cases, choosing AliExpress will be wiser because it too offers a number of benefits.
Reasons to use AliExpress as your dropshipping supplier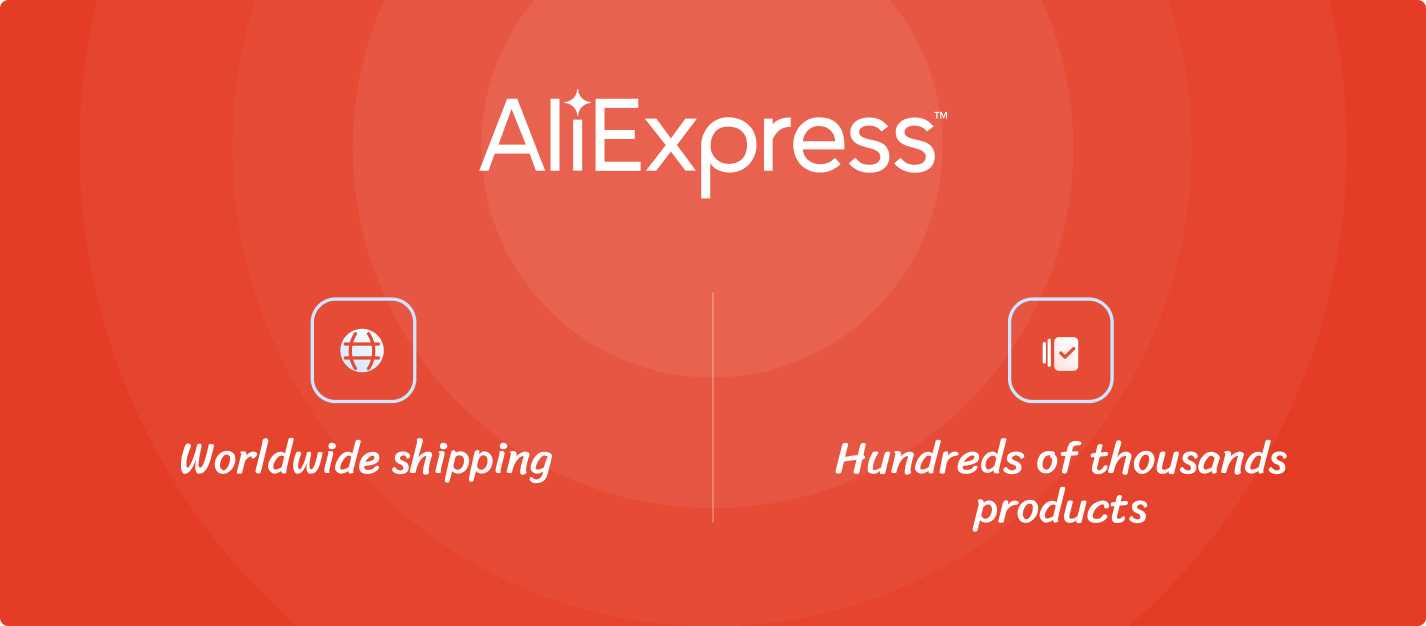 1. Worldwide shipping
First of all, AliExpress does not limit you in terms of where to sell your products. Some entrepreneurs successfully dropship goods to a number of countries, others focus on domestic markets and adapt their stores for the local audience and language. And this strategy can be successful too!
2. More products to pick
When comparing AliExpress vs Sellvia, one will also notice the difference in the number of goods. Yes, many AliExpress products lack quality. Besides, you have to test them before you can tell for sure if there's demand for such goods.
However, the sheer number and variety of items let you find truly unique products.
3. AliExpress lets you occupy narrow niches
Since on AliExpress, you can find unique products, you can build your business around very specific, narrow niches. Of course, this approach has certain drawbacks. But if there's a certain narrow niche you're passionate about, AliExpress can be a better choice.
AliExpress vs Sellvia: summing up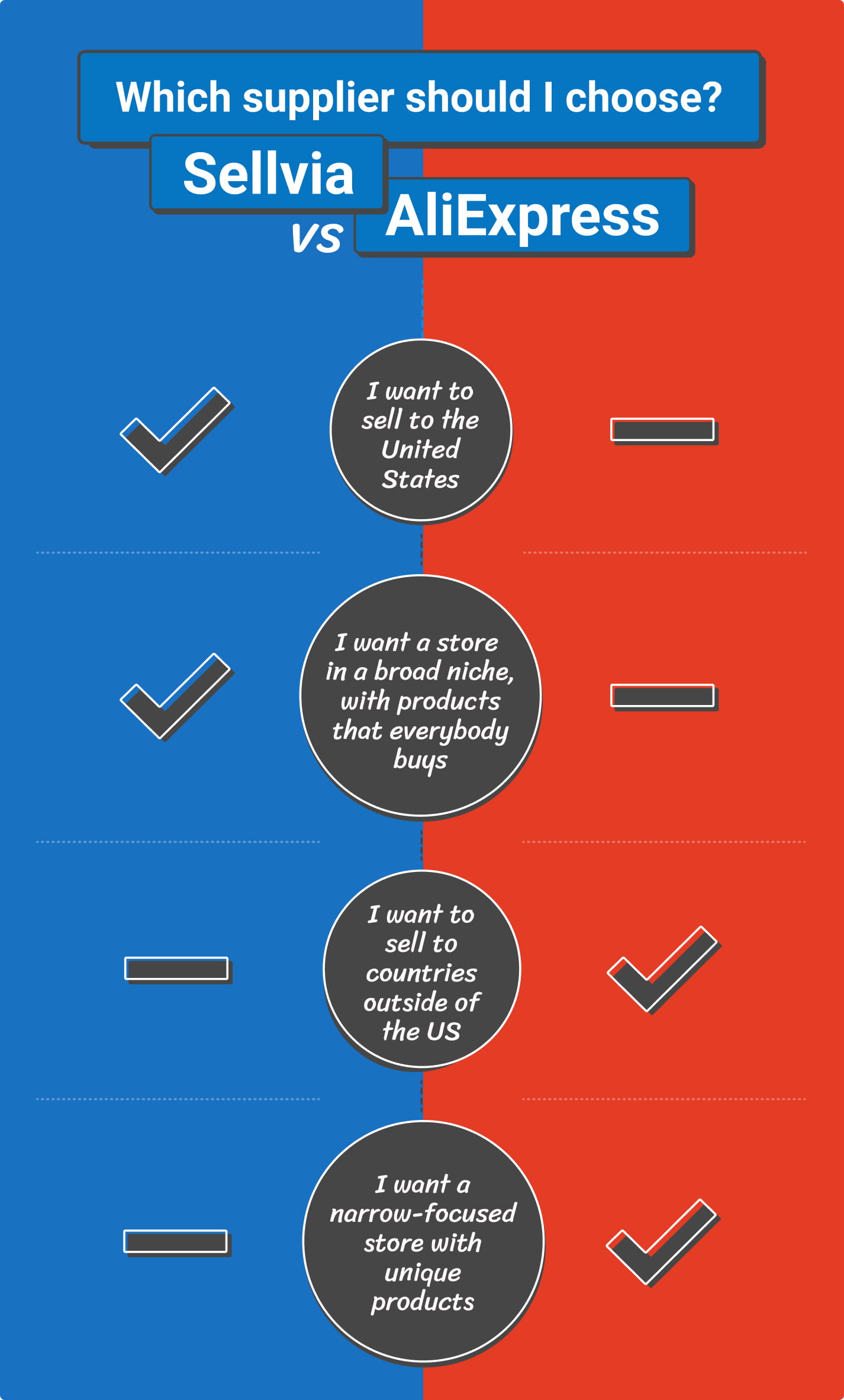 As you can see, AliExpress is still a reliable source of dropshipping goods with its own list of benefits. Particularly, if you want to ship products worldwide, you should definitely consider AliExpress.
However, if you want to operate in the US, you will definitely find Sellvia to be a more convenient option thanks to its fast shipping and great product descriptions.
So, after comparing AliExpress vs Sellvia in terms of dropshipping, one can come to the following conclusion. Entrepreneurs who wish to sell products to countries outside the US or work in narrow niches with unique goods should use AliExpress. But if you want to operate in America and sell mass consumer goods, Sellvia will be a better choice due to its fast shipping and marketing-friendly materials.