If you're a person who is searching for a source of extra income, or you're already an experienced affiliate marketer, we recommend you pay particular attention to the Sellvia affiliate program!
But what's so special about the Sellvia affiliate program? Is it really a perfect option for both ecommerce newcomers and experienced marketers? Do we provide step-by-step instructions on how to make money with the Sellvia affiliate program?
Let us answer all of your questions in this article!
What is the Sellvia Affiliate Program?
First of all, if you have never dealt with affiliate marketing, you need to know well what it is, and how to become an affiliate marketer.
The Sellvia Affiliate Program allows you to earn a commission for every person that subscribes to Sellvia with your help.
📣 Your goal is to create and distribute any pieces of promotional, educational, or entertaining content (blog articles, social media posts, emails, videos, etc.) at your choice and include your unique affiliate code in the content links.
✅ We track these unique links, and every time a person subscribes to Sellvia within 30 days after viewing or reading your content, you earn a commission. Simple and great, isn't it?
How does your affiliate link work?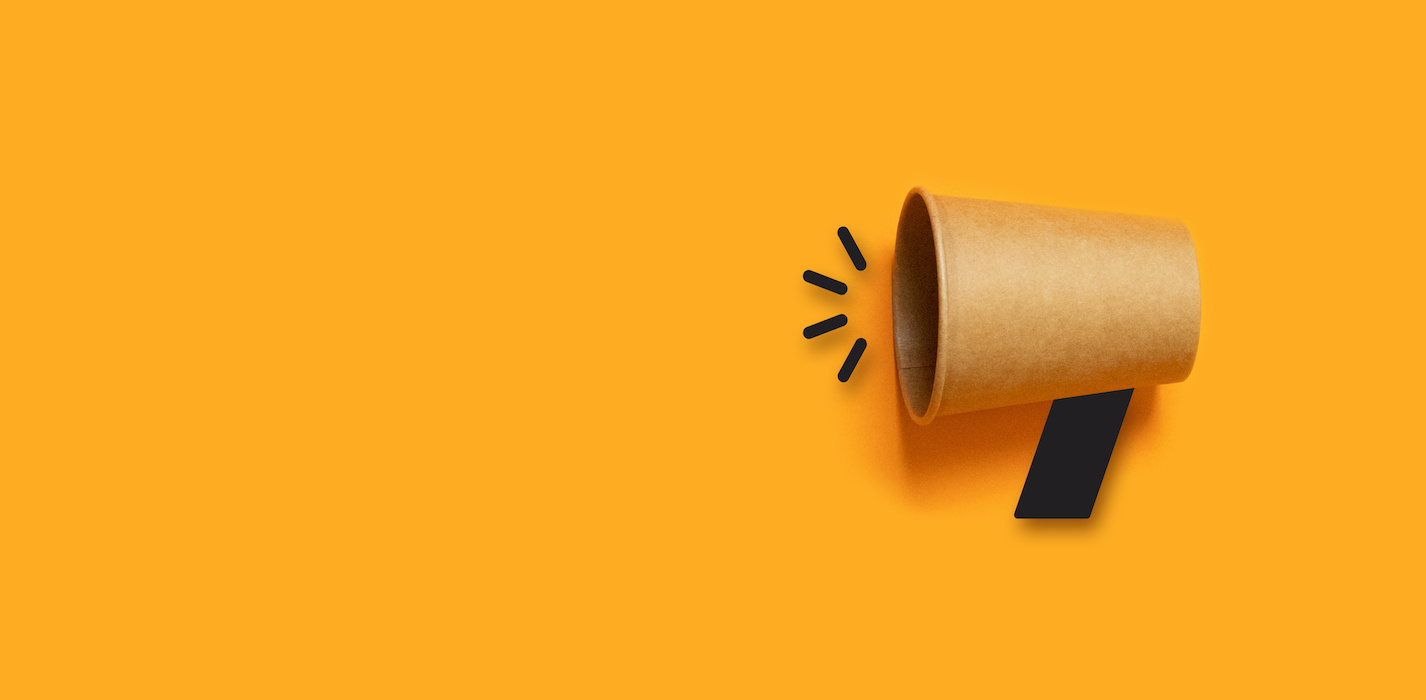 What is an affiliate link?
📌 In a nutshell, your affiliate link is a specific URL containing your ID or user name. This info lets managers identify that it was you who contributed to the purchase.
Your affiliate link includes 30 days tracking cookie. This means that if a user clicks on your link, then you will be credited with the referral, as long as the user visited Sellvia website within 30 days.
🔥 When your referred users make their first purchases, you will earn a commission.
Please note that as a Sellvia affiliate you have the opportunity to promote a variety of Sellvia products. It's all about the Sellvia subscription plan or Custom stores by Sellvia. Your link will direct your users to the relevant Sellvia product and entitle you to the relevant commission.
Who can earn with us?
As you can see, there's nothing challenging about gaining profit from affiliate marketing with Sellvia. But how to become an affiliate marketer with Sellvia? Who can earn with us?
🔊 You are an ecommerce content creator
If you own a blog, run a successful YouTube channel, or social media communities, Sellvia Affiliate program is a great way to monetize your audience.
🔊 You are an online business tutor or financial coach
If you help people scale their business or provide financial training, then tell them about running an online business with Sellvia!
🔊 You are a Shopify/WooCommerce expert, developer, or store builder
If you are a freelancer who helps clients set up their stores, you are welcome to refer clients by showing them all the unique features of Sellvia, from fast US shipping to ready high-converting product pages.
What are the benefits of the Sellvia Affiliate Program?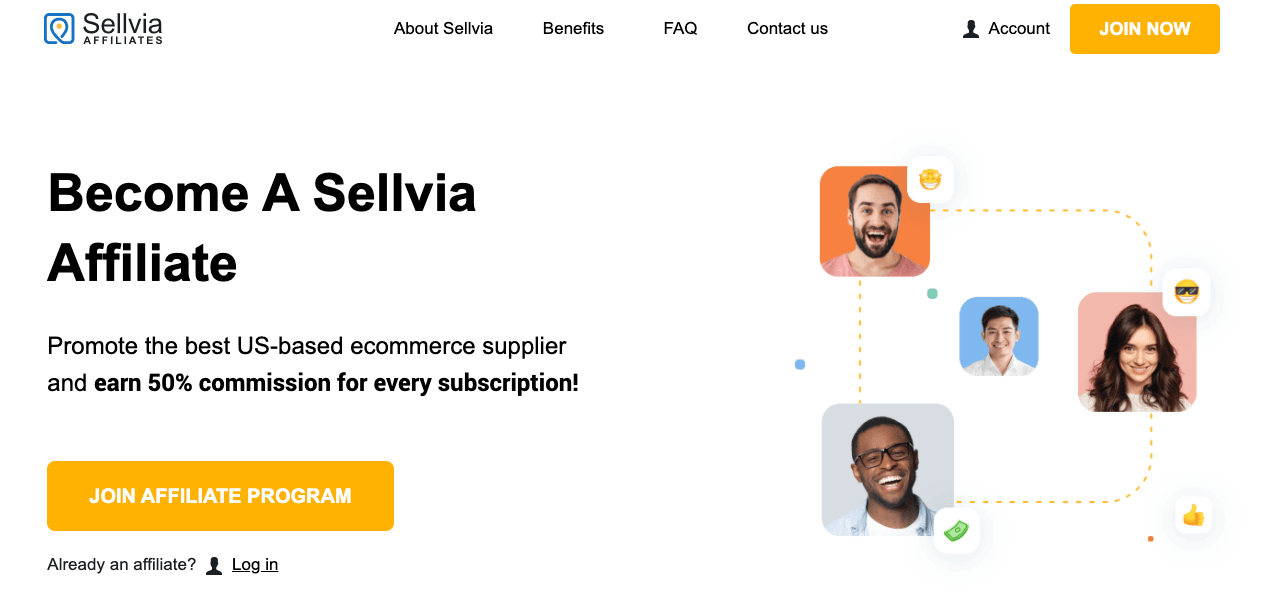 There are dozens of affiliate programs available on the Internet. Why is the one by Sellvia so tempting?
Game-changing product
Sellvia is a groundbreaking solution with huge market potential. It's created by a team of ecommerce marketers and IT developers who know firsthand how to build really profitable online stores and make them work on autopilot.
Large audience
Most notably, Sellvia suits both ecommerce beginners who search for a chance to easily start a profitable online business and experienced entrepreneurs with stores based on WooCommerce who are willing to sell products on the US market.
So it doesn't matter what your audience is. Sellvia will look like an attractive solution for it anyway.
High commissions
In case you join the Sellvia affiliate program, you can count on up to 50% commission for the first two months of a client's subscription and 30% for every custom store sale.
Exclusive sales & discounts
We provide you with access to special Season Sales and deals selected exclusively for your followers. There's special treatment for each client!
Dedicated account manager
You will have an account manager that will be assigned to assist your success. Here's the support you've been dreaming of!
Affiliate newsletter and ad creatives
You'll get free access to tips, content, and advice to get started and succeed from the outset.
By the way, while you are reading this article, some of our partners are already benefiting from the Sellvia affiliate program. For example, take a look at Eartha's YouTube channel. She has been already succeeding with her Sellvia affiliate activities!
How to become an affiliate with Sellvia?

If you're eager to join the Sellvia affiliate program and build your own financial empire, all you need to do is to fill out the application form. Actually, there's nothing challenging to get your affiliate marketing journey started with Sellvia.
What does an application form look like? Well, in the application form, you are supposed to specify the way you're going to promote Sellvia to your audience. You also need to include the link to your blog, YouTube channel, or social media account you're going to use for this.
In fact, that's it. It remains for you to wait for our response. We'll contact you by email to inform you whether the application is approved or to clarify some details if it's necessary.
Will it cost me anything to become an affiliate?
Are you wondering how much it will cost you to join the Sellvia affiliate program? Here is good news for you: it's absolutely free to join. There are no monthly or membership fees. And you don't have to be a Sellvia subscriber yourself to join our affiliate program.
How much can I earn with the Sellvia affiliate program?
The next reasonable question is how much will you earn as a Sellvia partner?
Sellvia provides you with a high commission. You will be paid 50% of Sellvia's paid subscription plan for 2 months of the client's active subscription.
Currently, the subscription price of Sellvia is $39/month. It means that, for example, if you attract 26 subscribers this month, you will receive $507 for their first month of the subscription and $507 for the second one if their subscription remains active.
Sounds tempting, doesn't it? However, there's more!
🔥 You can receive a 30% commission in case of each custom store sale that happens thanks to you. Isn't this great?
And the most important fact about: there are no limits for the number of subscriptions or custom stores you can sell – and, consequently, how much you can earn.
Does Sellvia provide marketing materials for affiliates?
We're happy to provide affiliates with the top-performing marketing tools, help them stand out, and drive subscribers to Sellvia.
📌 In the affiliate dashboard and email newsletters, our affiliates will find the most relevant creative elements from our large selection of banners, texts, review templates, affiliate tips, and tricks, and more.
Final thoughts on the Sellvia affiliate program and how to become an affiliate
As you can see, there's absolutely nothing challenging to join the Sellvia affiliate program and become a successful entrepreneur. All you need to do is to have a blog, YouTube channel, or other channels through which you're going to spread the word about Sellvia.
Beyond this, Sellvia suggests you promote only groundbreaking products with numerous benefits while ensuring high commissions for your assistance. And it's always a great pleasure to promote high-quality, demanded products and services.
It doesn't take you any sum of money to become a Sellvia partner. You don't even have to become a Sellvia subscriber to start benefiting from affiliate marketing with Sellvia.
Are you running a blog, website, or do you have social media accounts with lots of followers? Would you like to monetize your followers with no extra effort, but you don't know how to become an affiliate? If so, join the Sellvia affiliate program and start your own trip to success!