Are you wondering how to start a pet supplies business with Sellvia? Here, you have the perfect opportunity to finally start doing what you love! In this article, we are going to talk about the basic steps you should take to launch an ecommerce business in this niche. With Sellvia, starting an online pet business is easier and more accessible than ever before.
For pet owners, there are very few things more important than their little bundles of happiness.
Whatever happens in the market, no matter what kind of dynamics or behaviors the market goes through, one thing will always remain the same – consumers will never stop providing their pets with anything and everything.
This is something that you can take advantage of right now! So, the next logical step is to start an online business to start selling pet products. How can you do that?
Obviously building an online business from scratch is not easy. However, with the right tools and understanding of how to use them, it'll be easier than you can imagine!
Thus, let's see how you can start your own pet business with Sellvia!
Is starting an online pet supplies business profitable
Before you dive headlong into any kind of business, you have to analyze whether or not it is profitable. The same goes even for such a popular niche as an online pet business.
However, don't worry, the pet niche is one of the most promising ones out there! Here's a Google Trends graph showcasing the interest towards "pet stores".
According to Statista, in 2021 about 70% of all U.S. households owned a pet.
Over 69 million American households own at least one dog and more than 45 million households own at least one cat.
Moreover, in 2021 U.S. pet owners spent over $123.6 billion on their pets. Clearly, there's a serious market demand for pet products. Although, the question is, is it profitable?
In 2021, pet store revenue is expected to generate over $22 billion, which is a slight increase compared to the previous year. In fact, by 2027 the revenue is forecast to reach around $23.7 billion.
As for US pet owners, most of them still prefer buying certain products offline. At least when it comes to buying pet food or products which you can't wait to be delivered. However, the sheer range of pet products and prices one can find online stimulate people to use the internet rather than go to a physical shop. This shopping behavior shift was also conditioned by the COVID-19 pandemic.
In other words, it's a good idea to enter this market right now.
How to start a pet supplies business: learn the pain points of your customers
Before opening a pet supplies shop, one must make sure he or she understands this niche and its potential customers. Obviously, you're going to sell goods to pet owners, but who exactly are these people?
First of all, ask yourself what types of pets your clients have. A young man owning a big dog and a middle-aged woman owning a cat have very different shopping behaviors and lifestyles. Focusing on just one audience would be a mistake. So instead, try segmenting your audiences into smaller groups and find out their pain points.
Second, make sure you can offer something your customers can't find in brick-and-mortar stores.
I've already mentioned that animal lovers usually don't buy pet food online. The same goes for medication and pretty much anything consumable. Often people worry about the quality or even safety of such products when buying them online or simply don't have time to wait for delivery.
But there are other types of pet products that you may not be able to sell online because it's easier and faster to buy them in a local physical store.
Therefore, pet supplies online business owners must carefully think about their competitive advantages. Find products that are difficult to purchase offline, offer better prices, and work on your shipping time to successfully compete even with large online retailers.
One of the most important advantages of launching a pet supplies business with Sellvia is our fast shipping across the US. We can deliver goods to any US address within 1-3 business days!
How to start a pet supplies business: build an online store
While opening a brick-and-mortar store costs so much that few can afford it, ecommerce lets you start a business even with a relatively small budget. Moreover, today one doesn't need to know IT, web design, or programming to create a fully functional web store.
With various digital solutions, you can build an ecommerce website from scratch or delegate this task to professionals. Besides, you don't have to use the traditional business model to start a pet products store.
Sellvia can build a dropshipping store for you. Simply get your order for $0 and let a team of professionals take care of everything else! Your fully functioning ecommerce website will be ready in no time!
By acquiring a Custom Store from Sellvia, you can start selling pet supplies even without stocking up an inventory. Simply promote your business, get orders from customers, and redirect them to our team – we will handle the packing and shipping tasks!
Here you can learn more about using Sellvia for US dropshipping.
How to start a pet supplies business: choose products to sell
No matter how good your website looks, you can't succeed without a proper selection of products. What kind of products should you pick?
First of all, consider items that pet owners will find useful. Taking care of an animal can be quite challenging – and expensive too! One needs a whole range of items and tools such as leashes and harnesses, litter boxes, cages, beds, bowls, anti-flea remedies and tools, pet grooming tools, etc.
And that's your number one choice as such products are easy to promote.
Another category of products you may want to sell in your store is items with emotional value. Such goods can evoke strong feelings stimulating impulse buying. Here you can sell pet toys, funny or cool-looking collars, stickers, or even pet-themed goods not designed for pets.
In other words, anything related to pets and animals that can evoke emotions will make a potentially good product.
Sellvia's catalog contains a wide range of pet-related products matching these requirements. There are both useful tools as well as funny, cute, and charming items. And all of them can be delivered to your customers within 1-3 business days!
However, if you want to offer something truly unique that no one else on the market is offering, Sellvia's Premium Products has got you covered!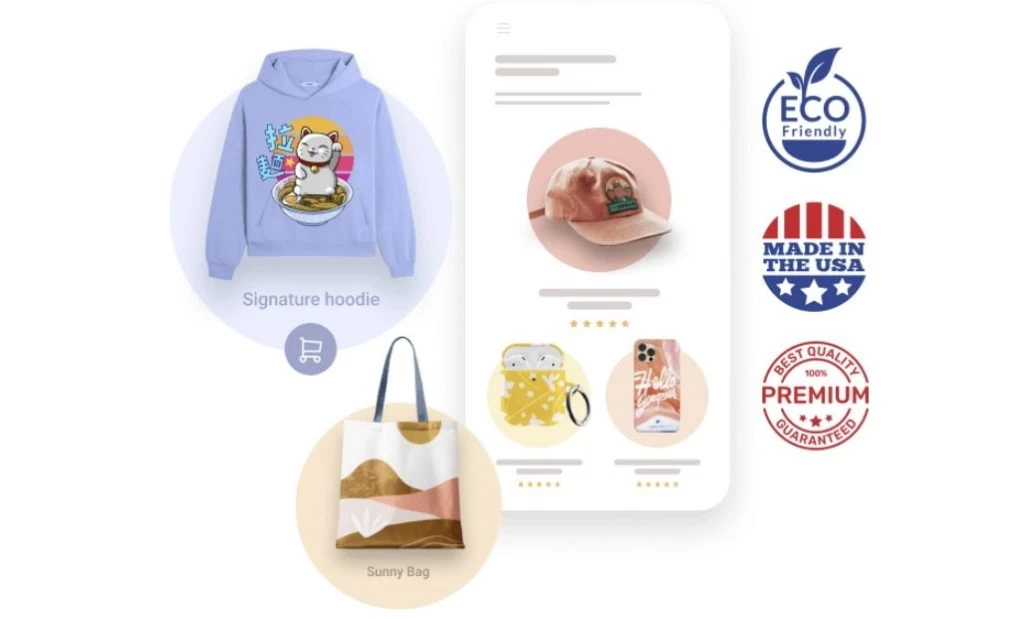 With our Premium Products, all you have to do is tell us your specific interests and our professionals will find exactly the type of products aligned with your interests that will win over the customer's hearts. Our specialists will handle the heavy lifting, from the products designs to the products themselves and the logistics, all while you sell pet products from home and focus on doing what you love.
Once everything is ready to go, you can sell the products wherever you please, whether through your online store, an online market place, or even on social media. You are free to take your business in any direction you wish.
How to start a pet supplies business: promote your online store
Promotion is one of the most important parts of any business. If you want to advertise pet products as a small business and reach as wide an audience as you can, you've got at least the following three options.
Search engine optimization
The easiest way to find a product online is to search it on Google. And that's how you can drive organic traffic to your site. By optimizing all the pages of your web store (including product pages), you can improve its Google ranking.
Although search engine optimization can be very efficient, this method requires a lot of time. For quicker results, I suggest social media promotion.
Promote your business on social media
A wonderful thing about pet businesses is that no matter what type of animal you have, one thing is certain – they are naturally gifted content creators. Thus, if you're a lucky guy and have more than one pet, creating good content won't be a problem.
If you've ever tried yourself at brainstorming content marketing ideas for social media, you must understand how challenging it can be to come up with great ideas, while having everything else up and running.
However, with a business, you're going to be amazed at how easy it can be. Even the most tedious activities become watchable when a dog or cat is involved.
Can't forget about user-generated content, which is just perfect for pet businesses. For instance, if you're business focuses on apparel, you can ask your customers to post their pets in your apparel.
Here are the most popular social media channels to tackle with your animal centred content:
Facebook
Instagram
TikTok
YouTube
Every channel requires a slightly different approach. You can start off by posting on one platform and as your content becomes more popular, expand to another channel.
By promoting your business on social media, you can get results much faster, especially if you have the resources for paid advertising. Most small businesses prefer Facebook (since it has a huge audience) and Instagram (since it's great for visually attractive products).
But don't just use social networks for advertising. Here you can find lots of communities created for pet lovers or even create one yourself. A business built around pet products lets you gather a community of potential clients who could share their experiences, thoughts, and emotions. This way, your business can become something more than just another online store.
Blogging
It's always a good idea to start a business in a niche you understand really well and feel passionate about. So, if you want to open a pet supplies business, I suppose you own a pet and know how to take care of animals.
And that's another way to attract new buyers and build strong relationships with them.
Start a blog! Write about how to take care of dogs, cats, birds, fish, etc. Tell people how to train dogs properly, or how to bathe a cat. There are plenty of topics that your audience will find interesting and useful. And of course, don't forget to advertise your products here whenever it's appropriate.
Hopefully, now you have a clear understanding of how to start a pet supplies business. With Sellvia, you have everything you need to launch a promising online venture. If you want to launch your store with as little effort as possible, consider ordering a Custom Store from us. And if you're going to target the US market, join Sellvia to benefit from our wide range of products and fast shipping across the United States. Want to find our more about starting a successful online business? Book a free call with our business advisors and they will tell you all you need to know to start an online business and succeed!