Hoodies are a staple in everyone's wardrobe. Regardless of your sense of style or your tastes, you can have a hoodie of any kind with any type of print. That's what's so great about this type of product. Having said that, what if we told you that you can start a successful online hoodie store that consumers will fall in love with?
Let's start with the obvious, is there really something like too many hoodies? We don't think so! There's a million ways to design a hoodie, and your approach to a specific design can be the one that will win over the hearts and minds of a whole audience of customers.
To help you with this, you can partner up with Sellvia to build a thriving online business with unique products like the world has never seen before!
Why should you start an online hoodie store
First things first, whenever we think of a business idea with some financial potential, we have to consider how profitable it actually is. So, here we have to some research regarding how popular are hoodies right now, and what's there potential in the future?
Let's see how often people search for various hoodies using Google Trends.
According to Google Trends graphic, hoodies is a very common search term in the search engine. For the past 5 years, Internet users have frequently searched for hoodies to purchase. And despite the seeming seasonality trend, hoodies are a popular item of apparel depending on different factors.
Hoodies have been in fashion for a long time. What makes them especially popular is that you can wear them no matter what season of the year it is. In addition, hoodies are an essential travel partner for long (or even short) trips.
The global hoodies market is growing and is expected to continue to grow over the next several years. For instance, the retail hoodie market was worth 84.3 billion in 2016 and increased to 104.8 billion in 2021, according to Statista. Moreover, it is estimated that the market will grow at a CAGR of 5.5% until 2030.
The market growth can be attributed to the increasing demand for sweatshirts from men's, women's, and kids' segments.
The key regions of the global hoodies market are considered Asia Pacific, North America, and Europe, with North America dominating the global hoodie market, followed by Europe and the Asia Pacific.
Factoring everything in, it's safe to say that if you've ever wanted to start your own hoodie store – now is the best time to do so! Is it profitable? With the right tools, the hoodie industry can be quite profitable, and with Sellvia, you can be sure that you'll be equipped with everything you need to build a successful business!
Tips to start your own online hoodie store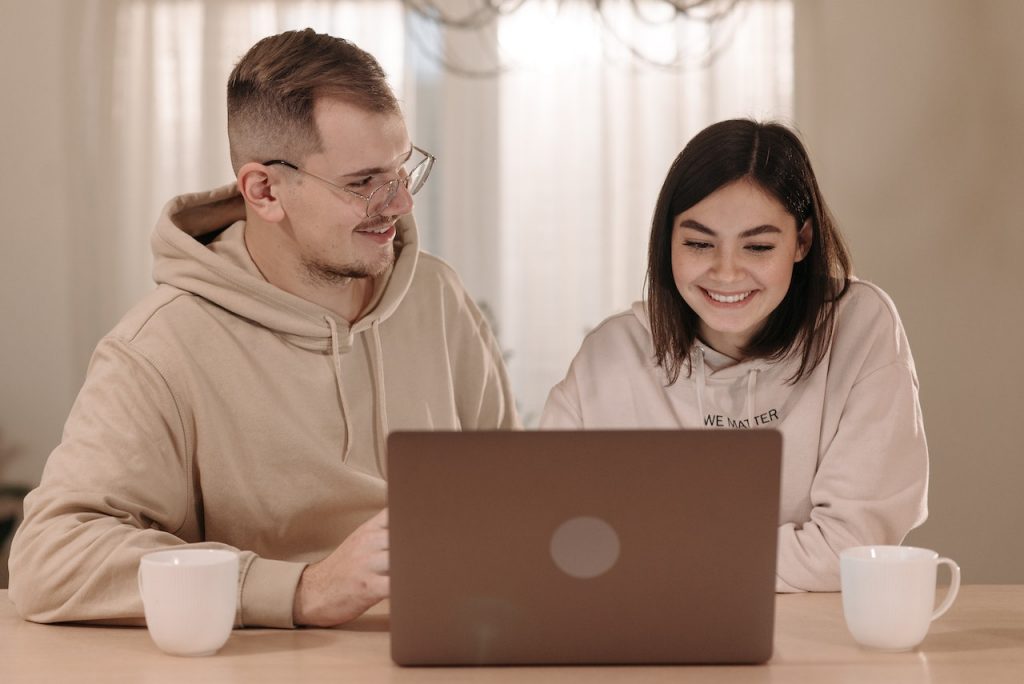 As we all know hoodies have become an essential part of fashion. Some people are so obsessed with them that they aspire to gather entire collections of hoodies. This absolute craze for hoodies creates a one-of-a-kind business opportunity to create unique designs and even entire hoodie lines. That's why all aspiring or even experienced ecommerce entrepreneurs should be confident in starting their own online hoodie stores or even completely new brands.
You can become one of the many successful entrepreneurs by joining Sellvia, and by following our tips, you can start your own online hoodie store in no time at all.
#1. Dive deep into the hoodie industry
Starting an online hoodie store, you must first dive deep into the hoodie industry and learn all there is to know about it.
Find out the current trends, what's hot and what's not. That way you'll be able to get an understanding of what kind of product assortment you can offer. Besides that, you can get an estimation of who your target market is. By understanding your target audience, it will be much easier to promote your hoodie store and your products.
The best thing about starting an online hoodie store with Sellvia, is that it's incredibly easy and affordable to get started.
Besides the fact that the hoodie market is always growing and evolving, with new trends appearing every so often, Sellvia will provide you with everything you need to start and grow your own online store.
#2. Create your own design
When you've assessed the hoodie industry, you should get an idea of how to design your hoodies.
This is probably one of the most fun parts of the entire store creation process. Here are a few ways for you to make up your own design.
There's literally no ceiling when it comes to the design creation, especially for a person with a creative imagination. From physical artwork to digital, create patterns, color schemes, quotes, make hoodies with various logos, different phrases, single-colored hoodies, and much much more.
There are plenty of ways you can create a beautiful print for your merchandise.
Legitimate freelancing sites such as Upwork, Fiverr, Freelancer are just a few of the many places where you can get some great designs. Remember – you're not alone in this. There are a lot of talented people out there who can help you fill in the missing pieces to your shop.
Hit up a stock image website
How to make your own hoodie design without designer skills? It's simple – use Shutterstock. Use a free image for your design and pay for it only after making a sale.
Sellvia's Premium Products
If, however, you feel like you don't have the imagination to create your own design or don't want to go out there hiring freelancers, Sellvia offers an amazing service you can utilize to create your own unique hoodie designs. We're talking about the Premium Products service. With it, you'll be able to offer items that everyone is looking for but can't find. Meaning, you will experience little to no competition in your niche.
Either way, you want to create designs that are fresh and innovative. You can create designs that capitalize on current trends or phrases. There are many hoodie designers that have catchy slogans on their hoodies. You want your designs to stand out. You want to have a meaning behind your hoodies and your brand that people will enjoy supporting. Here's just a handful of hoodie samples we can design:
#3. Promote your products and the online hoodie store
Last but not least, don't forget that you have to promote your products for online consumers to find them.
It may seem obvious but still, we feel like the promotional aspect had to be mentioned. In the online space, there are thousands of other hoodie companies. So, to succeed, you have to be able to come up with a great marketing strategy. With that being said, we're not trying to scare you, quite the opposite. Any type of business has to be promoted, especially an online one. There are many online promotional methods you can use. The only way to find out which one suits you best is by trial and error. Keep up with our blog for various tips that will help you to succeed in promoting your online business.
Luckily for you, Sellvia can provide you with all you need to promote your business and your products!
Start selling hoodies with Premium Products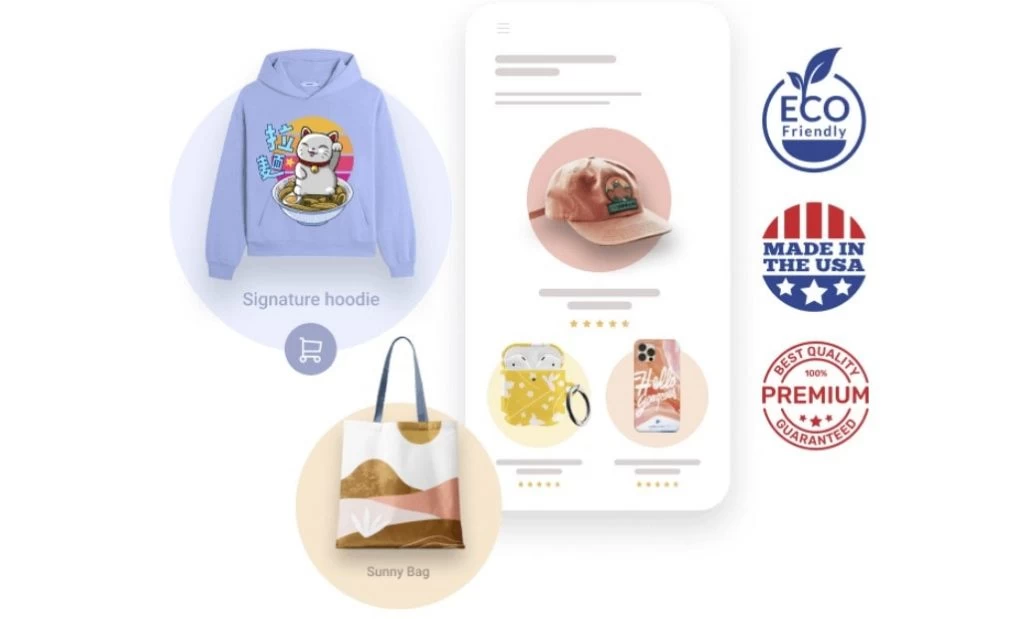 We've mentioned that you can use Sellvia's Premium Products to sell your own unique hoodies, however, what exactly are these Premium Products?
With the help of Premium Products, our specialists will help you find products that people are looking for but can't find yet! All you have to do is specify your preferences and interests to our team of professionals, and they will handle the rest.
They will search for the most promising ideas and create a product offering catering to the consumer's needs. Moreover, the team will also take care of all the technicalities, such as the manufacturing and delivery of the products.
And while we handle the heavy lifting, you can seamlessly sell these products however you want, on any platform you want.
Your unique vision can be the exact thing that will bring something new to the market and allow people to satisfy their needs.
With Sellvia's Premium Products, you can sell unique products that will provide you with an income for years to come!
With the help of Premium Products, you will be selling items that are not available anywhere else. This means you can practically forget about any kind of competition.
You can be sure that you will sell products of the highest quality. All of them will come with a top-quality printed design created with the use of modern printing technology.
Your business is in good hands! All the products will be manufactured, printed, and shipped by us upon your request and under your brand.
Our team of experts will help introduce your brand of products to millions of potential buyers.
You can sell your awesome products anywhere you want, from a marketplace like Amazon, to your own online store, or even through your social media. You choose what direction to take!
Here's a quick roundup of how it works:
You specify your interests and passions ✅
Our team finds what exactly people look for but nobody's selling yet, according to your specific needs ✅
Our designers create fantastic prints for you and your customers to enjoy ✅
You get orders and delegate all the technicalities to us ✅
Generally, it can take quite some time, and even some significant financial investments to create such a business. However, with Sellvia's Premium Products, you have a unique opportunity to start with all the difficult parts delegated to our team of experts. Choose the appropriate Premium Product package and our team will create an account for you and upload your unique products.
So, is your idea of starting your own online hoodie store becoming a reality? With Sellvia, you will be one step closer to achieving your dream of financial independence and success.
Launch an online hoodie store with Sellvia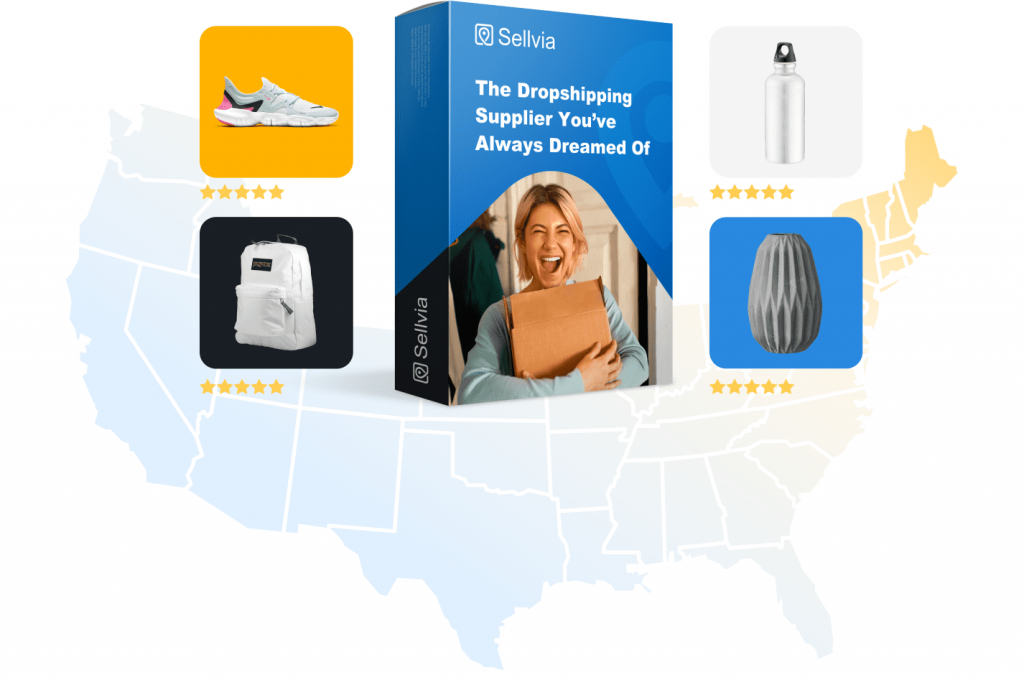 Not only do we offer you to create your own unique hoodies, but also provide you with the chance to start your own online store.
It has never been easier to start an online store. The days of paying thousands of dollars to web developers for a simple online store are way behind us.
With Sellvia, you can now launch a fresh new online hoodie store absolutely for free! Simply subscribe to our 14-day free trial and cancel it anytime you want. Although, why would you miss out on creating a path to your own financial independence?
Without a doubt having your own online store is essential, since you are going to be selling your hoodies online.
Want to find out more about how to start an online business for free? Book a call with a business advisor to see how easy it is to start doing what you love and making money from it!
So here are the main benefits you can count on by joining Sellvia!
A Sellvia-powered online store
You will get a free online store made by professionals. It works on auto pilot and brings you profit. It's 100% beginner-friendly, so even if you've never had the experience of having an online store, getting the hang of it will be a breeze.
With Sellvia, everything is already taken care of for you.
When a customer purchases something from your online store, our team of specialists will take care of it. The packaging and delivery of the products is on us!
Simply relax, and let us do all of this for you. Meantime, you can focus on much more significant things, such as either continuing to develop your online store or just spending time with your family.
Like we previously stated, our specialist will handle the packaging and delivery of the products. But that's not all, all of the orders will be delivered to your customers within 1-3 business days.
This will be a major advantage for your online store. Modern day consumers don't like to wait, so with fast delivery, you will get more happy customers that will come back to your store for future purchases!
You know what also helps keep customers happy and have them come back? High-quality products. And in the Sellvia catalog, you will find thousands of products to fill your store with.
On top of that, these products come with stellar pages, descriptions, and reviews, as well as marketing materials.
What this means for you is that you will already have awesome content for your marketing campaigns, which you won't have to create yourself. And professionally written descriptions will be describing the products in the best possible way to convert potential customers into buyers.
If at any point you experience any kind of complications, our 24/7 support will be there to help you out.
Your online store should be consistent with your brand's design and colors. You can include photographs of your hoodie lineups as well as customer testimonials to make a strong first impression on your visitors. Also, don't forget to include your mission statement on your website and explain why your customers should buy your hoodies.
How to launch your dream hoodie store: conclusion
By now you already know how to make a hoodie store and dominate the market with unique designs.
Clearly, right now is the best time to launch your own online hoodie store!
With Sellvia's help, you can build your dream ecommerce store in a short period of time. You'll get everything you need to build a successful online business that will provide you with everything you're looking for and much more!
Use all the tools, advice, and information above to skyrocket profits and boost traffic with comfortable, stylish, one-of-a-kind hoodies.
So, what are you waiting for? Join Sellvia today and start building your dream online store that will win over the hearts and minds of the customers with amazing and unique products! Simply book a free consultation with our business advisors and they will tell you all you need to know about creating your dream business!