Looking for a legit, foolproof way to start an online business for free? Here's an exciting case to learn from!
With zero experience and low startup investment, Sayed launched a promising online store and expanded his business to Amazon in no time. Let's see what's his recipe for success!
Hi, welcome to Sellvia! Please, tell us more about yourself and your business!
Thank you very much for the opportunity to speak to you! I'm very glad to be able to share my experience.
Three months ago, I started my journey as a partner with Sellvia as the first step in my ecommerce business journey. I had no experience, I was very much new to the ecommerce business, I had no idea where to start and how to start. Today, I'm a well-off ecommerce entrepreneur, and that makes me very happy.
What's your ecommerce experience and background?
My education is economics: I have studied Business Economics. I've been working for a non-profit organization for the last 20 years, implementing the principles of market economy, working on business ethics, and stuff like that. I've been training people on how to start a business, how to work with business associations and how to do advocacy for the market economy, for the private sector. But even though we were supporting entrepreneurs, I did not have experience of business myself. And I thought maybe I should give it a try and see how it works in practice!
How exactly did you start an online business for free?
I was looking for online resources to figure out how I can frame myself, where I can fit in. It's a big industry and there's a lot of competitors, so I was wondering how I was going to start and succeed.
Besides, it was always a question of how to go about the website design, SEO, and all this technical stuff which I did not have experience in. As I said, I was a completely different man with a different experience.
So, when I came across Sellvia and got familiar with the support it was providing, I thought it could be the right fit and decided to go with it.
Sellvia gave me a ready, already built up store which had all the products, all the tools available, with a user-friendly platform, and it was completely free!
I thought, maybe I was dreaming or maybe that wasn't true? But as I went on working with the team with great customer service, I received a lot of support. The best thing that I found is that they provided everything ready-made for me, I had to just look at it and see how things turned out. What's more, there's a range of products: starting with 1 product, you can go up to 10,000 products in different varieties.
So, you've got a free up-and-running Sellvia store. What happened next?
Since I had my Facebook pages already set up for me, together with Pinterest and email marketing materials, the first sale was not so hard to achieve. I had my products listed on Facebook where my network is present, and one of my family members liked one of these products, and I said — I can give you a discount, a promo code! That was my first sale, and it started from there, I started receiving requests.
Then, I set up my Amazon account as well and displayed over 500 products in the store.
I source all the products for my Amazon sales from Sellvia, too: they are all available at the Sellvia warehouse in California, which makes it much easier to source the product.
Shipping is fast, and customers are really happy.
Seems like this decision to start an online business for free is paying off already! How is the business performing?
Dedicating only 2 hours a day to my store, I make $9,000 in revenue per month! And it's only one store, so I'm looking forward to having some more stores and expanding my business.
Currently, I receive most of my orders through Amazon. I have a full-time job as well, so I do my 9-to-5 job and then, after 5, I open my store and see and download all the orders. I keep record of them in an Excel spreadsheet. It takes me about 2 hours to put those orders in place and redirect the details to Sellvia, and Sellvia is too generous: when I wake up in the morning, they are all fulfilled! I don't have to worry about it. And sometimes, it happens that I receive more than 200 orders a day.
Incredible! What do you do to make sales in your store and on Amazon?
Facebook is the best promotional channel for me. I know it's a bit expensive, but with Facebook, it's easier to control your number of ads. Also, I don't have to worry about advertising myself because Sellvia covers it for me as well.
The Promo Tools I've got are really great. Initially, I was a bit reluctant: why would I waste more on it? But the tools, the plugins, turned out to be exactly what was needed to work with Facebook and other social media platforms. They were already there, I didn't even have to touch anything. I had some minor technical questions, but there always was someone to give me a timely response.
Has your life changed in any way because of this business?
I had to make a lot of payments and my whole life seemed like waiting for the next salary. I could barely afford extra activities, extra spendings… But this ecommerce business made it all resolved and I'm making savings to enjoy quality time with my family and friends.
I'm happy because as a newcomer dropshipper – I've heard this term a lot – I didn't know how it works, but felt the US market was highly competitive. Not everyone can succeed here, especially when you're linked with several other selling platforms like Amazon, eBay, Etsy,… There are dozens of other platforms. Competing with such a huge market is not an easy thing, but Sellvia helped me to frame myself with that, with making much more profit with one Amazon store only.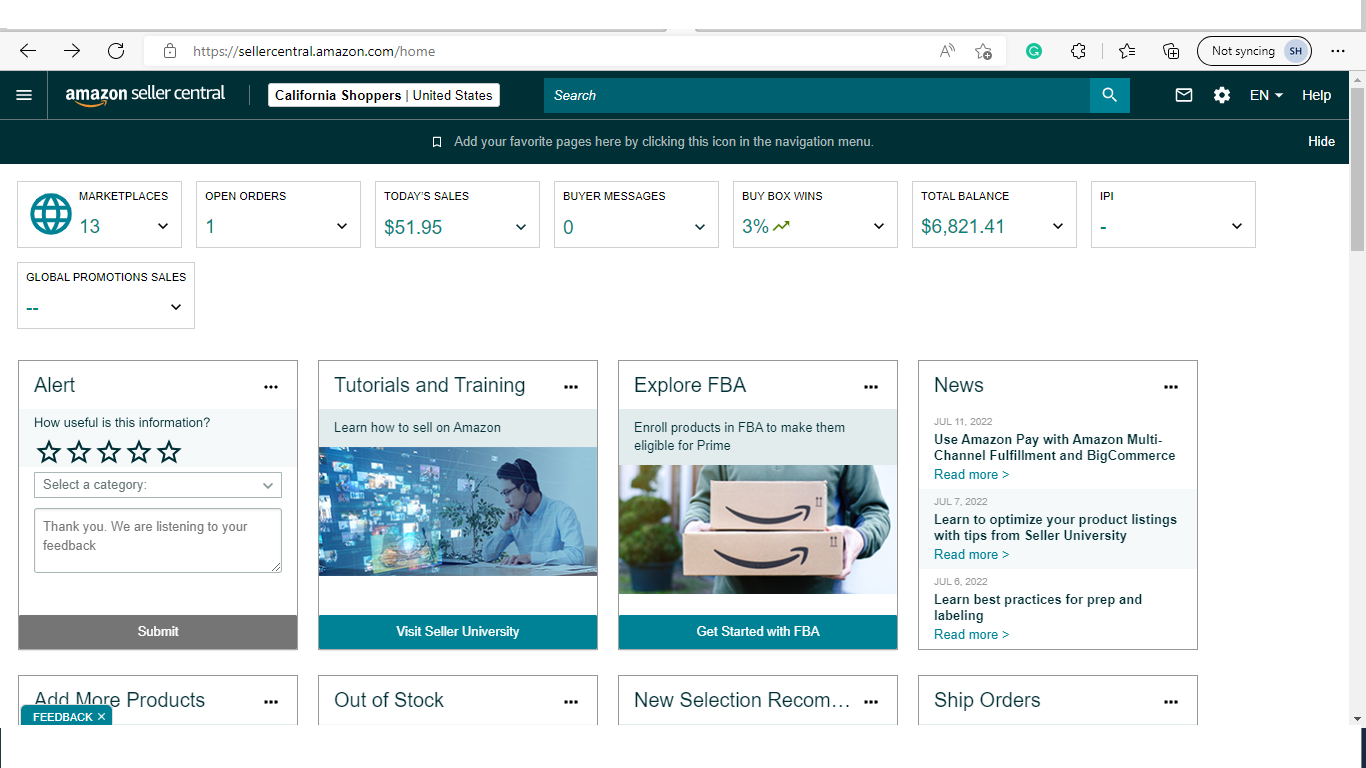 My friends and family members are very excited, so I'm working with them to use my new knowledge, help them, train them, and exchange my experience with them so they can also have a profitable business. They want to copy me as a role model! Sellvia was generous with me and I have to be generous with them, too.
I've been telling people about the great experience I had with Sellvia. Some friends were asking how I was fulfilling orders from the customers, how it's working, whether I was selling products from China, stuff like that. And I said – I have a warehouse in California, if you need products, I can give you the address! That's a real advantage for me. I have a network of people around me, so it could be a great opportunity to join Sellvia as an affiliate marketer as well.
I have more business ideas on how we can work with Sellvia to capture a bigger market here in the US and beyond, to compete better.
Any final advice for fellow online entrepreneurs who are just starting out?
New business owners tend to jump into more expensive, huge investments. But when you make larger investments, it means you have to take bigger risks.
For example, starting an ecommerce business, they go to Amazon directly – but it turns out to be a big world where it's not that easy to find your way. And where can they source products? So, they get stuck at that point, become demotivated, and don't go for it.
What they don't know is that there can be a partner, an already experienced one, with a lot of resources. Teaming up with them makes it much easier for you and provides you with tons of support.
For instance, you don't have to invest anything in the products: you have your partner's products, and once you sell them, you receive the money and use that payment to source more products – and have your profit at hand.
You don't have to invest thousands of dollars and can start with zero investment. It's a great risk-free opportunity to get a store at no cost.
My advice to all newcomers is to start with dropshipping, and find a better partner who can not only provide you with customer support, but also help you technically.
Isn't that a miracle? Exploring an opportunity to start an online business for free, Sayed discovered a way to make his family's life easier! Now, he's making a difference for his whole community, and we can't wait to see their businesses rise to prominence!