Do you ever dream of making some extra cash with a side hustle but don't know where to start? You're in luck! With the rise of ecommerce and platforms like Amazon, you can create a considerable income by selling trending products right now. And you don't need any prior experience to make it happen!
In this article, we'll show you how Sellvia can help you kickstart your online business and capitalize on the hottest products in the market.
Ready? Let's dive in!
Get selling tips and ecommerce inspiration right in your inbox!
Sign up today to not miss a single post:
Discover Trending Products to Sell on Amazon
One of the keys to success in ecommerce is knowing what products are in demand. You want to sell items that are not only popular but also have a good profit margin. That's where Sellvia comes in.
Sellvia can help you find the best products to sell online to make money, whether it's fashionable clothing or unique items. With our expertise, you can quickly identify trending products right now and start selling them on Amazon. This way, you can generate a steady income stream even if you don't have any prior experience in ecommerce.
How to Start Selling on Amazon with Sellvia
Starting an Amazon store might seem daunting, especially if you have no experience in ecommerce.
But don't worry! With Sellvia's assistance, you can launch your store quickly and easily. Here's how:
Sign up for a Premium Products package: Choose the appropriate package, and Sellvia's team will create an account for you and upload your unique products.
Learn the ropes: Sellvia has a wealth of resources to help you become an ecommerce expert. From selling t-shirts on Amazon to selling clothing on Amazon, they've got you covered.
Optimize your store: Make sure your store is set up for success by following Sellvia's guidelines on how to dropship on Amazon.
Promote your products: Use social media and other marketing strategies to spread the word about your store and the amazing products you offer.
Monitor your progress: Keep track of your sales, customer feedback, and overall store performance. Sellvia offers guidance on how to measure your Amazon business success, so you can make data-driven decisions and grow your income.
Stay informed: Keep up-to-date with the latest ecommerce trends, best practices, and new opportunities by following Sellvia's blog. Their posts on selling on Amazon and how Amazon selling works can help you stay ahead of the curve.
Leverage AI for business planning: Sellvia's expertise extends beyond sourcing and selling products. They can also help you make the most of artificial intelligence to optimize your business plan. Check out their post on how AI can benefit your ecommerce venture.
Grow and scale your business: As you become more experienced and your store gains traction, look for opportunities to expand your product range and reach new markets. Sellvia's team can support you every step of the way, ensuring you continue to thrive in the competitive world of ecommerce.
Top Trending Products Right Now: Hot Items Anyone Can Sell on Amazon
If you're looking to cash in on the hottest products and create a profitable Amazon store, you've come to the right place! We've curated a list of trending products right now that anyone can sell on Amazon. These items are popular, in-demand, and offer a great opportunity for you to start earning additional income.
Let's dive into the list!
№1. Sustainable and Eco-Friendly Products
Consumers are becoming increasingly conscious about their environmental impact, making sustainable and eco-friendly products a trending niche. Items like reusable shopping bags, biodegradable cleaning products, and bamboo toothbrushes are gaining popularity and can be a great addition to your Amazon store.
№2. Home Fitness Equipment
With more people working out at home, the demand for home fitness equipment is soaring. Items like resistance bands, yoga mats, and adjustable dumbbells are hot sellers right now, and there's still room for newcomers to tap into this lucrative market.
№3. DIY and Craft Supplies
The DIY and crafting trend has been on the rise, especially during the pandemic, as people look for creative outlets and home improvement projects. Items like paint sets, sewing machines, and crafting kits have seen a surge in demand and can be a great addition to your store.
№4. Smart Home Devices
Smart home devices are becoming increasingly popular as people look for ways to automate their daily tasks and make their lives more convenient. Items like smart plugs, smart lights, and smart thermostats are hot sellers in this category.
№5. Self-Care and Wellness Products
In today's fast-paced world, self-care and wellness are becoming essential for many people. Aromatherapy products, essential oils, and massage tools are just a few of the trending products right now that you can sell on Amazon to cater to this growing market.
№6. Pet Accessories and Supplies
Pet owners are always on the lookout for innovative and practical products for their furry friends. From pet toys to grooming tools and stylish accessories, there's no shortage of potential products to sell in this category.
№7. Home Office and Organization Supplies
With remote work becoming the new norm, home office and organization supplies are in high demand. Items like ergonomic desk chairs, laptop stands, and cable organizers are popular choices for those looking to create an efficient and comfortable work-from-home setup.
№8. Educational Toys and Games
Parents are increasingly looking for educational toys and games that can help their children learn while having fun. Products like STEM toys, puzzles, and board games that promote critical thinking and problem-solving skills are in high demand.
№9. Outdoor and Camping Gear
As people seek outdoor adventures and experiences, the demand for camping and outdoor gear has skyrocketed. Items like camping hammocks, portable chargers, and water filters are popular products to sell in this niche.
№10. Novelty Items and Gifts
Lastly, unique and fun novelty items and gifts never go out of style. Quirky gadgets, personalized items, and fun home decor make great additions to your Amazon store and can help you stand out from the competition.
Now that you have a list of trending products right now, it's time to start selling on Amazon! With Sellvia's help, you can source these hot items, launch your store, and start earning additional income in no time. Good luck, and happy selling!
How Sellvia Simplifies Sourcing Products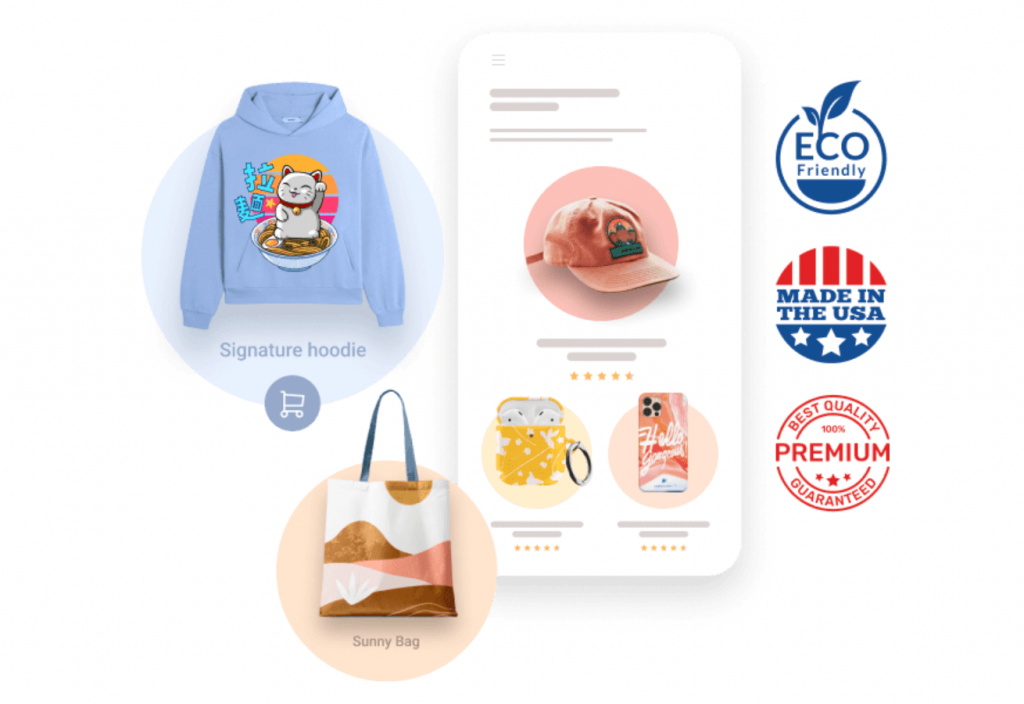 Now that you know what products to sell, how do you source them? This is where Sellvia's game-changing Premium Products service comes in. With Premium Products, you can sell unique, high-quality items that are not available anywhere else. This practically eliminates competition and allows you to maximize your profits.
So, what exactly are Premium Products, and what do you get with them? Here's a quick rundown:
Tailored product ideas

: Tell Sellvia's specialists about your interests and preferences. They will find promising product ideas that customers are looking for and create items tailored to their needs.

Unique products

: Your unique vision can bring something new to the market, satisfying customer needs and providing you with an income for years to come!

High-quality services

: Sellvia's team ensures that you sell products of the highest quality, with top-notch printed designs created using modern printing technology.

Sell anywhere

: With Sellvia's help, you can introduce your products to millions of potential buyers. Sell on Amazon, your online store, or even through social media – the choice is yours!
Wrapping Up: Start Selling Trending Products Right Now with Sellvia
Starting an Amazon store and selling trending products is a fantastic way for ordinary people to create an additional income stream. With Sellvia's help, you can quickly launch your store, source unique products, and optimize your business for success.
Whether you're interested in selling fashionable clothing or niche items, Sellvia has the expertise and resources to turn your ecommerce dreams into reality. So, why wait? Get started today and make real money online by selling your own unique products!
Remember, with Sellvia's Premium Products, you have a unique opportunity to sell items that everyone is looking for but cannot find anywhere else. So, start now and win over customers' hearts in no time! Just sign on for a free consultation with our business advisors, and they will let you know all you need to know to begin your ecomemrce journey. Happy selling!