Why should you care about the best ways to get Instagram followers? Well, to begin with… as a business owner, do you have an Instagram page? If not, you should — because 86% of brands are on Instagram — and it's not surprising as to why.
Instagram is one of the hottest platforms to build a brand presence while promoting your products, services, or company mission. Instagram has also grown to include an arsenal of media and communicative tools such as Instagram Stories, Instagram Live, and DMs to connect with today's online consumer. And Instagram is powerful to marketing your business. 92% of consumers state that they ended up buying something from a company, visiting its website, or following the brand's profile after seeing it on Instagram. That's a powerful stat!
In order to to get eyes on your brand and its page, you'll need to accumulate and retain followers on your page. The more, the better. So join us as we reveal some of the best ways to get Instagram followers!
It's all in those hashtags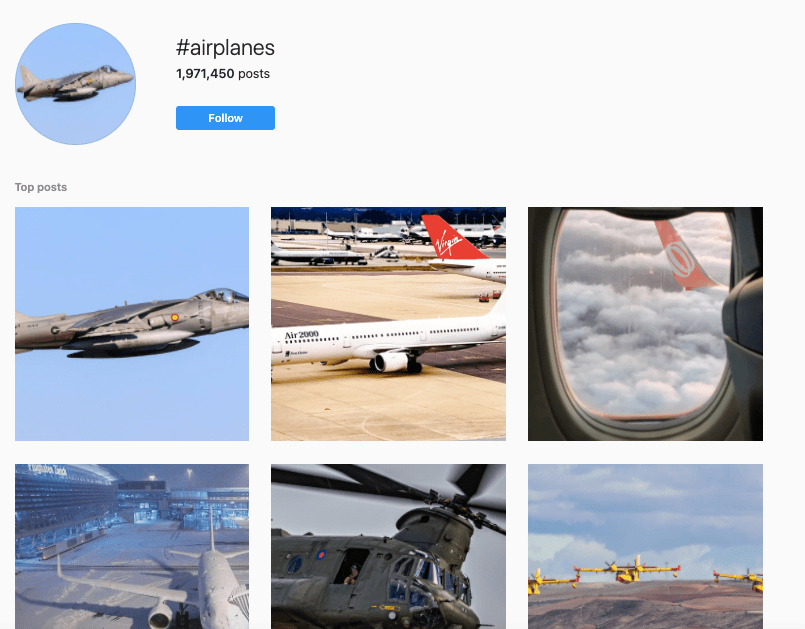 The Explore Page holds a wealth of information for any topic imaginable.
Off the top of your head, you may know of hashtags relevant to your brand (and that is great). But a little research never hurts. You can start by typing in terms on the Instagram Explore page to see what other hashtags trend. Doing actual research on competitors to see what kind of content and hashtags they are using also helps. This can provide insight into how they are connecting and engaging with their followers. If you need extra help, hashtag aggregators like All Hashtag, Kicksta, and Seekmetrics are all free and can help you compile brand-relevant hashtags to use with your posts.
Content is key
Write down ideas for your brand to keep track of possibilities.
All this hashtag work won't be fully effective though without a content strategy in place. Ask yourself questions like what kind of content do you want to post. Will it be product shots, testimonials from customers, brand beliefs, or dynamic up-close videos of items? Having a well-oiled content strategy can be key to gaining Instagram followers. Once you hash out your content strategy, you can start creating the visual elements for your posts, in addition to post captions and calls-to-action.
Grow those grassroots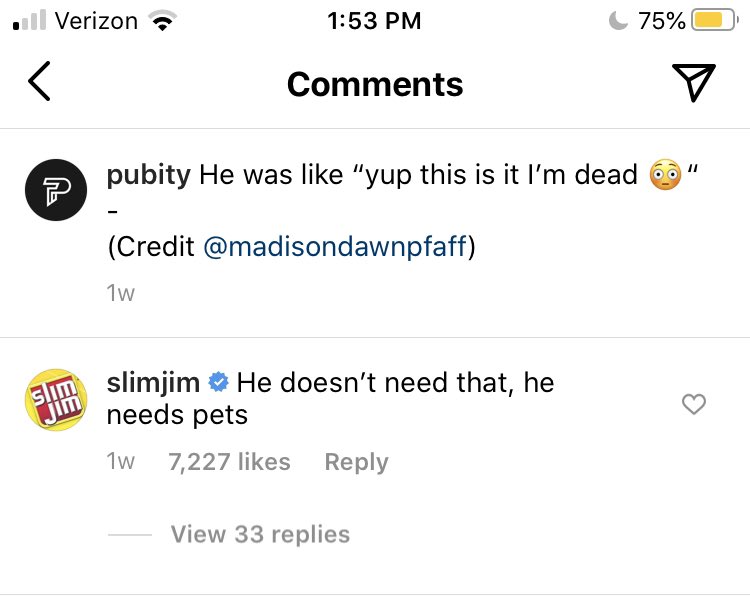 Slim Jim randomly comments on multiple meme and brand pages to grow awareness (Credit: Twitter (Kasia_Zuk23))
A sneaky yet legitimate way to get your brand noticed (especially when it's new) is to engage in grassroots marketing. It consists of leaving comments on niche-related posts and relevant brand pages for exposure. This in turn allows followers of other brands to see your name as they scroll through comments.
Slim Jim is a very popular example of a brand (an already well-known one) that really engaged in grassroots marketing, in addition to a new content strategy, to explode in popularity. (The brand hired a fan of the meat snacks to run its social media.)
Engage in engagement

Starbucks responds to a customer comment to demonstrate brand engagement and listening.
As you begin to post on your brand's Instagram, remember to keep your eyes peeled for posts you are tagged in. You can find these in the tagged-posts tab of your feed (Instagram also notifies you of tags). Responding to user tags or comments on your posts (which you will also be notified of) is the easiest way to show care and attention as a brand, in turn possibly gaining you followers.
Another great way to up your engagement is to repost any posts you are tagged in — you can utilize reposting apps such as Repost for Instagram or Repost app.
Go beyond the feed
Feed posts are pretty standard, but can become dry and boring, especially when there are more visually-engaging options on Instagram such as Instagram Stories.
Naked Juice polls followers and viewers on a drink preference.
Become a more socially-tuned-in brand by utilizing cool features on Instagram Stories such as "Questions" or "Polls" to interact with your audience. If users see you engaging in these ask-and-respond features, they'll be more inclined to respond, especially if they like your brand — and that can help gain a follower. A beautiful feature for Instagram business profiles is that at the 10K follower mark, your profile can utilize a swift swipe-up link for your Instagram Stories. This makes the user experience much more seamless, with a direct call-to-action for your marketing efforts.
People love free stuff (that never changes)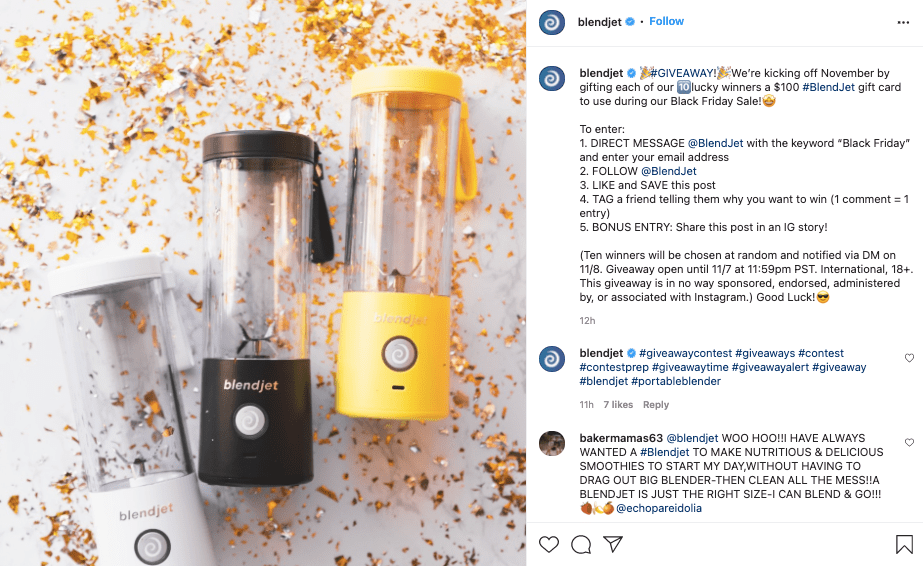 BlendJet holds a giveaway for a free brand gift card.
Yep, we're talking giveaways. Because who wouldn't be willing to follow and comment on a brand's post for the chance of winning some swag? Giveaways are an old trick but a time-tested tactic can work — although we wouldn't recommend this as a long-term tactic. Because you shouldn't always rely on giving away stuff to gain some followers. It's a cool idea to utilize a giveaway as part of your Instagram strategy. Still, focus more on your content and branding to retain people over time.
Influencers can influence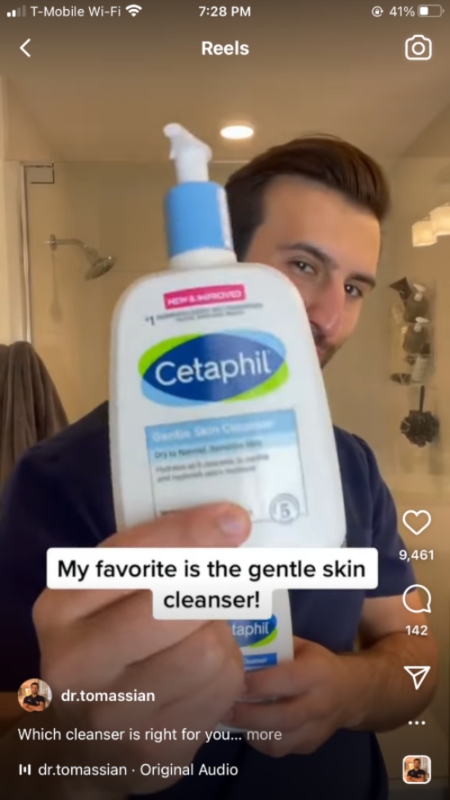 Cetaphil USA partners with Dr. Chris Tomassian to promote products.
Who would've thought? But yes, influencers can help spread a brand name to hundreds of thousands of Instagram users. According to a study from Influencer Marketing Hub, 90% of marketing firms believe influencer marketing is effective. In addition, Influencer Orchestration Network found that 49% of consumers depend on influencer recommendations for purchases, with 40% having purchased something after seeing it on Twitter, YouTube, or Instagram. That's pretty big — because nearly half of all consumers turn to influencers.
So consider partnering with big influencers in your business niche, and get into sponsored posts or Instagram takeovers to elevate your brand — and hopefully gain more followers.
And there you have it — some of our best ways to get Instagram followers. Remember that as your brand continues to grow, consider investing in equipment and talent to up the quality and production value of your photos and videos and overall marketing campaigns on social media. Because better quality will also attract followers as they perceive your brand to be of high quality and trustworthy
SUMMARY: Gaining eyes and followers on Instagram is all about quality, well-done research, and engagement with players in your niche (and interacting with followers and commenters). If you can stay consistent with your efforts, you can continue to grow your brand, gain website sales, and create a large following on your Instagram. And if you need expert-level help to boost your Instagram presence, check out our exciting Social Media Package!