How to sell your product on Amazon and generate passive income from an online business? If you're a newbie to ecommerce, Amazon is the perfect place to start.
We will walk you through the inspiring story of an Amazon seller who made over $3 million and how you can follow in their footsteps with the help of Sellvia's Premium Products.
Online customers are more eager than ever to showcase their unique styles and personalities through their clothing choices. By offering customized apparel, entrepreneurs can tap into this demand and stand out in a highly competitive market.
Moreover, selling online enables entrepreneurs to reach a global audience, significantly broadening their potential market. With a strategic marketing plan and a commitment to quality and customer service, an online apparel business can be both highly profitable and immensely rewarding for entrepreneurs.
The Out Of Print online store discovered the winning formula by offering a diverse range of top-quality everyday products that cater to everyone.
Want to find out how they did it? Are you prepared to elevate your everyday clothing brand to unprecedented levels of success?
The key to a flourishing business lies in delivering first-rate products and an unparalleled customer experience. This begins with finding the ideal supplier to provide you with the best of the best.
Partnering with Sellvia equips you with everything you need to conquer the ecommerce landscape! From a handpicked assortment of in-demand products to a fully-functioning online store, along with essential services like product storage, shipping, returns, and customer support – you'll have all the necessary resources at your disposal!
Get selling tips and ecommerce inspiration right in your inbox!
Sign up today to not miss a single post:
Meet the $3 Million Amazon Seller
This Amazon seller has managed to rake in over $3 million by selling top-quality products on Amazon. What's their secret sauce? A combination of determination, smart product selection, and clever marketing strategies.
The Journey to Success
It wasn't always smooth sailing. Like many others, they started from scratch with limited experience in ecommerce. Over time, they learned the ins and outs of the industry and honed their skills in product sourcing, branding, and customer service.
Since 2010, Out of Print's mission has been to spread the joy of reading by transforming literary classics into bookish apparel and accessories. With every purchase, you help us to donate books and support literacy around the world
The Winning Product Lineup
One of the main reasons for their astounding success is the diverse range of products they offer. From high-quality everyday clothing inspired by books to other types of accessories, they cater to a wide audience with varying tastes and preferences.
How You Can Achieve Ecommerce Success with Sellvia's Premium Products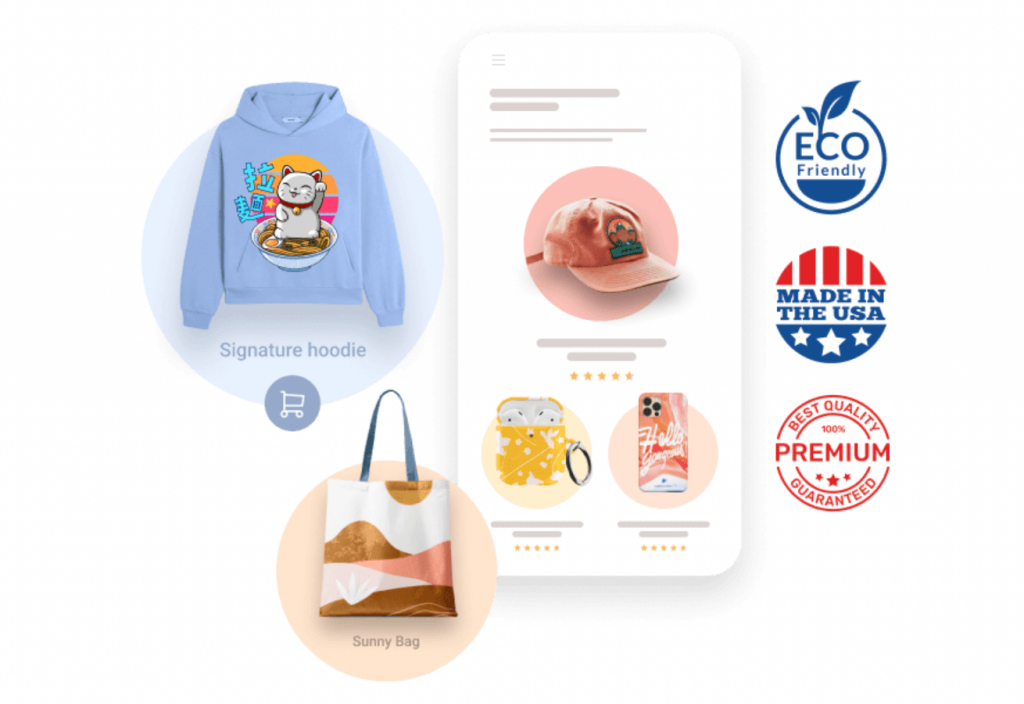 Now that you've seen what's possible, you're probably wondering how you can replicate this success. That's where Sellvia's Premium Products come in. They make it easy to source, create, and sell the most competitive products on Amazon.
What Are Premium Products?
Premium Products are an exclusive selection of high-quality, custom-made items that can set your Amazon store apart from the competition. These products are designed to sell like hotcakes, giving you an edge in the Amazon marketplace.
Here's how it works: simply tell our team of experts about your preferences and interests, and they'll do the heavy lifting for you by researching the market for the most promising ideas and creating a product offering tailored to your customers' needs. And while they handle that aspect of your business, you can focus on building up and growing your online store.
The best part? You can sell your products anywhere you want – from marketplaces like Amazon to your own online store, or even through social media. The choice is yours! With Sellvia's Premium Products, you'll have the opportunity to introduce your brand to millions of potential buyers.
Imagine having your own line of products that are unlike anything else on the market – the possibilities are endless! And with Sellvia's Premium Products, you can be sure that the quality of your products will be top-notch. All products will come with a professionally printed design, created using cutting-edge printing technology. Plus, our team will take care of manufacturing, printing, and shipping, so you can sit back and watch your business soar!
Why Choose Sellvia's Premium Products?
Ease of use: Premium Products simplify the process of starting your Amazon business. With Sellvia's user-friendly platform, you don't need to be an ecommerce expert to create a profitable side hustle.
Competitive advantage: By offering unique, high-quality products, you'll stand out from the competition and attract more customers.
Minimal investment: With Sellvia's help, you can start your Amazon business with little upfront investment, making it an affordable solution for beginners.
Getting Started with Sellvia
Ready to dive into the world of ecommerce? Follow these steps to get started with Sellvia's Premium Products:
Identify your niche: Figure out what to sell on Amazon by researching popular product categories and trends.
Choose your Premium Products: Browse Sellvia's curated selection of custom products and choose the ones that resonate with your target audience.
Set up your Amazon store: Follow Sellvia's dropshipping guide to set up your store and start selling on Amazon.
Get ready to sell your incredible products anywhere you desire, be it a marketplace like Amazon, your very own online store, or even through your social media channels. You're in control of your business journey!
Here's a rundown of how the process unfolds:
Share your interests and passions with us 🎯

Our team uncovers high-demand products that are missing in the market, tailored to your needs 🕵️‍♀️

Our talented designers craft eye-catching prints for you and your customers to adore 🎨

Receive orders and leave all the nitty-gritty details to us 🚀
Typically, launching such a business can demand a considerable amount of time and potentially hefty financial investments. But with Sellvia's Premium Products, you're granted a one-of-a-kind chance to kickstart your business. Simply select the perfect Premium Product package, and our experts will create an account for you and upload your exclusive products.
In Conclusion
Starting an ecommerce business on Amazon might seem daunting, but with determination and the right tools, you can build a profitable side hustle and become a successful Amazon seller.
By choosing Sellvia's Premium Products, you'll have access to a range of unique, high-quality items that can give you a competitive edge in the marketplace.
Now's the time to dive into the world of selling on Amazon! With a little hard work and the right resources, you can create a thriving ecommerce business and enjoy the financial rewards that come with it. Book a call with our business advisors to find out how to sell on Amazon successfully and start your own business right now. Good luck and happy selling!