Have you grown tired of the unpredictable tomorrow? Do you want to rely on something secure even in the most challenging times? Are you looking for an extra source of income that no one controls but you? Yes, of course! That's exactly the reason why you're reading an article on how to start an online business – and trust us, you can do it like a champ.
Get selling tips and ecommerce inspiration right in your inbox!
Sign up today to not miss a single post:
Why start an online business in 2022?
By 2025, retail ecommerce sales worldwide will amount to about $7.4 trillion, with the revenue from online shopping (in the US alone!) exceeding $1.3 trillion.
The numbers are mind-blowing, but not really surprising. Indeed, people are shopping online more actively than ever – and the trend will continue for years to come.
That's a hot industry to be in – and luckily, you can become a part of it even with no experience whatsoever.
What will it take you? Let's go through all the steps!
#1 How to start an online business in 2022: research the market
To begin with, what are people buying, exactly? What do they want? And what can you offer to make them buy from no one but you?
These are great questions to consider because they form the foundation of your whole online business. So how do you answer them?
Start with your personal passions and interests
It's best to center your business around something that you know well and are enthusiastic about.
First, it gives you a unique insight into the market and the shoppers' needs and wants. For example, if you're a fan of hiking, you know what types of equipment and essentials see the highest demand in the community. Or, let's say, as a new parent, you know what could make a life with a newborn a bit easier – and understand how to market these things to other parents.
Second, it makes you personally invested in the business. For many, launching such a business is a once in a lifetime opportunity to turn their passion into profit!
Want to create totally unique brand with custom-made products that reflect your views and interests? Consider the Premium Products service from Sellvia! The team takes care of everything from product design and manufacturing to shipping and fulfillment. You, in turn, can easily sell these items through an online store without keeping an actual physical stock.
Here's a bunch of passion-driven business stories to get you inspired!
See what competitors are doing
Take a closer look at other businesses that offer something similar or meet the same customers' needs. What are they selling, exactly? Are there some product categories they're lacking? What do their online stores look like? How active are they on social media and how do followers feel about this?
Even a simple quick research can show you how to be different from others – and let you know more about your potential buyers.
Go with trends and bestsellers
If you can't choose what to sell and don't have any specific preferences, there's nothing to worry about. Focusing on highly demanded, trending products can be a winning strategy, too, as long as you're keeping an eye on what's hot and expanding your product range accordingly.
Looking for products that are proven to sell well, make sure to check out the Sellvia catalog.
Here, you'll find a wide variety of high-quality products that see growing demand from US online shoppers. The catalog is updated regularly, and each of these items is ready to be sold right after import.
Got an idea of what to sell? Great! Let's move on to step #2.
#2 How to start an online business in 2022: source the products
Now, when you see a market niche that you can take, it's time to think your product strategy through. To be more specific, at this stage, there are two major decisions for you to take.
Choose the business model
Essentially, your business model defines the way you'll be working with products. Here are the most common options:
1. Dropshipping
Dropshipping is one of the most desirable business models that new entrepreneurs usually choose. Here, you have no product concerns at all. There is no need to manufacture products by yourself, or buy them in advance from other sellers and keep them in stock, or ship the items to your customers. All these tasks are your supplier's responsibility.
What you need to do is create (or buy) an online store and fill it with product pages of your supplier's items. When someone buys from you, you simply redirect the order details to the supplier who assembles and ships the package at your buyer's address. You receive the buyer's payment, pay your supplier, and keep the difference as your profit.
Getting a Custom Store from Sellvia, you start a dropshipping business for $0! The store goes with a free trial period, which means that you have zero startup costs, but can start making sales and profits in the first weeks after launch.
All the operations happen online, so you can manage the business from the comfort of your home at any time convenient to you.
2. Private labeling
This is a bit more complicated model as it requires you to keep a closer contact with your supplier. In this case, your supplier creates a product for you exclusively, with your specifications and design preferences in mind. When it's ready, the supplier either ships the batch to you or keeps it at their warehouse to distribute it via the same dropshipping model.
Arranging private labeling through Sellvia's Brand Development service, you enjoy the convenience of a California-based warehouse where your products are kept upon manufacturing, and don't deal with any shipping or fulfillment issues on your own.
This is a fitting business model for you if you have an idea of a uniquely branded product, but don't have the equipment or space to actually manufacture it.
3. White labelling
Simply speaking, if you're doing white labelling, you're printing your business brand name on a generic product from your supplier. In this case, you have to buy the desired products in bulk first, make brand-specific changes to their design, stock them somewhere, and ship them by yourself.
This, of course, is a more time-consuming business model that requires you to solve numerous product-related tasks. It can be quite overwhelming for a newcomer with no previous experience.
However, it can be a convenient choice for a more established business that's expanding on more markets and customer segments.
4. Warehousing
This is probably the most "traditional" business model that people remember when talking about a reselling business. It means buying products in bulk from a manufacturer, storing them in a self-owned warehouse, and arranging their delivery when necessary.
Here, you must ensure proper storing conditions for the products and take care of shipping as well. This is a challenging task for a newcomer, and the business itself is quite expensive to launch as you need to rent a warehouse, buy products in bulk in advance, and deal with the risks of not selling the surplus.
With all these business types considered, there's no wonder why newcomers to ecommerce are most likely to choose the dropshipping business model. It has zero risks as you're not buying stock in advance and never deal with the actual products. At the same time, it's convenient and flexible to manage and scale.
Whatever business model you choose, your supplier is your key partner who basically defines whether your venture succeeds or not. That's why it's paramount to choose a reliable and trustworthy one!
So, let's go through the list of the most important criteria your supplier should meet to give your online store a foundation for success.
1. Have a wide range of high-quality products in your niche
Ideally, the product catalog should be free to access at all times, even if you're not working with the supplier already.
For example, the Sellvia catalog is free for you to browse and explore at any moment. That's how you see what you're signing up for, and can make an informed decision before subscribing. In the catalog, you'll find thousands of bestsellers picked specifically for the US market: they are ready to be imported to your store and be put on sale immediately.
Of course, you also need to make sure that the seller's assortment includes enough products from the niche you've chosen! Pay attention to the offering of related products as well: they will come in handy when you decide to scale your business.
For example, if you decided to focus on kitchen gadgets at first, you can expand your product range later and consider things like video equipment, virtual assistants, etc. And later on, you can take an even broader 'home improvement' category and also work with home decor, repair tools, and more!
2. Offer professional product info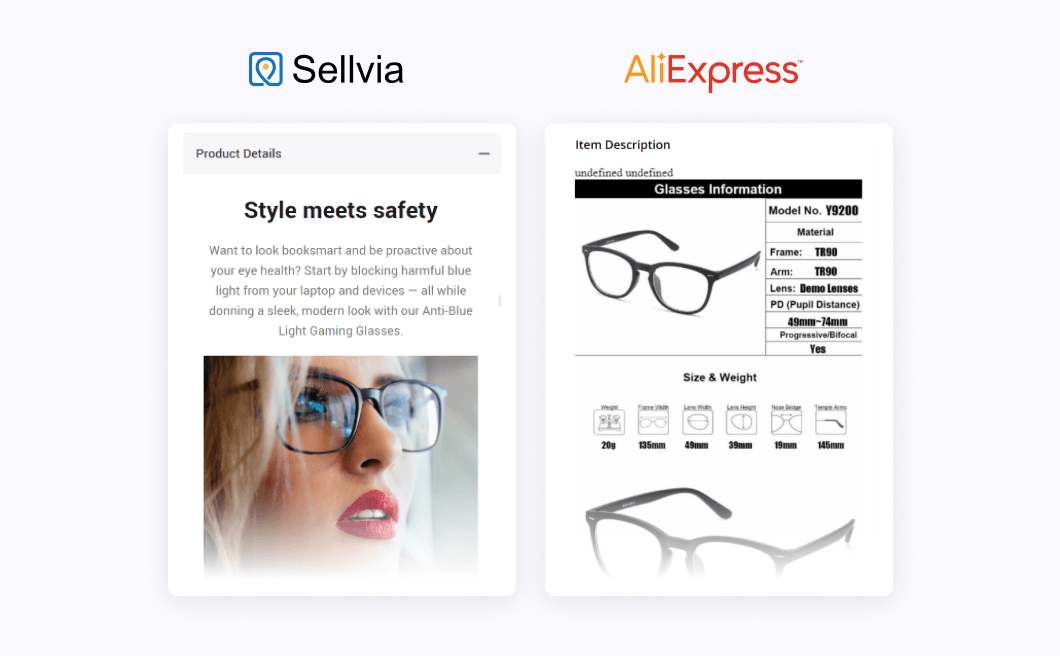 Lack of product info is one of the main reasons why your potential customers tend to give up the products they need. How to bypass this issue? Figure this out ahead and provide your customers with a full breakdown of all the products to let them make up their minds with no effort!
The point is, the majority of B2B and B2C suppliers don't bother with providing detailed information for each product. Some of them don't have any product descriptions for the products they're eager to sell.
This is the reason to deal with the suppliers who are glad to provide full information on each product they sell — in this case, half of the work is already done for you!
For example, Sellvia does its best to facilitate your business management. This is why our marketers developed a number of product page templates we apply to each product from our catalog.
This means you won't have to press sellers and manufacturers to get products' info and spend extra time on building product pages from scratch — we've already done this for you!
3. Provide fast shipping and proper tracking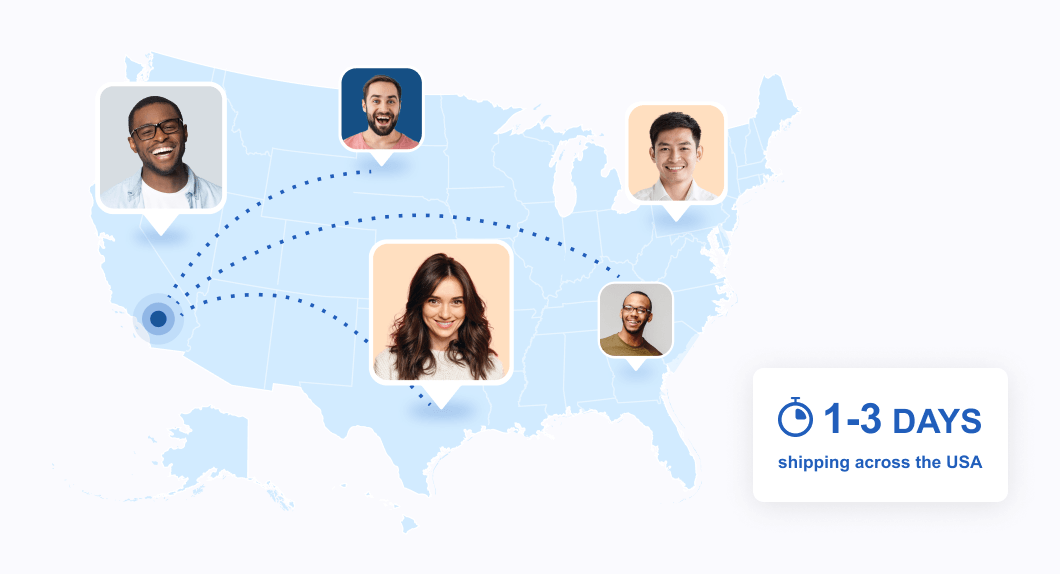 Do you wonder what's the main reason for returns and refunds striking at the store's authority and entrepreneur's funds?
A regular US customer expects to receive his or her order within 3-4 days after the order placement. A longer shipping makes them question the validity of their purchasing decision.
How to reduce or even eliminate the possibility of refunds and returns? Provide them with fast shipping giving them no chance to change their minds!
The team of Sellvia is happy to assure you all the products from the Sellvia catalog are subject to lightning fast delivery (1-3 business days) only!
4. Have a user-friendly order fulfillment system
Some suppliers are able to provide you with good products at low prices and lots of other benefits. Yet, what's the point of all this if you can't deal with them?
This is all about your comfort, proper order fulfillment system, automation, and things like that.
Since Sellvia does its best to let you run your business with no effort, we've launched a unique order fulfillment system. If you team up with Sellvia, you'll be able to transfer your customers' orders to our US-based fulfillment center in a couple of clicks!
BTW, most of these processes are automated!
5. Have a well-established support system
Buyers seek attention and support.
This is quite more profitable to build a loyal community around your store. Happy customers will come back to your store again and again and encourage their friends and relatives to buy something from you. This is a lot more cost effective rather than to attract new customers each time.
How to build a close relationship with your customers? Solve their most burning issues they're afraid of being alone with! Show you're around.
With Sellvia, you'll be able to follow your customers with no obstacles and help them solve their issues promptly, with ease.
Our team is happy to provide all of our clients with top-level support whenever needed. We're at your service to help you and your customers not care for anything: shipping, product quality, technical issues, etc.
Choose your products wisely
To start an online ecommerce business, you'll need to find reliable and trustworthy sources of inventory.
Trending
You may sell lots of products without success, while a couple of trending products can let you make a fortune with.
How to make your customers always have some interest in your store? Sell products that are in extreme demand!
It seems to be clear. But how to detect what products are really trending to let you make a fortune with?
1) Monitor your competitors
You may monitor websites providing you with market trends and things like that, but one of the easiest ways to find what's trending is to look at your competitors.
Look at what your competitors sell, what cross sells they offer, etc. To make sure that this or that product idea is likely to bring you a fortune, you can use the following tool.
2) Check Google Trends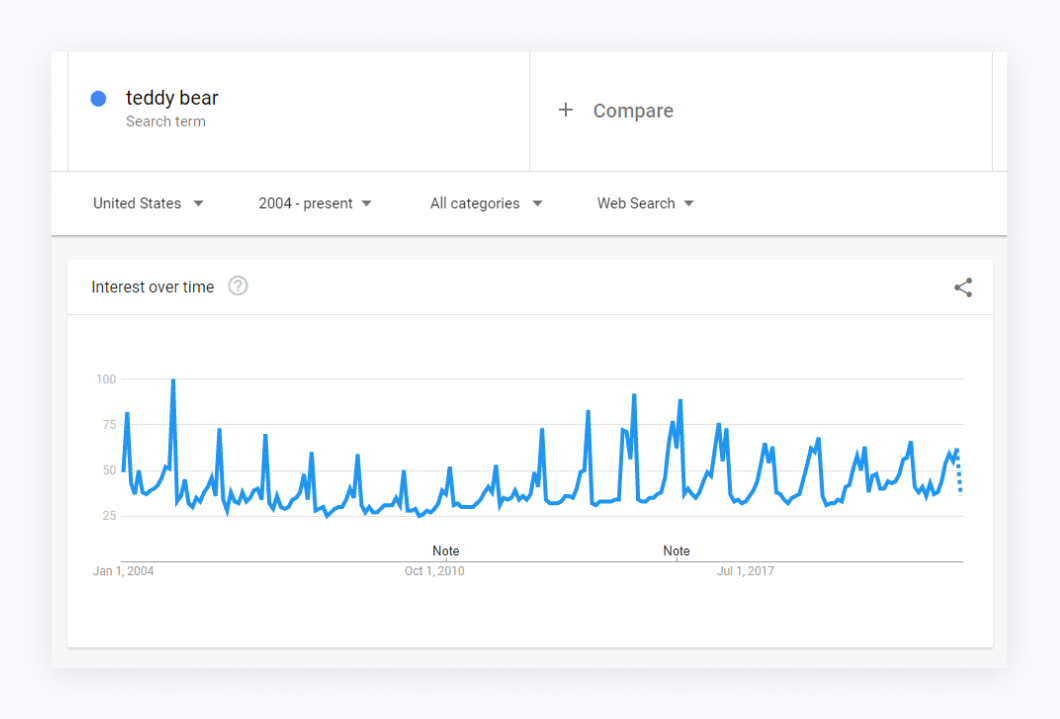 It's a pleasure to work with Google Trends.
Google Trends is a free-of-charge tool allowing you to analyze almost any search query on the internet.
Do you have some unique product ideas or you've learned something from your competitors? That's the way to do it! And this is Google Trends that will talk you in or out of this.
3) Look for product compilations
Here's good news: you're able to look for the best products to sell on your own, but this is really time-consuming. Hopefully, Sellvia has already done this for you!
If you want to run an economically-efficient business, pay particular attention to the catalog of Sellvia — we conduct product research and add the best products to sell to our catalog every day. Such an approach lets you keep your product offer always relevant!
Beyond this, Sellvia catalog can boast over 10,000 products, each of which is physically located at the our US-based fulfillment center meaning you can make your customers happy with lightning-fast shipping!
Reasonable price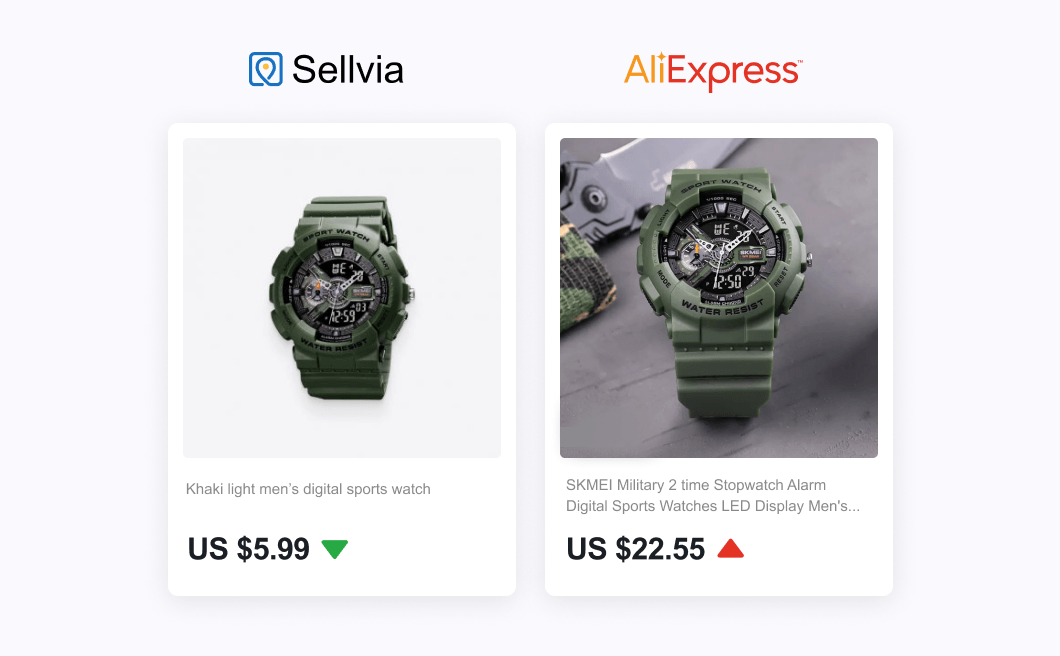 Get for the best price, sell for the highest bid. But how to find a supplier who can let you get a high profit margin?
If you check Sellvia product catalog, you'll find thousands of trending ecommerce products at low initial prices — even comparable with AliExpress!
The point is, all the products from the Sellvia catalog are physically located in our US-based fulfillment center. So you don't need to make extra payments for shipping to the US from any other country, and no waiting time is required: due to the fast shipping option your customers will receive their orders within 1-3 business days wherever they are!
Practical and/or emotional value
You're what you sell. Your product range is your calling card, they serve you as a chance to establish close relationships with your buyer. And it's not a secret that the easiest way to make contact is to base it on mutually beneficial cooperation!
Show your customers that you care for them and wish to make their lives a bit more easy and comfortable: to achieve this, you should sell only helpful products and the ones bringing emotions!
Put yourself in their shoes and help them solve their most burning issues, that's it. This is the secret behind close relationships with your customers. Hopefully, Sellvia is happy to help you with this: Sellvia catalog is full of products designed to make people's life as easy and comfortable as possible!
Marketing content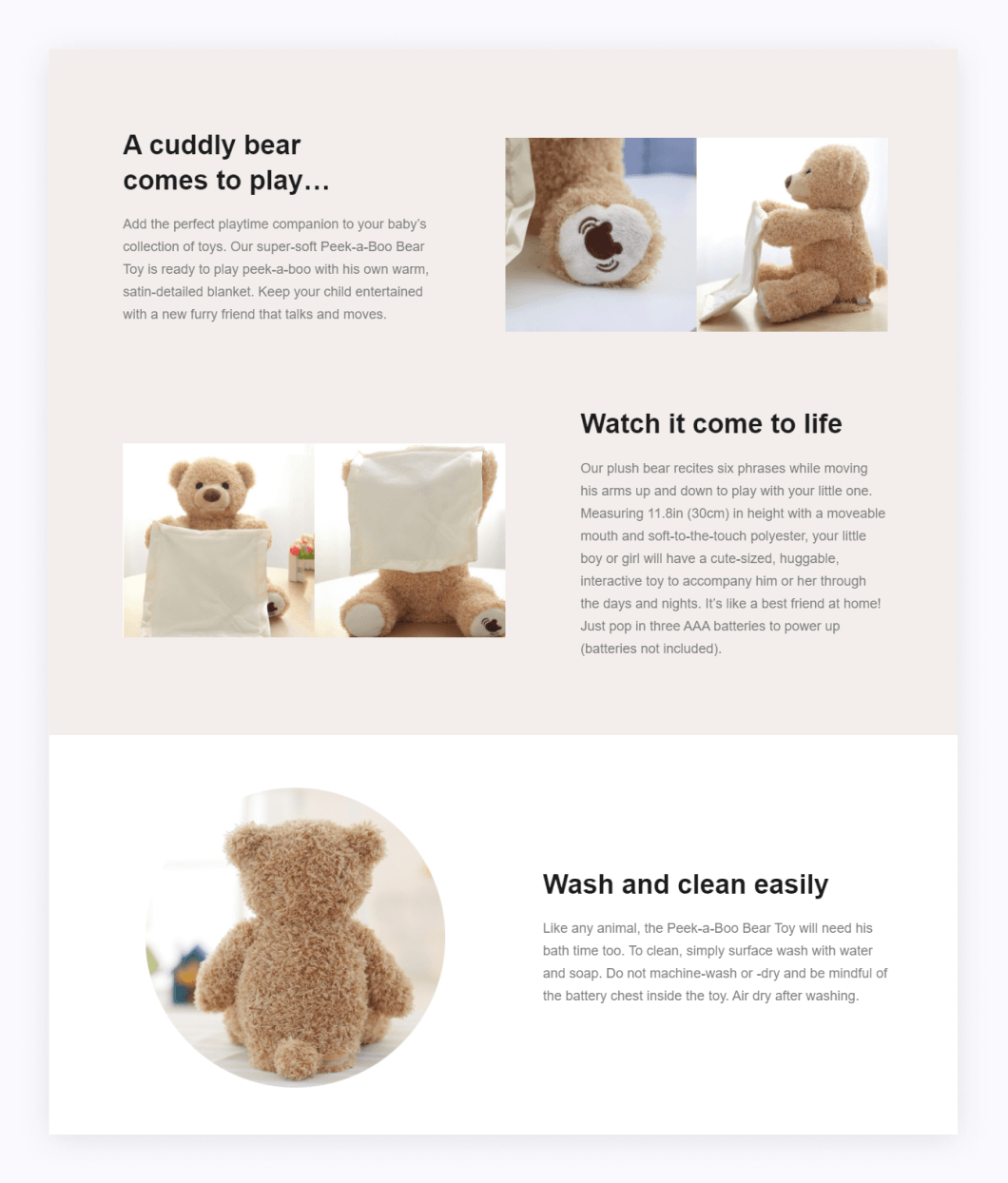 Are you fond of doing extra work? I suppose you don't. In case your supplier cared for the marketing aspect in advance, you wouldn't face it.
Sellvia makes every effort to make business management less time-consuming for you. That's why each product from the Sellvia catalog goes with a purchase-stimulating page to let you drive traffic and convert it with no extra effort.
Due to such an approach, you're able to import as many products to your product catalog as you wish with no hassle. First, it won't cost you anything. Second, each product has a pre-made product page, informative description, catchy pictures, and you can use it all in a couple of clicks.
And this is great when you have a wide product range in your store. This will let you make it impossible for any customer to leave your store empty-handed!
#3 How to start an online business in 2022: get an online store
As you can see, starting an online business allows you to get access to unlimited opportunities to power your financial independence. This is a real chance for anybody worldwide to power change your life for the better and make a good living for you and your family.
These are your little decisions determining your big success. Before you start your online business, you need to choose the option to start wisely.
There are several options to start an online business in 2022 and beyond.
Start an online business from scratch on your own
In theory, one can start an online business from scratch on his or her own. Do you have some skills in building websites, creating design, and things like that? Great! In this case, all you need is to develop a website with user-friendly design, fill your product catalog with the products from a reliable supplier, and start working! Sounds easy, doesn't it? In practice, such a scenario will take you a significant amount of time (a month and more).
Pros
You don't need to apply for third parties. It lets you save money, have steady nerves, and so on.
You'll be able to customize your store and your whole business in the way you wish because you're a client, and you're a performer!
Cons
You will hardly get a desired result if you don't have enough skills related to website building. Nothing is impossible, but it can cost you too much if you're not ready for this.
This is a chance to build a business you dream of, but it can take you too much time. This is a great deal of work that won't bring you any money before you launch your store. In this case, you risk losing your potential profit and not only.
Are you able to launch an online business on your own? That's really great. So you don't need to spend money on labor and things like that. Yet, there're some things you will have to spend on. For example, you will have to pay for a domain name and hosting.
Actually, starting an online business from scratch on your own is not a difficult, but not an overwhelming task to claim it's impossible to do this with no skills. We've shared tips on how to start an online business from scratch yourself previously. However, you need to realise that you'll have to travel a long way with different issues arising and inducing you to give up this idea. Luckily, there are some other worthwhile options.
Don't you want to deal with that on your own? Are you eager to save your time and leave it to professionals? If so, it's a good idea to hire a developer. This is a chance to get a ready-made store with unique design and something else (optionally).
Pros
No effort & skills required
Here is good news: you won't have to do anything manually & on your own. It means, you don't need to have some specific skills and worry about any aspect of your business launch.
High level of customization
You're the employer, and you're supposed to get a website done for you individually. Yet, you need to find a reliable performer to achieve the results you expect.
Cons
Although you won't have to do anything, your performer will have to do all manually. That's why it will take you lots of time to launch a business (a month or more).
All the work should be paid for. If you start your online business yourself, you will have to pay for a domain name and hosting. Yet, if you apply for a developer, you'll have to pay them off. And web development is expensive: it can really cost you several thousands of dollars.
Are you ready to wait long and pay much? Then, this is a perfect option for you to start an online business. But why to pay and wait if you can start TODAY & WITH NO MONEY?
Get a ready-to-go business
Are there any options to start an online business with all the benefits effortlessly? Yes, there are!
Sellvia is happy to help you start an online business with no investments, risks, and hassle!
Anyone should have an opportunity to change his or her life for the better, shouldn't they? At Sellvia, we support this viewpoint.
Sellvia is ready to build an online business with all the necessary things onboard for anyone worldwide! And this is absolutely free of charge!
Time is money. Will you spend your own money on your business before it will start bringing you profit? This is not the way we got used to.
Sellvia lets you become an owner of a ready-to-go business TODAY to start making money from the outset!
Are you afraid of screwing it up? We won't let this happen!
10+ years of experience in ecommerce allow us to launch online businesses according to proven-to-be-efficient schemes. That's why we're happy to give you a ready-to-go business you'll be able to grow a steady venture based on.
In for a penny, in for a pound. Sellvia does its best to build a full-scale ecosystem for you to start and run your business with no hassle: Sellvia offers 10,000+ trending products for you to choose from, high-converting product pages and marketing assistance, fast shipping option (1-3 business days), automation software, and so on. To get all this, you need to subscribe to Sellvia (free trial is provided).
Being alone is what every ecommerce newcomer is afraid of. This is why we provide all our clients with top-level lifelong customer support. It's an honor for us to follow you along your business journey.
Time-tested roadmaps are what we all need! We're happy to provide you with a ready-to-go business, so only the most fascinating part will remain for you — it's your business promotion. Don't you know how to promote your business? Not a big deal! With Sellvia, you get access to such a helpful resource — it's Sellvia Marketing Academy. There are dozens of time-tested roadmaps for business promotion for all tastes. Whatever business issue you face, Sellvia Marketing Academy will help you find a way out!
As a rule, it's really difficult to make the first move. With Sellvia, you can easily start an online business today and for free. It will remain for you only to let it grow into a large venture.
How to make a side hustle grow into a large business
Have you already launched your business? Great, this is your small step towards your big success.
Your next station is your business promotion. How to really start selling and making money? There are lots of ways to promote your business and discover your potential!
Catch customers' attention on social networks
Ads are chasing us wherever we go. And what if I tell you that free and paid ads are the fastest and the most efficient way to reach your audience and unleash your store?
Proper ad campaigns let you get enough traffic for your website and get the results you expect. Yet, this is quite difficult to launch top-performing ad campaigns on the first try.
With Sellvia ecosystem, nothing stops you from launching ad campaigns in a couple of clicks, with no hassle, since we've already prepared for your time-tested, high-converting ad creatives.
You don't need to be a PPC and SEO specialist and copywriter at once: all the marketing materials you need to launch cost-efficient ad campaigns are available for you to launch ads with no effort!
Let your customers easily find your store
Starting a small business, do you have big plans for it?
Pay attention to the fact that while some ways of promotion work on a short-term basis or require much time to see the effect, there are the ones providing you with excellent results & long-term benefits — one of them is search engine optimization.
How to fill your website with only warm traffic that is most likely to convert? Let our SEO experts implement our most-efficient search engine optimization techniques to spread the word about your store and products.
Would you like to get a growing effect that will keep zooming up for years? Then, give our SEO Packages a try!
Increase your social media presence
Social Media is a real power nowadays.
People spend most of their free time surfing the most popular social networks. Why not catch their attention there?
More than 80% of our clients consider Social Media Marketing the most efficient promotional way for your business.
Facebook, Instagram, Pinterest — it's your chance to make an outstanding move in the ecommerce game benefiting from all of them and making your followers fall in love with the products you sell!
Build a loyal community around your store
It's quite important to drive enough traffic to your website. This is what free and paid ads will help you with. But how to build your cost-effective promotion strategy?
If you want to make the most of your advertising budget making each cent and effort work for you, you need to launch email marketing campaigns.
Email marketing is an easy way to make your customers come back to your website again and again. Having set your marketing campaigns once, you'll provide your store with an extra source of warm traffic only.
All you need is to provide a pleasant shopping experience for your customers. In this case, this promotion strategy will inevitably pay you off!
Put your business growth on autopilot
Do you value your spare time? We hope you do.
Good entrepreneurs prefer to make everything on their own. The best business owners tend to automate all the issues that don't require their direct participation.
It doesn't matter whether you've already started your online business, or you're running a venture for quite a long time. Anyway, it will take you lots of your free time to promote your business. Fortunately, not all the tasks really need your involvement.
What if I say there's a way to set your business growth & promotion on autopilot? You have a chance to turn your store into a powerful sales-generating machine, fully automated and completely leveled up!
Share your own vision with others
Some people start their own businesses to make money and get financial independence they look for. For others, there's something more important than just making money.
If you know that you're meant for something bigger and you want to make a difference, starting your own brand is a must-have for you!
Starting a brand is a chance for you to discover your potential and run a one-of-a-kind business making your customers happy using the things you sell.
Therefore, it's time to let your personality shine through your unique products that will become well-known all over the world!
Branding is quite important for ecommerce. Our team is glad to build a strong ecommerce brand for you while you can focus on what you love delegating all the heavy lifting to us.
Have you set a course for long-term development? Unique custom-made products are exactly what you need!
Final thoughts on how to start an online business
It's you who decides to take the first steps. Starting an online business nowadays is a real chance to grow a large venture bringing significant profit and providing you with financial independence.
No risks, no reward. Right? No way! At Sellvia, we believe that anyone worldwide should have an equal opportunity to change his or her life for the better.
Due to this reason, Sellvia is happy to build an online store for you from scratch TODAY & FOR FREE!
Beyond this, with Sellvia, you won't find yourself left alone. We offer a full-scale ecosystem for you with all the necessary tools to start and run your online business with no hassle. It will remain for you only to make your customers happy with really helpful products and 1-3 business days of fast shipping, while putting your business management and growth on autopilot!
Are you afraid of making any mistakes? You'll have access to Sellvia Marketing Academy and lifelong customer support. Will you prefer to leave all these issues to the professionals? Not a big deal: our team is happy to help you achieve the most significant results with your business!
Do you think of how to start an online business? Keep it in mind, starting an online business is your big step towards your big success. Still remember we're around. We will not leave alone with your business issues, but we will do everything possible to let your business flourish. It doesn't cost you anything to start your own business. Will you give it a try?