Does starting a dropshipping business mean that you need to have plenty of time on your hands, a solid sum of money set aside, and a huge previous experience of successful sales? Not at all!
Goran, our today's guest, is a single dad combining his dropshipping business with working a full-time job and raising his lovely daughter. It cost him $0 to launch a store – and $40 to get his first sales of $150! Let's have a chat and find out how he did it, shall we?
Hi, please introduce yourself!
Hi, I am Goran Andersen, 36, a single dad from Oslo, Norway. I'm an educated car mechanic who has also studied both Web Design and Organization & Management after a shoulder injury. Now I work as a production manager at Volkswagen dealership where I train and follow up about 8 mechanics.
At the early age of 20, I got interested in ecommerce and web design. Apart from these, I have a big passion for being outdoors and fishing – if I launch a second dropshipping store, I want it to sell fishing stuff!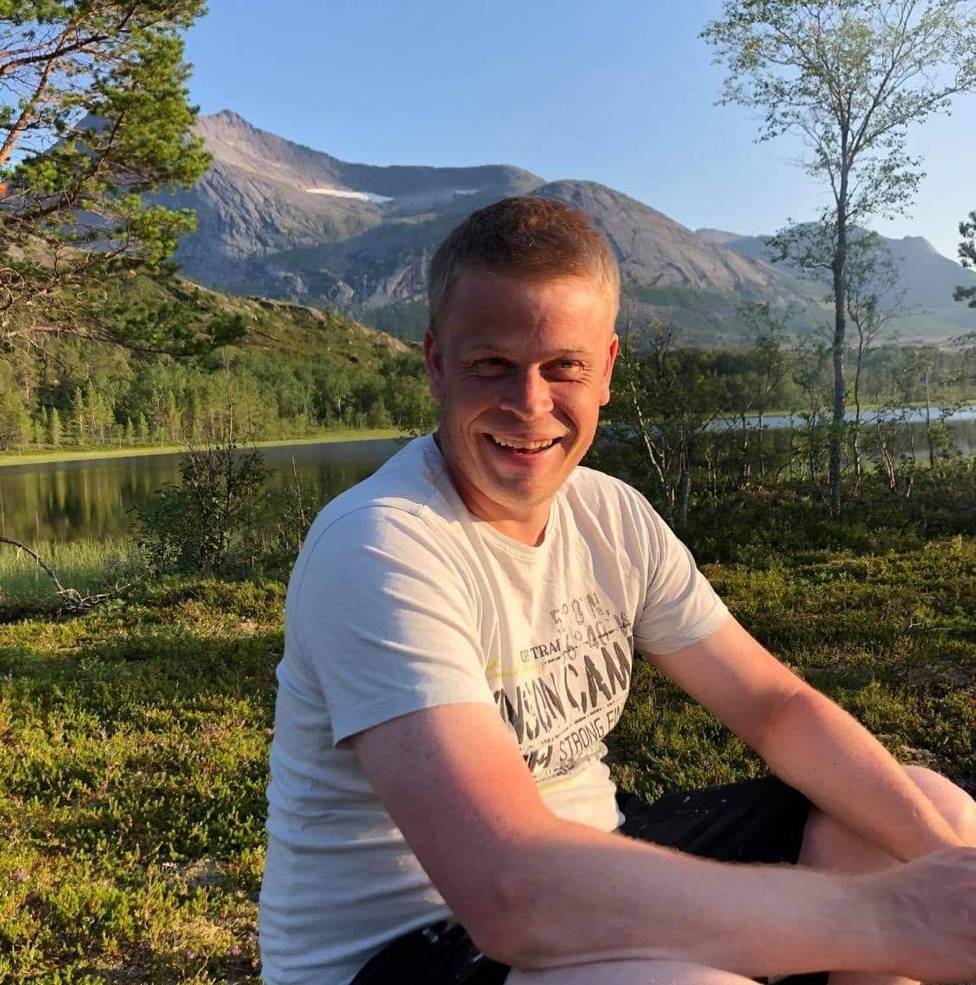 What made you interested in starting a dropshipping business?
I have always had that entrepreneurial spirit inside me and I have tried a lot of businesses including designing WordPress and Joomla sites for clients.
But in 2014 I became a dad, and this big dream of being my own boss became clearer. That's how I started a company in Norway which delivered car parts to my clients. I was making good sales, but not getting enough profit to hire employees, meaning I had to do everything myself. It was so much work delivering and packaging orders that I closed that company, but at least I made a revenue of 50k in 6 months.
What happened next?
After my daughter started school, I really wanted to get more free time to spend with her as I saw that years were literally flying away and I struggled every day to get off work, make dinner, and do homework.
Looking for a side hustle idea, I first came across Shopify and researched the whole idea of dropshipping. Shopify was convenient in that you could create your online store, use their apps to add different features and products to your store, and manage everything on your cell phone. And so, I created multiple Shopify stores in various niches.
I made some sales, but all in all, I lost money since there was no uniqueness in my stores: I was simply copying what everyone else was doing.
In early 2022, I came across Sellvia and saw one of its self-owned stores in the auto niche. I thought I have been in the automobile industry for over 20 years, so I could use my knowledge to build my future – here's how I decided to get the turnkey store for free.
Why did starting a dropshipping business with Sellvia seem like a good idea to you?
I got interested since I've also been a victim of the pandemic: my clients could not get their products from my Chinese suppliers and some of the suppliers didn't seem to care. I wanted a supplier I can trust, a supplier that honors responsibility. Everyone who has tried dropshipping knows that slow shipping is killing your business. So far, I'm very happy with the Sellvia product descriptions, reviews, and delivery – and so are my clients.
How is your business performing now?
I have been running it for about 1,5 months. I will say it's quite a promising start as I've just now finished running my first engagement campaign for testing sales creatives for 2 products and will now turn to segmenting the audience which I hope will give results. Without any conversion ads, I got 10 sales and $418 in revenue!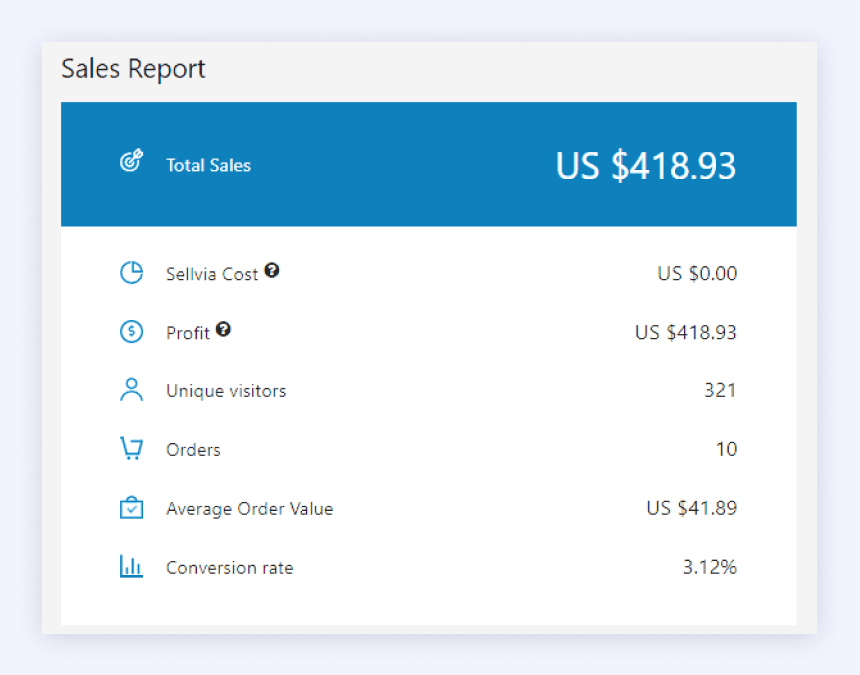 How's that? Tell us more!
My first sale happened when it was not expected as I was promoting a giveaway to get subscribers to my email list as well as likes and shares in social media. It was the most fantastic feeling as one of the winners bought more products from me.
Here's how it happened: I ordered the social media and email marketing package from Sellvia and planned an Easter contest. To get ready for it, I actually asked my friends what product would make them want to enroll in my contest.
After choosing the product, I asked Sellvia to make the contest post for me as well as adapt the first email in the Mailchimp automated series to fit this strategy.
When everything was ready, I made a traffic ad for this post and created a landing page with integration to my Facebook page and email newsletter. The ad ran for 4 days with $10 daily spend.
Of course, my 2 winners were so happy that they gave me a review and told their friends about the store: I've got 200 signups to my newsletters!
2 weeks after the contest started, I had 10 sales in total. The strategy that cost me a little money ended up giving me a profit of 150$!
What an inspiration! Are there any other marketing tips you can share?
The key to success, I think, is to be able to describe your customer avatar and build your marketing around what you know will trigger this avatar's emotions.
In my opinion, you must do a lot of things to increase sales at the startup stage, meaning the biggest amount of work should be done right at the start.
For me, it has been to try and get better Google ranking by writing blog posts and working on SEO – that includes getting professional assistance. That's why I got the social media package as well as email marketing package from the team when my free 14-day Sellvia trial ended.
It's because one of my goals was to get an audience on social media as well as interact with them, say thank you for likes and follows – if you get engagement on social media, you also leave a mark on Google and the search engines. From there, you can start making the site alive by changing design elements so that it's not a static ecommerce store that everyone is used to.
Speaking of the store design, when I got my turnkey store ready, I felt I needed to give it a stronger 'branded' vibe. I therefore bought the Frida theme which I could see I could tweak into my vision, and I was actually stunned by the result: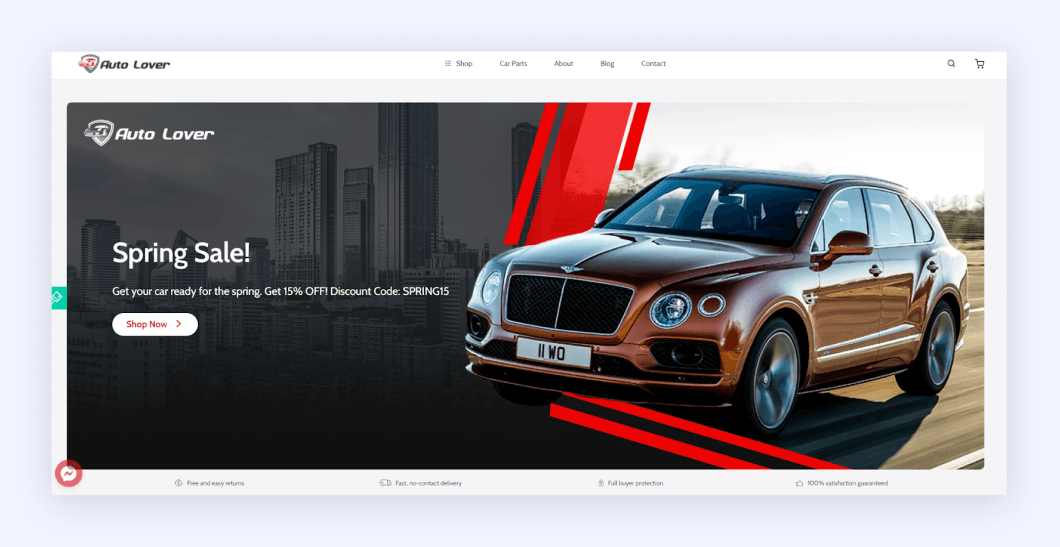 What can you say about the overall business management?
Managing the turnkey store itself is easy, but I have a to-do list I follow every day. This includes checking the traffic, my ads performance, and emails. Also, I write blog posts 2-3 times every week to keep a good amount of organic traffic. I also check Google analytics to see what people do on my website in case I should try to make changes to increase conversions.
My business is officially registered since I've already done business in the past, and of course it's smart to register to seem legit – and you must be registered when making money because you need to pay taxes.
To sum up, how do you feel about starting a dropshipping business with Sellvia?
Well, it changed my way of thinking: I'm both daring to dream and thinking of society on a different level. It has not yet completely changed my life, but I dream that I will get there some day 🙂
I want to make this store profitable and to launch a fishing store website which is my second biggest passion. Other than that, I will look for other things I can invest in to make several income streams.
Given my start this time, I feel very positive that I ACTUALLY can achieve my goals, and this time I WILL NOT STOP UNTIL IT'S A REALITY.
We absolutely love this story! From starting a dropshipping business for $0, Goran went on to run a profitable online store with a great potential – all while doing a thousand other things at once. We're wishing him the best of luck!